Traditional-style kitchens are typically considered formal, sophisticated and classic. Traditional design incorporates architectural features from European, Mexican, and Colonial American traditions. Elegant craftsmanship, embellishments and refined details are important. If you love the look of a traditional home, here are six traditional design elements for kitchens to consider as you plan your kitchen remodeling project.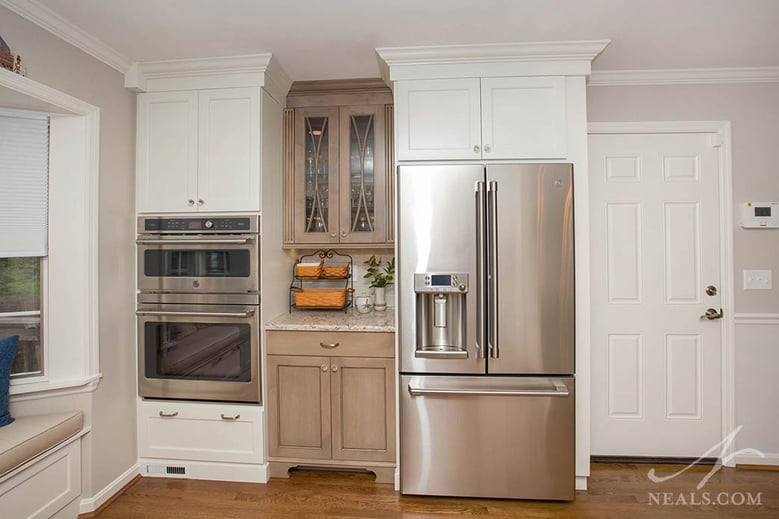 Cabinetry in this Western Hills kitchen uses color and trim to give a furniture-like feel to the built-in.
1. Cabinets with a Furniture-like Style
Cabinets are the most prominent element in a kitchen and lay the groundwork for the style. Furniture-style cabinets, meaning cabinetry that looks like a piece of furniture, are favored in traditional-style kitchens. Cabinets may have door panels with more decorative details, glass door inserts, applied moldings, carved trims and corbels, or wood appliqué embellishments. Stain and paint finishes are rich in both color and texture, and often multiple cabinetry colors are incorporated in the design to enhance the feeling that the cabinetry has been curated together over time.
Cabinet doors can be used to integrate dishwashers and refrigerators into the room so that they do not stand out. Cabinetry can also be used to frame a vent hood over a cooktop or range. This not only conceals the vent but also provides more opportunity to carry the traditional style through the room.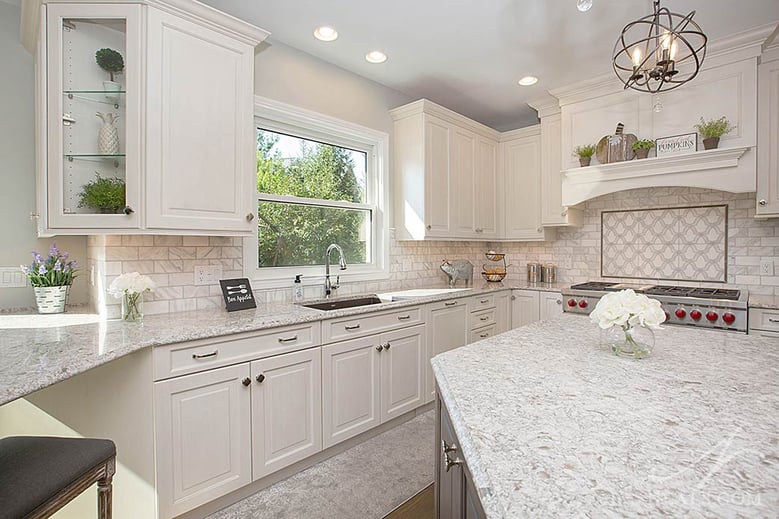 This traditional, white Mason kitchen features Cambria quartz countertops.
2. Stone or Quartz Countertops
Natural stone and quartz countertops are used in Traditional-style kitchens most often. Popular stone countertops include granite, marble and soapstone, and materials like Cambria's high-end quartz. The edging of the stone adds an important element to the room. Ogee, bevel and bullnose edging add elegance while waterfall or straight edging creates a cleaner, more modern look.
The counter shape is also important to consider. On an island, a curved countertop creates a soft and elegant look that is in line with traditional style.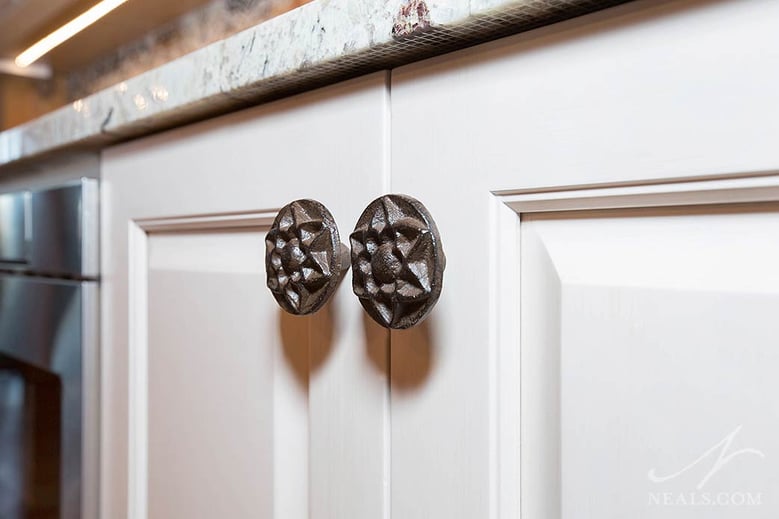 Wrought iron style hardware with a decorative design are used in a rustic Middletown traditional kitchen.
3. Elegant Hardware
The cabinet hardware you choose can add additional traditional style to your cabinets. The finish, shape, size and style of the hardware you chose should match the feelings of timeless or old-world style your traditional design is aiming for. Oil-rubbed bronze, wrought iron, copper, and crystal or glass are all traditional-style hardware options. Look for hardware with curved shapes or detailed designs. Hardware can be uniform throughout or mixed for different areas of the kitchen. For example, using glass knobs to accentuate a cabinet door with a glass insert.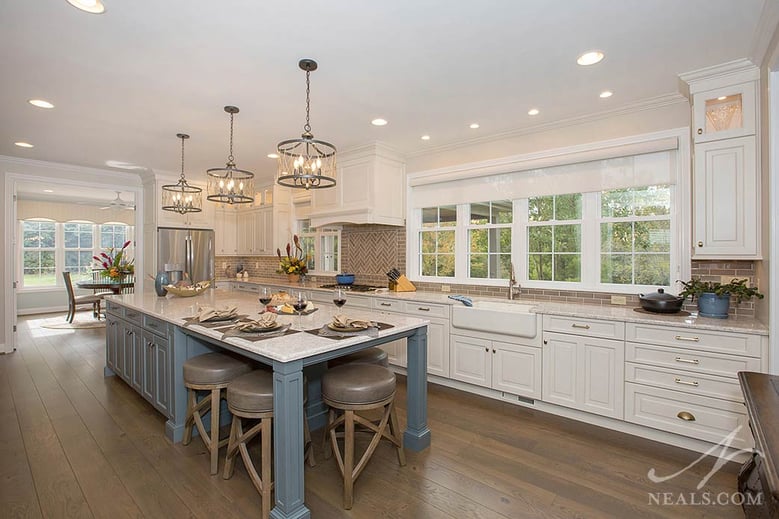 Open, cage-style pendant lights add character to this traditional Williamsburg kitchen.
4. Stylish Light Fixtures
Kitchen lighting is both practical and aesthetic and can set the mood. There are many light fixtures that will add to the style of a traditional kitchen. The shape and type of shade used on a fixture are important details. Open "cage" style lighting is a versatile lighting option over islands or peninsulas. Hand-blown glass pendants can add an artistic touch. Hanging lights with minimalist shades inject a casual feeling in a traditional manner. Lighting should be planned strategically to illuminate work areas, provide general lighting and add ambiance.
If you plan to use a hanging fixture, consider the advantages and disadvantages of uplights and downlights. While a downlight fixture can provide direct illumination of an area it can also create glare on polished counters. An uplight fixture provides more diffused illumination but may not be bright enough for task areas.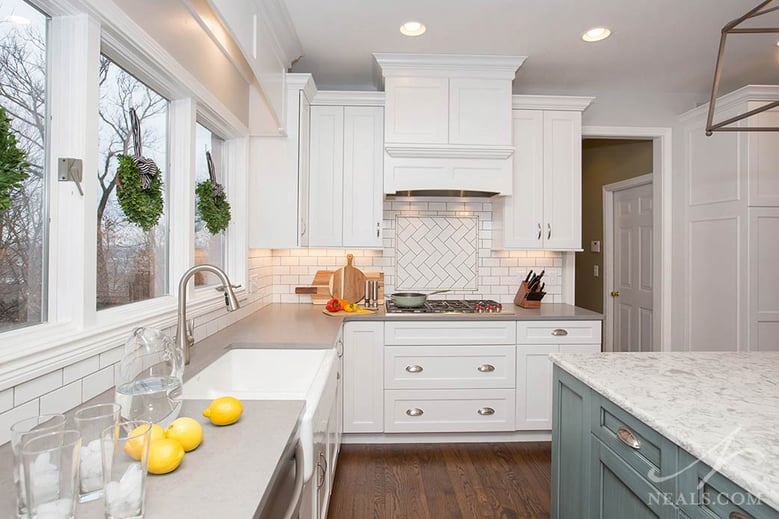 This traditional Evendale kitchen includes extra trim details around the cabinets, window and hood.
5. Elegant Moulding and Trim
Moulding, trim and appliqués are essential details in a traditional-style kitchen. Moulding includes the ceiling, cabinet, window, door, and floor trim used in the room. Moulding strips can be combined to create an elegant look or added to plain cabinetry to increase their traditional style. Corbels (foot-like wood pieces that can be added under a cabinet or range hood) and appliqués (decorative wood pieces with a shallow 3D carved design) can be used to accentuate cabinetry and woodwork. Even the addition of a simple trim to the underside of wall cabinets can add traditional elegance.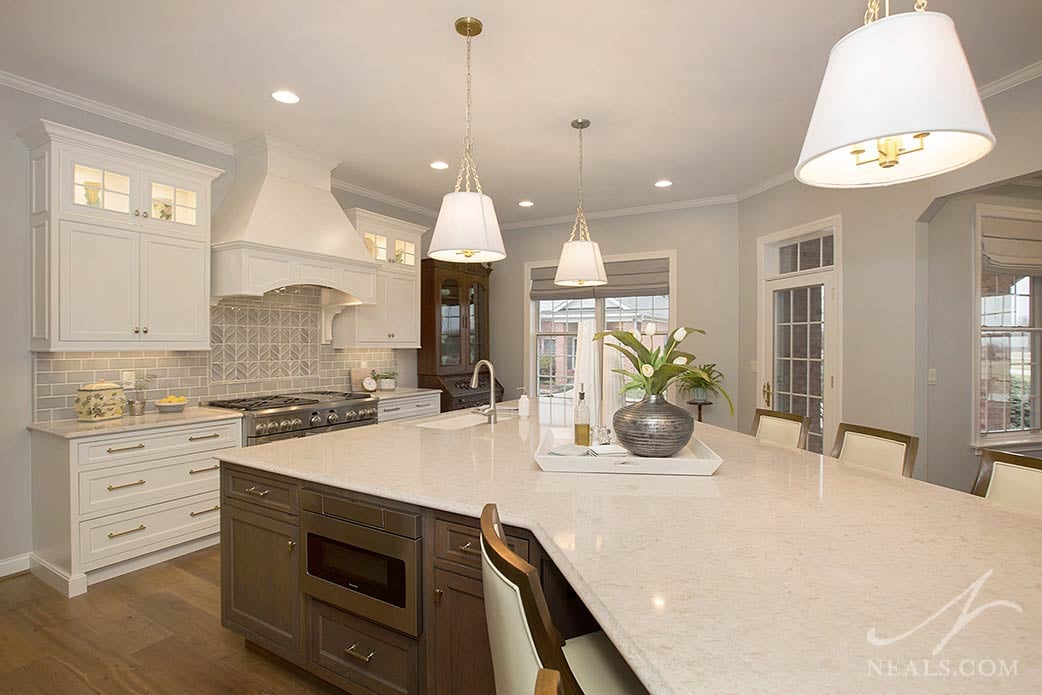 A tile design change on the backspash behind the range turns that zone into a focal point in this SE Indiana kitchen.
6. Tile with Character
Tile in a kitchen can be practical but it can also be a personal design statement, and in traditional design it plays an important role in holding the entire style together. Tile is a focal point in traditional kitchens and often includes accents to cabinets and appliances. It is helpful to work with a kitchen design professional in planning a tile design.