Over the past decade, we've seen a major shift in the way kitchen designers and homeowners consider color options for cabinets and countertops. In the past, the standard design choice was to select a single cabinet color and pair it with a single countertop color. Now, however, we're seeing the use of multiple cabinet door colors across the kitchen paired often with two different counter materials as a common design style. By using two or more cabinetry colors, homeowners are also able to include more than one cabinet style or play with different preferences, which gives the kitchen a more unique personality. Mixing colors creates a design story that is more complex even as all the elements mix together for a seamless look. Here, we review the most common combinations seen in our Cincinnati kitchen remodels.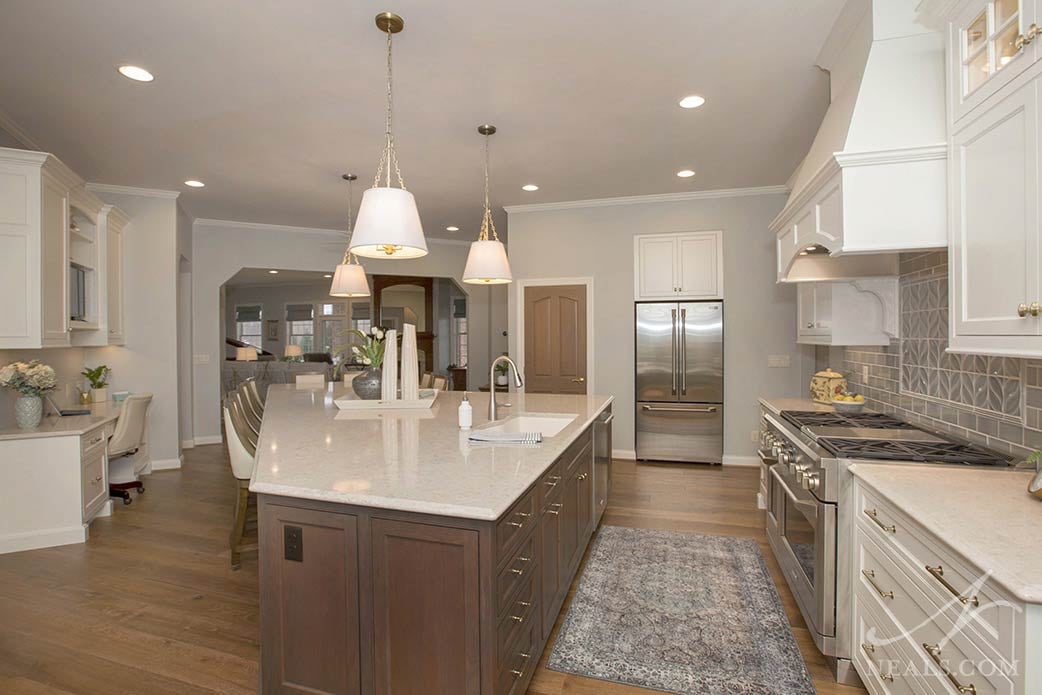 Kitchen Remodel in Southeastern Indiana
Brown & White Cabinetry
As classic as milk & cookies, the combination of creamy white with rich, warm natural browns is a great option for people looking to combine colors without stark contrast or much of a style commitment. This combination is inherently traditional, but with the right shade of brown, such as a grayish tan or a dark coffee brown, and sleek minimal hardware, the white and brown kitchen has contemporary potential. Using the same counter material (one with both pale and brown tones) throughout the kitchen will pull the two colors together, as seen in these two kitchens.
Black & White Cabinetry
If you're looking for something a bit more dramatic than the brown and white mix, consider black and white. Here again, the white doesn't have to be a plain or bright white- a soft or off-white can work just as well. In the same way, a very dark gray or brown can function like black in the kitchen. The goal is to create a point of contrast. In the kitchen below, black and white are mixed through the whole kitchen to create a contemporary design that stands out.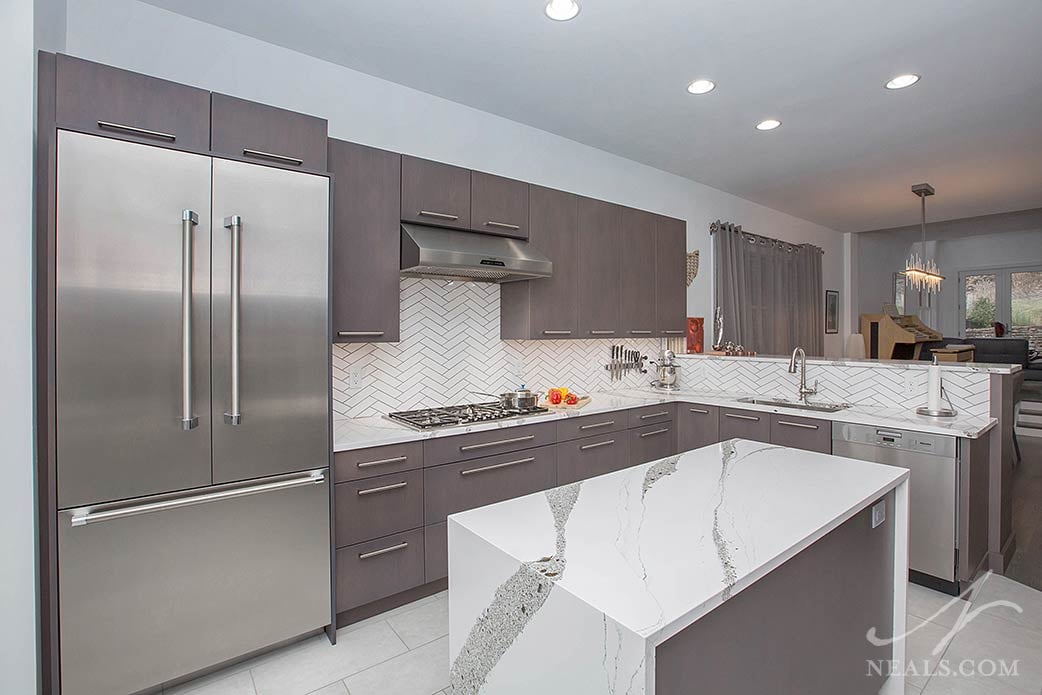 Kitchen Remodel in Over-the-Rhine
Blue and White Cabinetry
We've been highlighting the use of blue in the kitchen for a while now. In most cases, this comes in combination with white or pale cream cabinets. This combination allows the blue to act like a neutral, but still injects a dominant color that will define other decor choices. There are many shades of blue, and depending on the cabinet doors and counter material chosen, the style can run from traditional to contemporary, making it an extremely popular option for many homeowners. The option to install perimeter cabinets in blue, like above, is one to carefully consider with your designer to ensure that you won't regret the choice. A tamer option may be to use blue on your island, creating a focal point, as in the kitchen below.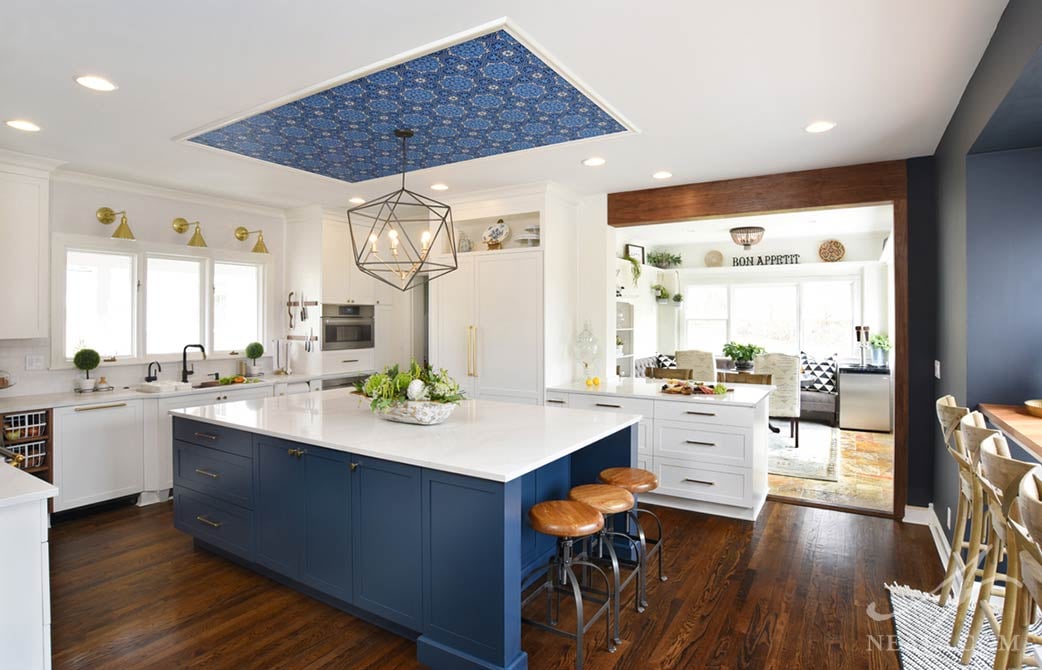 Kitchen Remodel in Anderson Township
White, Gray and Brown Cabinetry
When you move past the safety of a simple 2-color pairing, color mixing gets a little more interesting and a little more difficult to pull off. One of the more common palettes used in the kitchen is the grouping of white, gray and brown. To make this more colorful mixture work, it must start with finding a brown and gray that work in partnership. If the gray is too cool and the brown too warm, no amount of white will tame the clashing. In the kitchen below, brown and grey were interchanged in the cabinetry in equal amounts, and a white countertop adds the needed lightening effect.
Using white gray and brown to designate zones in the kitchen is another option that helps distribute the colors for a cohesive design. In that case, each space can use a different combination of colors, creating vignettes that work perfectly as stand-alone designs, and blend seamlessly together for the whole kitchen's color story. This kitchen below is a prime example of this type of zoned and mixed color. Each area uses two of the three colors- one for the cabinets, one for the counter.