We've watched over the past decade as white has made its way back as the queen of kitchen design. White has the benefit of being suitable for the full range of design styles, so it's no wonder that many new kitchens and kitchen remodels have relied on this versatile and timeless option. White can, however, become sterile or boring when it's just placed in a kitchen without ample consideration of the overall look, or when done in low-quality or builder-grade materials. This kitchen remodel in Evendale is an excellent example of how a dull and dated white kitchen can be transformed into a modern-feeling, interesting space without sacrificing the white backdrop.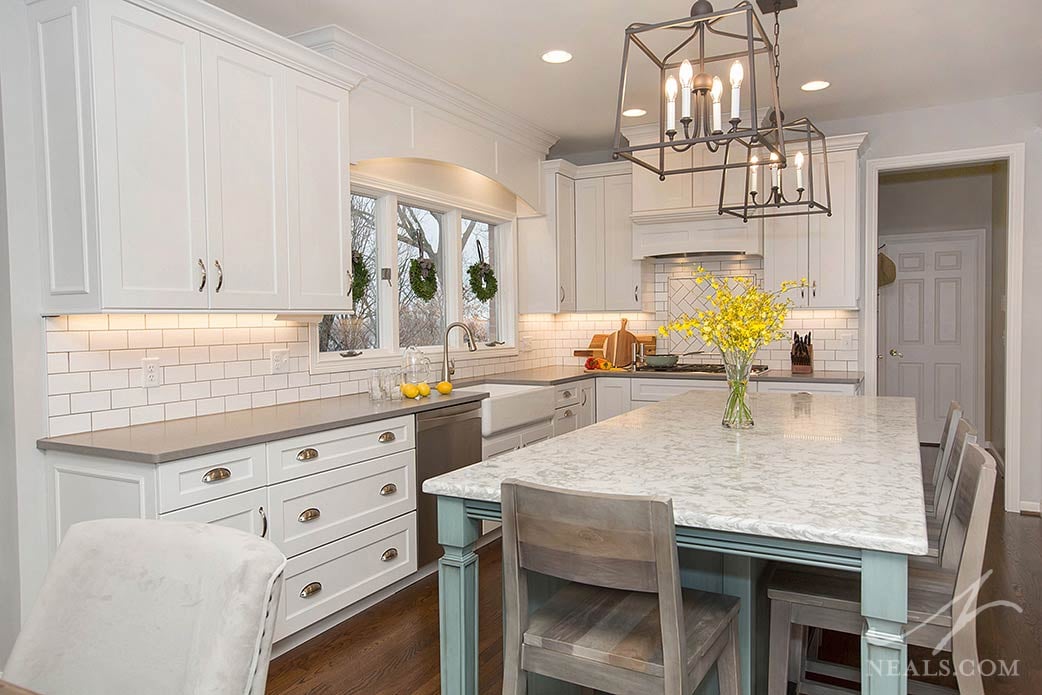 The existing kitchen in this 1990's-era home was a product of its time. Mid- to Late-90's kitchen builders were often aware of some style features we rely on today for kitchen design, such as seating included at the island, ample recessed can lighting over task zones, and white cabinetry that would not dictate decor or colors in the space. While all of these things are great concepts in a kitchen, when low-quality materials with no style are used, the result is yawn-worthy. Add to that a lack of storage and a cramped working triangle, and this kitchen was miles away from being a white kitchen gem.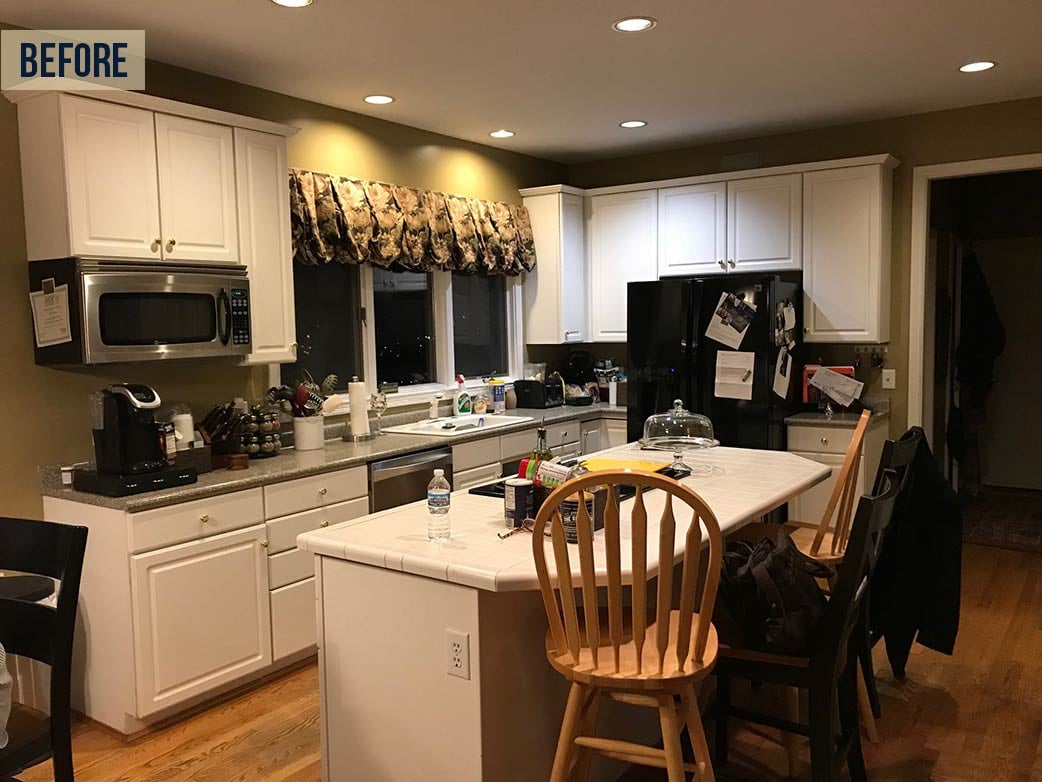 The main style goal for the new kitchen was to create a clean-lined, transitional white kitchen, but to find ways to inject interest and style into the space. Essentially, to update and improve the space in a way that was neutral and not as boring as what already existed. The first step in achieving this was to select new cabinetry that would look great in white, not look overly fussy, and not simply fade into the background. The best choice for this was to combine a basic shaker-style cabinet door (which uses a squared recessed panel with no bells and whistles) along with sophisticated moulding to enhance and finish off the look, including crown moulding and trimwork detailing on the end of the cabinets.
---
Considering a kitchen remodel, but unsure how to start?
Read our Free Homeowner's Guide to Kitchen Remodeling.
---
Intentional changes to the layout throughout the kitchen add up to big improvements without the need to move walls or doors. Neal's Designer Cyndi Kohler rearranged the working areas to spread them out in the space. This was achieved by partnering the fridge up with the wall ovens, and moving the cooktop to the perimeter wall. This allowed the island to be cleared off to function better as a multi-purposed surface and provided much-needed room to work. Additionally, each of the lengths of cabinetry were extended closer to the room's doors to remove wasted inches of space and repurpose those inches into storage capacity. A corner pantry was removed and redesigned as a stout cabinet unit to create more functional and easier-to-access storage.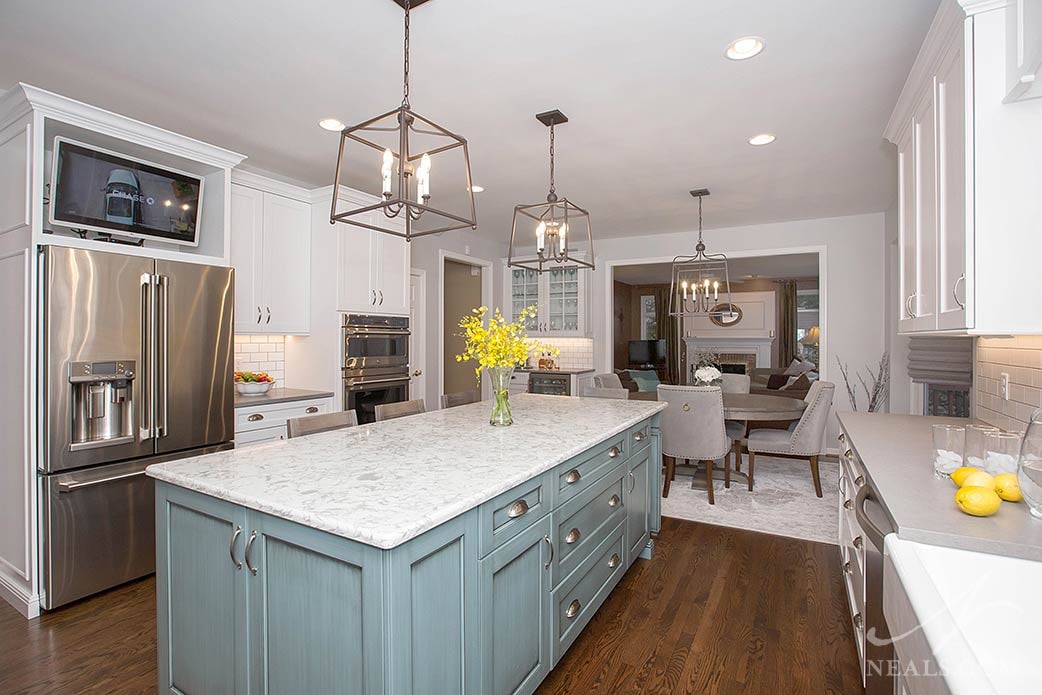 The mixtures of materials and finishes added to the space are what truly make this white kitchen interesting and stylish. This is most obvious with the design of the island. After increasing the island's length (which added storage along with counterspace for two more seats) a soft, gray-toned sea blue color was selected for it with a vintage, hand-painted finish. A light counter of Cirrus Smoke quartz tops it off. Since this combination is different from the white cabinets and gray counter of the perimeter, the island injects the eclectic vibe of a farmhouse kitchen without looking overtly shabby chic. This is partly due to Kohler's use of the same cabinet door style and hardware as that found on the white cabinets, which creates a cohesive style thread that pulls everything together.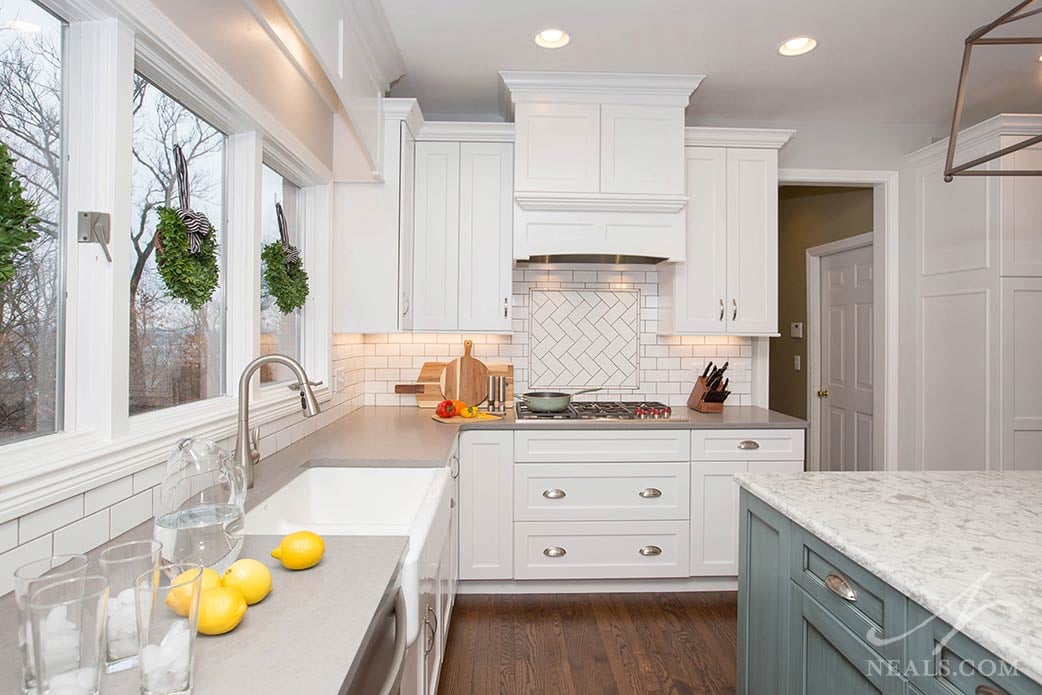 Subway tile was selected for the kitchen's backsplash and is used in a traditional pattern mix to carry a timeless appeal. A dark wood floor provides much-needed contrast to ground the entire space. The wood finish ties in perfectly with that same subtle farmhouse feel seen in the island. Cage-framed lights above the island add another hint of casual style in a way that is airy and open, preventing any feelings of overhead weight.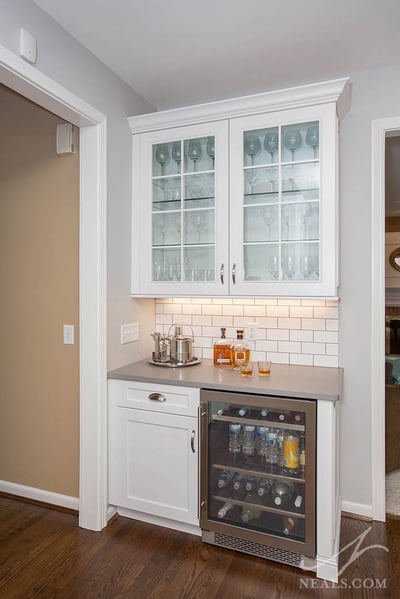 In changing the kitchen, the homeowners were provided the opportunity to re-tailor the kitchen's function into a space that works more effectively for entertaining, rather than just the '90's era "family kitchen" as it was originally designed. To help this along, a desk area at the end of the kitchen, which was not needed, was redesigned as an accessible beverage bar. Its location near the living room means that family and guests can access the drinks without getting into the working areas of the kitchen. It's these types of considerations that enhance the quality of the new kitchen and allow it to function stylistically and practically in the decades to come.