Countertops, just like cabinetry, help to convey the style of your kitchen. In some designs, the counter material can bring unique character to your space. In other designs, the counter can become a neutral backdrop to other materials used in the kitchen. Determining which of these two styles you'd like in your kitchen is an important first step for narrowing down your options.
There are many countertop materials available, each with different price points, pros and cons, color and finish options, etc., and they all convey a different style character to the kitchen. Both natural and manufactured materials are widely available, but be careful not to assume that a manufactured counter material is inferior or cheaper than the natural options.
While there are always new ideas and materials showing up on the market, when you're looking at kitchen countertop options, it's a good idea to begin by taking a look at the tried-and-true materials first. While they may or may not be specifically what you're looking for, these materials have been around and used successfully in kitchens for a very long time, which means that there are benefits to using them.
---
Looking for information on how to get started with a kitchen remodel? Read our Guide for Free.
---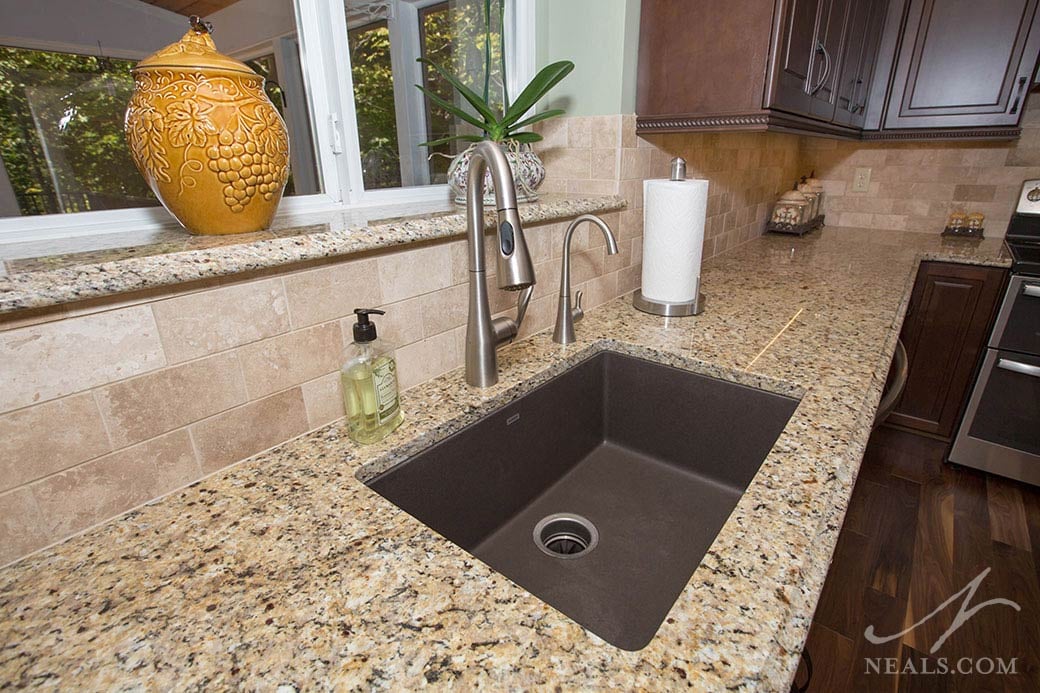 Granite
Granite is a popular natural stone choice with mottled color in a wide variety of shades. It is durable and if properly sealed, resists stains and moisture. Granite maintains its color, is colored through the entire interior of the slab, and every piece of granite is unique.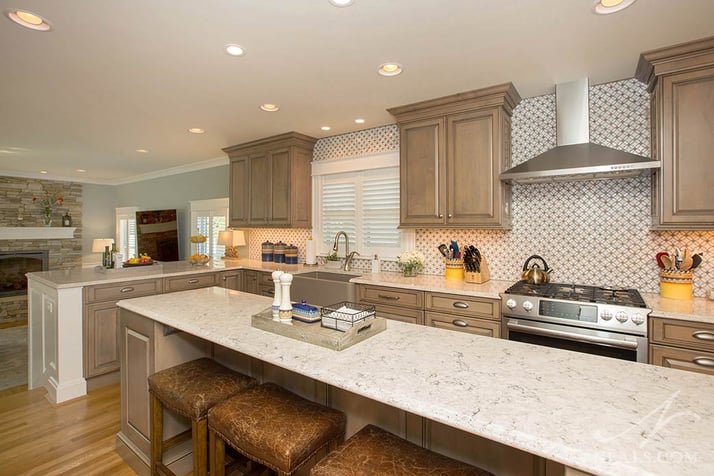 Quartz
Quartz can look similar to granite, but is made by mixing natural materials with resins to create a naturally non-porous material. This gives quartz a bit less maintenance requirements than granite. Quartz can also be made in more color and variety than natural stone, so there are different style options available.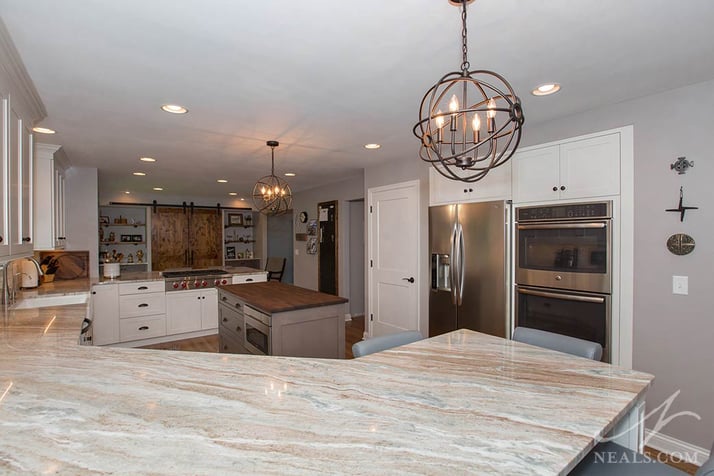 Marble
Marble is a delicate natural stone that typically comes in white, cream, gray and brown shades. While most people think of the classic white with gray veins when they think of marble, many other variations are available, like the unique brown and gray variety in this kitchen. Marble is not as durable as granite, so more care must be taken to seal and maintain it. Marble can also come at a higher price point than other options, depending on the type and where it was originally sourced.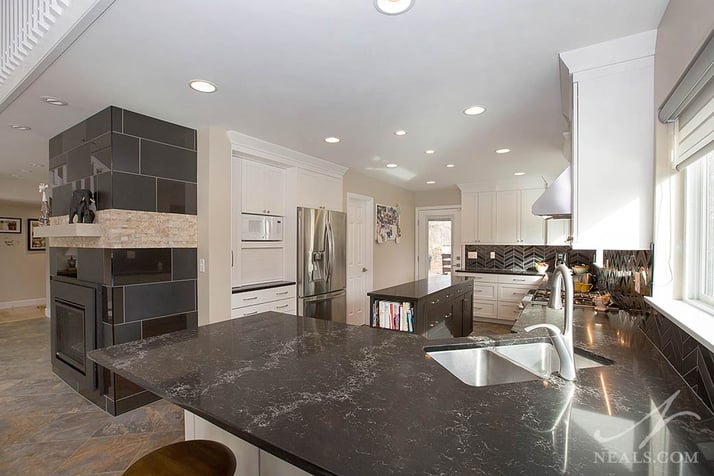 Solid Surface
Solid Surface is a manufactured material available in a variety of colors that lacks the more natural appearance of quartz. It can be more easily damaged by heat or stains. It can be produced in a very wide range of colors and patterns, including varieties that are not available with the natural options.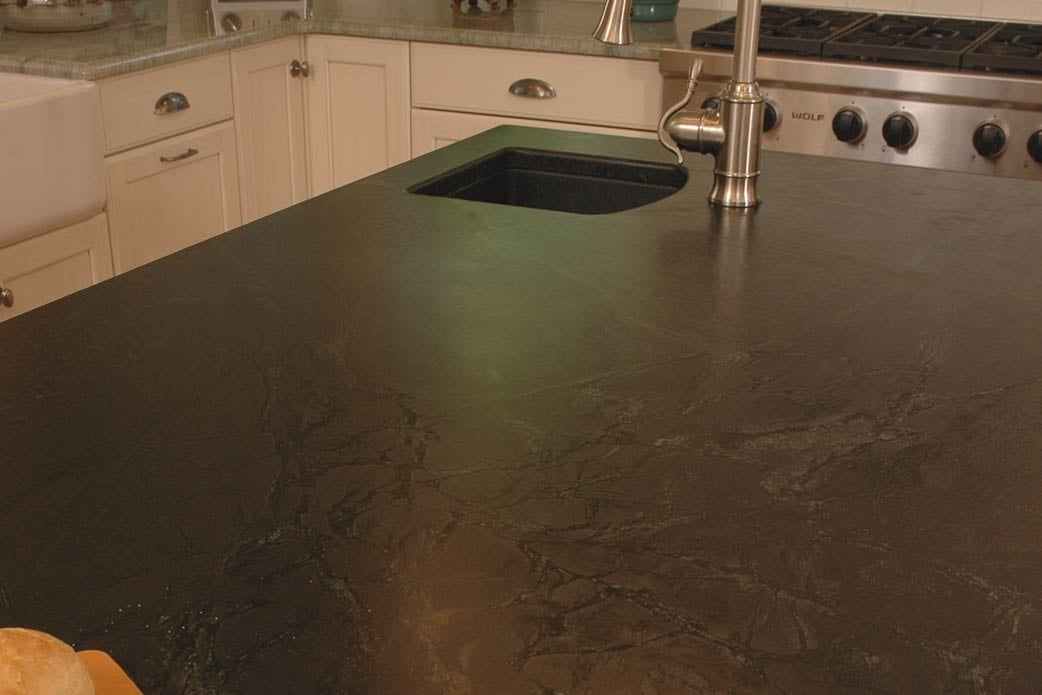 Soapstone
Soapstone is a natural stone with a dark color and marble-like veins that patinas well over time. It is a soft, non-porous stone that resists cracks and heat, but that can be easily scratched or nicked. Like all other natural stones, no two pieces are alike.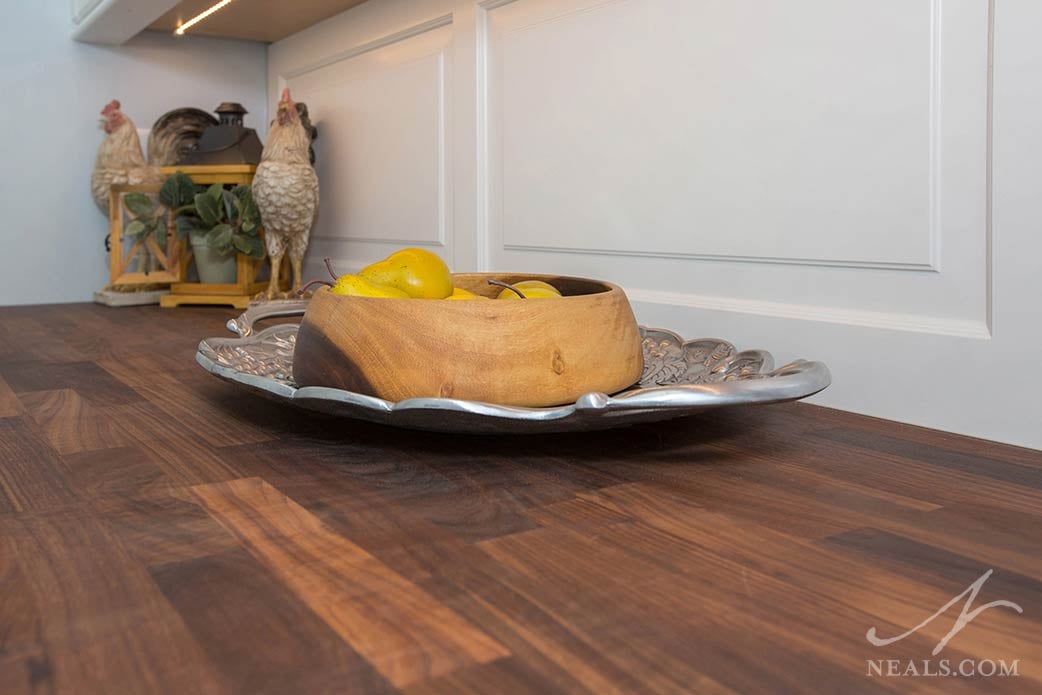 Wood
Wood is a natural material (either as a plank or several pieces glued together) requiring regular maintenance. Wood is often used in kitchens in the form of a butcher block counter, but doesn't have to be installed for the purposes of a cutting board. Recycled or reclaimed wood is a great option for Eco-conscious kitchens.
Granite vs. Quartz: Which is Better?
One question that is asked often when considering a kitchen counter material is whether granite or quartz in the better choice. The short answer is that it's not a simple answer. Depending on what particular granite or quartz you're looking at, the two materials can be comparable. Quartz has maintenance benefits over granite in that it doesn't require regular sealing, but quartz can also be damaged by heat easier than granite. Granite and quartz overlap in cost (with quartz having the larger price range both above and below granite's average costs). New quartz manufacturing processes give it a more natural appearance, as well as being able to create natural-looking counters that are not actually achievable in natural granite.
What the choice comes down to ultimately is what you're looking for in very specific terms of style, color, and maintenance requirements. A kitchen design specialist can help you navigate this question more directly to your needs.
Other Countertop Material Options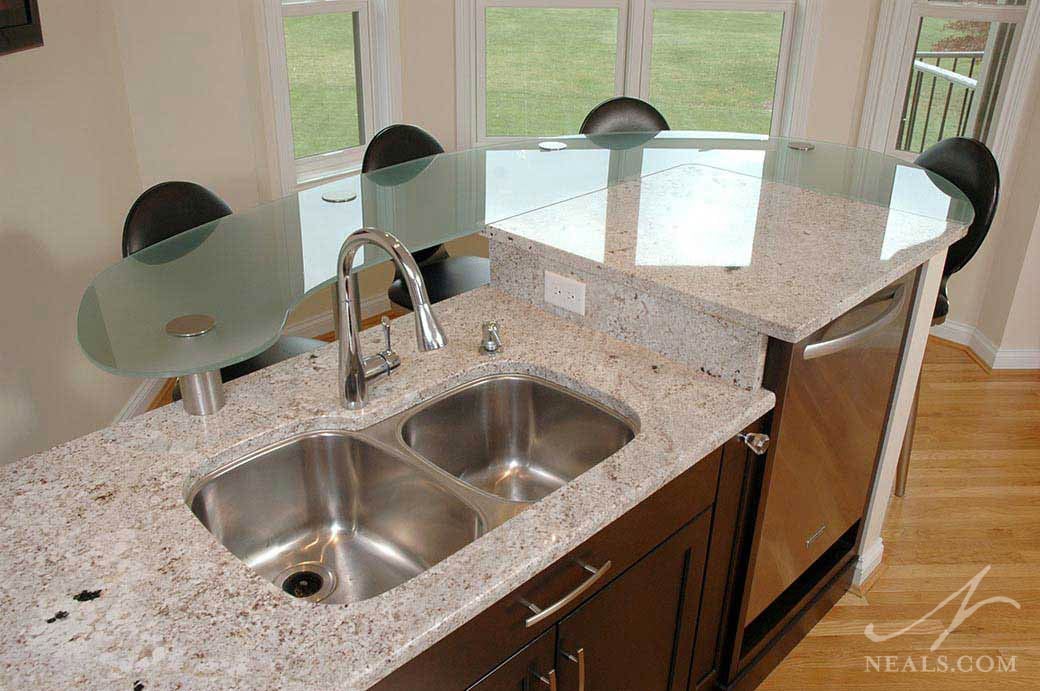 If the common materials aren't quite hitting your style or preference on the head, there are other options to look into. Tempered Glass can be used, commonly as an accent piece with some other material functioning as the main counter. A raised counter of glass is more commonly used as a contemporary style option.
Concrete is a relatively newer material for kitchen counters. A smoother grade of concrete is used for counters than what's poured onto your driveway, but it's the same material otherwise. A concrete countertop must be properly sealed to prevent damage, stains, and mold.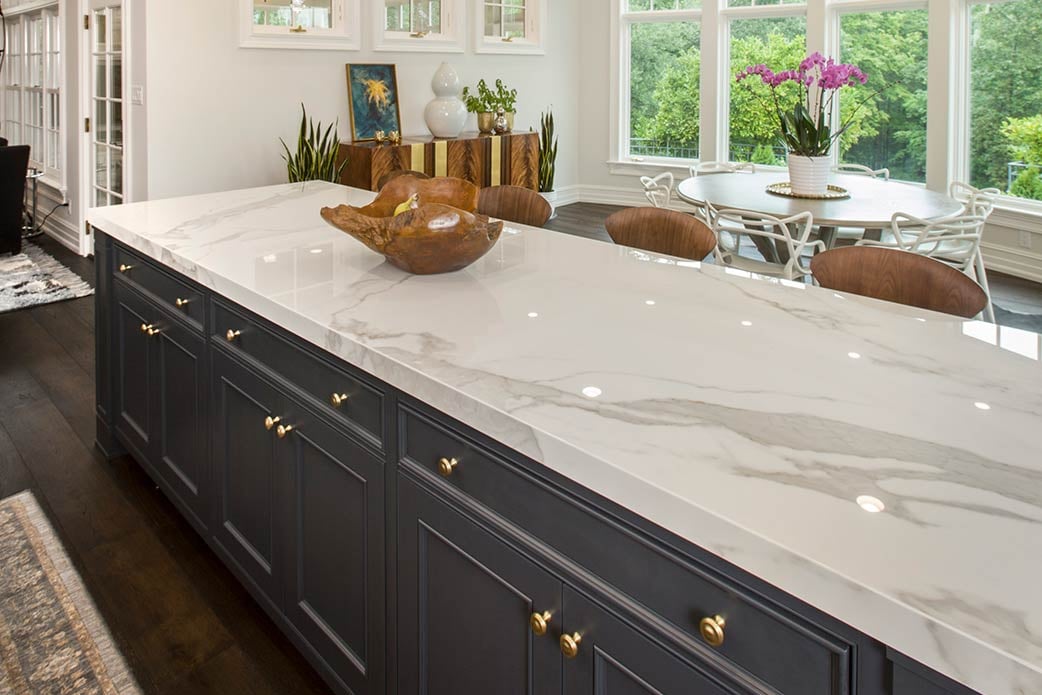 In addition to quartz, there is a new wave of manufactured countertops that use combinations of natural and artificial materials and resins to create solid, strong materials well suited to the kitchen. Most of these materials come under branded names (like NeolithTM shown above) so they may be harder to locate outside of a showroom or with the direction of a designer.
Laminate counters, which are sheets of laminate glued to a particle board core, are also available. Their general lack of panache and the comparative affordability of solid surface materials, however, leave this option well in the low-budget range.
How to Choose a Countertop Material
Some of the options above also overlap a bit in look, so the decision to go with granite instead of quartz, or solid surface over marble tends to come down to relative cost and long-term maintenance commitment. Here are some key questions you should ask to narrow down which materials might be right for your project.
Does this material have options within my budget range?
Can I get the color and/or pattern I want in this material?
Is this material appropriate for my home's value and market?
Will the labor costs for installation be inside my budget?
Can I commit to the proper regular up-keep of this material?
Does this material work for the style I'm trying to achieve in my kitchen?