People often underestimate the design power of a statement hardware piece. This piece can create visual contrast in the overall room design, or add a special touch that creates a look that feels more unique to your tastes and home. Details like hardware can have an impact on the finished look of your space, so it's important to keep these items in mind. For instance, crystal hardware is perfect if you desire to have a more glamorous space. Copper or antique knobs would be more suited to a room with a more rustic appeal. Here are our picks for some current kitchen cabinet hardware trends to help you add a bit more personality to your home.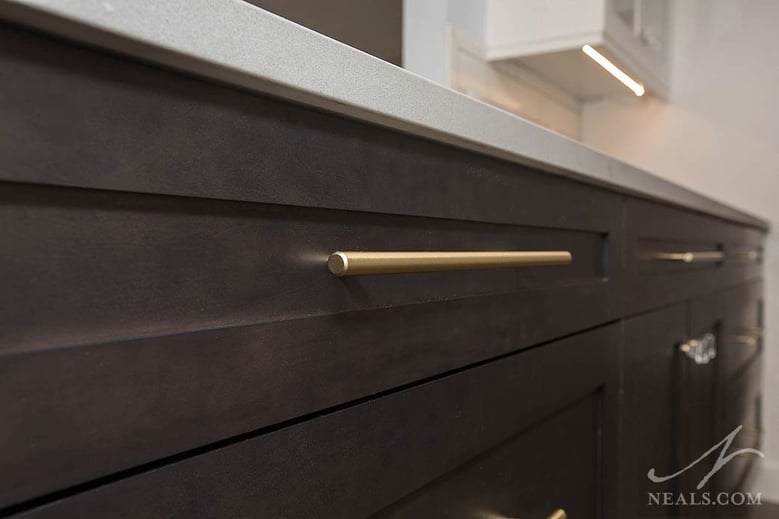 This Colerain kitchen remodel uses gold-finished hardware in a contemporary bar handle style.

Gold-toned Hardware
When used in a room with light colors, gold-toned hardware, which includes both gold and brass finishes, will add an airy or dreamy touch. In a dark setting, the bright sheen of a gold colored knob will create contrast. Gold is associated with luxury and refinement, so when used in a space it will inject a sense of pedigree and sophistication.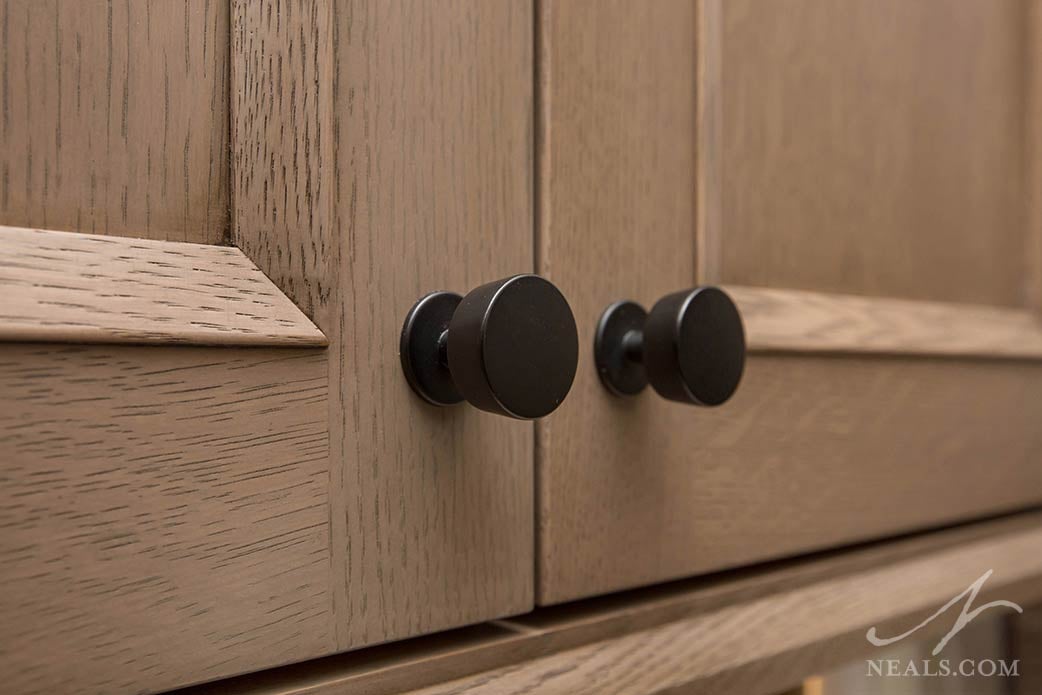 Matte black hardware in a minimalist style in a Loveland kitchen remodel.
Matte Black Hardware
Matte black hardware is an unexpected finish that adds a distinctive 21st century style, since it's a very current, modern-day hardware option. It works ideally in transitional or modern spaces, but can also create an interesting and contemporary touch to traditional styles like farmhouse or craftsman. Handle shape should be carefully considered with the matte black finish to ensure that this newer finish isn't creating an awkward style juxtaposition.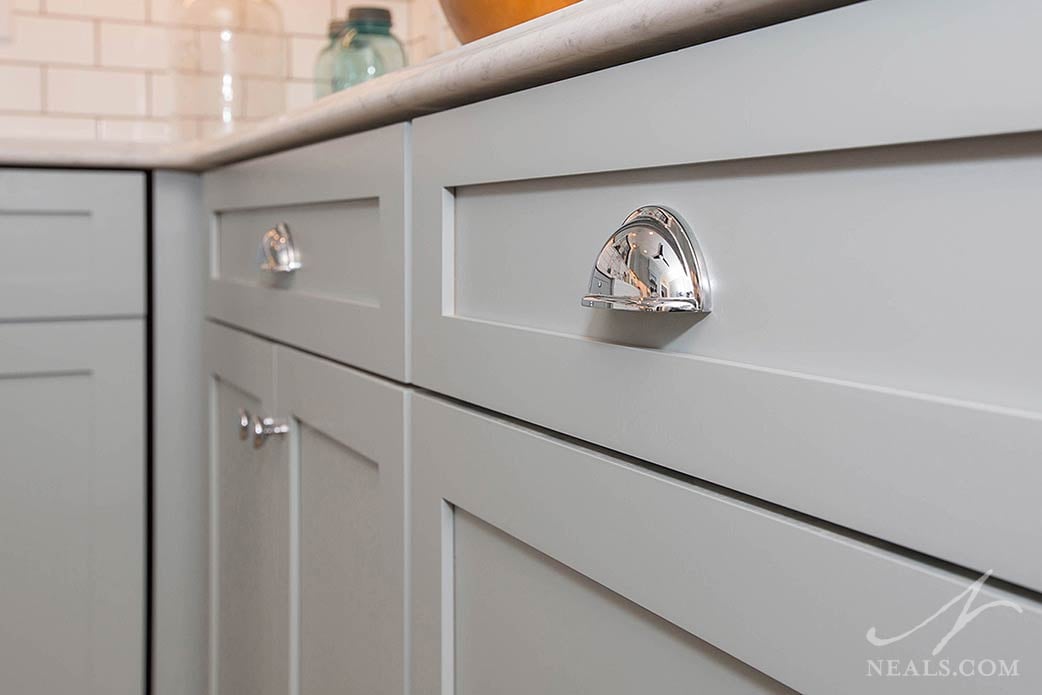 Reflective polished nickel knobs in an Avondale kitchen remodel.
Polished Nickel Hardware
Metal knobs with a polished nickel finish sparkle and create pinpoints of interest in a space. Instantly reminiscent of retro chrome polish, this hardware finish does carry a bit of a nostalgic vibe which works very well for transitional spaces. Care should be taken, however, to maintain the polish and luster of polished hardware, though allowing the finish to age and patina over time could make for equally stunning results. For this one, we highly recommend getting designer input.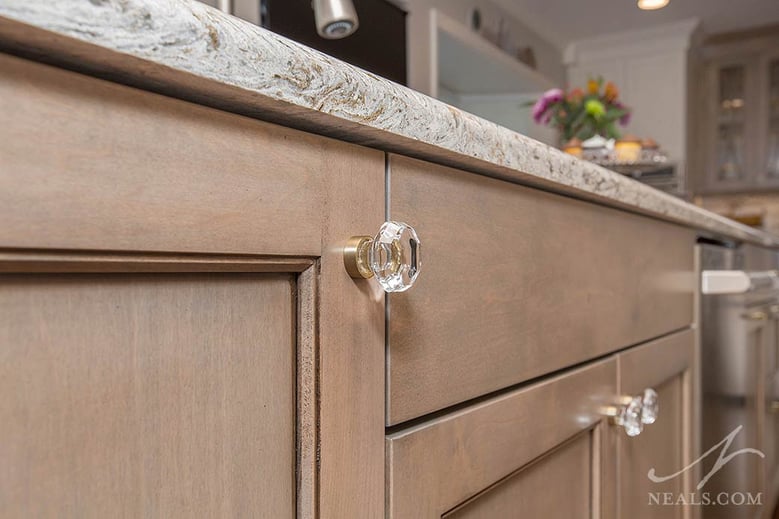 Glass knobs add elegance to a Western Hills kitchen remodel.
Crystal or Glass Hardware
Crystal or glass knobs add a touch of timeless elegance to any room. The sparkling quality complements many different cabinetry colors for a traditional, Victorian look. When the hardware has a modern shape, it can be used in a contemporary space for an edgy look that plays with texture and light.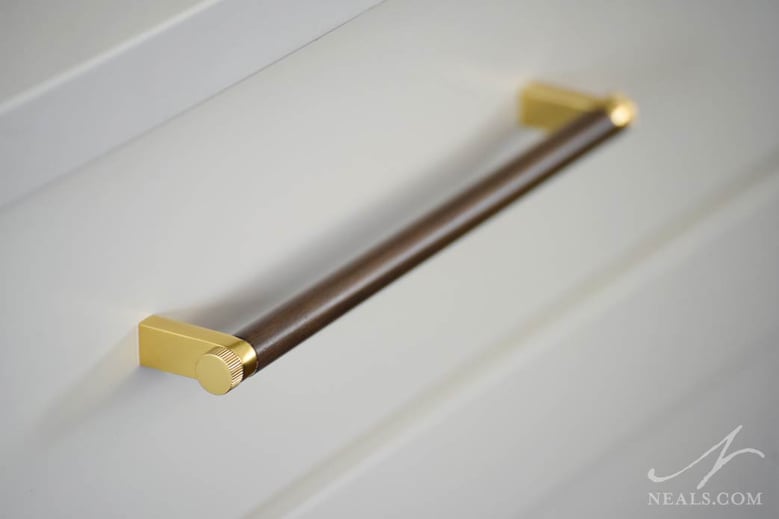 Mixed media handles in an Anderson Township kitchen project.
Mixed Material Knobs
A knob or drawer pull that uses more than one material can enhance the room's style to go a bit deeper or help pull a wider groups of colors together. This hardware style has the potential to make a cabinet appear more interesting or special. This also adds a personal touch, so the cabinet no longer looks generic. These items are best used in unexpected locations, rather than throughout the space, to make their appearance more impactful.
We've saved many more cabinet hardware ideas to inspire your space on Pinterest. Click here for the board.