Understanding what is popular in kitchen design style is a handy way of aligning your new kitchen with the current design mindset. Trends for kitchens aren't exactly like trends for clothing. These style shifts happen over the course of several years as homeowners and designers alike slowly gravitate to different products, colors or features for the kitchen. As you plan your kitchen remodel, understanding your own unique needs and style is important, but also knowing current trends can help you see options you may not have been aware of that could potentially bring into your kitchen a very "here-and-now" or modern sense of style. Here, we've identified 10 major kitchen design trends heading into 2020 that are worth taking note of.
#1 Slab Backsplashes
We first started seeing this trend in a handful of unique projects, all with wildly different style goals. As the idea has gained traction (and installers have gotten more comfortable and familiar with how to pull it off) the use of a solid surface or stone slab as a backsplash has taken root as a popular option. This effect works well to bring an unexpected modern touch to more traditional kitchens without having to resort to specifically modern materials. By capitalizing on the natural or organic pattern of a stone slab, the backsplash is given a randomized quality that can often read more like an art piece or on par with artisan tile, than as just a piece of stone.
#2 Double Islands
The use of two kitchen islands has become a clear trend for spaces that can accommodate them. There are no "rules" for how to go about having two islands, so it comes down first and foremost to your practical needs. Once purpose, size and position are established, it's up to you and your designer to determine if your double islands should be identical or fraternal twins. Most double islands are created to divide workspace from seating, or to dedicate storage from sink areas, a lot of fun can be had in finding the connecting style thread between them.
#3 Island Seating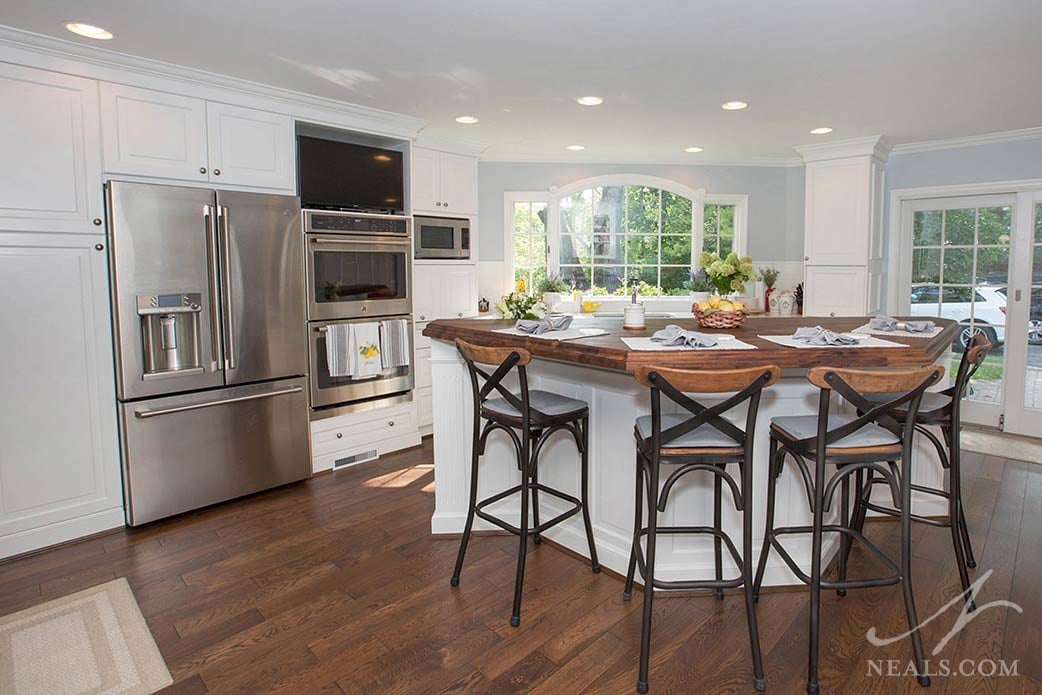 Kitchen in Sharonville
As more homeowners and their families utilize the kitchen as a place to gather on a daily basis more and more, the traditional kitchen table has started to give way to more of a reliance on seating placed at the kitchen island. In 2020 we can expect to see more attention given to how island seating fits into the design scheme of the kitchen. Instead of nondescript bar stools, kitchen island seating is leaning more heavily toward high quality, stylish seating that adds clear design notes that add to the kitchen's look. In addition, we see seating that is more comfortable and substantial in reaction to a desire for family and guests to linger longer with the cook in the kitchen.
#4 Green-Painted Cabinetry
There's little doubt that blue is still a go-to color in kitchen cabinets for 2020, but we're also seeing an uptick in the use of green shades. Everything from pale lemongrass to deep forest green has been showing up in kitchens more and more, and as the idea catches on we expect to see more Cincinnati area kitchens go this route. Green can be tricky to pull off, however, since it doesn't tend to have the neutral background quality that most blue shades have. The trick to making green work in the kitchen is to pair it with white or cream shades and warm-toned woods or metals to balance it out and temper the color.
#5 Colored Ranges
There has been a recent influx of manufacturers in the home appliance market that have seen and responded to homeowners' general desire for custom features in their homes. Ranges in particular have caught this wave, and we have been seeing an increase in residential kitchen ranges offered with specialty colors and customization options that include both outward appearance as well as functional features. There's a customizable range option available in nearly every style niche, but classically-inspired ranges perfect for transitional or traditional kitchens are at the height of this trend.
#6 Warm Wood Finishes
If the recent, long-standing trend of white kitchen cabinetry hasn't been your style, you'll be happy to know that wood-finish cabinets are coming back into vogue. Specifically warm-toned finishes in medium shades. While some of this trend may be a counter-reaction to the proliferation of white kitchens, these new stained wood cabinet styles aren't just a re-hash of what's come before. Instead, the new trend is based on a desire to inject a rustic or casual look into the home and, at the moment, is dominated by gray or white finished wood for a subdued effort, or by allowing natural walnuts, maples, or oaks to speak for themselves by using clear finishes.
#7 Subway Tile
A case could be made that subway tile has never quite gone out of style, but coming into 2020, there's been a surge in the use of the traditional solid white tile used for kitchen backsplashes. Subway tile gets the name due to its use throughout the early subway system which required a smooth, inexpensive and easy to install wall covering. Today, this minimalist tile, laid in a brick pattern, is often used to create a practical, unfussy backsplash that works with a wide variety of kitchen styles. Though subway tile is available in many color and finish formats, it is specifically those in the glossy white category that are trending into this year.
#8 Customized Storage
Kitchen cabinetry makers have heard and responded to the homeowner's needs for cabinet interior options that help organize more than simple hold their things. As interior fittings have transitioned into a more standard option, this trend has taken off. Now when planning your kitchen, it's possible to plan out exactly where your spices, spatulas, and strainers will go because you can create a cabinet designed specifically for each. A word of caution, however. Though cabinet interiors with specialty fittings can make a world of difference to your daily organizational life, this trend is still new enough that the features can add to your cost quickly. It's important to work with a kitchen designer that can help you see where to splurge and where to save on this one.
#9 Open Shelving
Though the use of open shelving is something that's been around in kitchens for a long time, up to these more recent years, those shelves have often been used for cookbooks or decorative objects. This new trend, though, is leaning much more heavily on the use of open shelving for everyday items such as dishes or cooking oils. This trend may have had roots in the commercial kitchen, where open shelves make plating quicker, so as the style has begun to trend in residential kitchens. Unlike the restaurant kitchen, however, open shelving in the home kitchen is often achieved with a stylish selection of woods and metals that aren't strictly utilitarian.
#10 Larger Doorways
There used to be a time when the kitchen was relegated to the back of the home with only one or two doors connecting it to the rest of the house. As home design styles have changed, there's been a clear desire to open the kitchen to adjacent rooms. In 2020, homeowners are feeling that the kitchen should be open and accessible, but also recognize the relative costs involved in taking down walls. The result? A trend toward re-evaluating the scale of existing doorways and finding solutions to make them larger without going all in with an open concept.