Color is nothing new in kitchen design. We've taken note over the years that beyond the typical wood tones and stains, and the ever-present white, several other colors have found their way into trendy and stylish modern kitchens. It can be easy to fear that a colored cabinet choice would be a short-lived trendy decision you'd regret in a few years, but we've taken a look at the colors that come up time and time again to find these 4 safe-bets.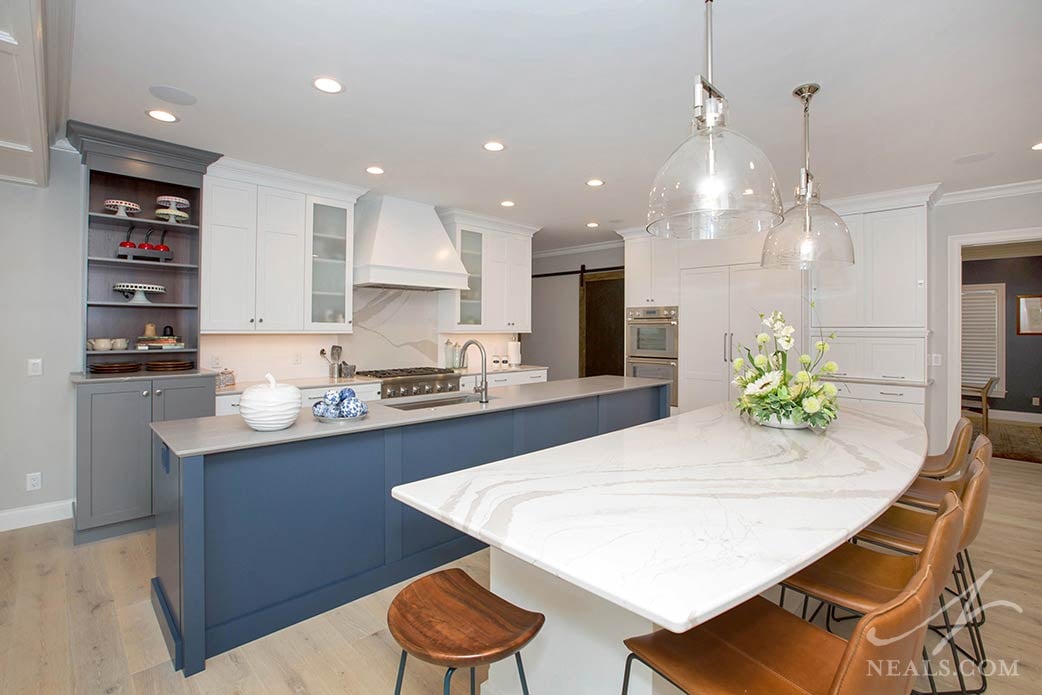 Kitchen remodel in Indian Hill with blue and white accent cabinetry.
Bold Blues
Just like a classic suit, dark navy blue works wonderfully as a neutral color option in a kitchen. Not as aggressive as black, or as potentially lifeless as gray, a bold blue can add some subtle character to the kitchen without forcing your entire decor scheme into a specific color direction. Deep blues (anything from moody navy to daring royal) can be paired with a very wide range of other tones, including wood tones, whites, grays, blacks, and many different hardware finishes. In a space that has several different components like the kitchen, a versatile color like navy works exceptionally well.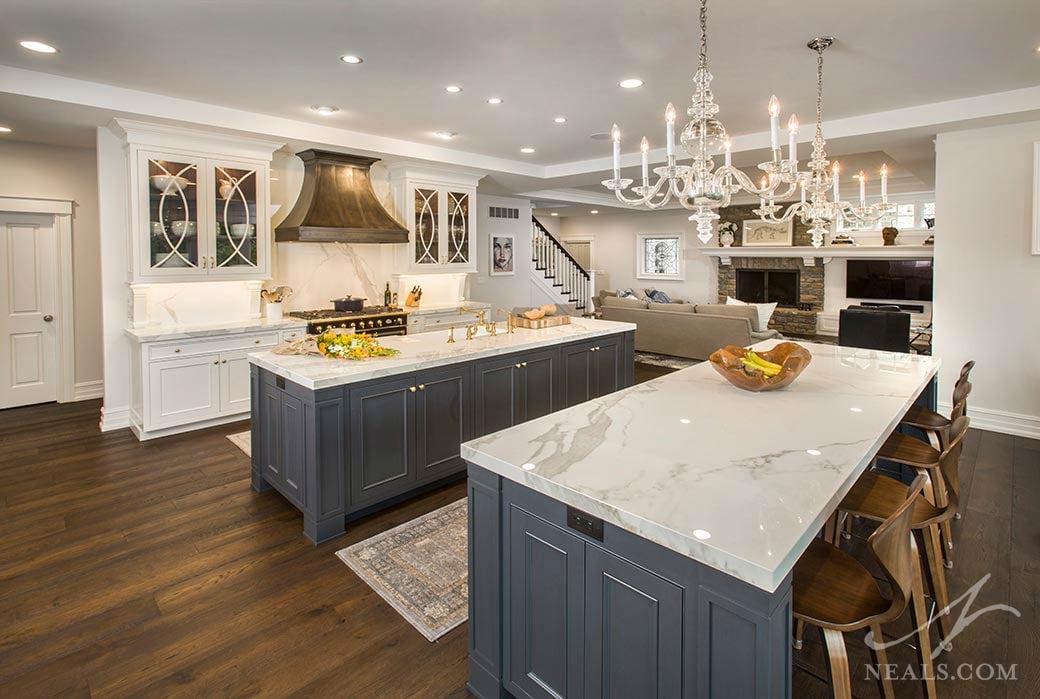 Navy blue islands in an Indian Hill kitchen remodel.
Soft Blues
Not to be left out, pale blues or blues with a softer tone are also commonly used in modern kitchens. When done correctly, either by mixing in other cabinet colors or by limiting the blue to a single zone (such as the island), you can avoid having the kitchen feel like the inside of an Easter egg. It also helps to choose vintage, hand-brushed finishing, or glazing effects that give lighter blues some texture and depth, adding maturity and interest. Just as with dark blue colors, pale blues can act as neutral backdrops for other colors, particular warm wood stains and black or dark finishes.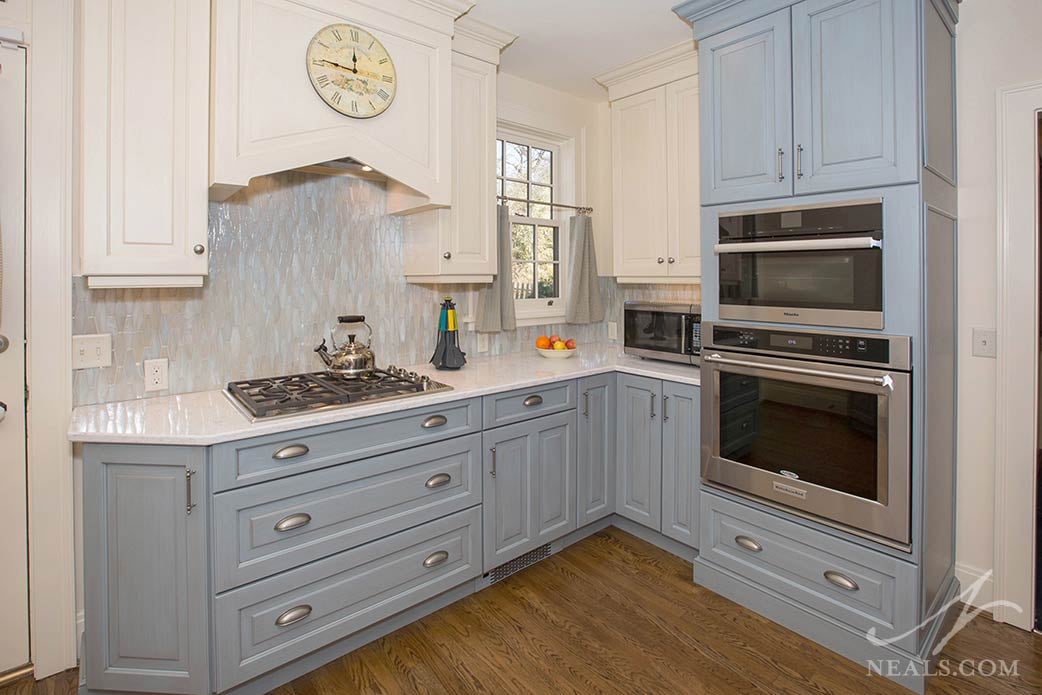 Vintage finish pale blue cabinets in a Clifton kitchen remodel.
Earthy Greens
Unlike the garish avocado green of 50's design, modern green cabinetry leans toward moody or earthy shades. Green isn't quiet as neutral as blue, however, so when selecting a green, sage, or teal shade for your kitchen, it's important to think of this one as a defining color in the space rather than a background tone that will entirely blend in. Greens work beautifully with most wood tones (think trees), whites and blacks, but works less well with grays and other colors that might compete for attention. Keeping the color palette of the kitchen down to a few colors will help the choice of green feel fresh and stylish instead of cartooney.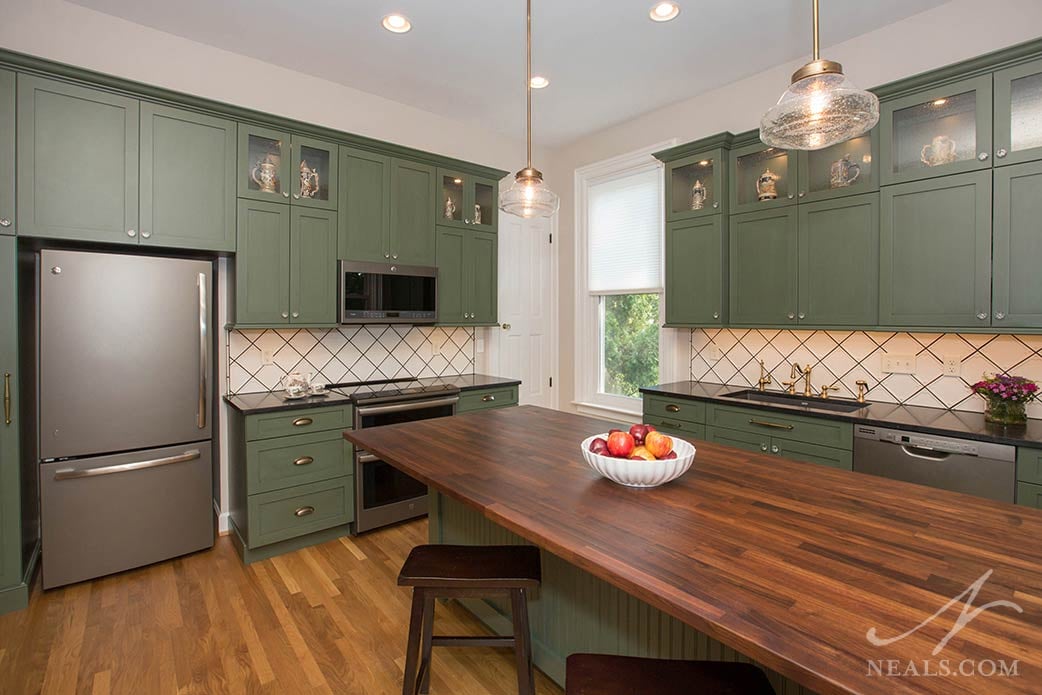 Stunning green cabinetry in a Wyoming kitchen remodel.
Moody Grays
If you like the idea of trying color in your kitchen but blue and green feel too risky or not within your taste, take a look at your options in the gray category. Grays can be considered warm or cool. Warm grays have a brown or pink in tone to them, and they work exceptionally well combined with white cabinetry for a warm but airy style. Cool grays have more of a blue cast to them and function much the same as the blue options described above- adding character and interest. Gray can also be used on just one or two areas in the kitchen to differentiate them, such as on a sidebar or a specialty cabinet, without having to go all-in on adding the color to the kitchen's design.

A cool gray island in a Loveland kitchen remodel.