Kitchen islands and peninsulas are great for maximizing function and style in the home. These elements provide additional storage and working space, optional seating, and can also provide an ideal location for a variety of appliances. The possibilities for design, function, shape, and position are nearly endless, making it easy to find an island or peninsula that perfectly suits your needs. Here, we take a deeper look at the major considerations you'll want to keep in mind when looking to include an island or peninsula in your home.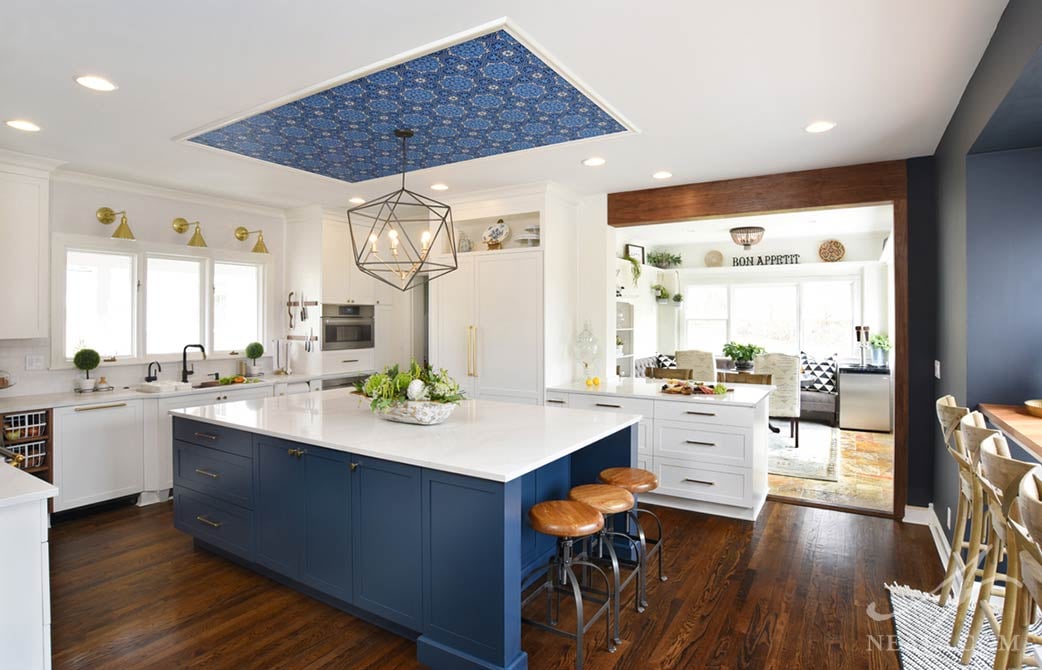 This Anderson Township kitchen uses a large island as well as a peninsula.
What's the difference between a kitchen island and a peninsula?
While similar in function and benefits, kitchen islands and peninsulas are two different types of design elements. A kitchen island is separate from other cabinetry elements making it possible to walk completely around all sides. A peninsula on the other hand is connected to a wall or other element on one side, and is often used to help define the kitchen's boundary or direct traffic around the working areas of the space. There are also two varieties of kitchen islands- stationary and mobile. Mobile islands are generally small in scale and have wheels, allowing it to be moved where needed. A stationary island is a built-in unit, and what we will be referring to below.
Kitchen islands and peninsulas can be used individually, or if there is enough room, both may be used to accomplish multiple solutions for the kitchen's function and storage needs.
---
Looking for information on how to remodel your kitchen? Read our Guide for Free.
---
Shape and Size
The dimensions of an island or peninsula are first determined by the size of your kitchen and the location of the doors around the room. It's important that your kitchen have ample space to move around and to fully open cabinet and appliance doors. For this reason, The National Kitchen and Bath Association (NKBA) recommends 42 inches of space between the edge of an island and the counters and appliances that surround it on the perimeter walls. This is true as well for a peninsula that juts into the kitchen.
The next considerations for size and shape will be how much storage you wish to include, whether you will be installing appliances, and the amount of seating you want to be able to fit. Your kitchen designer will typically look at the overall shape of the kitchen and the overall flow of traffic through the space to determine the maximum space available, then work backward from there to include what's needed. The actual shape of your peninsula or island, therefore can be whatever will work best in your kitchen. We've seen square, long, narrow, irregular, L-shaped, and rounded, along with combinations of these.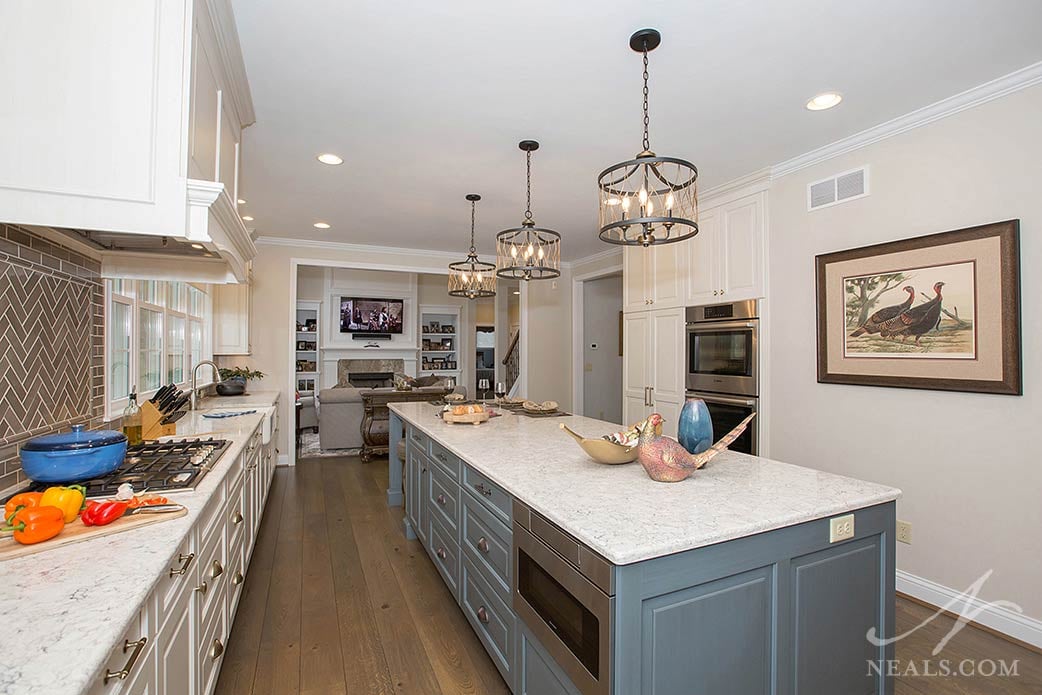 The island in this Williamsburg kitchen provides ample counterspace for preparing meals and entertaining.
Counterspace
The most obvious reason to have an island or peninsula is the added counterspace it provides. When determining what to include, evaluate whether it will require its own counterspace and if that space can be shared with other tasks. For example, an island with seating on one side and a prep counter on the other should accommodate room for both. A peninsula with a cooktop or sink won't typically be able to share that space with anything else, so if you need space for utensils or food prep, your counter will need to be large enough for it. All of this is especially pertinent if you regularly have others in the kitchen with you. A well-designed island or peninsula will be one in which everything is easily within reach for the cook and others who may be sitting at it aren't taking up valuable work space.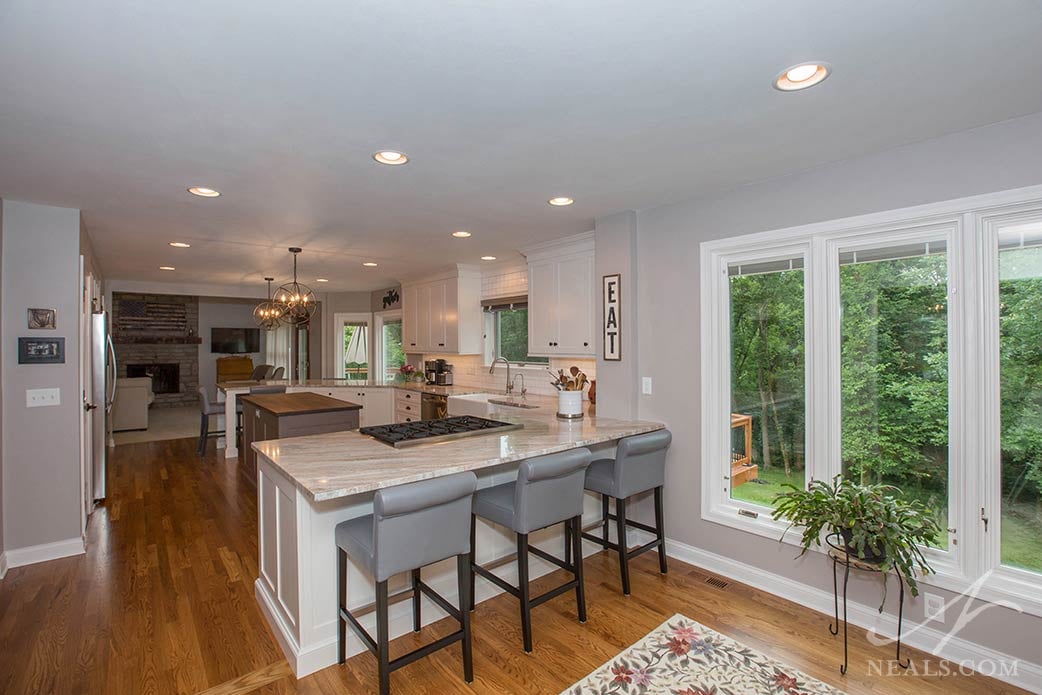 This West Chester kitchen uses peninsulas on both ends of the kitchen with different configurations of seating.
Seating
While we're on the subject of accommodating others, many islands and peninsulas are included in the kitchen for the easy seating option they provide. More and more, homeowners are remodeling their kitchens to remove kitchen tables and include that seating closer to the action instead. These seating arrangements are convenient and fun, much like having a classic diner counter of your own. For many families or those who entertain often, offering a place to sit in the kitchen while food is being prepared is an ideal way to connect with others and still get the meal ready.
The addition of a cantilevered counter, which hangs away from the supporting structure using supportive rods, or legs can create a table-like counter for seating. The seats can be tucked away under the counter when not in use so they don't take up any more floor space. This type of seating can be used in a number of configurations on the sides of an island or peninsula. In some cases, it is used to convert one entire end of a long counter into a dedicated table.
The island or peninsula counter may also be configured in a multi-level setup to separate and distinguish the working counter at standard counter height from the seating counter and a higher bar height. This solution also provides an opportunity to include more counter materials or style features than if the counter was just one level.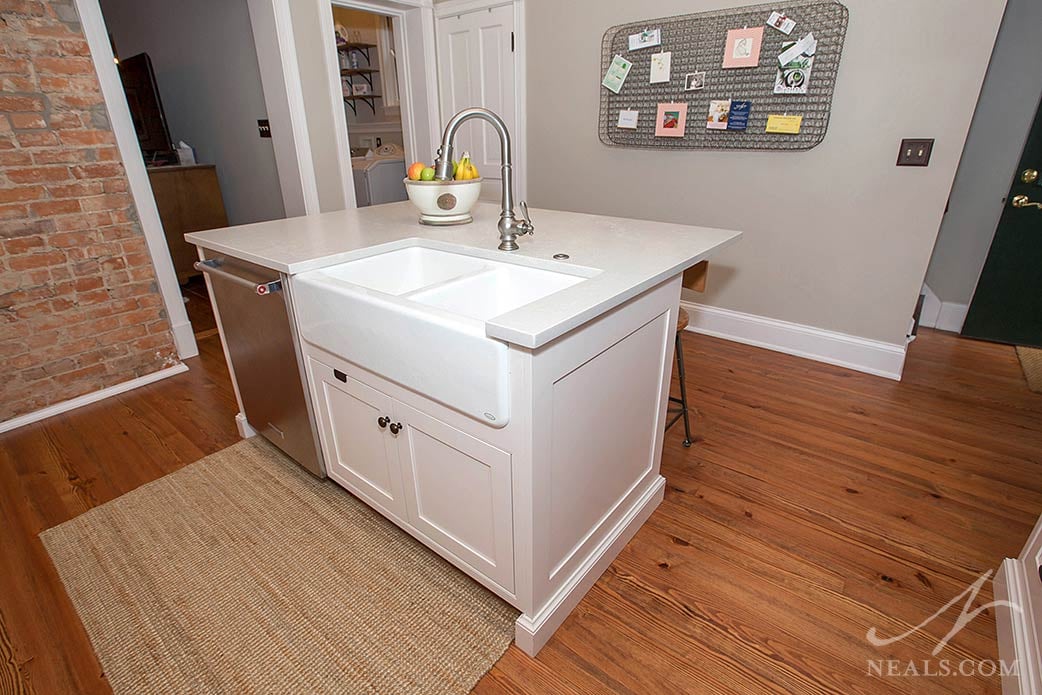 This small island in a Newport kitchen holds a sink, dishwasher and room for seating on the other side.
Appliances
Adding an appliance to an island or peninsula is one way to help your kitchen be as functional as it can be. If you have limited space in the kitchen, moving an appliance off of the perimeter wall can allow you to have more counterspace or storage in a location that works better for you. The island or peninsula can be a value point on the kitchen's primary working triangle, and it can help reduce the space you have to travel within the kitchen while preparing a meal. Sinks, ovens, wine storage, cooktops, microwaves, and even small appliances can be utilized on an island or peninsula.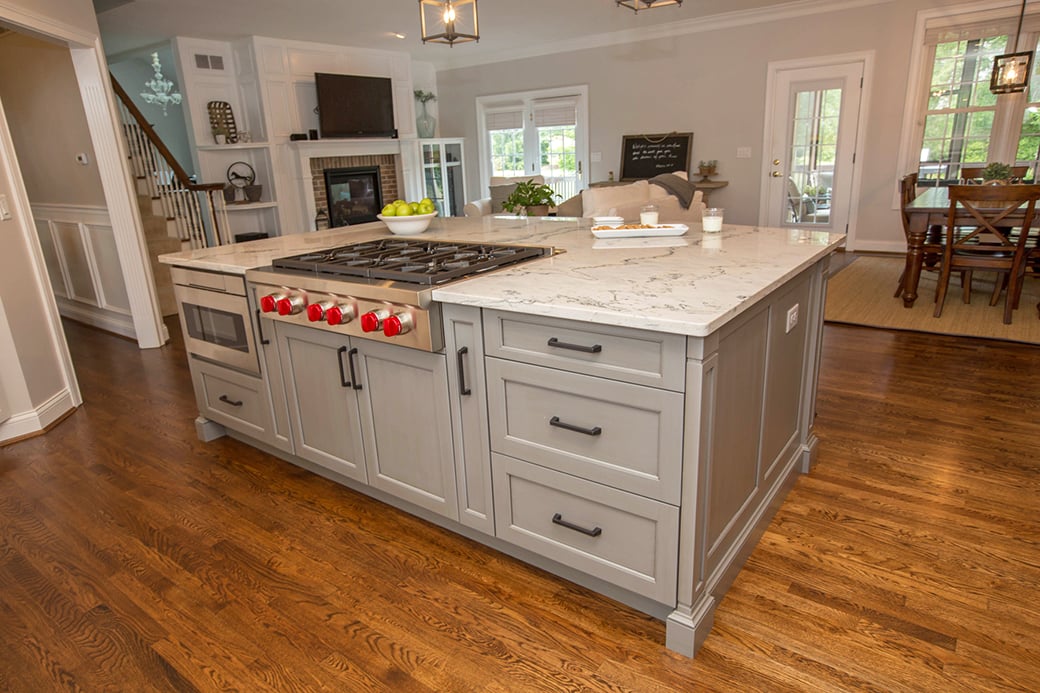 This island in this Loveland kitchen is packed with storage in addition to appliances.
Storage
The foundation of any kitchen is the storage it offers, and the island and peninsula are great supports for this need. The design of the island or peninsula can largely depend on the storage space you require it to contain. A base of cabinets will create a solid structure in the space, whereas one with more exposed shelving or furniture-like legs will be more airy. How much space the island or peninsula visually takes up is an important factor for the finished kitchen's style. As with all things storage-related in the kitchen, before deciding whether closed or open storage is better, take the time to determine what you will be using the storage space for. It's also possible to mix open and closed storage, or include concealed cabinets on the ends or under an overhanging counter.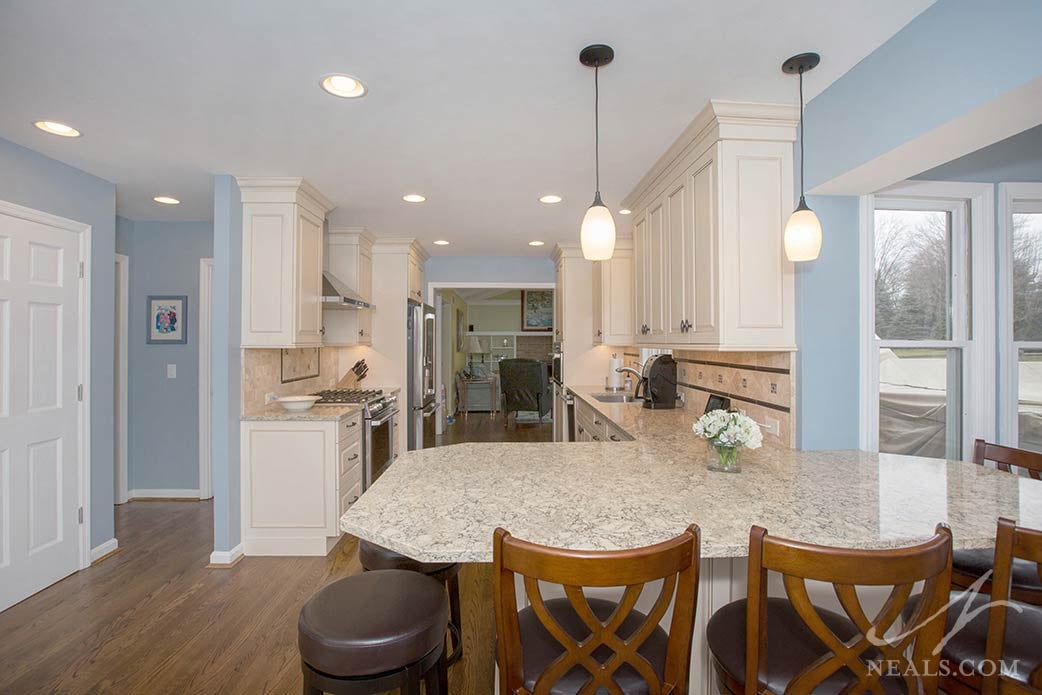 This peninsula in Montgomery, which acts like a kitchen table, is lit with two simple and classic glass pendant lights.
Lighting
For both islands and peninsulas, you will want to make sure it is properly lit. Recessed lighting can be used to illuminate this type of work space, but pendant lighting offers another opportunity to add your style to the kitchen. Just make sure that whatever fixture you choose, they are positioned directly above the island or peninsula for the best task lighting. If your kitchen has a skylight, it might be worth matching up an island with the natural light.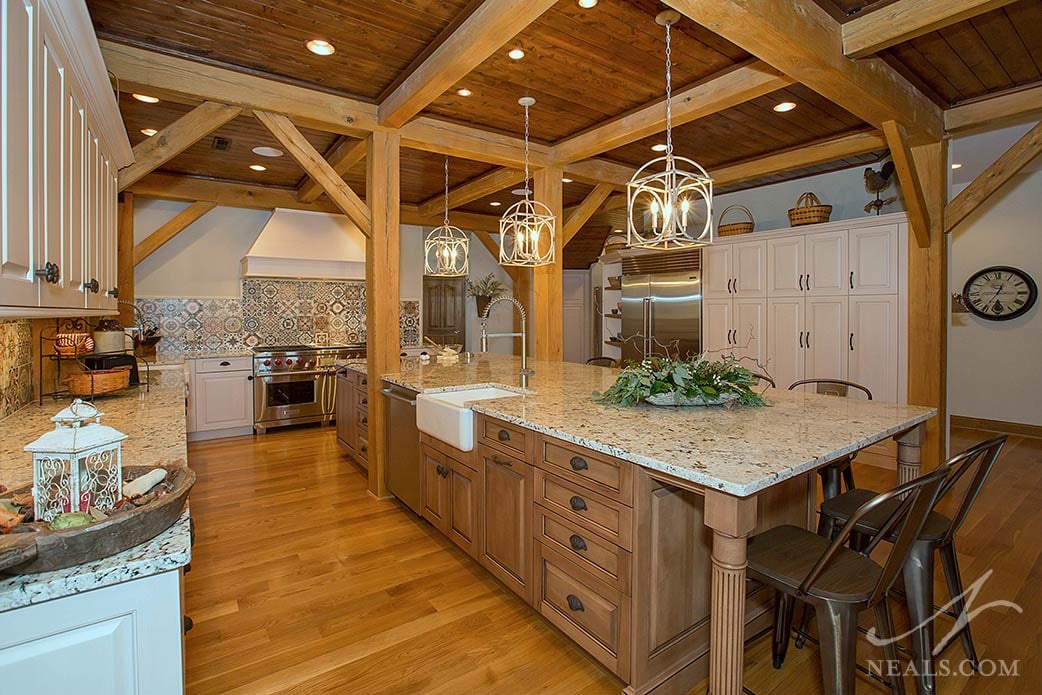 A large island with naturally stained cabinetry plays on the idea of the old farmhouse table in this Middletown kitchen.
Style
The last consideration for your island or peninsula is the style. Since these kitchen elements are, by definition, somewhat distinct from the perimeter elements of your kitchen, there is an opportunity to either match the rest of your kitchen's design style or deviate from it. Islands in particular are great candidates for a style treatment that makes it stand out in the space. The most common items to address are color, countertop material, cabinet door style and trim details. Changing any one of these, or all of them, will automatically give your island or peninsula a uniqueness in the space. This is not necessary, however, and sometimes continuing the kitchen's style through the peninsula or island creates the cohesive design you're looking for.
Editor's Note: This post has been updated with new content and photos since it was initially published on 3/31/15. It was last updated on 6/11/19.