If you're an avid home cook an intentional design and layout is essential to your kitchen. There are many details to creating a kitchen that will work flawlessly for any avid chef, whether you consider yourself an expert or amateur. The overall goal is to provide a space that is intuitive for the user and has the least amount of friction or obstacles to work around whenever you get into a flow as you cook. There's a lot to making this happen, but in this post, we'll focus on the three biggest considerations: space planning, appliances, and storage.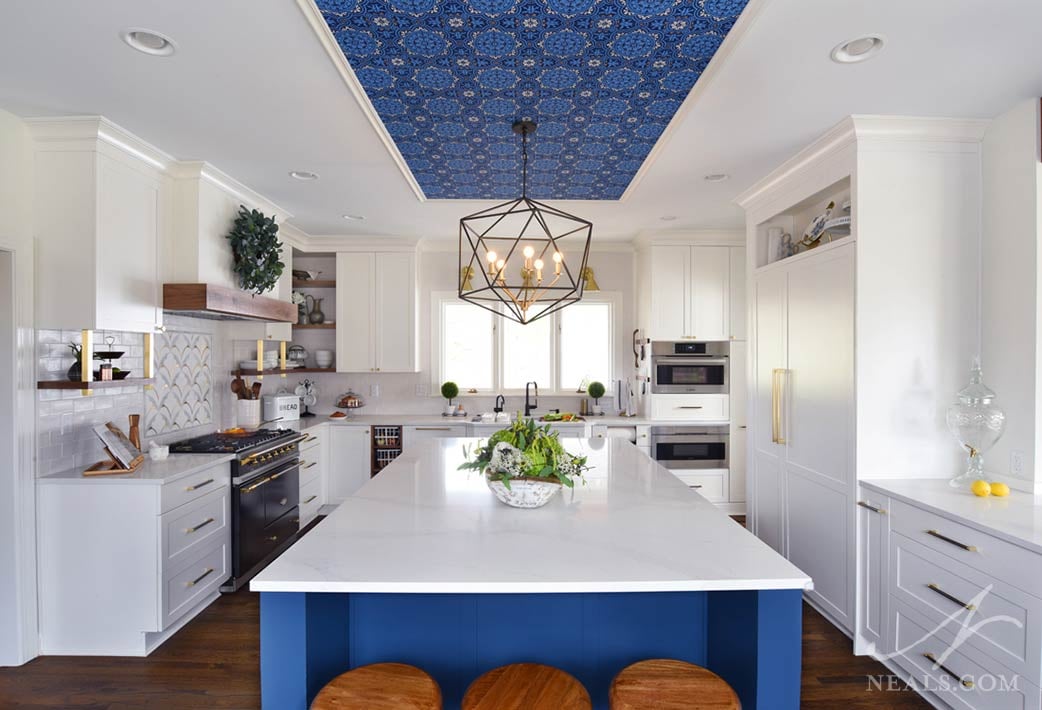 Kitchen remodel in Anderson Township
Space Planning Questions
You may already have a wish list for your new kitchen which may already address many of your specific needs (such as appliances) along with your less essential wants (such as style extras.) Whether you have this list yet or not, however, there are some important questions you want to be sure to answer. These questions go beyond a product- or feature-specific wish list and begin to get you thinking about how you want use your space.
Is there adequate room in your current kitchen or are you planning to add more space? An efficient kitchen does not necessarily need to be large, but if your current kitchen is simply too small, that will create compounding issues as you add storage, appliances and other features.
How many people will be cooking in the kitchen? If more than one person will be using the kitchen to cook, each has their own preferences and habits, and it's important to know how the different habits overlap or differ. If multiple people will be cooking at the same time, there needs to be adequate space and perhaps even extra working areas.
How much space do you need for food prep? Counter space is a valuable resource. Will you need several smaller counter areas, one or two moderately-size counters, or one large counter, like an island?
Where is the best location for a cooktop/range for you? On an island or peninsula or within the perimeter of the kitchen?
How large should the cooktop/range be? Will you require special accessories such as a griddle?
How many ovens do you need?
Where is the best location for the primary sink? Do you plan to include a prep sink or bar sink? When using a sink, do you work from right to left or left to right?
How much cold storage space do you need? Will you need more than one refrigerator? Do you plan to add storage for beverages or an icemaker?
Will you need to modify task lighting, plumbing or add more outlets for small appliances?
Would you like the space to accommodate family members or guests as you cook? Some cooks like to be focused totally on the task of preparing meals while others enjoy talking with family members or guests as they work.
Think about these questions and make some notes. These answers and your wish list will be important when you set up an initial meeting with a kitchen designer. The designer will be able to understand the basic needs for your kitchen layout in order to narrow down the plan options.
Essential Appliances
The size and number of appliances that you need for your work space is one of the first things a designer will consider in creating plan drawings for you project. Dimensions including height, width, depth, door swings and the extension of drawer appliances will be factored into the design.
We've got a great article about appliances that goes into more detail, but for a kitchen made for the home chef, we recommend:
A cooktop that will accommodate the most pots or pans you'll be using at once.
A vent hood of any variety that is rated for the size of your cooktop.
Ovens, either with the cooktop as a range unit, or wall mounted.
Refrigerator and freezer, as either one unit or two separate units.
Dishwasher
Microwave or microwave drawer
Storage and electric considerations for any small appliances such as stand mixers, blenders or cookers.
You may have some additional appliances on your wish list, including beverage coolers, built-in coffee machines, or ice makers. Be sure your designer knows the full list of appliances you have in mind. Each will need space, and many have minimum space requirements for door clearance or safety.
Functional Kitchen Storage
A place for everything and everything in its place; storage in a functional home chef's kitchen is an essential consideration. If an item isn't where it needs to be when you're in the zone with your meal prep or cooking, that can quickly throw you off. This consideration will be a big part of what you and your designer figure out together. Begin by thinking about what should be where and what type of storage it should be. Consider cabinet accessories such as pullout units, carousels and inserts to keep items organized. Here's a quick list of items you'll need to account for to get you thinking:
Baking sheets, cutting boards, trays
Baking supplies
Cookbooks
Spices, oils, vinegars, and liquid flavorings
Non-perishable pantry foods, non-refrigerated fruits & vegetables
Pots, pans and bakeware
Serving dishes, dinnerware and utensils
Small appliances
Cooking utensils, knives and gadgets
Towels, trash receptacles, and other clean up items
Other Considerations
In addition to the three big considerations above, the home cook may also have specific needs and wants for additional items. The format of the sink & faucet may be important to you. There are many options to consider when selecting a kitchen sink. Lighting may also be a large part of the design and function of your new home chef's kitchen as well. A lighting plan that works well can dramatically improve any kitchen.
See our Kitchen Remodeling Guide for even more helpful information and ideas for your kitchen project.
Note: This post was originally published on Nov 26, 2013. It was last updated April 13, 2021 with new photos and edits to the text for better relevance.