Updated for 2018
Your kitchen is the workhorse of your home. To accommodate all the tasks you need to do there, you'll be in need of a selection of appliances. There are thousands of appliances on the market at a wide range of prices, sizes, styles, and features. Before going into your remodel, it will be helpful to understand some of the basic options you might have for each of the main appliances your kitchen could feature. We've highlighted several key considerations for several popular kitchen appliance categories below.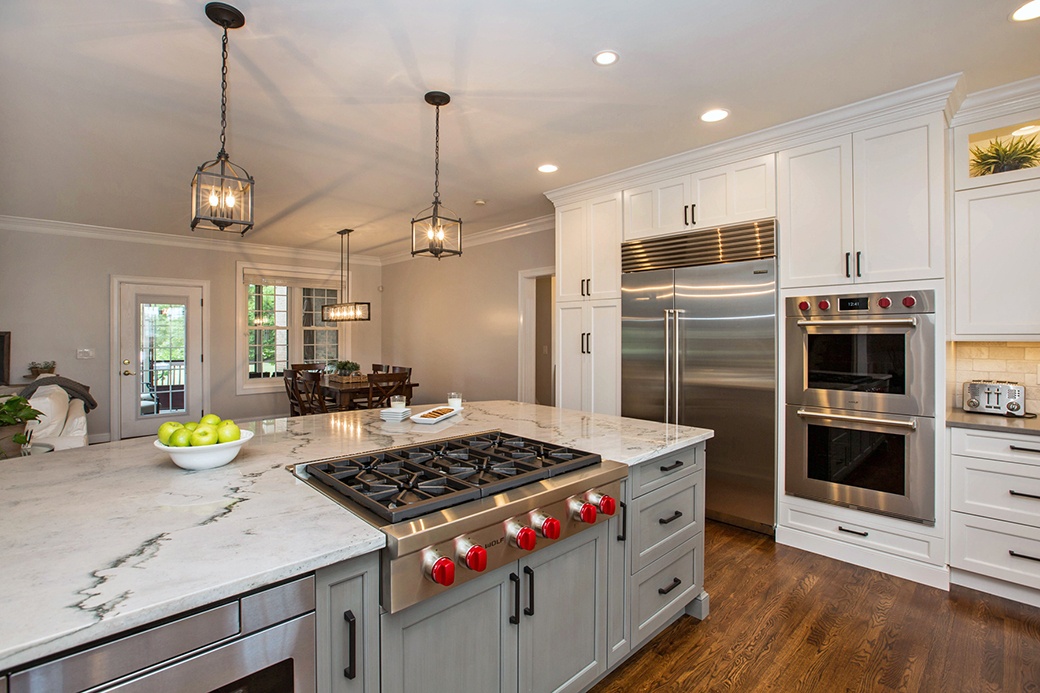 A collection of stainless steel appliances increase both function and style in this Loveland kitchen.
Refrigerators
The refrigeration system you select for your kitchen is one area in which your needs should have more weight than your style preferences. A fridge or a freezer that is not adequate or too substantial for your family can have a negative impact the usefulness of your kitchen. Refrigeration units can be either freestanding or built-in. A freestanding refrigerator is separate from your cabinetry and usually has casters so that it can be rolled into place. A built-in refrigerator is a unit that is installed within your cabinetry, often with matching doors and hardware affixed to the front (usually referred to as "integrated".)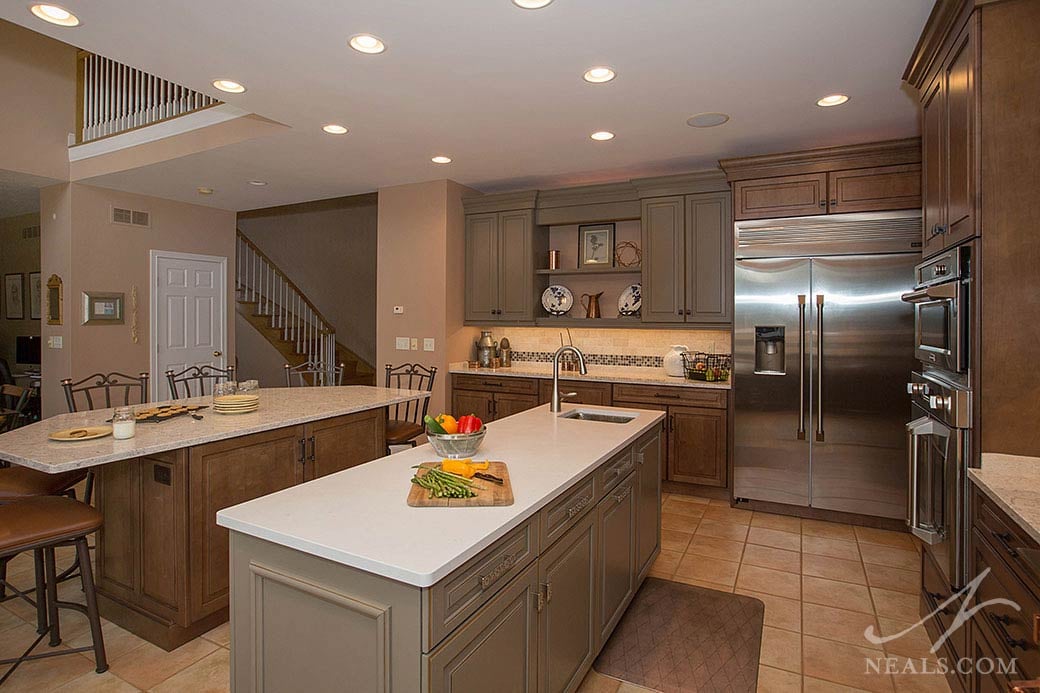 Built-in fridge in this Maineville kitchen.
Single-unit refrigerators come in a variety of configurations to better handle different needs or preferences. Top Freezer, Bottom Freezer, Side-by-side, and French Door are common configurations. There are also specialty configurations that include flexible compartments, additional drawer compartments, or the increasingly popular 4-door style.
If a single unit fridge doesn't quite fit your needs, you can consider using customizable columns. These units, offered in tall or under-counter heights, can be mixed and matched to create unique refrigeration and freezer solutions. Wine or beverage cooling units are also available to further increase customization. Columns can also be integrated with cabinet fronts and hardware.
Ranges & Cooktops
Ranges come in a variety of sizes and widths depending on the number of ovens and burners you require. Ranges can be gourmet/professional grade, or standard grade. There are many price points in between as well. Standard ranges typically have 4-6 burners and a single oven. Gourmet ranges will have 4 to 8 burners, and may have one or two ovens.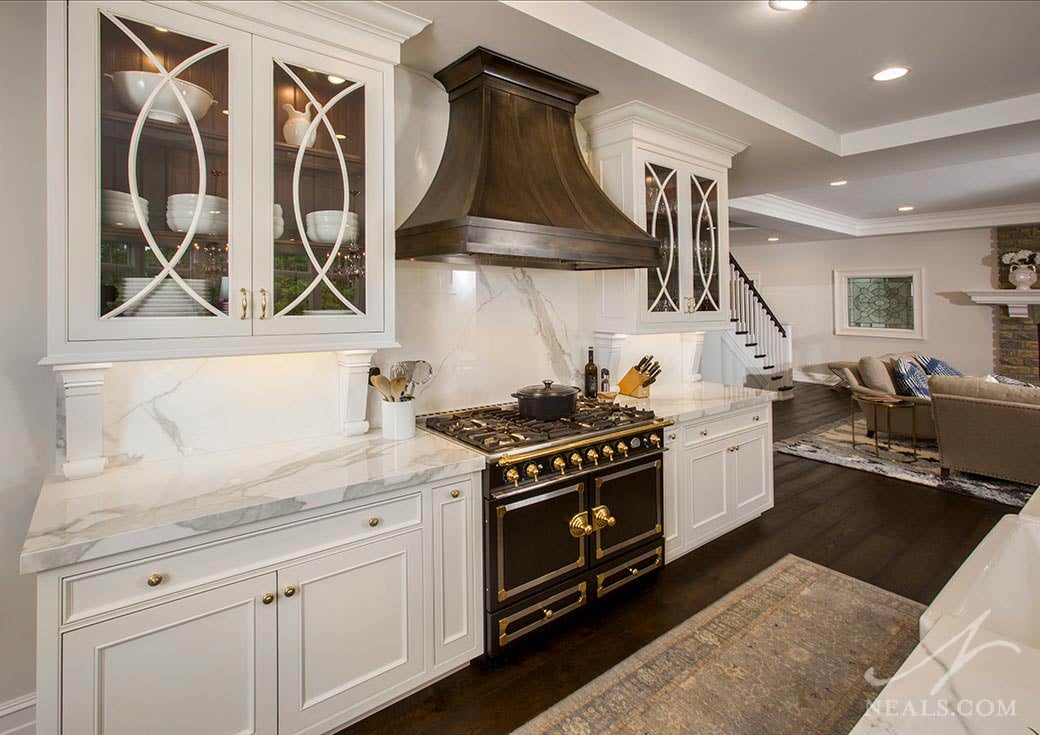 A Le Cornue gas range in this Indian Hill kitchen
Ranges can be gas, electric, or use newer induction technology. Ken Rieman of Custom Distributors explains that induction cooktop burners create a magnetic connection with the pot or pan (which must have a ferrous metal bottom) that generates the heat within the pot. Induction is faster to heat up and faster to cool off, and there is no wasted heat. Induction is also safer than gas or electric because there's no flame or heat source. Induction cooktops are smooth, with no knobs in the way.
Vent Hoods
Cooktops and ranges should ideally be joined by some type of ventilation. The most popular option is a hood that can be a stylish focal point of the kitchen. Vent hoods should be sized appropriately for the burner unit (usually determined according to the cooktop's heat output and linear width).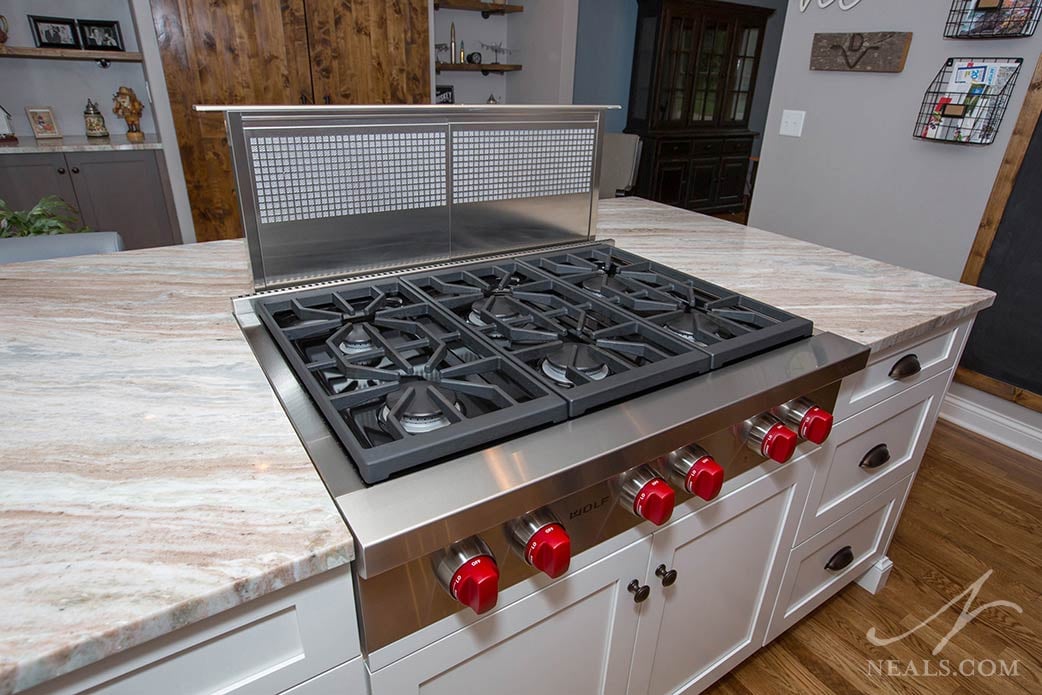 A downdraft hood in the peninsula in this West Chester kitchen.
An alternative vent option for cooktops placed on peninsulas or islands, where a vent hood above may not be wanted, is a down-draft hood. Down-draft hoods are panels that can be raised from a well in the counter next to the cooktop when needed.
Wall Ovens
A typical wall oven installation will include two ovens, one of which is a convection oven (or has the ability to convert into a convection oven as needed.) Convection ovens differ from standard ovens by blowing air through the oven, around the food, cooking it faster and more evenly. Standard ovens rely on one or two heat sources (usually top and bottom). Wall ovens work well in the kitchen when traffic flow or space would make a range oven door difficult or unsafe to accommodate. The ability to stack an oven with other appliance, such as warming drawers or microwaves, also makes the wall oven an attractive option.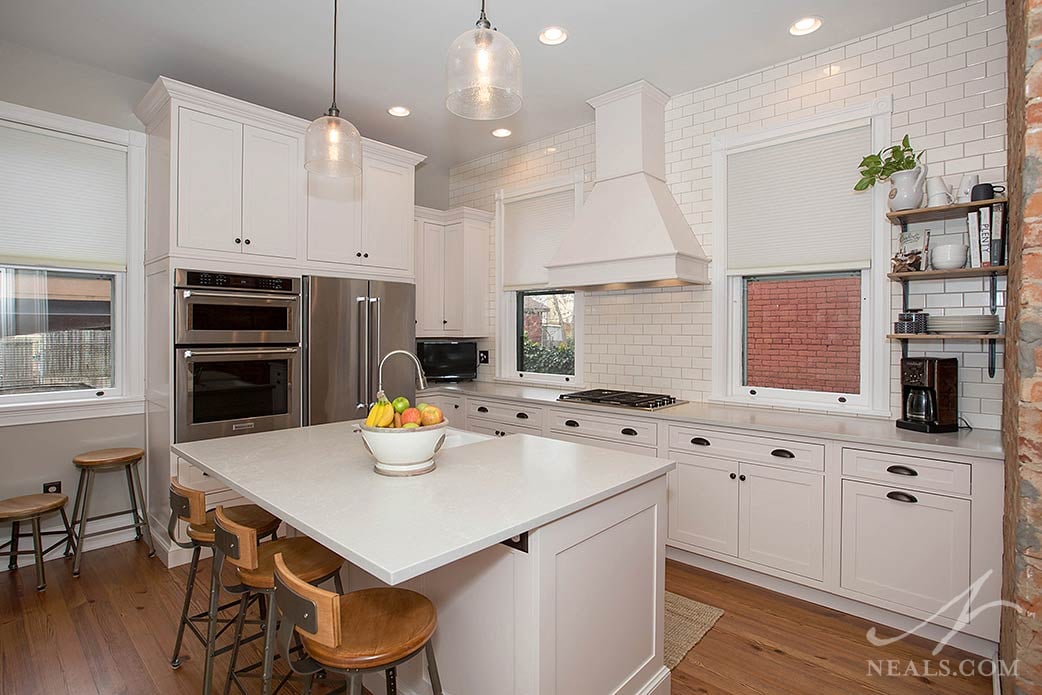 Wall ovens in this Newport, KY, kitchen.
changes to the kitchen's efficiency was rearranging the appliance locations - See more at: http://info.neals.com/project-spotlight-chic-kitchen-update-for-a-family#sthash.7hFXXKOo.dpuf
changes to the kitchen's efficiency was rearranging the appliance locations - See more at: http://info.neals.com/project-spotlight-chic-kitchen-update-for-a-family#sthash.7hFXXKOo.dpufLoveland, Ohio kitchen remodel rearranged appliances for efficiency.
Microwave Ovens
Microwaves are handy appliances for a variety of cooking tasks. They come in a large range of qualities, style, and costs, so knowing your daily needs for the microwave will be your best guide. Microwaves can be set on a counter, or cabinets can be included that allows the microwave to be slid in for an integrated look. There are also vent hoods that include a mount for the microwave over the range.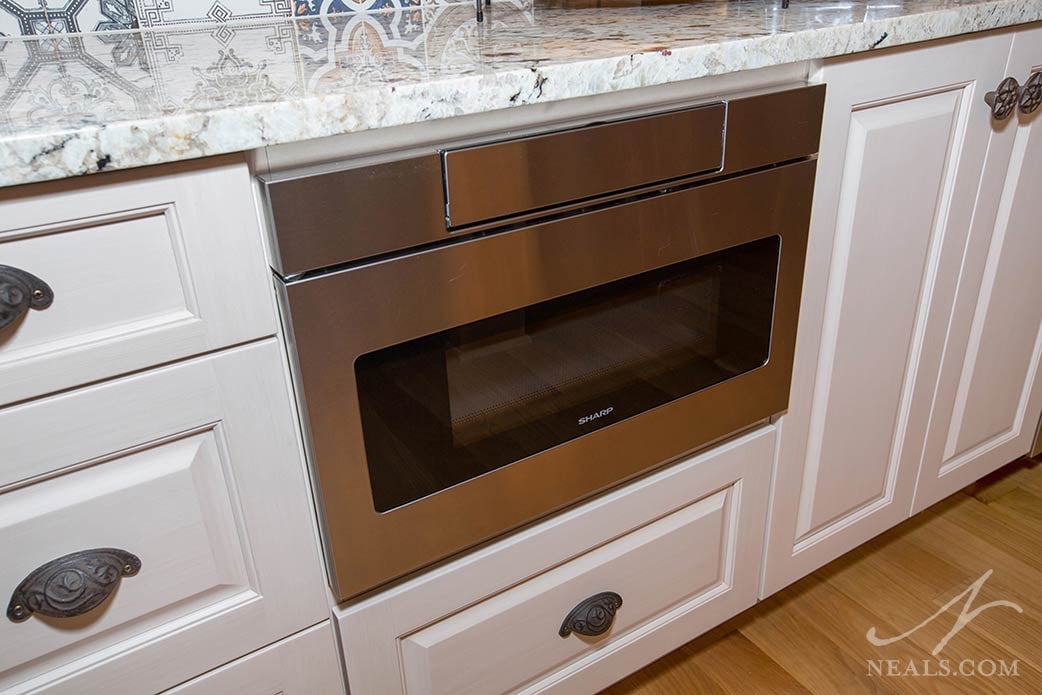 A microwave drawer under the counter in this Middletown kitchen.
A newer option for microwaves is the microwave drawer that is recommended for universal design because it makes it easier to place items in and remove them. They otherwise work the same as a traditional microwave.
Warming Drawers
Especially useful for families or people who entertain, a warming drawer is worth considering for your kitchen. Warming drawers are used to keep food at a particular temperature until you're ready to serve it, and can help make your meal times more practical. They are usually installed near wall ovens or under the counter. Be sure to select a drawer than has both the width and height you will regularly require.
Dishwashers
A dishwasher is a practical appliance to include in the kitchen to make meal clean up more efficient. There are traditional units with a single door and pull-out racks, as well as dishwasher drawers that are usually offered as a pair. Drawers can be run individually or together according to load size.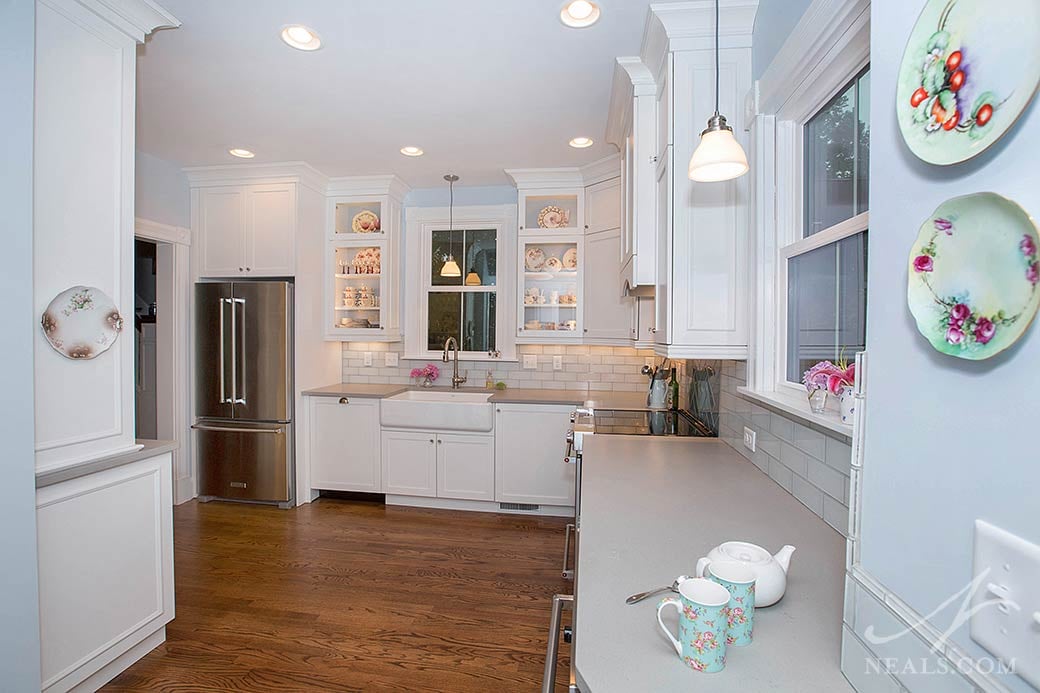 An integrated dishwasher blends in between the fridge and sink in this Milford kitchen.
Newer, high end dishwasher models will have several clever features, such as interior sensors that adjust water usage, silent or near-silent cycles, advanced drying cycles, and concealed consoles and cycle indicators.
Smart & Energy Efficient Appliances
Modern kitchen appliances have gotten pretty smart. Many of the leading brands now offer appliance solutions that can help keep your home and family connected in ways you may never have dreamed of. Smart appliances will use wireless connectivity, either to the internet or to your mobile devices (or both), to keep things like cycles, usage, timers, and more right at your fingertips. Smart refrigerators take advantage of their central location to offer organization solutions that go well beyond magnets on the door.
In addition to appliances being smarter in their function, they can also be efficient with their energy use. The Energy Star rating has been in place in the appliance market for many years now, and is a useful indicator of how well any given appliance will handle your home's power while in use. The Energy Star label, a yellow tag usually attached to a display appliance, shows a number that represents approximately how much energy (kilowatt hours) that particular model will use over the course of a year, and presents it in a scale compared to similar models with the same types of features. The higher the number, the less efficient. There will also be a dollar amount giving an estimated cost to run the appliance yearly based on the national energy rate average.
One more thing...
Appliances can also be moved to areas outside of your kitchen to increase efficiency and convenience. Check out this video from Ken Rieman of Custom Distributors for some ideas: