The sink is an essential element in any kitchen. We spend more time in front of the sink than in any other kitchen work area, therefore, it's important to consider both function and design when it comes to this important feature. Keep reading for the key considerations and options for your new sink.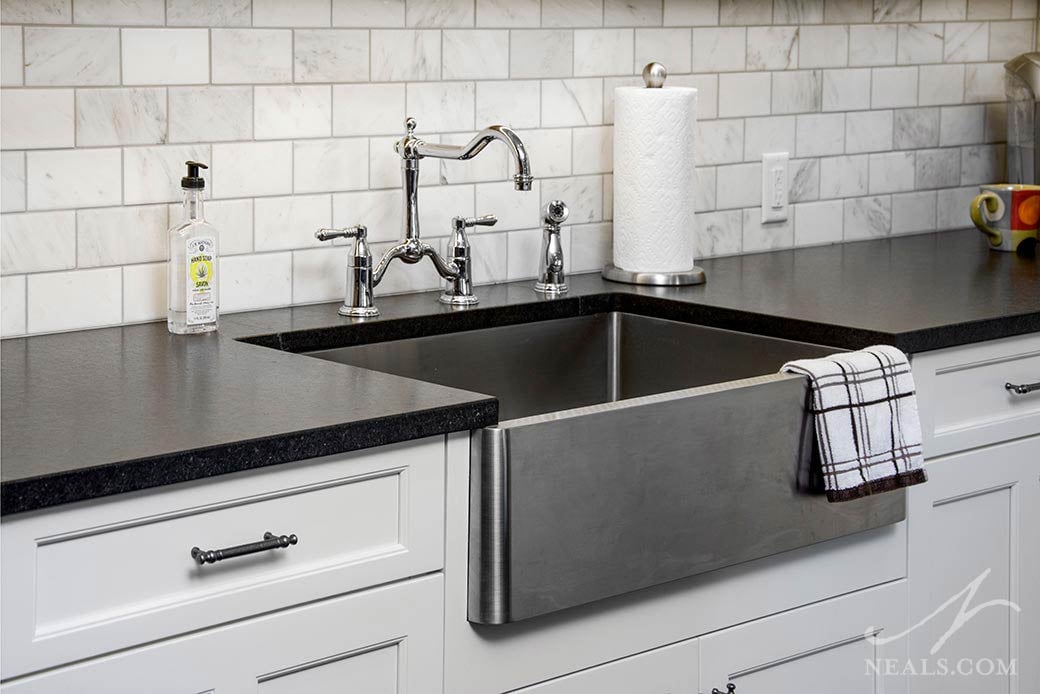 Farmhouse sink in a metallic finish in this Hyde Park kitchen.
When selecting a kitchen sink style, first consider the way you work in your kitchen. Take some time to answer the following questions:
Do you work left-to-right or right-to-left when using a kitchen sink? The way you work in a sink area will determine the type of sink you may want to use. For example, if you work from left-to-right and choose a double or triple sink, you would want to have a large basin for washing dishes on the left and a basin for rinsing on the right. The way you work at a sink will also determine the best place for the garbage disposal and dishwasher.
Do you do a lot of hand-washing of pots and pans? Sinks come in variety of widths and depths. In choosing a sink it's important to have enough space in the basin to wash large dishes, pots and pans that you use regularly. Keep in mind that deeper sink bowls will reduce splashes out.
What is your height and reach? Many people don't consider their physical attributes when choosing a sink. Kitchen sinks can be as deep as 12 inches. If you're petite a deep sink may not be an advantage to you. Consider a farmhouse style sink, which provides access below counter height. When selecting a sink, test display models to get a sense of how the sink may work for you at home.
How much counter space do you have in your kitchen? The counter space will determine your options for a kitchen sink. The sink and counter should provide an efficient work area for both food prep and cleanup.
Kitchen Sink Styles
Sink bowls can be 6-to-12 inches in depth. Sinks can have single bowl or multiple bowls in varied sizes.
Single Bowl
If you have a small kitchen with limited counter space, or if you often hand wash pots and pans, you may want a large, deep single basin sink.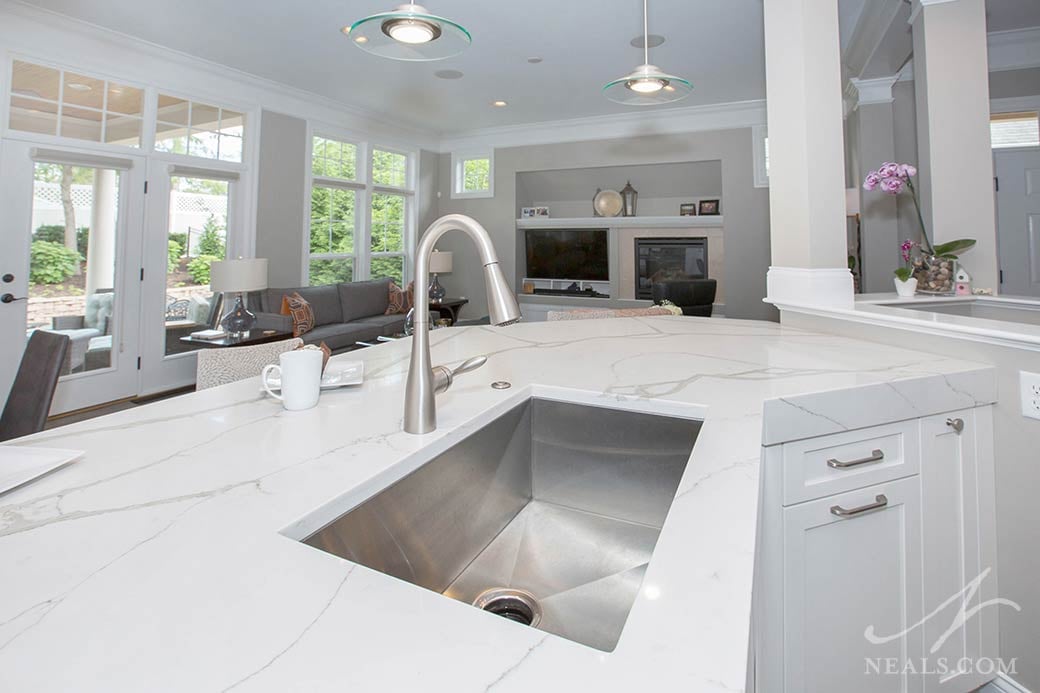 A large single bowl sink in this Montgomery kitchen remodel.
Double Bowl
Many people prefer a sink with two bowls, one for washing dishes and the other for rinsing. The two bowls can be identical, or they can have different sizes/shapes or depths.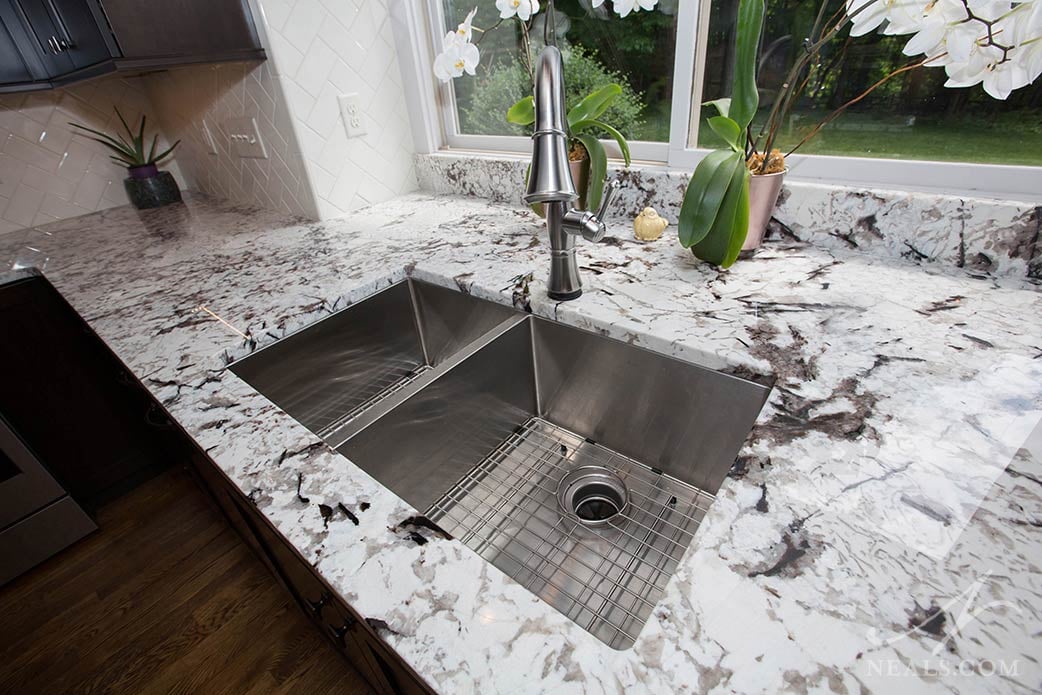 A double bowl sink with modern square corners in this Loveland kitchen.
Triple Bowl
Triple bowl sinks can be useful for high-capacity kitchens. Bowls can vary in size and depth depending on your needs.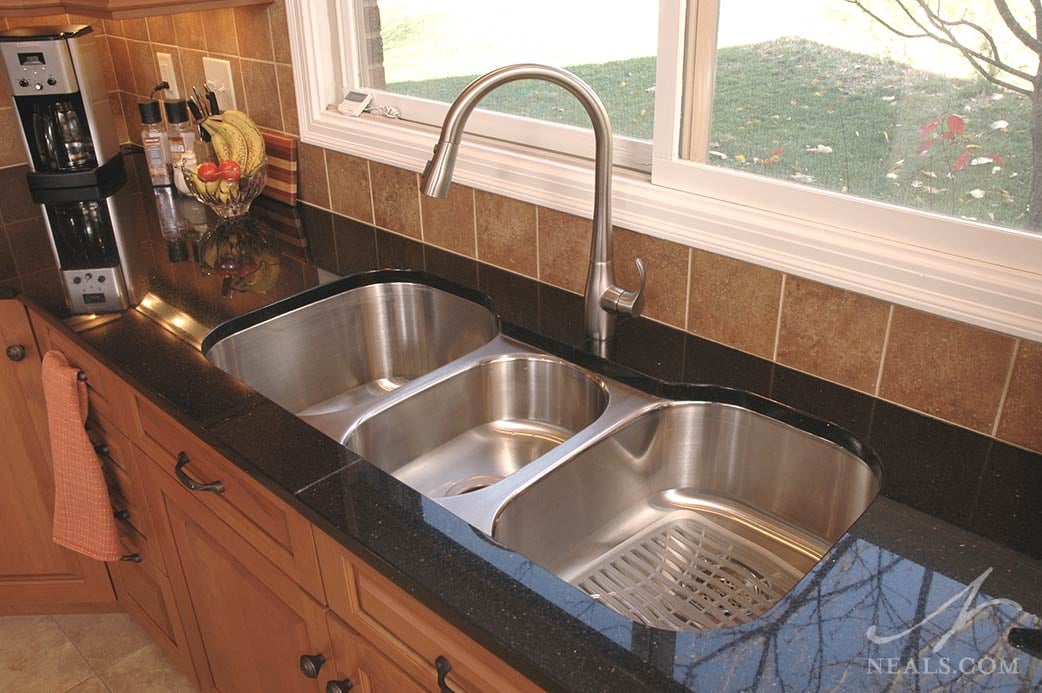 A stainless steel triple bowl kitchen sink in this West Chester kitchen.
Corner Sinks
If your kitchen is small, a smaller sink suited to a corner installation may be the solution. Check with your designer, however, since not all corners will be ideal for sink placement.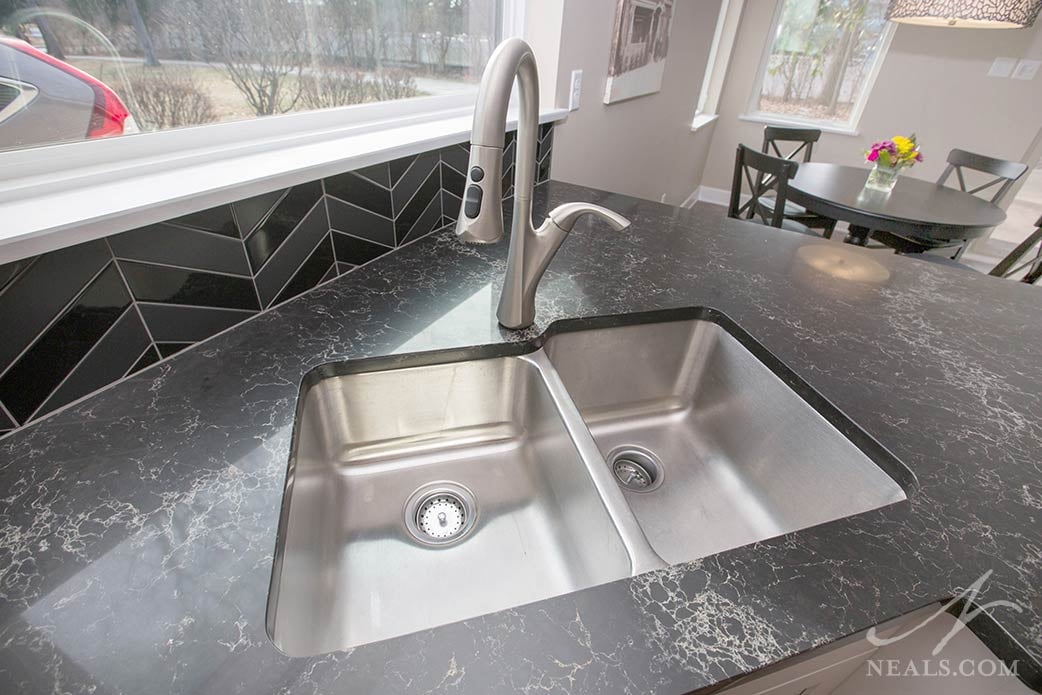 A corner-installed sink in this Kenwood kitchen.
Bar or Prep Sinks
A smaller additional sink can be a workhorse in a kitchen providing extra space for washing vegetables, defrosting meats, preparing coffee, cleaning glassware, or keeping beverages cool.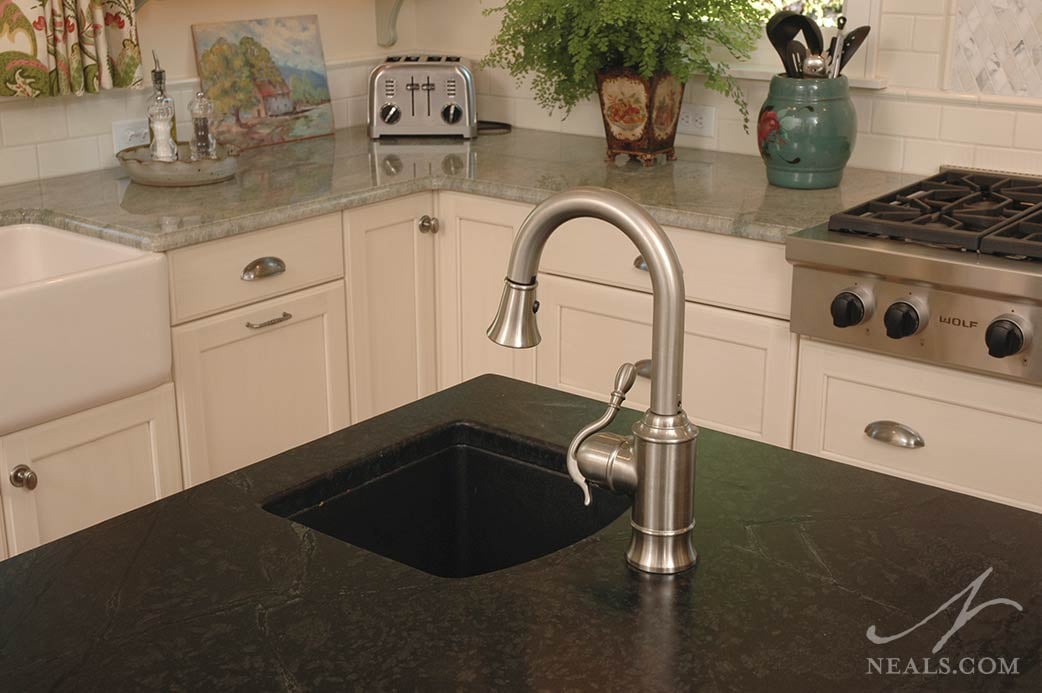 The island in this Glendale kitchen is outfitted with a small prep sink.
Multi-Use Sinks
A newer sink product turning up in kitchens are basins that have been designed to be covered with cutting boards or trays to add to your meal prep workflow. The leader of this style sink is the Kohler StagesTM sink- a single basin sink with multiple accessories and features.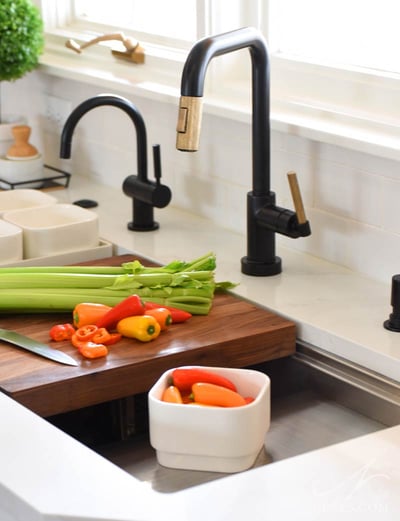 A Kohler Stages sink in this Anderson Township kitchen.
Kitchen Sink Installation Options
Sinks come in four types of installations. Drop-in sinks are placed into a hole in the counter from the top and will have a ridge where the sink rests on the counter. Undermount sinks are attached to the counter from below revealing the cut edge of the counter. This prohibits them from being used with laminate counters. Integrated sinks, possible with solid surface counters, contain a sink with no seams in the same material as the counter. However, this type of sink is less commonly used for kitchens. The fourth installation is specific to apron front sinks which are installed into a gap in the counter and can be either undermount or have a drop-in ridge.
Kitchen Sink Materials
Kitchen sinks can be created from a few durable materials. Here are the most popular:
Stainless steel sinks have a sleek look that complements appliances and many decorating styles. They can be either drop-in or undermount. Manufacturers now offer brushed satin surfaces that hide water spots and scratches.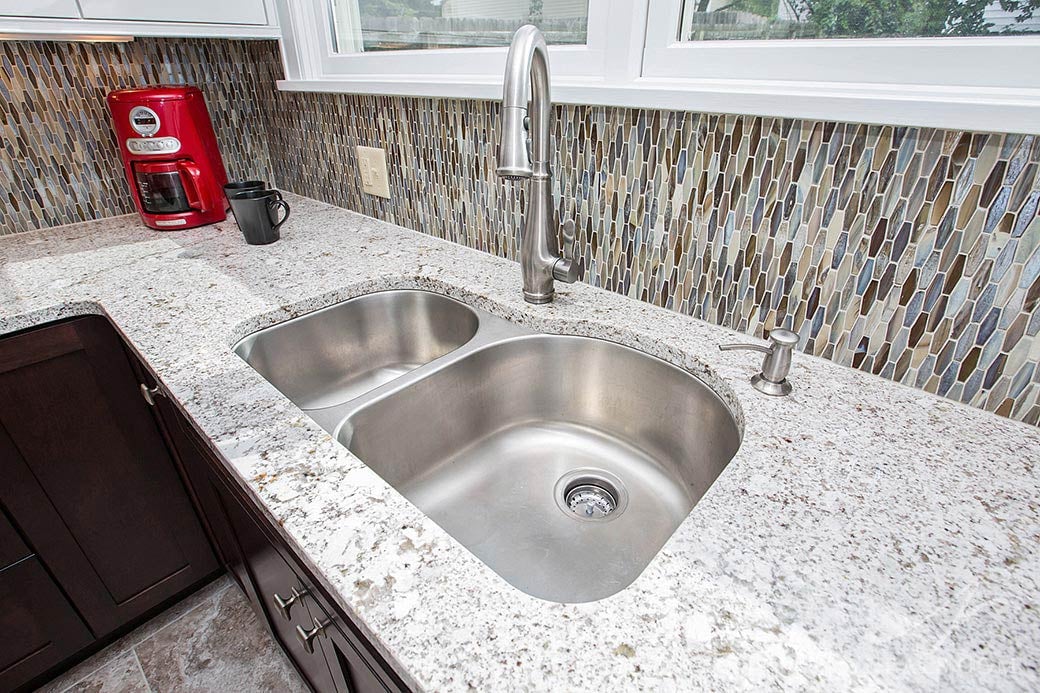 A stainless steel sink in this Hyde Park kitchen remodel.
Cast iron sinks are coated with either porcelain or enamel in a variety of colors. They can be quite heavy. They are most often drop-in, but they can also be undermount. In either case, adequate support underneath is usually required. Cast iron sinks have been around for a long time and are popular in traditional kitchens and in restorations of older homes.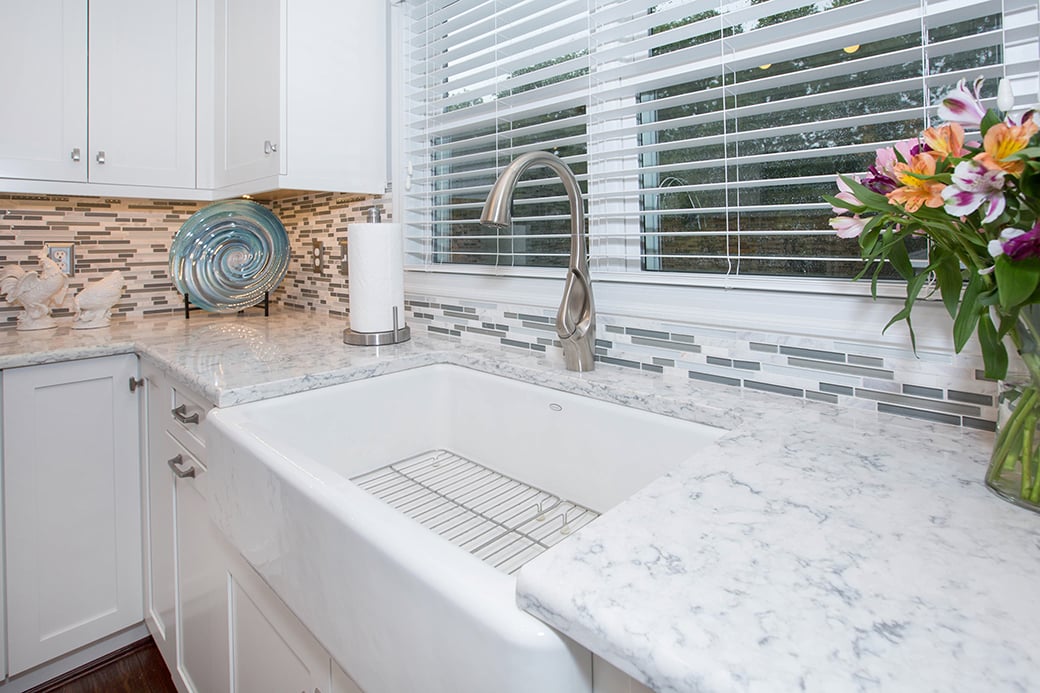 A cast iron farmhouse style sink in this West Chester kitchen.
Composite sinks are made of ground granite or quartz combined with resin, and can easily compliment many countertop and backsplash materials. They can be drop-in or undermount. They are strong, durable and come in a range of colors and shapes.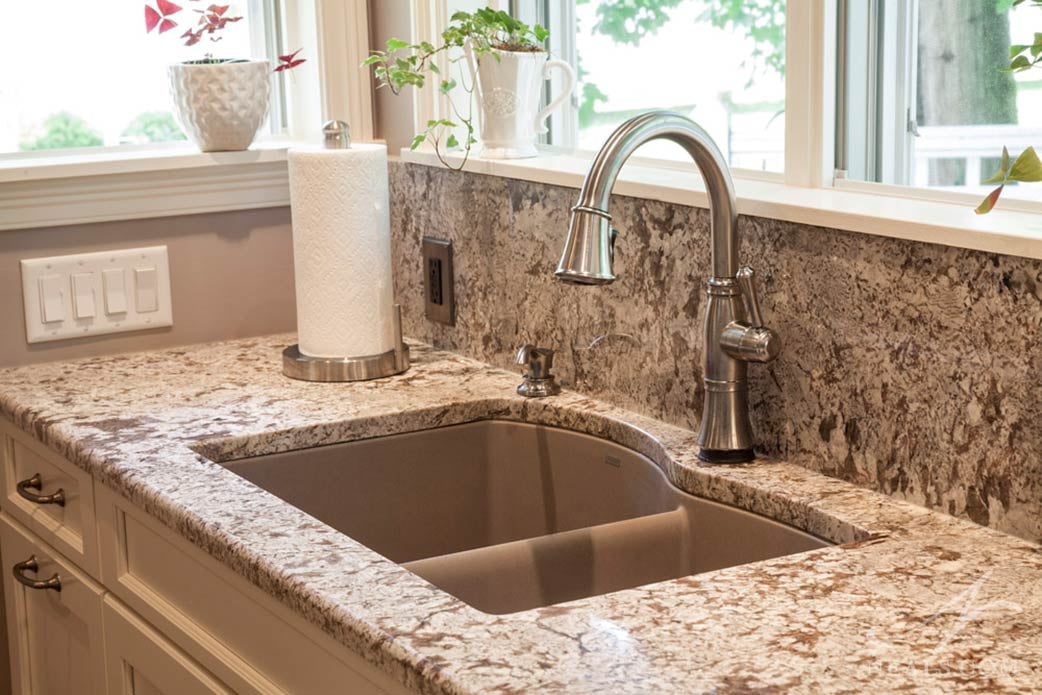 A composite sink in this Sycamore Township remodel.
Fireclay sinks are made of shaped clay, fired at high temperature for hours. The surface is hard, glossy, non-porous, resists bacteria growth and is scratch resistant. Fire clay sinks come in a range of colors, sizes and shapes.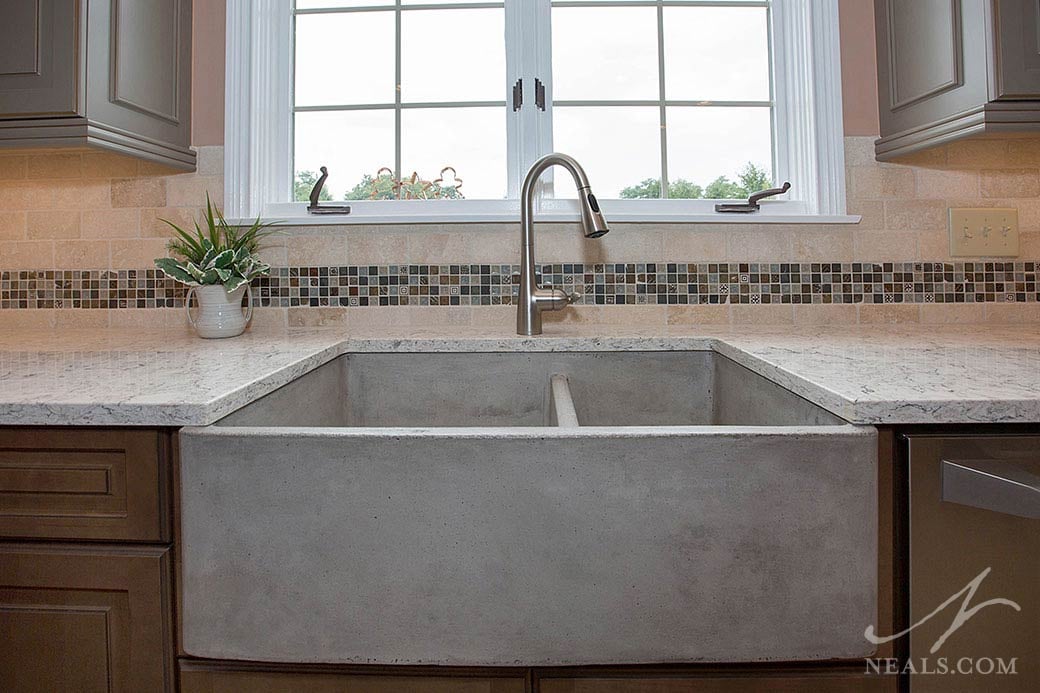 A concrete-look fireclay sink in this Maineville kitchen.
This post has been updated to include newer and more relevant examples. Last updated on 7/23/19. Originally posted on 8/27/13.