One of the goals for most kitchen remodels is to gain more storage space. Organization is very important to optimizing the way a kitchen functions. Cabinetry makers have done their homework in researching the ways consumers work in their kitchens and have designed many cabinet accessories to solve their storage problems. These additions to the cabinets convert standard cabinets into specialized, or maximize storage spots that handle typical needs in the kitchen. Based on our experience, here are ten "must have" kitchen cabinet storage accessories designed to make life in the kitchen easier and more enjoyable: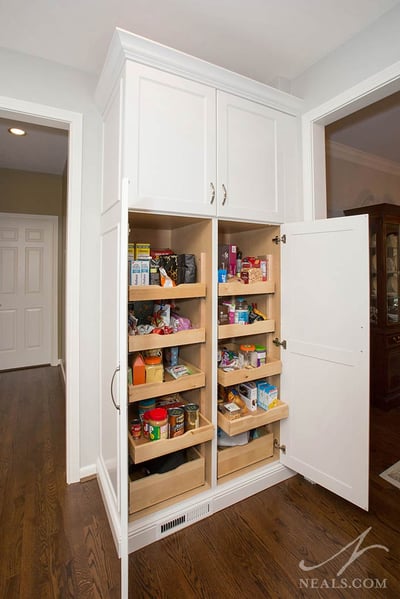 Kitchen in Evendale
1. Pullout Pantries
Pantries are often high on the storage wish list for kitchen remodels. It's great to have a designated area for dry, canned and jarred food storage. Pantries allow you to organize your items efficiently in a single location, which makes a pull-out pantry cabinet a great option for most kitchens. Pullout pantries include interior shelves that can be slid out of the cabinet in order to access the entire depth of space. Full height pullout pantries can be located near appliances for both food and cookware storage.
2. Pullout Base Cabinet Storage
Base cabinet pullouts function the same as a pullout pantry, but are just housed under a counter in the base cabinetry. These are ideal for pots and pans, or canned or boxed food. You can easily view contents and don't have to reach and move things around in a cabinet to find an item. This may also be a great accessory to include in kitchens were children are invited to help themselves to food or dishes.
3. Spice Storage
Storing spice bottles and containers, vinegar, oils and bottled flavorings is essential for the home cook. A narrow cabinet with pullout storage for spices can be placed near a stove or on an island to enable homeowners to conveniently use and view these items without the need to step away from the cooktop. Pullouts can be located in both base and wall cabinets, and you can also store spice jars in a drawer using a rack that lays them horizontally for easy view.
4. Mixer Storage
Many households have a stand mixer and as this appliance has grown in popularity, it's become clear that it requires specific storage space. It is heavy and often stored on a counter even if infrequently used because it can't be lifted easily. Storage shelves designed especially for mixers have solved this problem. They include a hinge that lifts and lowers the mixer shelf for access and a rollout storage drawer to contain all of the mixer attachments. Be certain to ensure that the mixer shelf you select is correct for the weight of your mixer.
5. Cooking Utensil Pullouts
A pullout base cabinet can be outfitted with utensil containers and shelves to help keep counters clutter free but still offer easy access to spoons and spatulas where they're needed. This type of cabinet is also useful for pot lids or pot holders.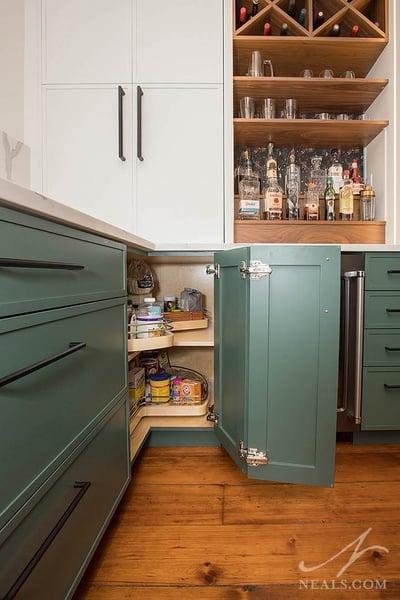 Kitchen in Downtown Cincinnati
6. Corner Cabinet Accessories
Corner cabinets can become the black hole of the kitchen if not properly outfitted. There are typically two options for the corner cabinet. A carousel or lazy Susan can be installed that rotates to let you access all the items without having to dig back or remove things in the way. For larger corner cabinets, hinged or sliding corner turnouts are the solution. These specialized units are shaped and sized to fit in the corner and are attached with glides that allow you to pull the shelf out and turn it around the corner to access contents.
7. Divided Drawers
Dividers can be added to the inside of a drawer to turn a large space into more organized compartments. This treatment can be done in a generic manner to account for a variety of items, but to get the most out of this option, you should have a plan for what will be stored where so that the dividers can account for both the shape/size of the item and how much needs to fit in the drawer.
8. Waste Basket and Recycling Center Rollouts
A pullout cabinet designed to hold two waste receptacles provides a handy place for disposing of kitchen waste. In the Neal's Design Showroom, we use one bin for trash and the other for recyclables. Concealing the trash bin behind a dedicated cabinet door helps keep the kitchen looking clean and uncluttered.
9. Double Drawer Storage
Large deep drawers are great places to store pots, pans, baking dishes and even everyday china, but deep drawers can be doubled in function with the use of an interior drawer that creates two layers of storage space inside. This solution allows you to have many shallow drawers in your kitchen without increasing the number of drawers (and corresponding hardware) on the outside.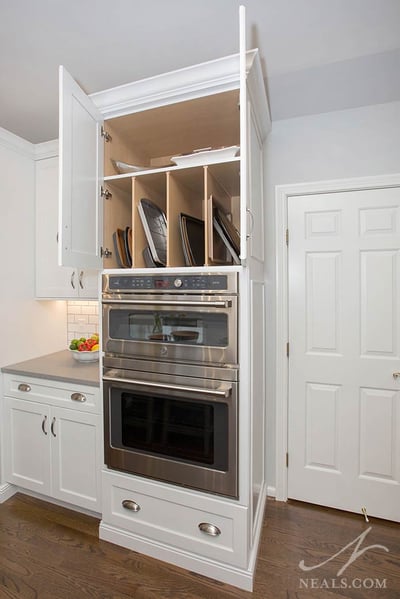 Kitchen in Evendale
10. Tray Organizer
Vertical dividers can be included in a cabinet that allows you to store baking sheets and trays. This arrangement means that you can see all your items and don't have to unstack them in order to reach the one you need. This is a great accessory to add to the cabinet over a wall oven.
NOTE: This post was originally published on 1/17/2017. It was last updated on 10/20/20 with new images and edited for clarity and accuracy.