Having a master suite is, for many homeowners, the epitome of comfort and luxury in the home. The concept of private space that doesn't have to be shared with the rest of the family or guests is one that has great appeal for a number of reasons. Many homes, however, were not designed with a master suite. Creating one is not a small project, but a master suite can be a valuable change to your home and your daily life.
What is a master suite?
A master suite is typically a bedroom, bathroom and closet space designed for a couple or the head of the household. Many homes have a designated "master bedroom", which is most commonly the largest bedroom in the home. That becomes a suite when a private bathroom and often a walk-in closet are attached to it and not shared with other rooms in the house. A master suite may also include a seating area.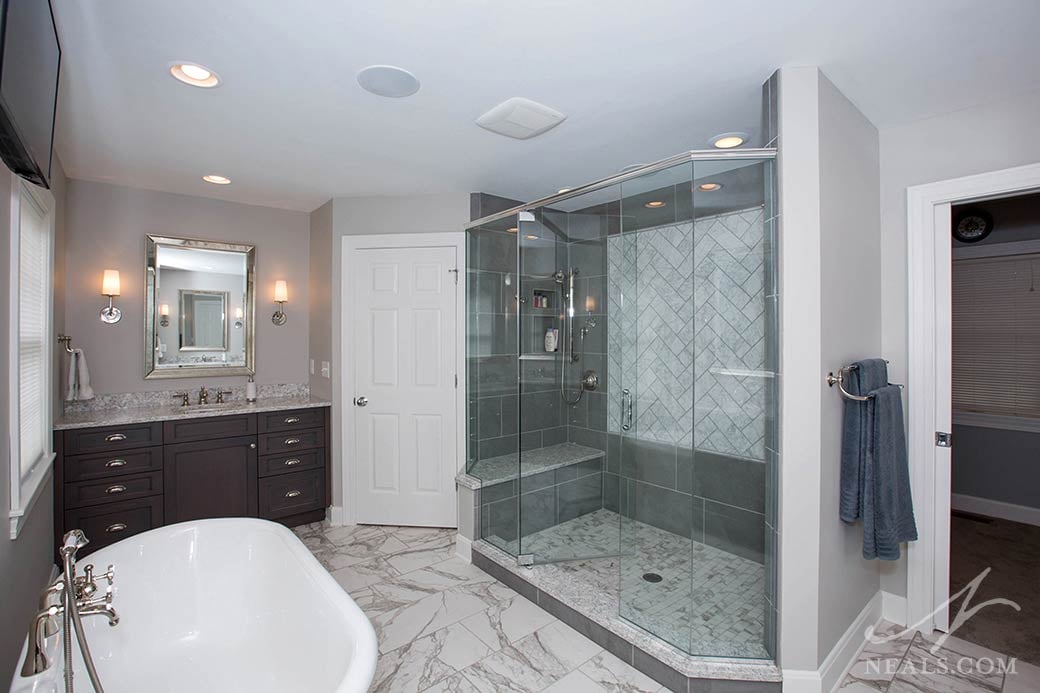 This new master bath and closet rearranged several smaller spaces in this Western Hills remodel.
Get a Handle on Your Floor Plan Options
The first step to seeing the potential for a master suite is to take a look at what you already have in your home, and more specifically what rooms or spaces exist around your current master bedroom.
If you have the property to do so, an addition to the bedroom may be worth considering. It's important to understand, however that adding the necessary square footage for a bathroom and closet is, on paper, an easy suggestion but isn't always feasible. A local remodeling professional's guidance in this regard is invaluable. If an addition is viable, your options for layout, windows, etc. change dramatically, so it's a good idea to vet this option early on in your process.
If you are limited to the areas inside your home, look at underused rooms, closets, and hallways as possible options for the locations of a new bathroom and closet. Also consider if there's already a bathroom in the correct location and it just needs a rearrangement to get the door to be in the bedroom rather than the hallway. A master suite was created in this manner for this Deer Park remodel by converting a hall bath into an en suite.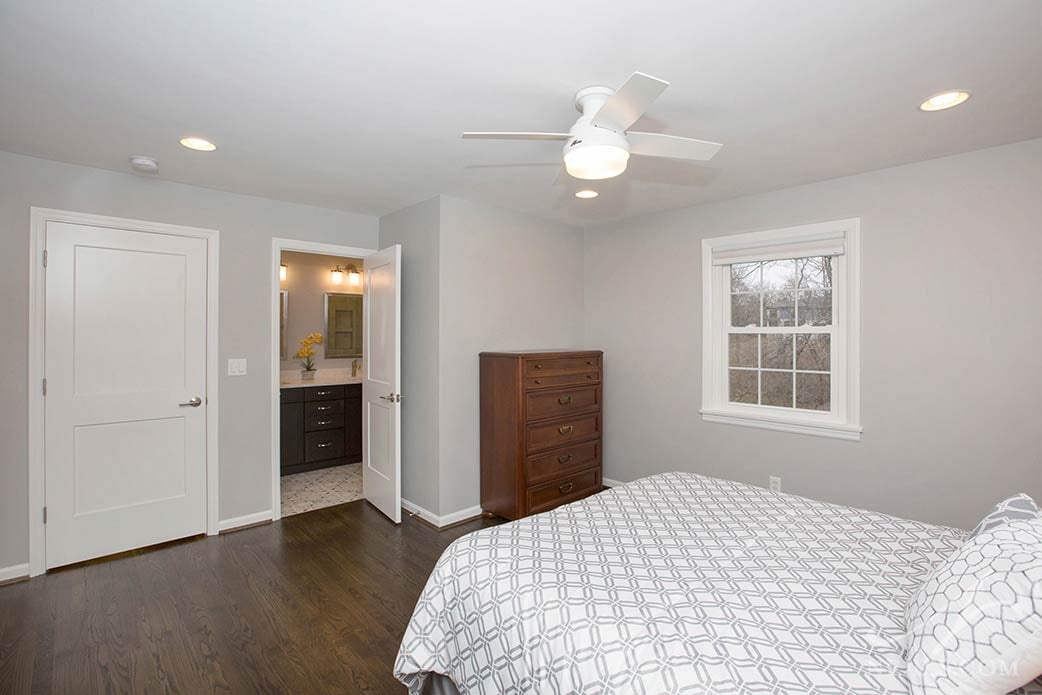 The new master bathroom in this Deer Park home used to connect to the hallway instead.
Using an extra bedroom is a common solution. Since homes are often designed with bedrooms arranged together in one area of the home, the master bedroom may already share a wall and closet space with another room that can be re-purposed. Same as with an addition, however, any time you're considering combining rooms and changing doorways, it's important to consult a professional. One of our favorite examples of this is this Hyde Park remodel that converted a tiny bathroom into a hallway to the next room over, where a more suitable and stylish master bath could be created.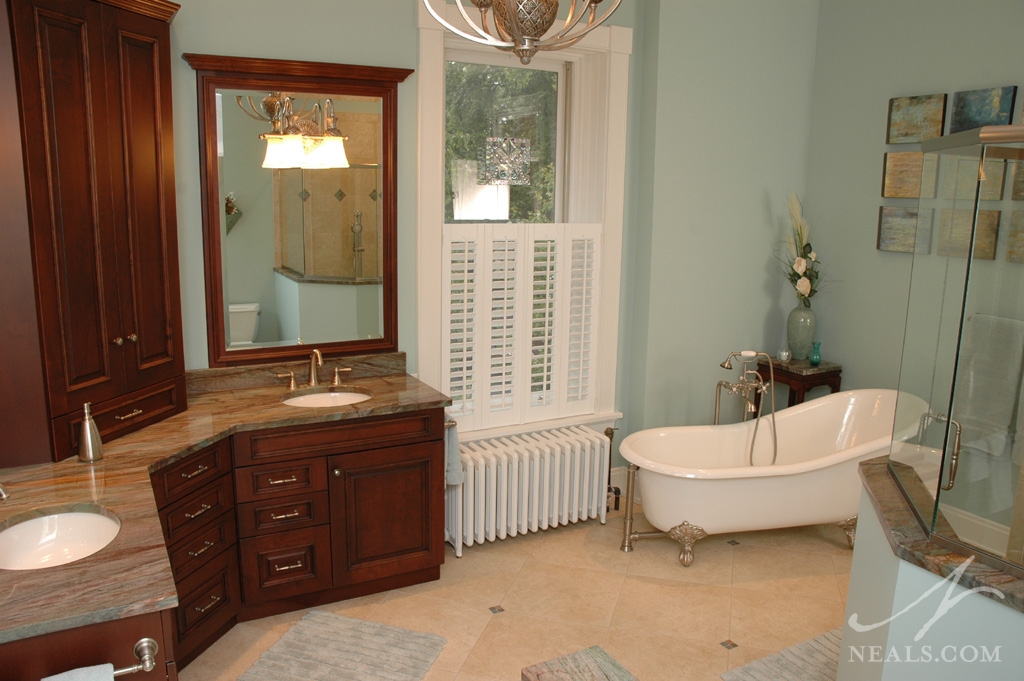 This turn-of-the-century Hyde Park master bathroom was created in an unused bedroom.
Determine Your Essential Needs
The full, luxury master suites will generally have a seating area combined with the bedroom, shower, soaking tub, separate vanities, and two walk-in closets, but all of that isn't a requirement for a suite that's appropriate for you and your home. It's important, therefore, to consider what you (and your partner if you share the room) really need, want and will use in your new master suite. Would a shared closet be sufficient? Is it better to have a larger dual shower and skip the tub? Will you both use a seating area if it can be included?
If you have the space and inclination, maybe consider a suite that includes two separate bathing areas if you and your partner often need to get ready at the same time in the morning and sharing a bathroom creates a bottleneck. What about the differences you have in the way you store and access your clothing? Maybe it's better to focus on creating individualized, separate closets but sharing or minimizing other features. This double bathroom and dressing room combination in Indian Hill is an excellent example of using the available space to tailor the master suite more specifically to the differing needs of the homeowners.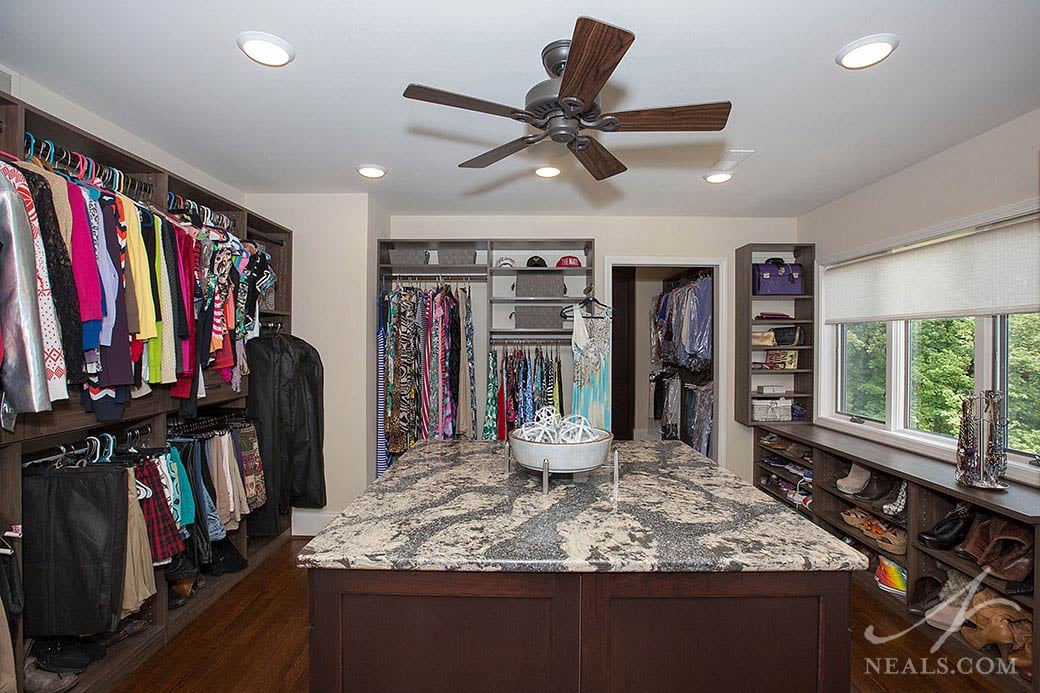 This dressing room is part of an Indian Hill master bathroom remodel that connects his and her bathrooms.
If space is at a higher premium in your home, look at how you can combine elements or arrange them in the available space to create the effect of individualized spaces without requiring any additional rooms to accomplish it. In this Indian Hill home, for instance, the new master bathroom utilizes a vanity in the hallway between the bedroom and the bathroom for a his and hers arrangement that maximizes the suite's space.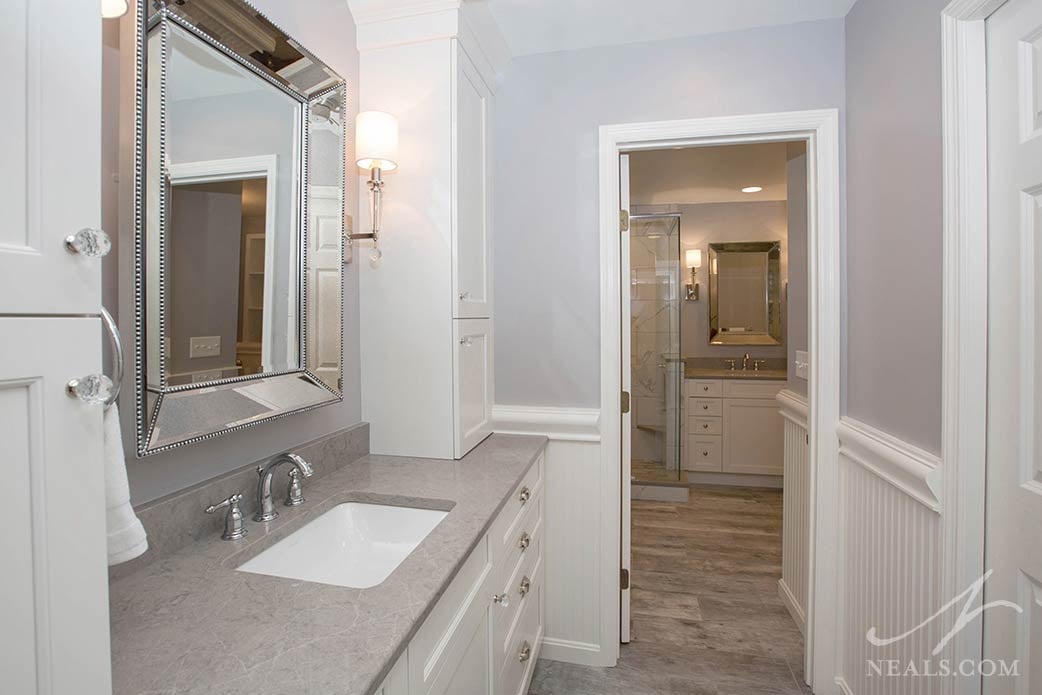 The hallway to this Indian Hill master bathroom offers room for a second vanity.
Carry a Single Style Theme Through the Suite
To create a cohesive design in your new master suite, look for one thematic or stylistic element that you can carry through each area to help hold them together. A sudden jump in style from the bedroom to the bathroom, with no connecting elements, can be jarring and have the opposite effect of the comforting retreat you were hoping for.
This doesn't have to be a matchy-matchy kind of design choice. The carry-over element could be a specific type of lighting, a certain color, or even a decorative theme. Take for instance this master suite in Morrow that simply used a neutral color scheme through the suite's various spaces.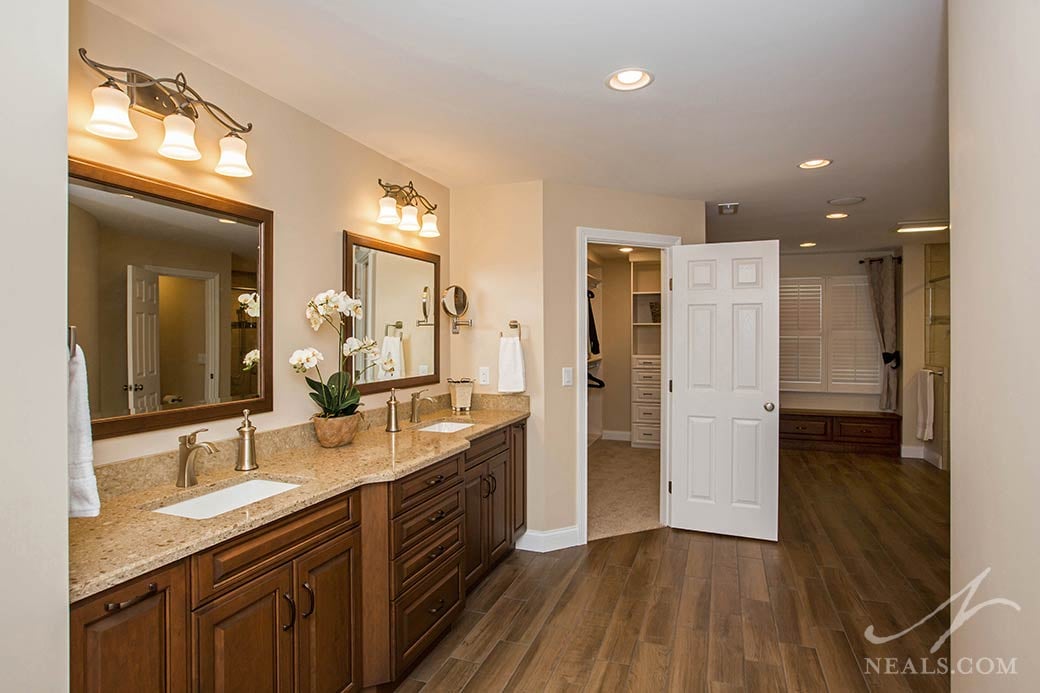 A neutral color scheme ties this master suite in Morrow together.
Another way to accomplish this cohesiveness is to match the suite's overall design or style to that of the home or the style of your home's furnishings. Even if your master bathroom utilizes a different set of colors or materials but exists in the same style category of the rest of your home, you'll have created a space that feels like a good fit. The owners of this Montgomery home, for example, have an evolving love of oriental design and created a new master bathroom in a modern Oriental style that fits within their home as well as creates a unique, spa-like bathroom to enjoy.
The Asian-inspired design of this Montgomery master bathroom ties in with the decor style of the rest of the home.
Don't Forget Your Storage Space
Lastly, when adjusting your master to become a full suite, make sure that you evaluate where and how you will store your clothing and other items in the new arrangement. If you'll be rearranging closet spaces in order to create a new master bathroom, make sure that you replace that space elsewhere. This Fairfield master suite project required that the existing closets be removed to provide access to the new bath. To gain the closet space back, a new walk-in closet was created by taking a few feet of space from the living room.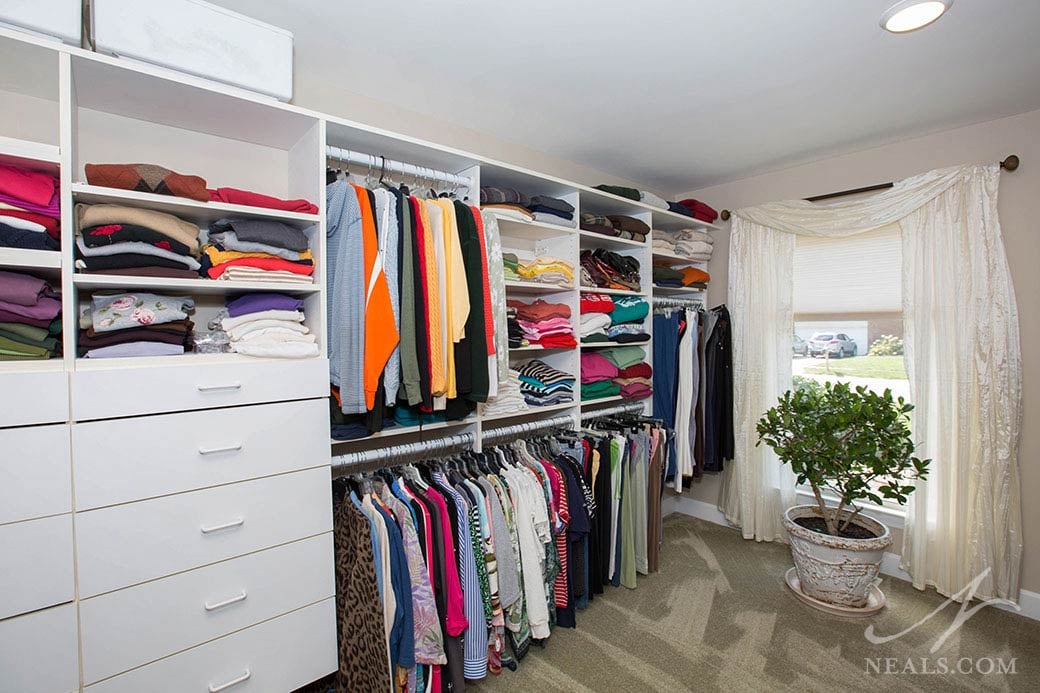 This new walk-in closet was a replacement for the old closet in this Fairfield master suite project.