This Indian Hill remodel focused on improving the quality and style of the master bathroom to better reflect the owner's love of chic country design. Treating the two bathroom spaces as one and removing the dated elements helped to create a new space that will suit the home and owners for a long time to come.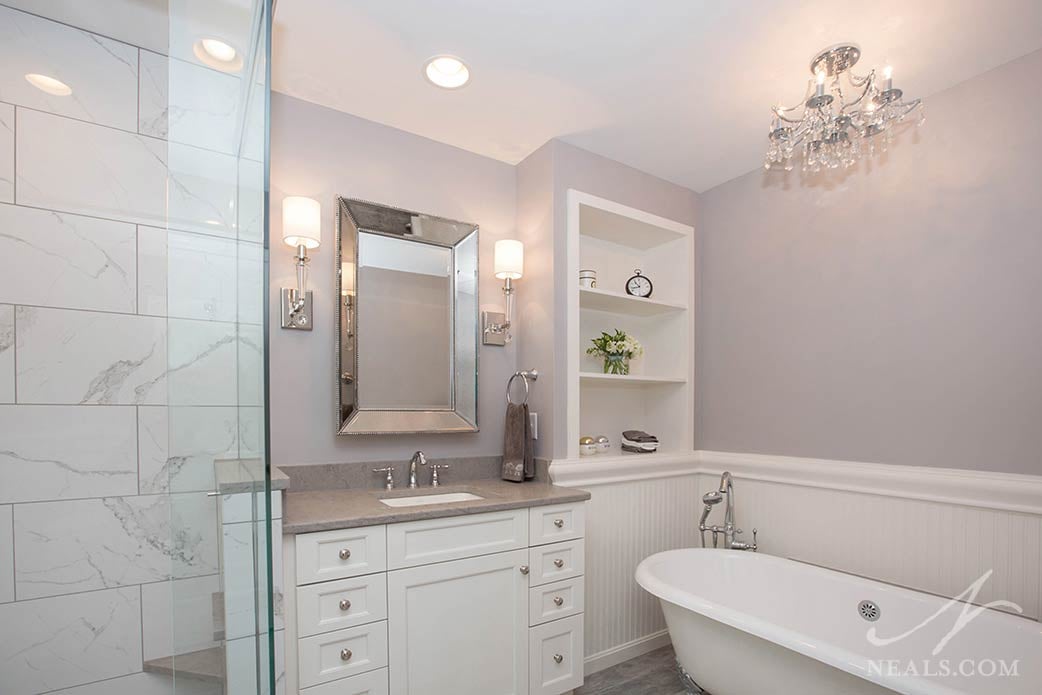 Plain white tile and a dated shower brought the style of the master bathroom down. The original bathroom also featured a second vanity in the carpeted hallway joining the bathroom to the bedroom. The placement of each of the room's fixtures was suitable to the size and shape of the space, however, so the remodel was able to focus on updates to elevate the style of the master en suite.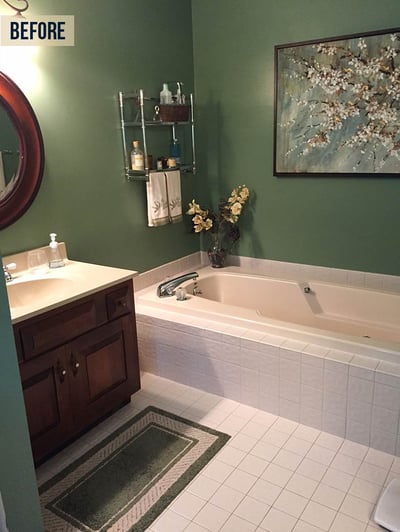 A new free-standing, clawfoot soaking tub is a focal point in the remodeled bathroom. A classic design with chrome detailing on the feet, the tub instantly combines the room's two primary styles- country casual and romantic glamour. Surrounded by simple wainscoting, and joined by a built-in shelf for display and storage, the tub is a welcoming spot ready for relaxation.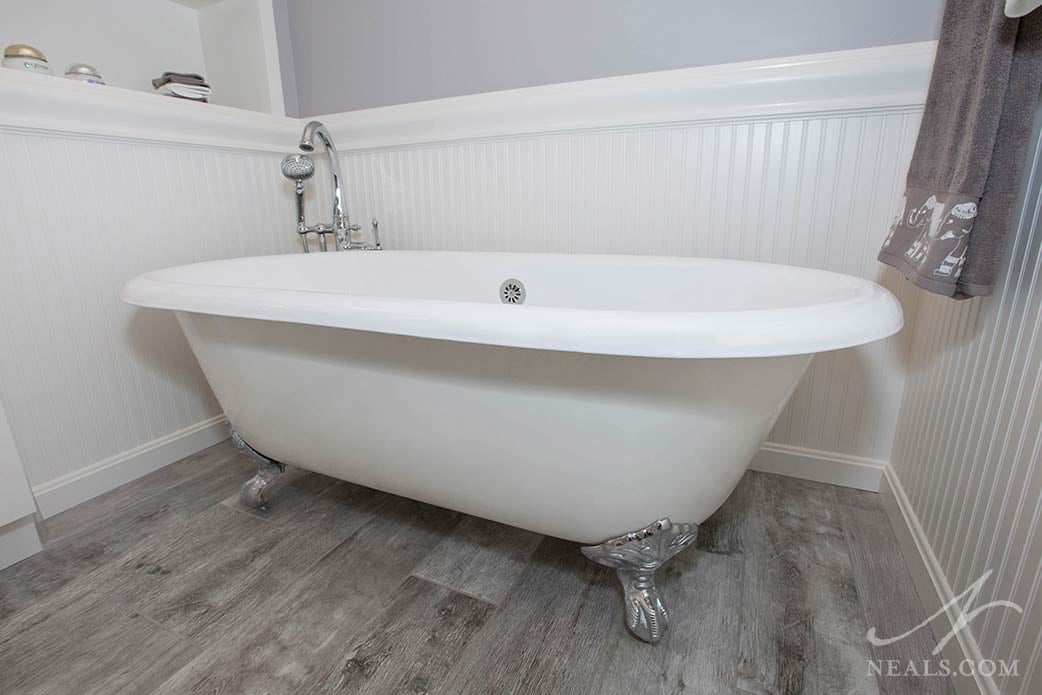 A custom walk-in shower takes the stage on the other side of the room. Here, large marble-style porcelain tiles bring a 19th Century charm and add more visual texture to the space. The shower is roomy with convenient touches, including two niches and a hand-held spray.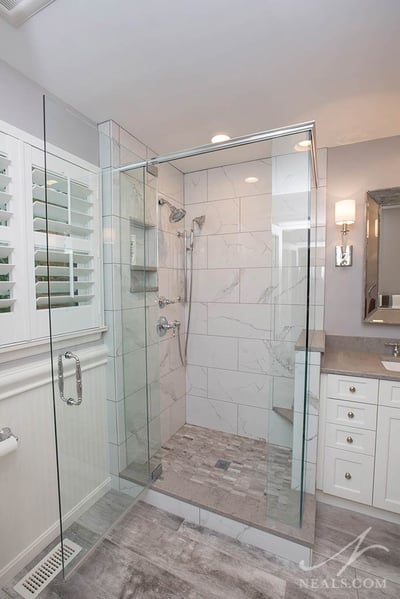 The bathroom's two vanities, one in the hall and the other next to the shower, create a stylish pair that serve the homeowners' individual needs well. In the hall, the larger space accommodates additional storage cabinets that help the vanity feel like a built-in. Sophisticated sconces provide task lighting at the mirror, and recessed lighting in the ceiling provide general illumination. This allows the hall to be well lit without the need for vanity lights to overwhelm and over-light the small space.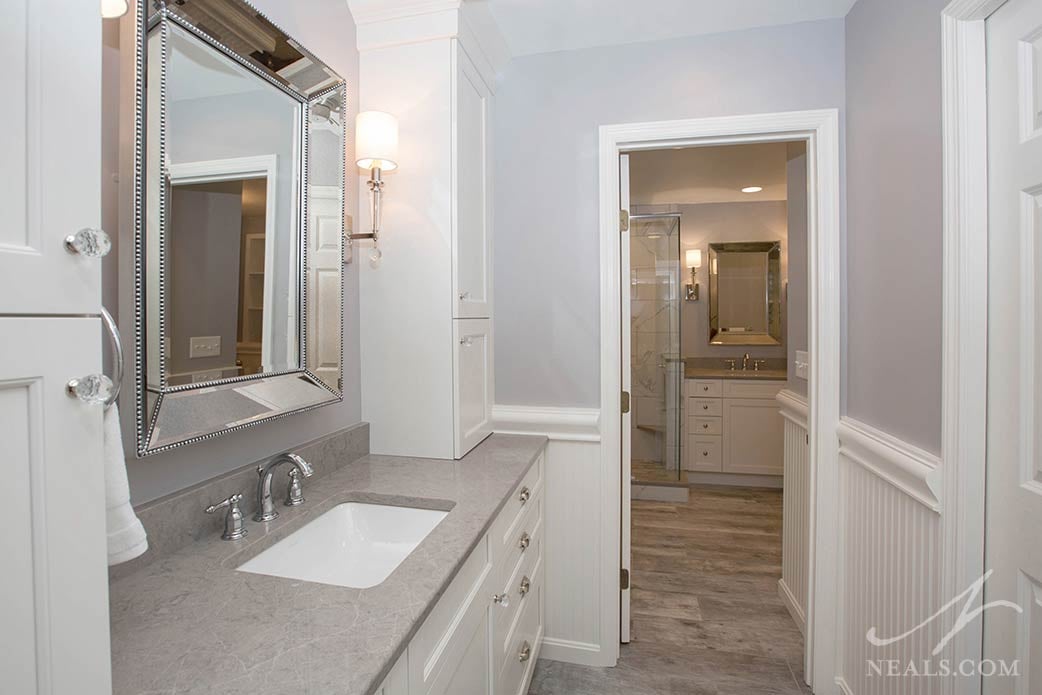 Matching the style of the vanities in both places helps the two rooms feel like one bathroom space. Both use the same Brookhaven cabinetry, Edgemont Recessed in Nordic White, which is an excellent all-purpose cabinet style that works well for the casual and traditional look of this bathroom. Romantic beveled and beaded mirrors and the subtly colored gray Caesarstone counters add depth to the design.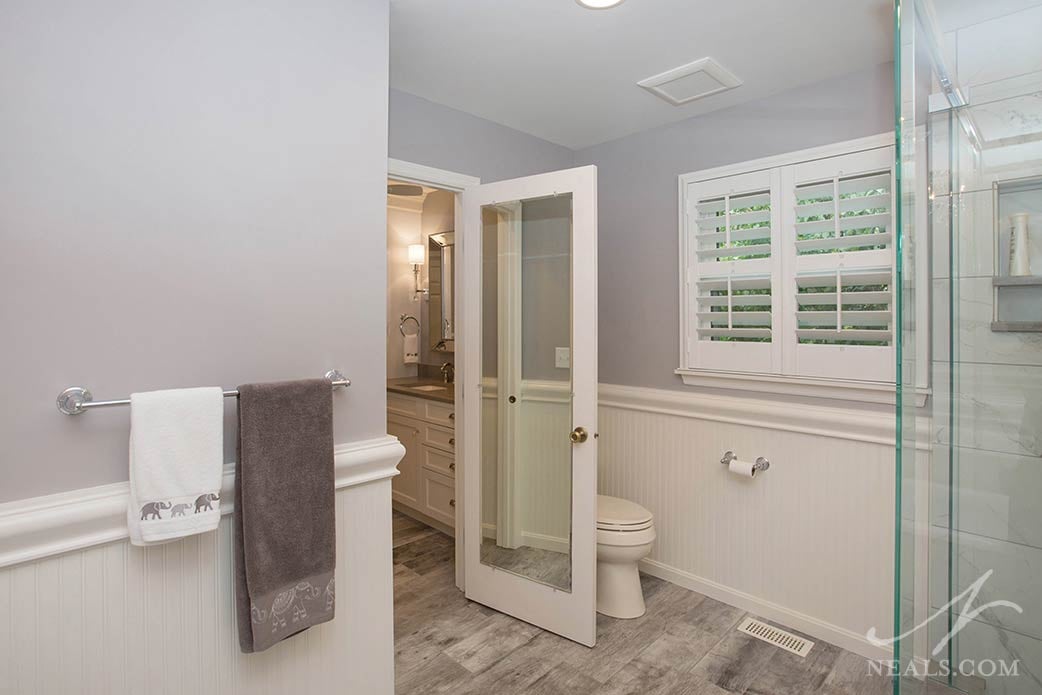 The flooring was replaced in both rooms with a wood-look tile that injects more of the country chic feel that embodies this space. In combination with the wainscoting and a balance of warm grays and soft whites, this master bathroom is a perfectly-executed upgrade to the sort of casual and sophisticated style the homeowners love.