We covered bathroom tile design trends a few weeks ago, and wanted to continue with a more specific look at bathroom products. New products are being added to your list of options every year, but not all options make the cut in terms of popularity and wide-spread applicability for home remodeling. So we're filtered through the newest product trends for bathrooms to help narrow it down for your consideration.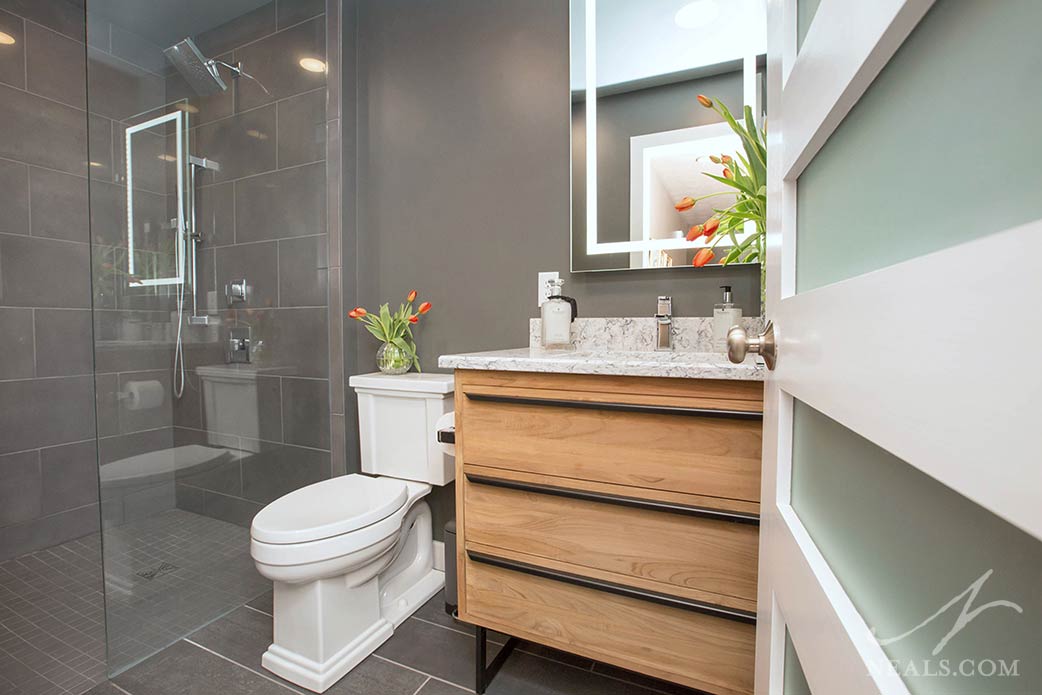 Integrated lighting in the vanity mirror in this Anderson Township bath.
Vanity Mirrors with Integrated Lighting
Thanks to a new wave of innovations in photography lighting, we now know that an all-over filtered natural white light aimed straight onto the face provides the best and most flattering lighting to highlight our facial features. This concept has made its way to the bathroom mirror in the form of integrated lighting. LED lights built into a frame inside the mirror create a fully-lit glow that facilitates shaving or make-up application without the overly-harsh or hot lighting typically used in the past. The lighting within the mirror comes in a few different formats, typically categorized as either a visible frame or one that only becomes visible when the light is on.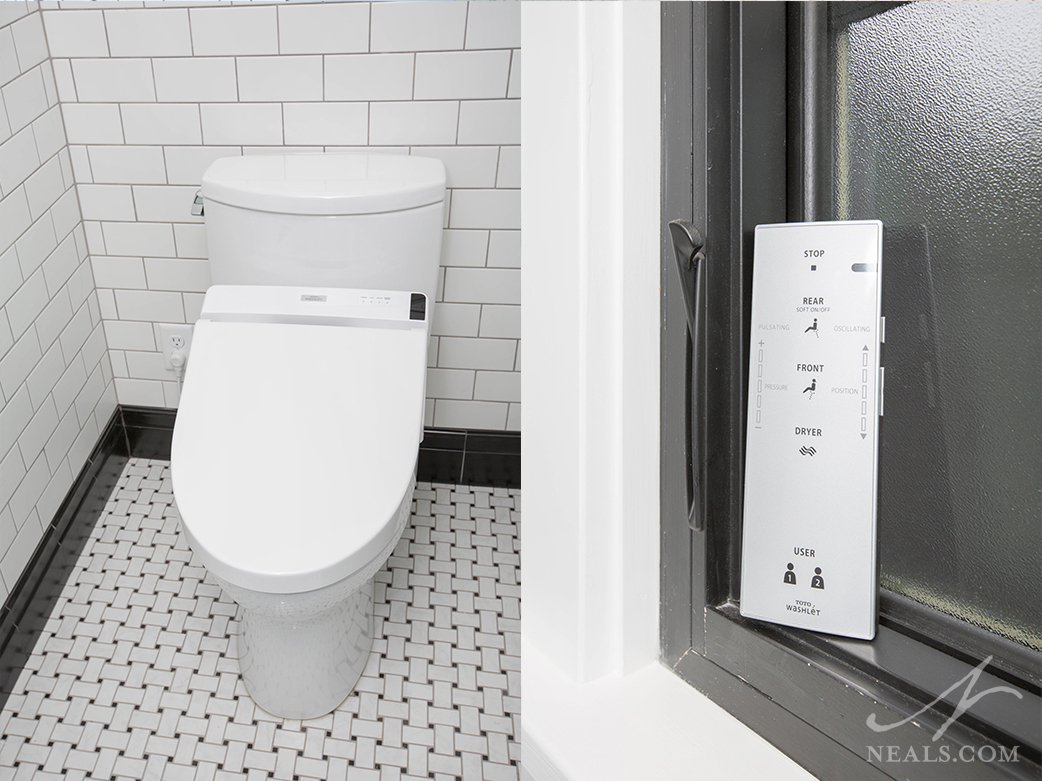 A Toto Waterlet commode in this Avondale project.
Water Efficient Toilets
We can point to lavatory manufacturer Toto as a leader in the evolution of the humble toilet. New designs that are comfortable, easy to keep clean, and of course efficient in their use of water are the hot-ticket item in the newest bathrooms. It's hard to believe that the design of the commode can be improved, but the newest toilets have been built from the ground up to improve every part of their function, making them look great for longer, and keep your water usage under control.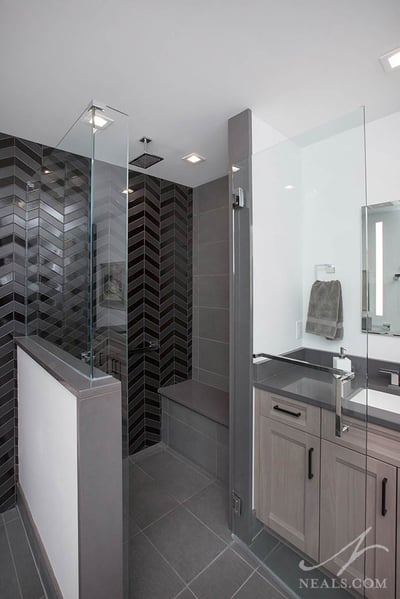 A rain showerhead in a contemporary bathroom in Evendale.
Rain Showerheads
Not a new product by any means, but the rain showerhead has exploded as a trending bathroom product in the past year. This is driven by two primary factors. First, homeowners are more likely to desire a "spa at home" style shower with a variety of water stream options, including the calming slow flow of a rain shower. Second, rain showerheads are available in a much wider range of styles and finishes than even five years ago, including both traditional and modern options.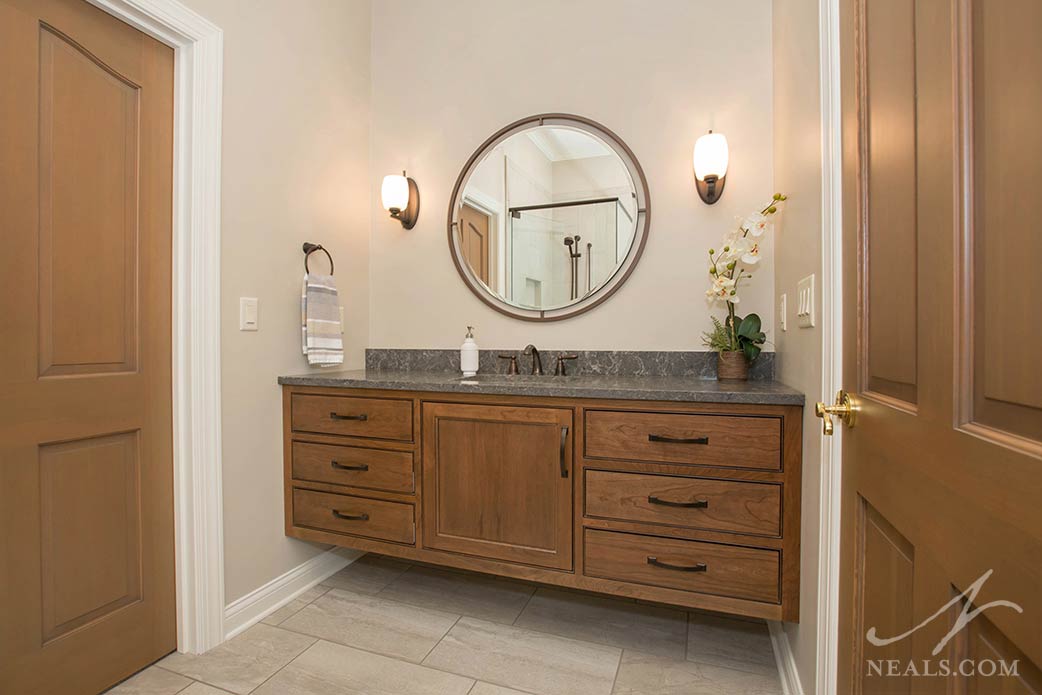 Floating vanity in a traditional guest bathroom in Southeast Indiana.
Floating Vanities
It used to be that a floating vanity- cabinets that are mounted to the wall and do not have legs or a base on the floor- automatically meant a modern or contemporary vanity. These days, however, style savvy homeowners are realizing that a traditional-style vanity can be similarly mounted and not dramatically skew the design of the bathroom into modern territory. A floating vanity gives the bathroom the illusion of more space, since the eye can see more of the flooring. It's also a bonus if you want a heated floor since you can include the heating element in more square footage.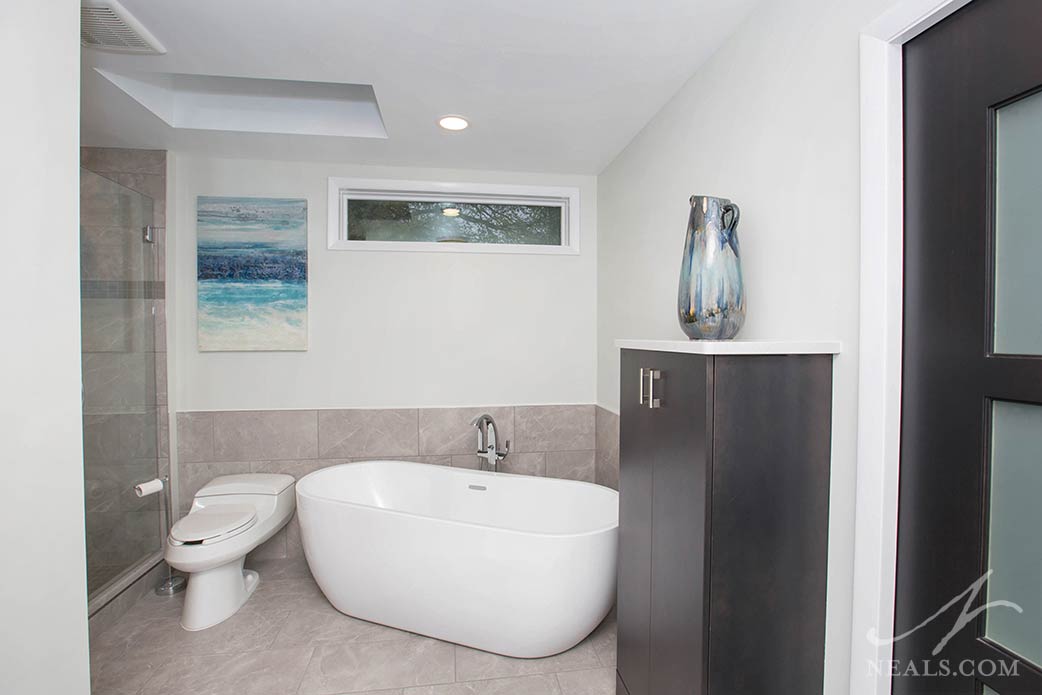 Freestanding tub in a Cleves bathroom remodel.
Free-Standing Tubs in Modern Shapes
As classic as a clawfoot tub is, we can't overlook that we see very few of this style tub in the bathrooms we've remodeled in the past few years, with some notable exceptions. New freestanding tub designs have simpler lines that allow them to work with a wide range of styles, conforming easily based on the materials and design choices installed around them. There's also a hint of influence from Japanese soaking tubs with deeper vessels in either more circular or more squared shapes.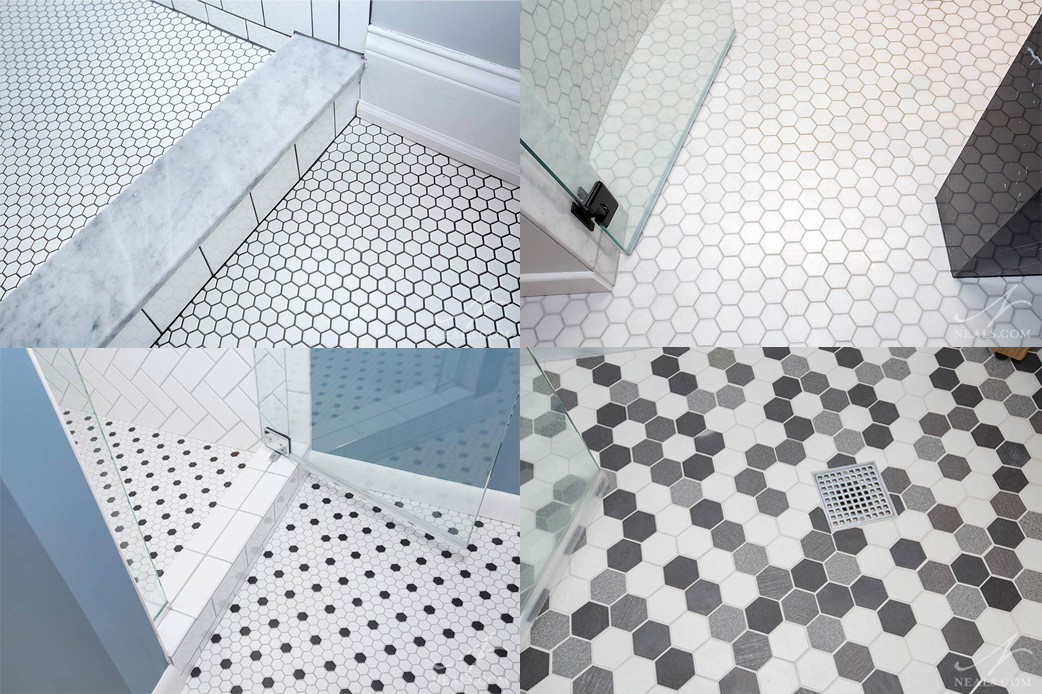 A selection of hexagon floor tiles from our bathroom remodels.
Hexagon Mosaic Tile Flooring
We touched on this one in the bathroom tile trends post, but it bears mentioning again from the product perspective. Since tiles can be much more easily manufactured in different types of shapes using more precise cutting methods such as water jet cutting, mosaic tile sheets with smaller scale tiles have become much easier to find and afford. The most trending variety of these is the hexagon mosaic tile, owing to the popularity of the graphic shape in general as a shape that occurs naturally and fits together as perfectly as a grid of squares. The hexagon is also a motif that fits in with both modern and traditional design, making it a money-saving a flooring option should your tastes change down the road.