Tile is a versatile element in bathroom design. It can be used in the shower, as a backsplash at the vanity, flooring, and as a wall covering. With such a wide variety of uses, the options for tile in the bathroom are equally as far ranging. New tile products are coming out each year, in new types of color, finishes and shapes, and these options make it easier than ever to create a stylish and unique space. To help you envision what's possible for the tile in your bath remodel, we're taking a look at some of the most popular current bathroom tile trends below.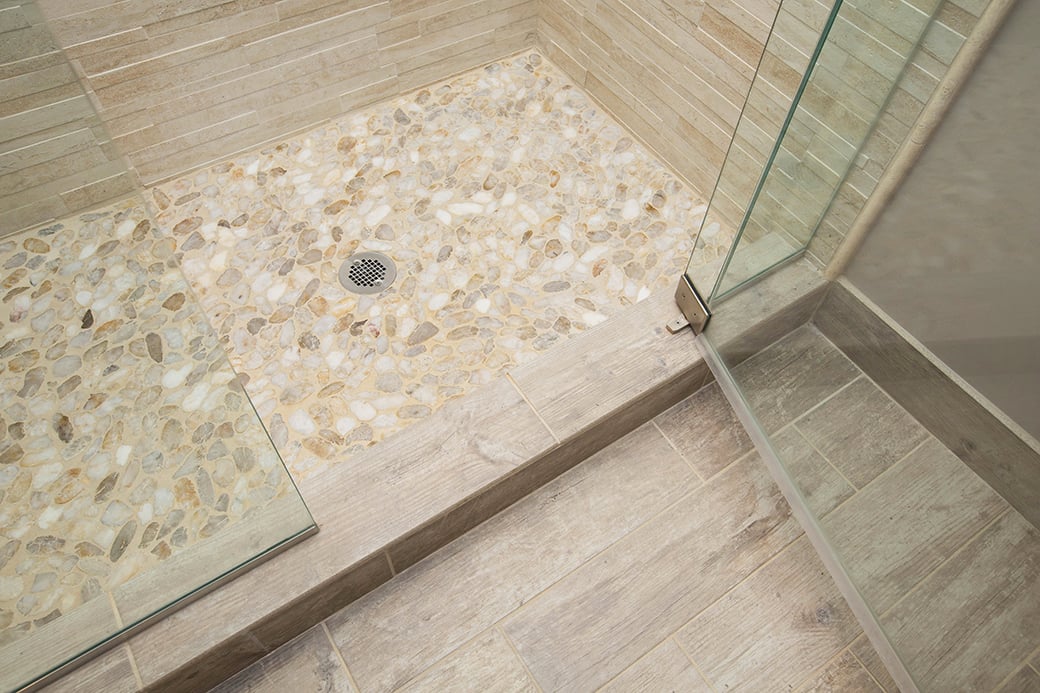 A mixture of coordinating tile options in this Montgomery bathroom.
Mix up the Tile Formats
Don't be afraid to mix different shapes of tile and different sizes. Using more than one type of tile, especially in a shower where there is a lot of space to cover, can add lots of depth and interest to the space. It's also a great way to help pull a color scheme together.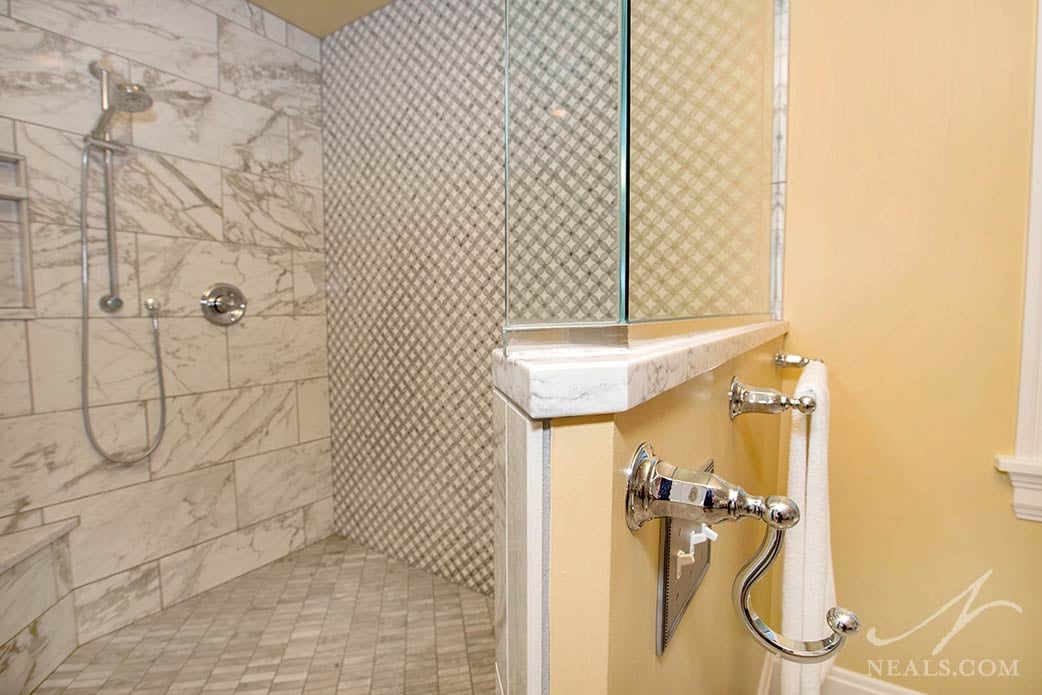 Specialty tile in an interlocked circle design is used as an accent wall in this Hyde Park bathroom.
Use Interesting Shapes & Patterns
Though hexagon or mermaid scale tiles aren't new to the scene, they have taken a few years to catch hold as an option in newly remodel bathrooms. Unexpected or interesting tile shapes work great in unusual locations (like ceiling or as a wall covering) or as accents to more typical rectangular tiles. The same applies to intricate painted tiles with two or more colors.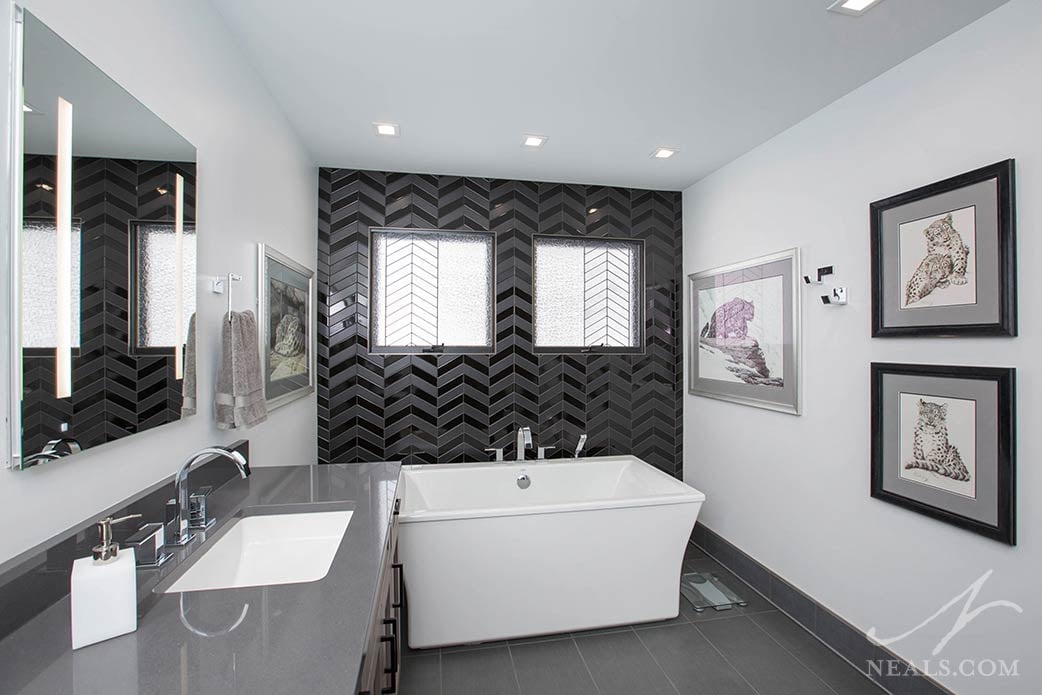 Bold black tile in an Evendale bathroom.
Be Bold with a Statement Tile
Black or brightly colored tile or boldly-colored grout can be intimidating for some homeowners to consider, but when the tile is used on its own in large amounts, it doesn't have to compete for attention and can become a beautiful backdrop to tubs and vanities.

Decorative trim tile pieces in this Indian Hill bathroom project.
Create Contrast with an Accent Trim Tile
Rather than just blending the trim pieces- those cap pieces that transition the tile to the wall along edges- there's a rising trend of using a different color or style to highlight and frame the tile, making it more of a show piece rather than a background element to overlook.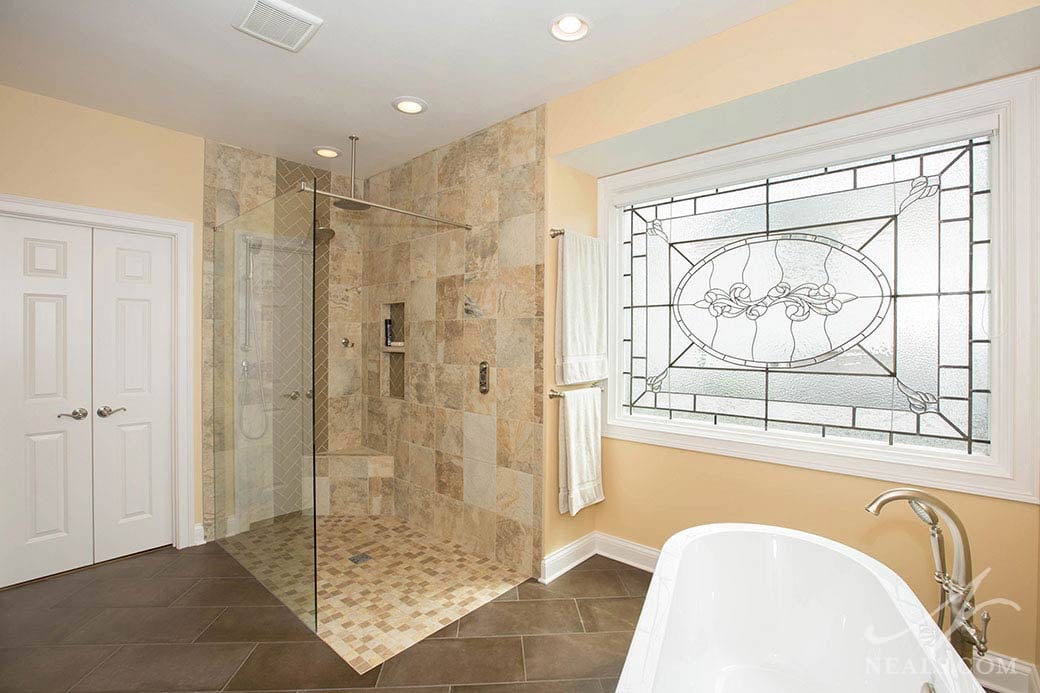 Shower tile extends out beyond the glass wall in this Sycamore Township bathroom.
Get Creative with Curbless Shower Flooring
Since a curbless shower has no barrier between the shower floor and the main bathroom floor, the floor tile can be carried right into the shower. This is a great option for a Universal Design bathroom. Alternatively, the lack of a physical barrier also provides an opportunity to create a playful tile transition that doesn't have to adhere to the physical boundary of the shower walls. Shower floor tile can "spill out" onto the main floor in interesting ways.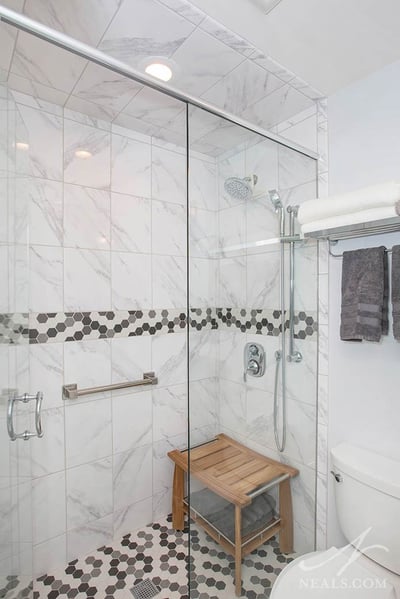 Tile shower ceiling in this Finneytown bathroom remodel.
Tile the Ceiling in the Shower
Whether you have a steam shower or not, using tile on the ceiling of a shower is a way to create a sauna-like setting in your bathroom. The effect of a tiled shower ceiling is that it turns the shower more into a room, which creates a cozy effect ideal for those who like to linger in the shower. This technique is best done when lighting and the overall balance of colors have been adequately addressed in the bathroom to avoid a tiled ceiling making the shower look too heavy in the space.