Laundry is one of the essential chores we all do, and a well-designed laundry room is an asset in any home. In the past, the basement seemed to be the perfect spot to hook up a washer and dryer. The mechanical considerations were easily handled, but the inconvenience of dragging everything downstairs (and back up again) never quite made those considerations feel worth it. Today, homeowners are creating laundry spaces that better meet their needs on any floor of their home. Careful planning, prioritizing efficiency, and regular maintenance now allow for many more possibilities. Here are 6 tips for designing a functional laundry room.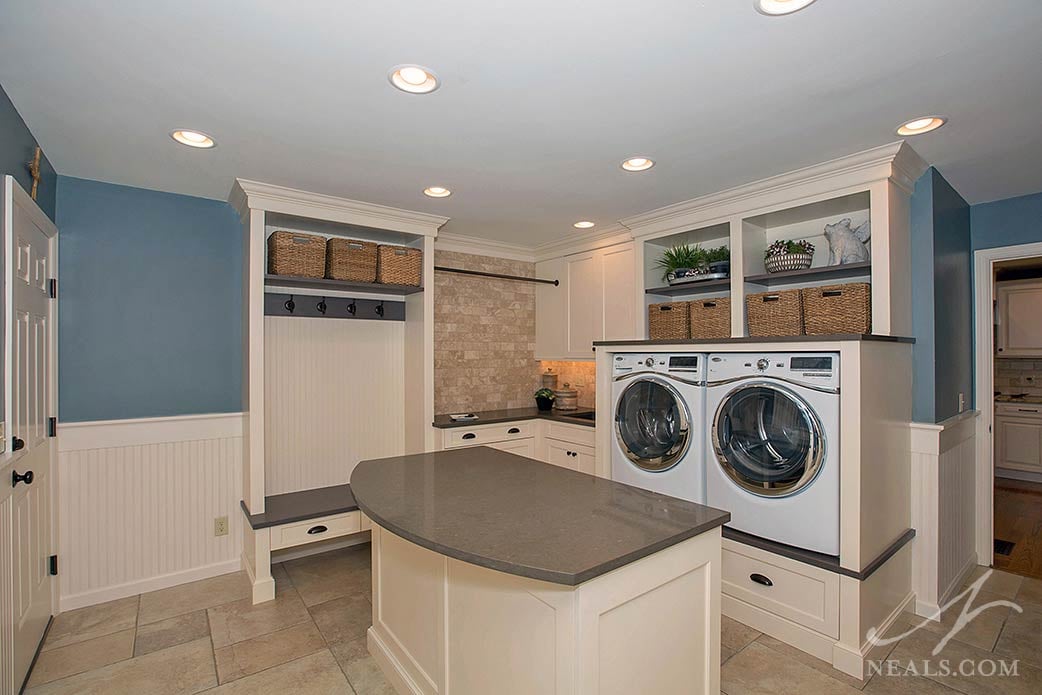 Laundry and mudroom in Symmes Township
1. Choosing a Location for the Laundry Room
Changes in engineering and design of washers and dryers now provide options that consumers of the past never had. Laundry rooms can be set up on the first or second story of a home, or in some cases even an attic. No space is off limits, including closets, kitchen, bedrooms, mudrooms, garages, and, of course, the basement.
When planning your laundry room, consider the dimensions of the washer and dryer. Typically, front-load washers and dryers are 36 inches high, 24-28 inches wide, and about 26 inches deep. You can place them side-by-side or stack them. Stacked machines are about 72-75 inches tall. Top-load washers require 42 or more inches of vertical space.
If you are considering installing a laundry room near bedrooms, a kitchen or other rooms where there is a lot of activity, think about the noise washers and dryers make. If you can't find sufficiently quiet machines, you may want to discuss options for noise insulation with a contractor before purchasing and installing the appliances.
2. Mechanical Considerations
Once you've decided where to install a washer and dryer, the next question to ask yourself is – can they be hooked up in that space? You will need plumbing for the washer, ventilation for the dryer and electrical outlets for both machines. You may also need a gas line if you plan to use a gas-fueled dryer. If you are converting an empty space into a laundry room, definitely consult with a professional contractor to get an idea about the costs and feasibility of installing the appliances.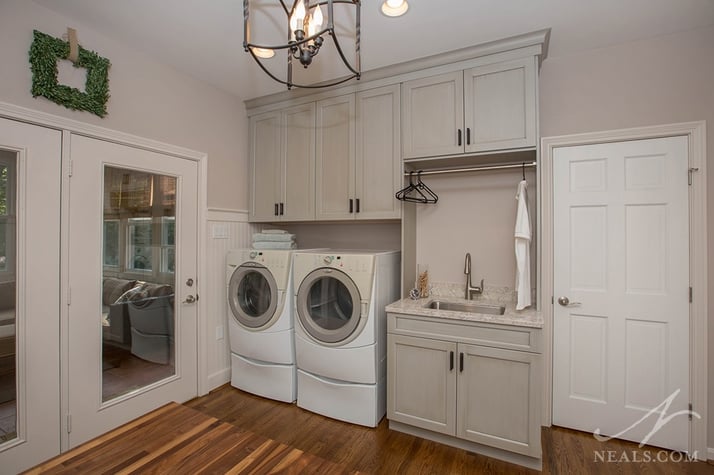 Laundry room combined with a craft room in Loveland
3. Selecting a Washer and Dryer
There are many products to choose from and you may want to do some homework online before buying a washer or dryer. Be sure to note the basics – size, capacity, price and color. Also consider noise and vibration. A washing machine that spins faster than 1,000 rpm will be noisy. Machines also come with accessories including stacking kits and base pedestals and storage units. Before you purchase appliances, read product reviews. They may be one of your best resources, since machines are not hooked up in showrooms.
4. Planning Storage Space
Storage options depend on the space available in the laundry area. If you are placing the washer and dryer in a closet, minimally you will want to have a shelf for storing detergents and fabric softener and possibly a rod for hanging clothes. There are collapsible rods that can work in small spaces, and all types of organizers and shelf systems to fit your space. Also, look for storage accessories when you purchase the machines, you may find drawers and matching storage units.
If you have a larger space and want to install cabinets, think about cabinet configurations for the room as if you were planning a kitchen: single wall, galley, L-shaped, or U-shaped. If you add a sink, there may be room for under cabinet storage. Installing a front-load washer and dryer side-by-side will provide space for a counter over the machines to serve as a work area and place for storing laundry baskets and supplies.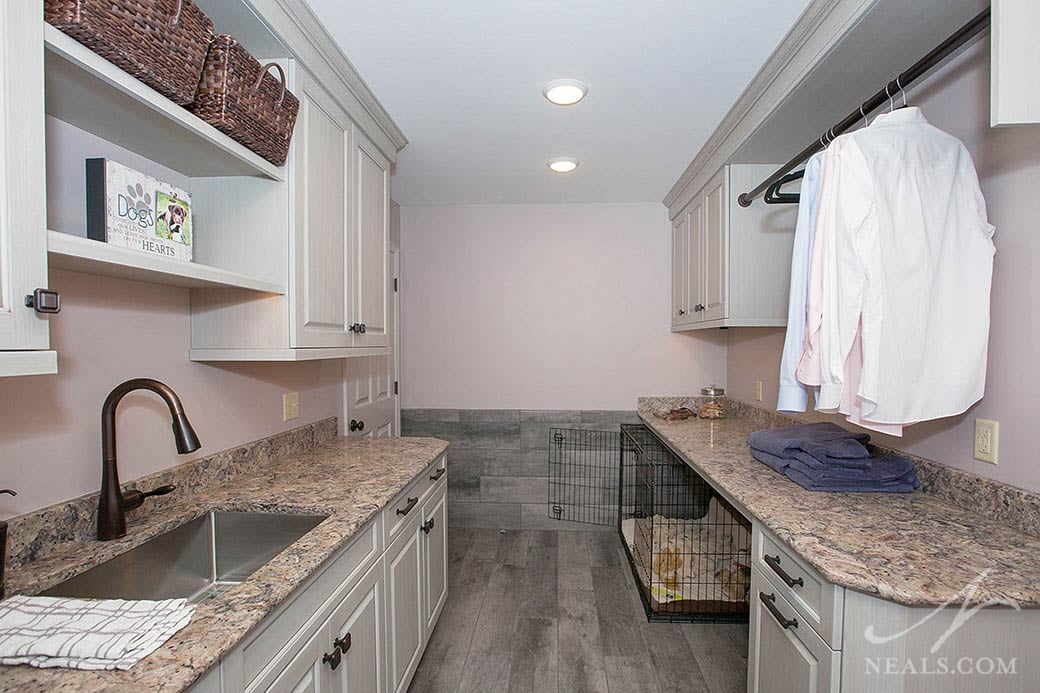 Pet-friendly laundry room in Indian Hill.
5. Flooring Options
No matter where you place your washer and dryer, the floor underneath should be water resistant in the event of a spill or leak. Consider non-slip tile, vinyl, linoleum or wood flooring in your plans.
6. Lighting
Task lighting is important in a laundry room. Add outlets and switches in your plan for task lights. Fluorescent and LED fixtures work well under cabinets. Washers and dryers also come equipped with lights to help you see items you are unloading, especially socks that stick to the side of a washer or hide in the back of a dryer.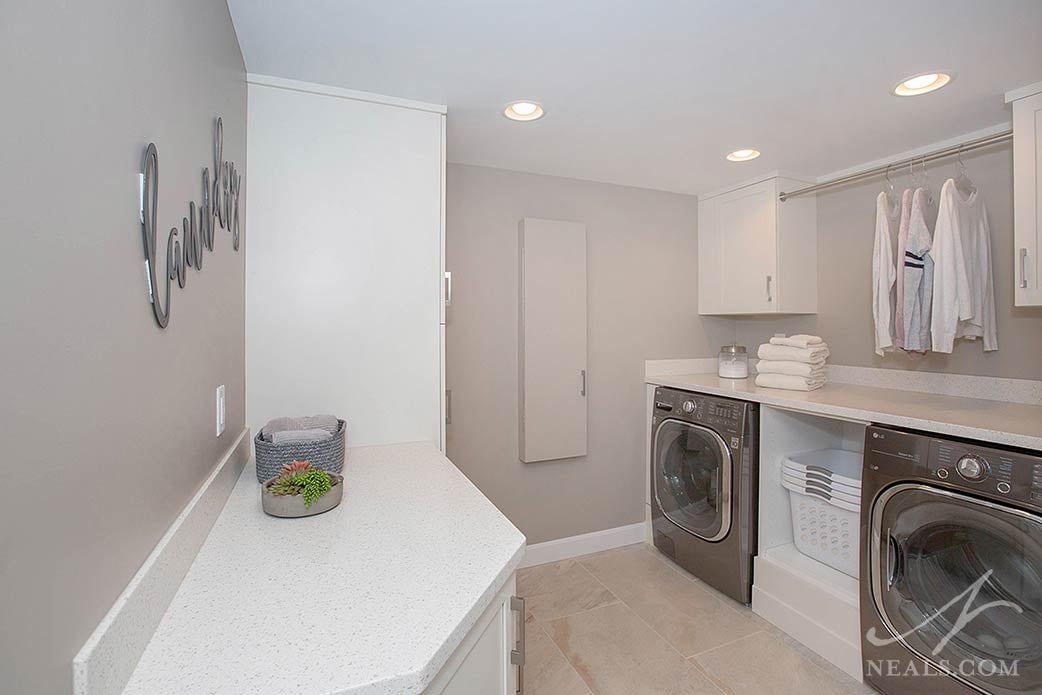 Basement laundry room in Montgomery
Updated 3/17/20 | Original Post 9/18/2012