As we near the Fall and Winter seasons, you may be looking at your kitchen and wondering how it can work better when you're hosting parties with family and friends. Entertaining comes with its own set of challenges and needs, and if you have guests over often, it may be worthwhile to adjust the form and function of your kitchen to account for a crowd rather than simply for your immediate family. The seven ideas below are some great things to consider to help make your kitchen party-ready.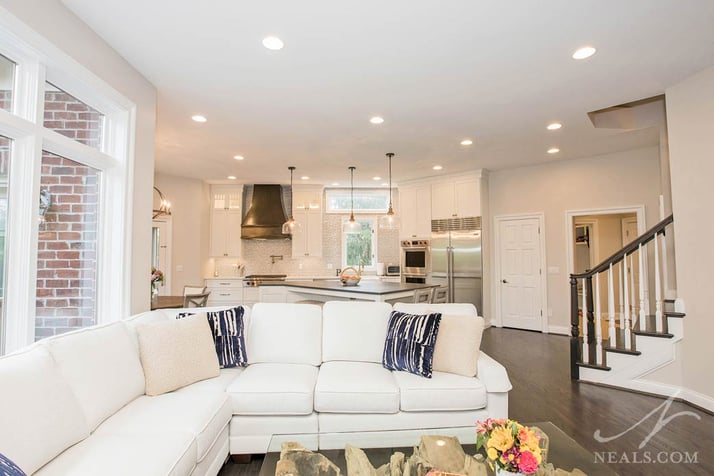 Kitchen Remodel in Indian Hill
1. Open the floor plan.
Nothing stifles the atmosphere of a party like cramming your guests in like sardines, so the first place to look is where and how you can open things up. Adding onto your kitchen might be one solution, but even the removal of a wall to join two rooms can create a huge impact. Think about the kitchen floor plan and how it allows people to move from area to area and into adjacent rooms. Look out especially for bottlenecks- places where the space is too small or awkward for the traffic flow to transition smoothly. Don't forget about your kitchen's relationship to your outdoor spaces. Even in the depths of winter, your guests may want easy access to step outside.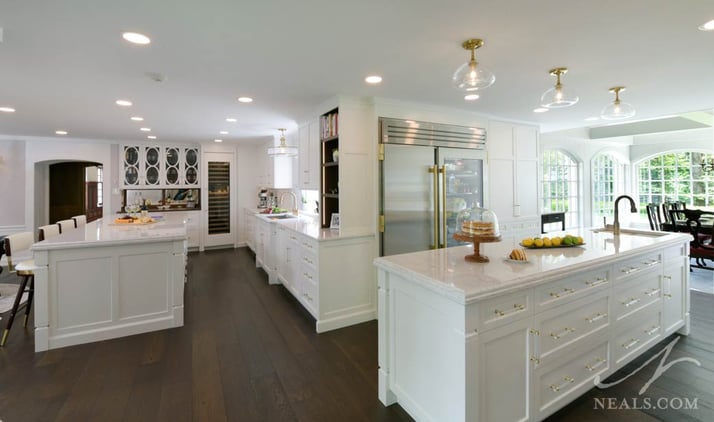 Kitchen Remodel in Indian Hill
2. Add multiple counters.
With all the prep work and cooking that comes with entertaining in your home, you're going to need space. You also want to have enough open counterspace to set out food and not have confusion over whether it's ready to be devoured or if it's still in your working zone. Multi-tiered islands are a convenient option and don't necessarily take up a lot of space. Adding more than one island, fitting in a long peninsula, or creating a long run of counter outside the work triangle are additional ways to gain surface area.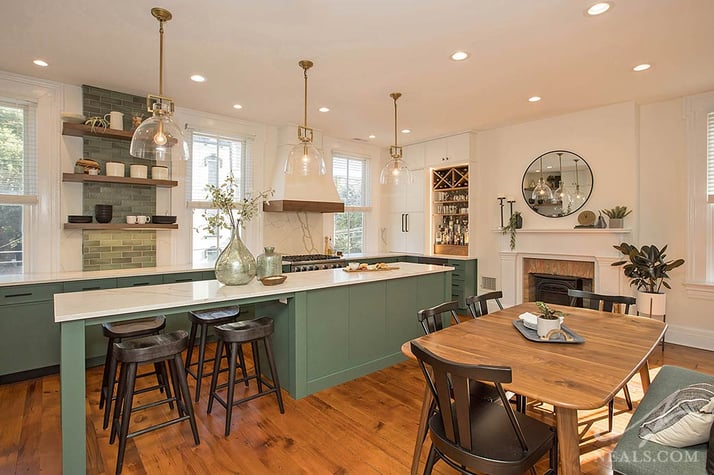 Kitchen Remodel in Prospect Hill-OTR
3. Include seating in the kitchen.
Even for the days you aren't hosting guests, kitchen seating is an ideal element for any kitchen. The advantage of including seating in your kitchen is that family or guests can join you for conversation in the kitchen when you're in the middle of preparing the meal. Seating should be arranged near the work areas, but not inside of them. For some great ideas on including seating at your kitchen island, check out our post: How to Design a Kitchen Island or Peninsula that Works.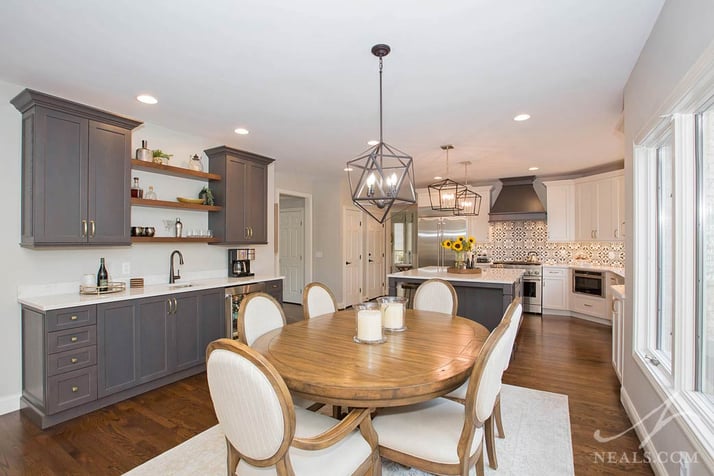 Kitchen Remodel in Symmes Township
4. Find space for a beverage bar.
More and more we are seeing the need for a beverage bar in the first floor of a home, rather than relegated only to the basement. A corner or short space of wall can be converted to a bar in the kitchen, which is an ideal location for entertaining so that you can keep an eye on it for restocking. Look at ways to combine your bar storage with your daily beverage needs (coffee, cold drinks, water, etc.). A small sink is also an ideal addition to the beverage counter. An under-counter refrigerator can provide storage for beer, juices, and other drinks. This can also be the home for your wine storage solution.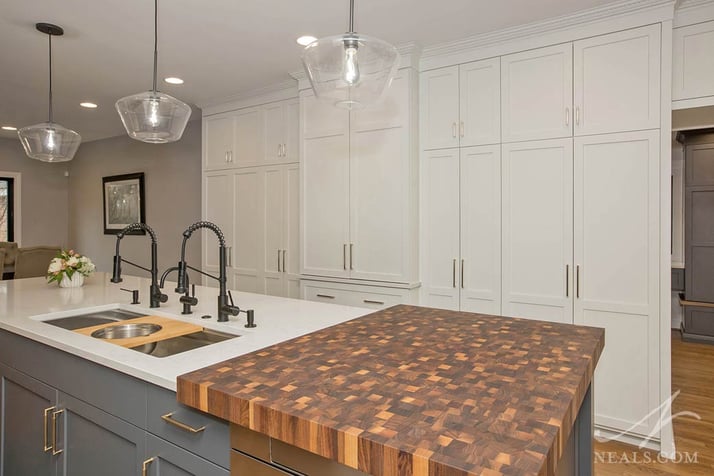 Kitchen Remodel in Indian Hill
5. Don't forget to include space for special occasion storage.
Look for the space to include storage solutions for all the items you regularly use when you are entertaining. This can include dishes and glassware, serve ware, food staples, table cloths, and napkins, or that special centerpiece that always comes out for all the large family meals. This may require more than one area in your kitchen, but be sure to position the storage to be distinct and separate from your day-to-day items and to be contained enough that dust won't settle on them while they're not in use.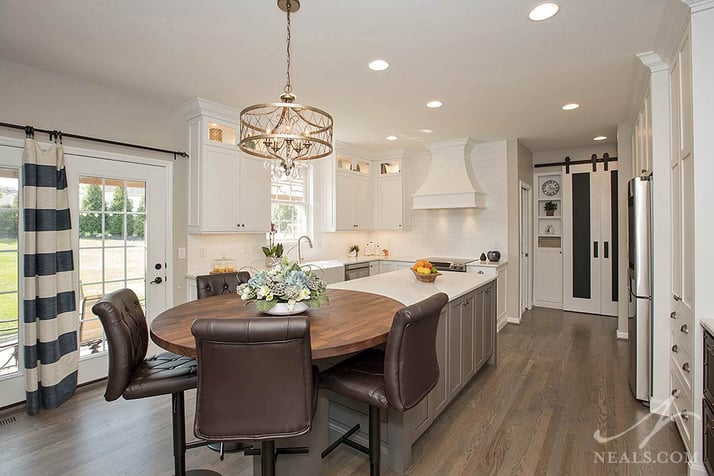 Kitchen Remodel in Monfort Heights
6. Include lighting options.
Lighting is a make-or-break element to any space in your home, but with all the tasks it handles in a day, proper lighting in the kitchen is a necessity. We've
talked about kitchen lighting
in the past, but to paraphrase, it's important to include the correct type of lighting solution for each of the areas in your kitchen for what you intend to do there. If your kitchen is going to act as the hub of your parties, you'll want to have a lighting scheme that can adjust through the day. Be sure to have brighter work lighting when you're getting everything ready, aesthetic lighting for the party, and low lighting when the evening begins winding down and the party has moved on to other rooms.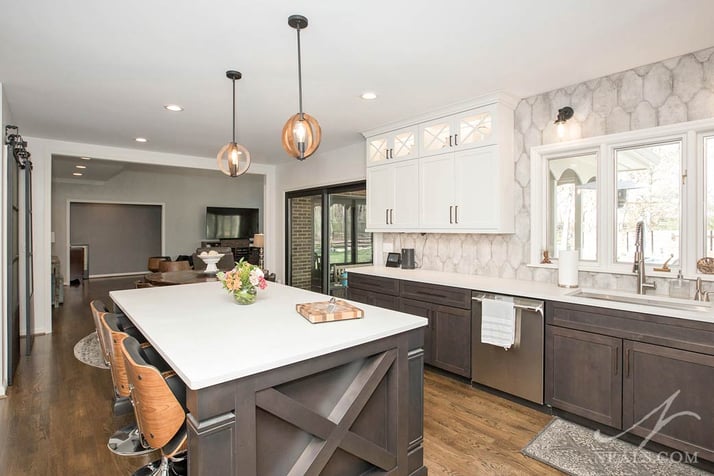 Kitchen Remodel in Symmes Township
7. Make cleaning up the easiest part.
The reality of entertaining is that you also get saddled with the cleaning afterward. Whether you typically opt for disposable plates and cups or use your fine dishware, you'll need a solution that makes the post-party clean-up a no-brainer. Look for a hard-working dishwasher that can handle loads that may be a little more than full. Install a double wastebasket pull-out near the areas where trash tends to accumulate during the party, or in an area that your guests can easily access. Incorporate a cleaning supply closet in your pantry or in a central location so that you've got a broom and cleaning wipes on hand rather than buried in the hallway closet or in an equally inconvenient place.