Recently we looked at some of the color trends making an impact on kitchen and bath design this year. In that post we focused on the use of color in cabinetry as well as the ways in which color trends can be used in combination to help a kitchen feel cohesive. In this post, we'll continue looking at trends as they relate to kitchen design, including some more color considerations, storage trends, and design details.
Light Woods and Black Accents
In addition to the trending color groups of warm grays and earth tones we discussed last time, our design team has noticed two specific trends that bare special note. For many years white has been the dominate color in kitchen design, overtaking kitchens filled with dark, richly stained woods which had begun to feel dated and were often improperly lit. Moving into this year, however, homeowners are beginning to express interest in wood tones again, but this time, light or blonde woods such as white oak, or medium-toned woods like walnut. These natural, warm woods work within the larger color trends seamlessly well, particularly those kitchens that lean toward the earth tone trend. White still dominates, and at this time these wood tones may appear more as accent cabinetry or trim, but we're fully expecting to see these lighter tones woods used for the kitchen's primary cabinetry more and more.
At the same, we're also noticing that some homeowners looking for a hint of boldness and drama are turning toward black finishes. We've used shades of black finishing or paint for a handful of recent projects, mostly for a single element (like an island) or in equal parts along with white. The use of black in the kitchen, if done well by balancing it with lighter colors and proper lighting, has the feeling of modernity, even in a traditional style kitchen.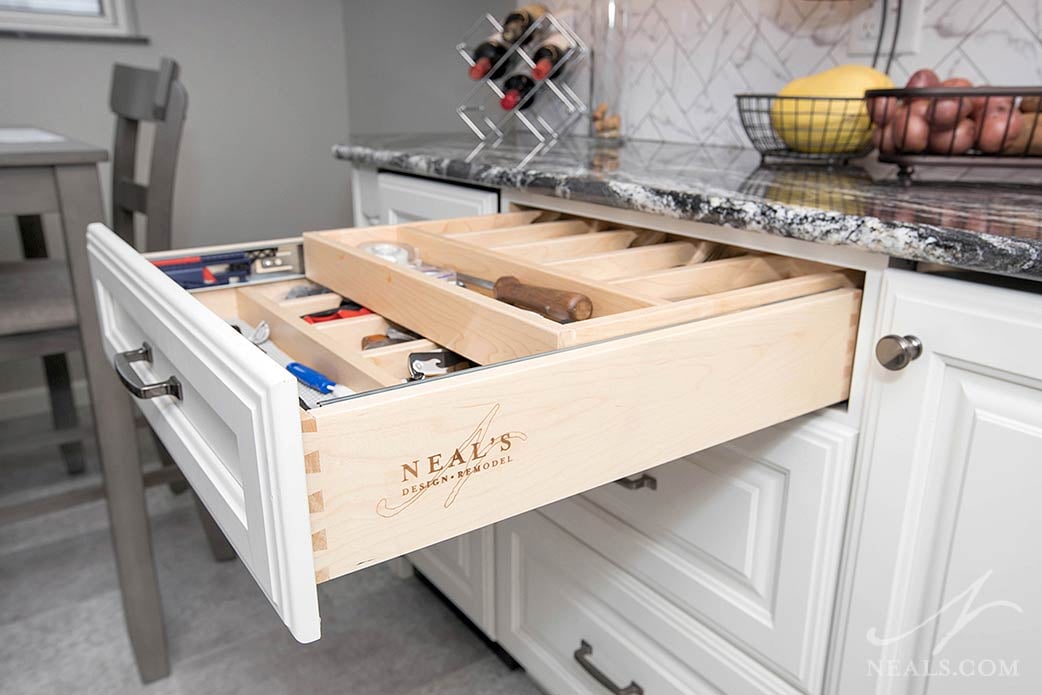 Kitchen remodel in Monfort Heights
Interior Cabinet Organization & Accessories
We have an excellent post that discusses popular interior cabinet accessories, since these items have been a part of kitchen design for many decades. If you're unsure what interior cabinet accessories are, that's a great place to start. The reason we bring it up in this post about trends is that more and more homeowners are recognizing the benefits of tailored cabinet organization as a given in kitchen design, rather than an option they can pass up. When presented the choice between a utensil drawer with dividers sized correctly for the items, or an open drawer without them, most homeowners (and designers) can agree that the extra interior detail makes a massive impact. In other words, the trend we're pointing out here is a trend for custom organization systems, in general, within the design of a kitchen.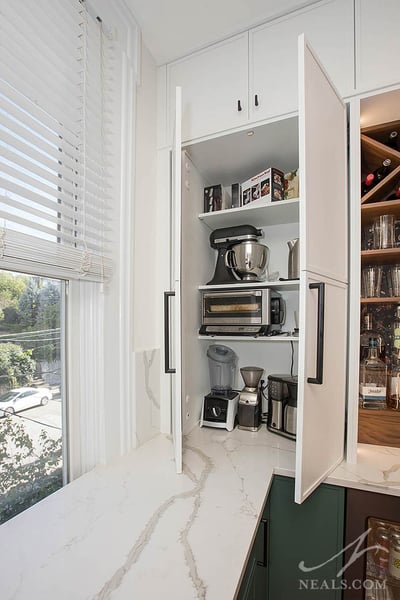 Kitchen remodel in Over-the-Rhine
Along with this trend, our designers are noting that one organizational option in the kitchen, referred to as an "appliance garage", has started to take off and morph as an increasing trend in many of the kitchens they're designing. In the past, this feature was designed as a pocket of space directly on the counter where small appliances can be slid in and out, and a door (typically a vertically-opening door) would conceal the items when not in use. In the newer versions of this feature, the garage is often larger, sometimes with multiple levels, to be more accommodating to mid-sized countertop appliances such as stand mixers or air fryers, and to be able to house the full set of small appliances in one location. Whether this is a design style trend or simply a trend due to the changing nature of home appliances, it's hard to know, but as long as this category of appliances exists, the central appliance garage is likely to be storage trend.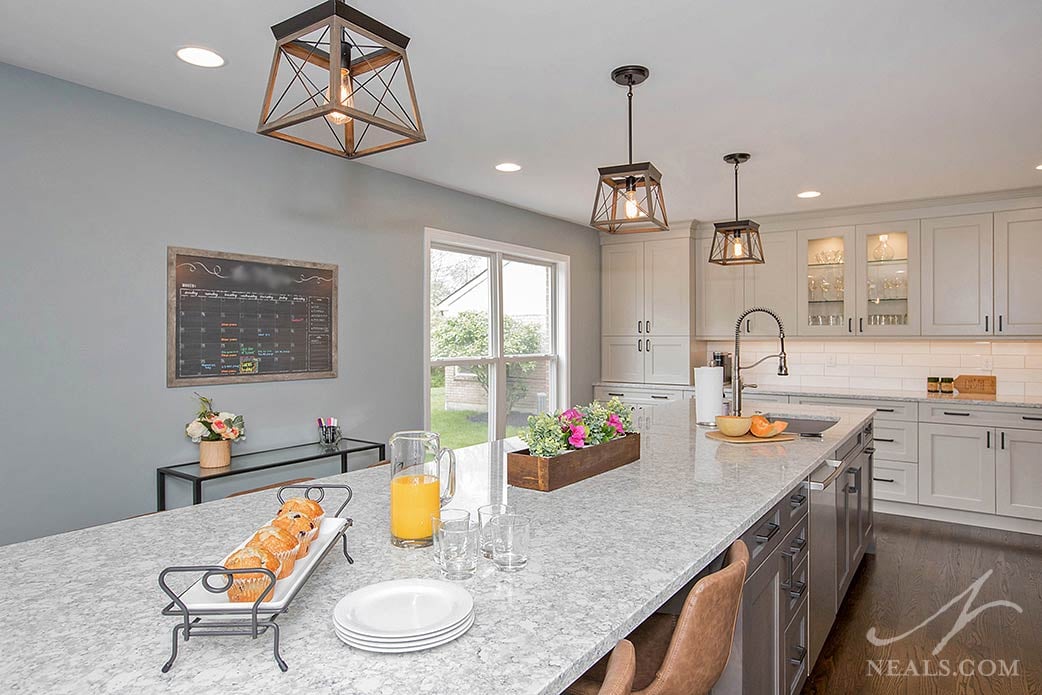 Kitchen remodel in Mason
Large or Double Kitchen Islands
Homes built in the 90's are now more regularly being considered for remodeling. With that, designers are finding that they have more space to work with as new kitchens tend to be created with more square footage than those in homes built earlier. This greater availability of space often provides the opportunity to include more counterspace in the form of an island. Not just any island, however. We're seeing homeowners interested in oversized islands that provide many feet of space, or in double islands. Having two islands also impacts the design options for the kitchen, since each island can be designed with different purposes and different finishes. This means that designers are given additional areas to go deeper with the design scheme.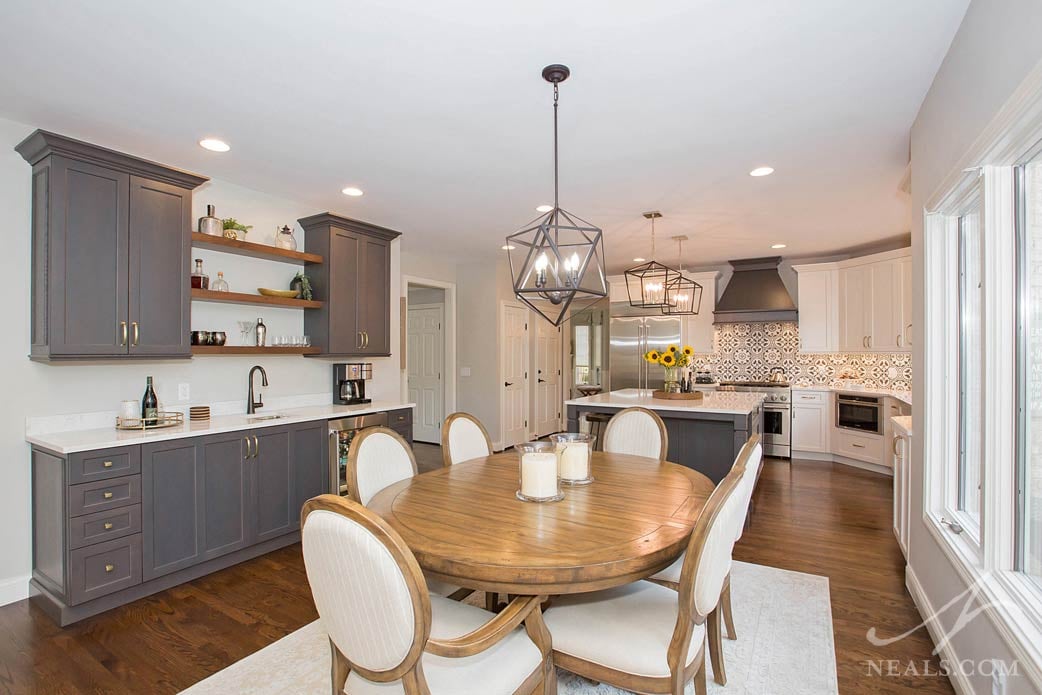 Kitchen remodel in Symmes Township
More Decorative Lighting
Lighting a kitchen correctly is a major goal of most kitchen remodels, since many older kitchens tend to have gotten that wrong. For many years, the lighting that's installed often isn't much of a design consideration (beyond just to include more of it in better places.) That's changing now, however. Rather than using two or three inconspicuous fixtures over an island or peninsula, designers and homeowners find themselves looking for large, eye-catching pendants or chandeliers that make a statement more than simply light the space. There are so many new and interesting light fixtures to chose from that this trend makes a lot of sense, since there's a high probability of finding the perfect pendant to suit the kitchen's style.