At the start of each year, there are a slew of articles that highlight interior paint and decor color trends. For those looking to go beyond a paint job this year with a remodel, however, paint color trends don't quite answer the question of what color choices are on trend when it comes to a kitchen or bathroom. Looking at color trends as they apply to a room with cabinetry can give homeowners with an interest is what's current a better idea of what to consider in their home remodel. Here we take a look at the rising trends in the kitchen, bath and home remodels we've completed.
Kitchen Color Trends in 2021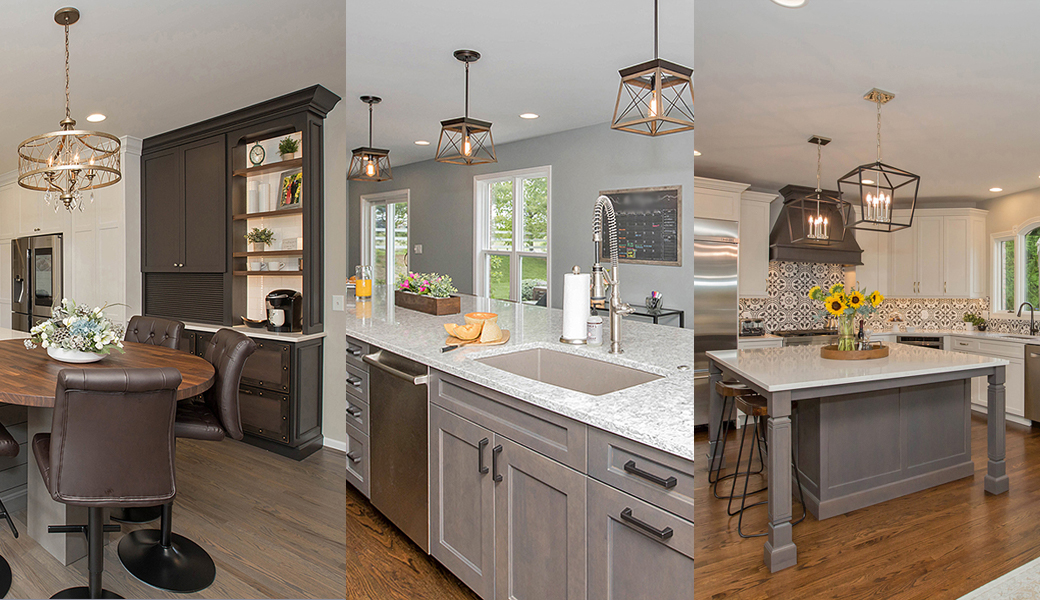 Warm Grays
Gray itself is perhaps one of the most useful colors in home design, and there are a lot of ways it can be used. In terms of trends in 2021, though, the specific application of gray we're seeing can be described as a brown-toned, gray that bridges the color gap between rich reddish browns and black. Many times, this gray is also applied with a worn or rustic finish, or in a stain that allows a natural wood grain to show through, and there is a matte or eggshell quality to the finish. This trend also doesn't appear to be specific about the gray being light or dark, and we're seeing either in use, depending on the overall design goals of the kitchen.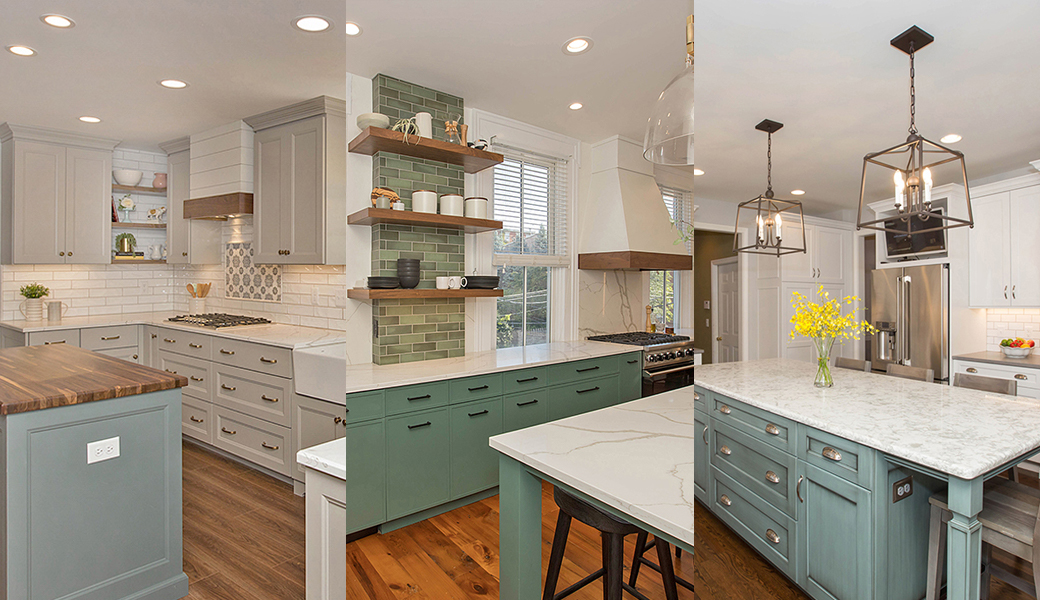 Earth Tones
For 2021 we're taking note that the on-going blue trend in kitchens may be shifting to more of a focus on earth colors in the full range between dark blue and pale green, many times accented with shades of brown and gray. This natural color trend allows for the pristine application of these colors, such as the smooth green of the cabinets in the center kitchen above, as well as a rustic look with vintage-style glazing, as seen on the right. This trend appears to be emerging as a full earth-inspired color scheme rather than just blue and green, and is nearly always combined with white or cream colors to keep it light and warm wood flooring and details to keep it grounded.
Bathroom Color Trends in 2021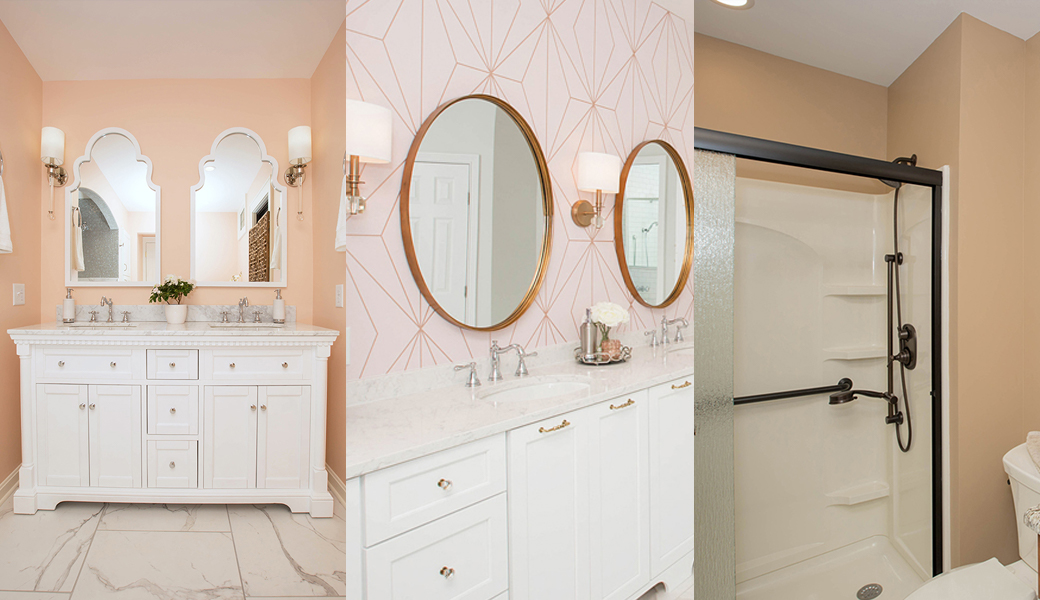 Pinks & Peaches
We'll fully admit that when we first spotted this one, we weren't too sure that it was a trend to keep an eye on, and it definitely skirts the line of personal taste. Pink and peach have long been popular colors, but it hasn't been until recently that we've started to spot it outside of rooms intended for little girls. Likely considered a bold choice by some, peach and pink are romantic and soft and less overpowering in a small room as compared to red or orange. We're also noticing that this color trend includes the combination of peach or pink with white, brown and gray, and the absence of any other colors. Brown especially brings out the warm character of these shades and injects a hint of an exotic or tropical flair creating a "vacation" atmosphere that might be particularly appealing as of late.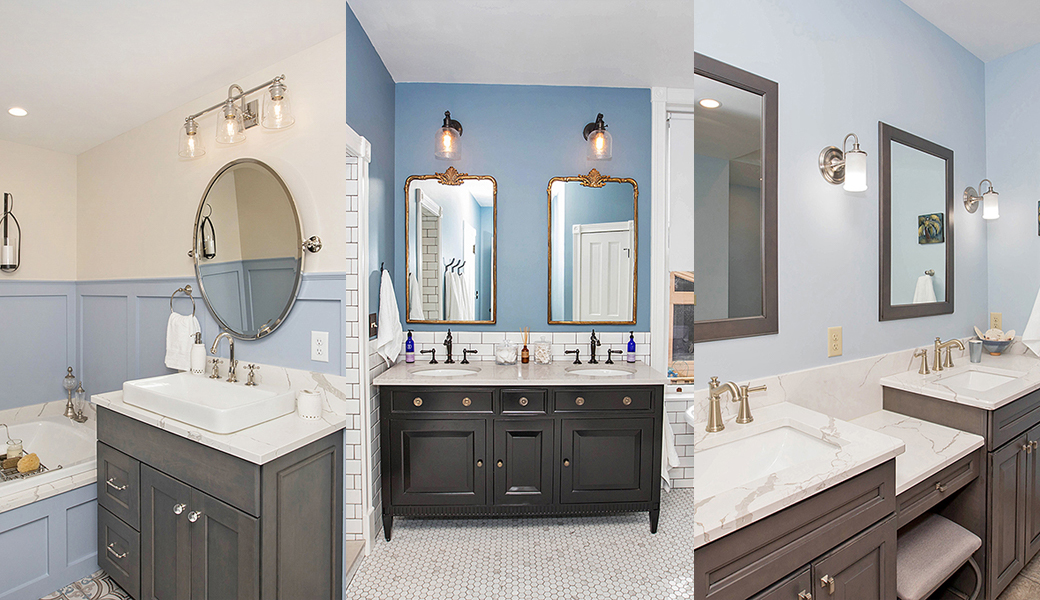 Fresh Blues
When looking for images to show this trend, it was difficult to narrow it down. Light shades of blue, from pale baby blue to Carolina blue, appear in many of the master bathrooms we've completed recently. Blue is often used as a neutral color, but in these bathroom applications, it is more often included as a color that contrasts against brown-toned cabinetry and provides a spa-like feeling of calm. We also want to note that we're seeing lighter shades in use here, and not navy or royal blue shades which would create a different feeling in the space altogether. For those homeowners that like blue to begin with, this trend isn't one that's likely to feel like a "style don't" in the short term.
Other Home Color Trends in 2021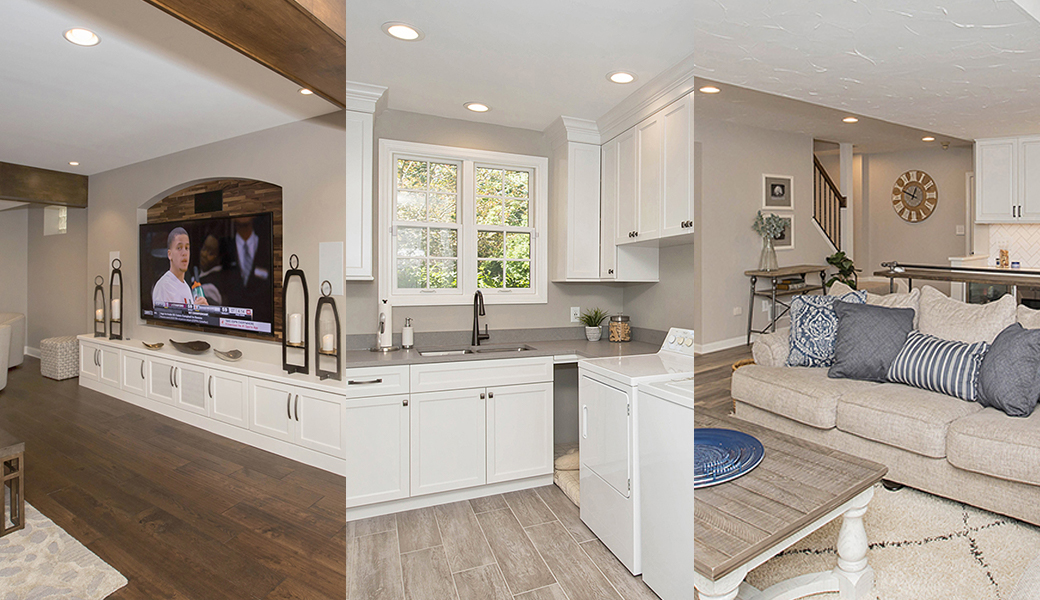 Warm Pale Neutral
Beige and so-called "greige" catch a lot of flack in the wider design community for being predictable colors, but the reality is that this pale neutral tone is so versatile, inviting and bright that it works amazingly well in a variety of home settings. A space with rustic a rich wood tones or interior stone work benefits from beige's characteristic of not competing for attention. The pale gray color offers a hint of polish and works to temper all-white cabinetry in spaces like a laundry room or hallway. The light color blends well with most other colors, so your decor can shift through seasons without having to worry about repainting.