Though it's hard to exactly pin-point when a kitchen can be considered a high-end luxury kitchen, there are a few features that can be included in a kitchen design to elevate the space from one of simple practicality to something with a bit more panache. We've taken a look at some of our most well-appointed kitchens to come up with five features we believe inject that feeling of luxury.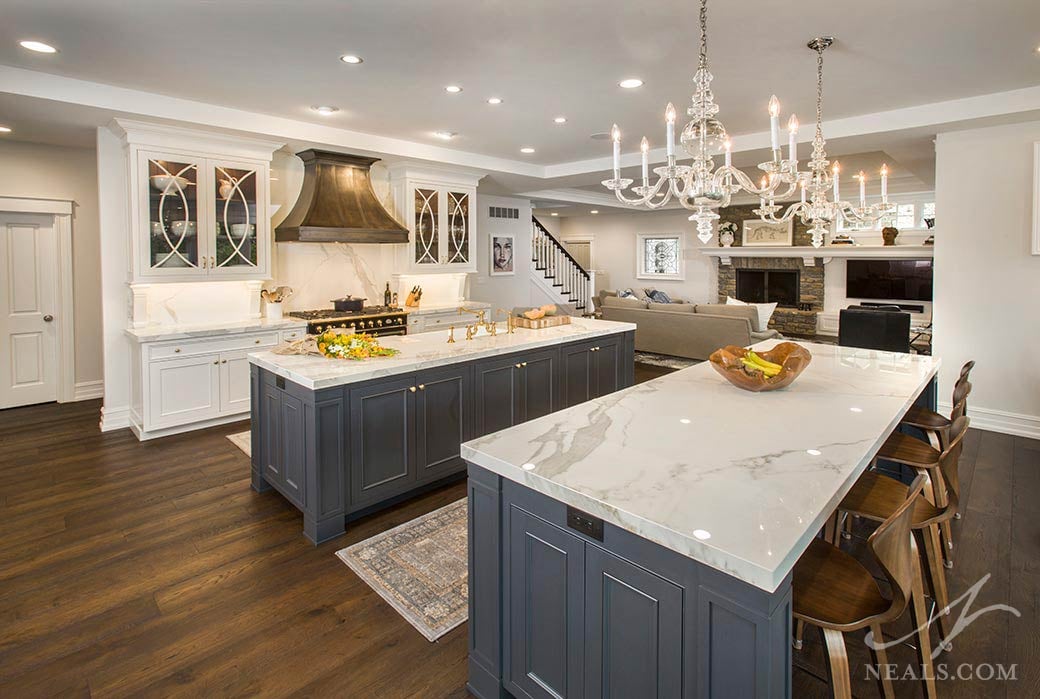 Kitchen remodel in Indian Hill
1. A Timeless Color Palette
We've talked about cabinet colors before because color in the kitchen is a huge factor to the design. When it comes to creating a luxurious kitchen, however, we're noticing that white cabinetry with hints of other stylish colors is the current reigning champion, and has been for nearly the past decade. High-quality white cabinetry in classic door styles, such as a clean Arts & Crafts style recessed panel, is a timeless choice that may fall in and out of trends year in and year out, but has yet to go out of style.
That's not to say that white is the only choice for a high-end kitchen, since there are other factors (like the others on this list) that come into play. The key is to create a color scheme in the design that adds a sense of rich, sumptuousness, or takes cues from those things we typically associate with high-end design, such as the glamour of old Hollywood with gold and navy, or the charm of a billiard room with brown and green.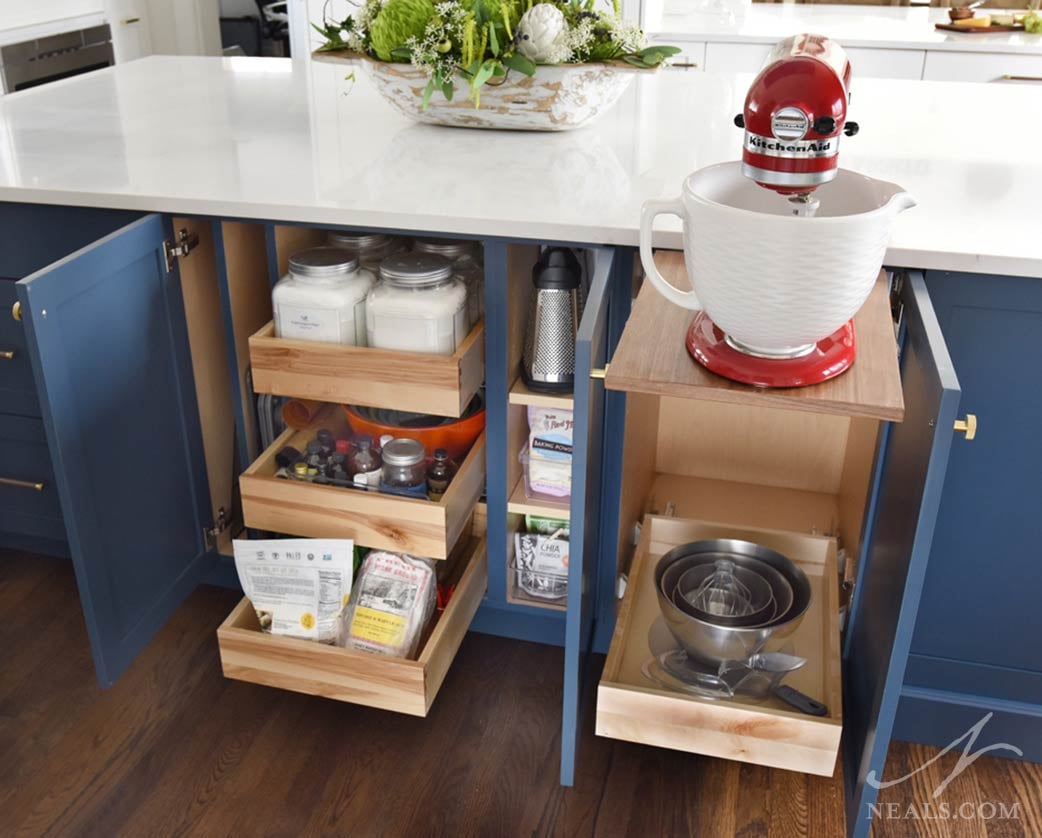 Kitchen remodel in Anderson Township
2. Specialized Cabinet Interiors
While having a place for everything isn't exclusive to high-end kitchen design, the format of how that is accomplished can be. Many cabinet manufacturers have interior systems that can be installed to maximize and specialize what happens behind the cabinet door. The more of these items you include in your design, the more custom your kitchen becomes.
Cabinet interiors can be installed to double up drawer capacity, organize pans and cookie sheets, make stand mixers easier to access and store, and a bevy of other useful systems. It's also possible to include in-cabinet lighting and high-end interior wood, such as walnut, to create a sophisticated organized environment inside your cabinets.
3. Top-of-the-Line Appliances & Fixtures
There are many appliances and other kitchen fixtures on the market, and within one manufacturer, many options. If your goal is to create a luxury kitchen, however, then investing in the newest and best is nearly a given. Smart appliances, or units that are configurable or customizable are the options to look at first. The key to choosing is to find the items that exist between what you will actually use and what works well with your design. As wonderful as it is to have all the bells and whistles, buying appliances for the sake of having them without using them is not money well-spent.
Pay attention, also, to specialized appliance manufacturers who are focusing on just one or a few types of appliances, but producing them with high-quality in a manner that is customizable and informed by the needs of a modern kitchen.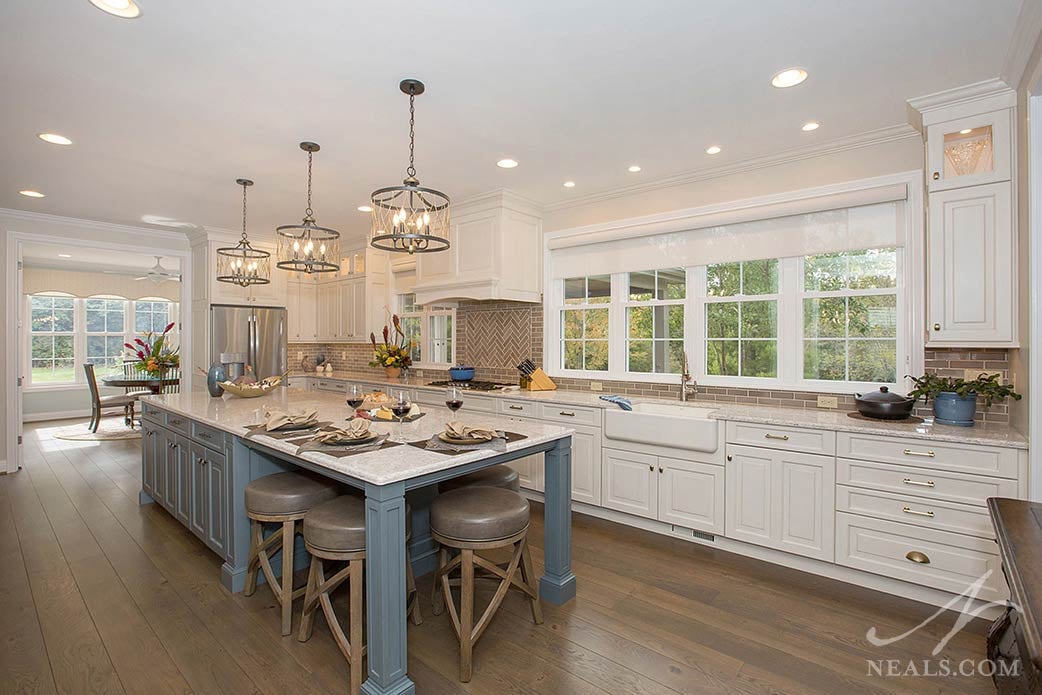 Kitchen remodel in Withamsville
4. Hardwood Flooring
It may be cliché, but a hardwood floor is the surest way to immediately project the feeling of sophisticated luxury in the kitchen. There are a few reasons for this. The first is obviously the investment that comes with a hardwood floor. Though wood flooring is available in a wide variety of price points, hardwood is certainly a high-end and high-quality choice. The second reason is because we associate hardwood flooring with old world (and therefore affluent) style. This is especially true for woods stained in deeper tones, such as walnut or mahogany. Even less expensive woods stained these types of colors will work to make us feel like we're in an indulgent space.
Lighter toned wood flooring can also be used, and we're seeing this happen with kitchens inspired by Scandinavian design, but the key to this working for a high-end kitchen is that other elements in the room have to help us feel like we're in a custom space with a high investment.
5. A Show-Stopping Focal Point
A show stopping focal point is anything in the room that creates a moment where we stop in awe. We tend to think that this has too be some object or arrangement, but it can also exist in a view from a certain angle, such as down an island to a great room beyond, or over the sink to an amazing view. When a kitchen can be designed in a manner that these type of elements can be included, we automatically get the sense that we're in a custom space that hasn't over-looked the details. Which makes it feel more high-end.
One focal point that we often create, and an relatively easy one to take advantage of, is the design around the range, namely the hood and backsplash. A custom range hood, made from wood and/ metal, can add a style note that draws the eye, bolsters the room's design character, and adds a type of bespoke element. All of these make the range feel like a special design that didn't just come straight out of a box.