With a balanced mix of relaxed Scandinavian style and details typical of traditional design, this remodeled kitchen in Indian Hill is a casual and welcoming space with a lot of interesting elements. With the large kitchen space to work within, the new design took advantage of plenty of opportunities to explore its unique style direction.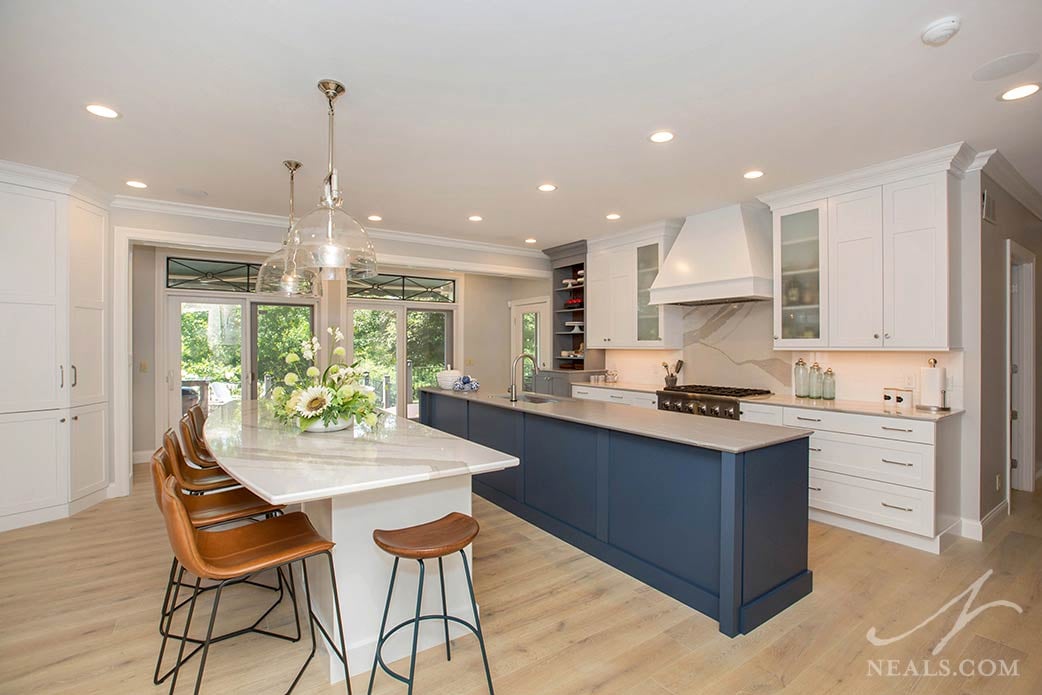 The kitchen's existing design was anchored by dark cabinetry in a simple recessed panel style. An oddly shaped island seemed to cut the working area of the kitchen off a bit too tightly. Dated lighting, countertops and a bland tile floor all combined to form an uninspired space without any of the modern design notes the homeowners desired.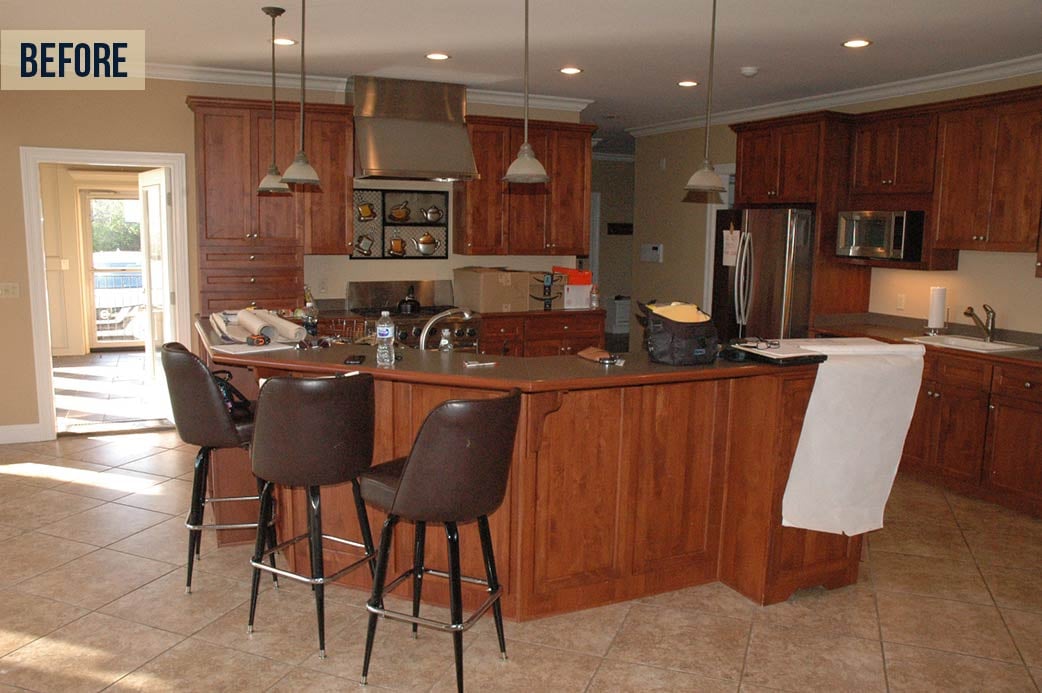 In the new kitchen, the fresh palette of white, blue and gray in the cabinetry is immediately offset by the minimalist Scandinavian style flooring, white oak with a slightly-grayed natural finish. This choice, along with the marble-like quartz countertops with creamy-gray veining (Cambria's Brittanicca Warm), the homeowners' leather seating, and the warm gray paint selected for the walls, adds cozy warmth and a sense of casual, almost cottage-like charm to the space.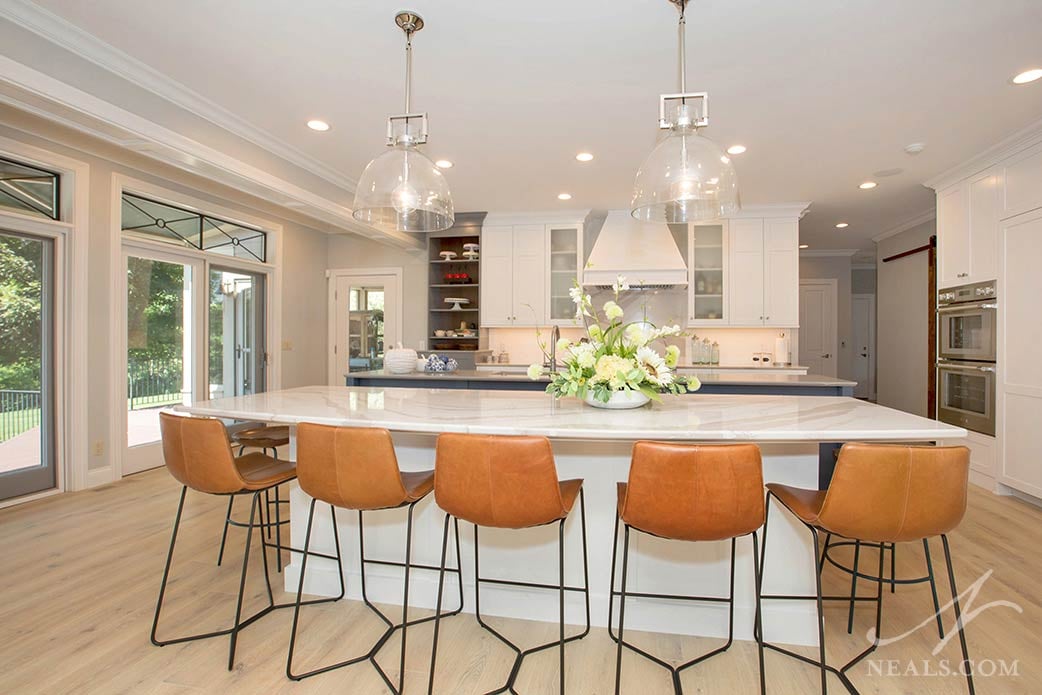 A double island, which we're started to note as an increasing trend in high-end Cincinnati kitchen design, provides more storage but also an opportunity to explore a different style feature in the space. The working island is rendered in playful blue cabinetry and Cambria's Clareanne Matte quartz counter, which creates a complimentary element in the center of the room. This also expands the color palette just enough to allow a gray hutch near the back door to add a hint of eclectic style, once again in line with Scandinavian design.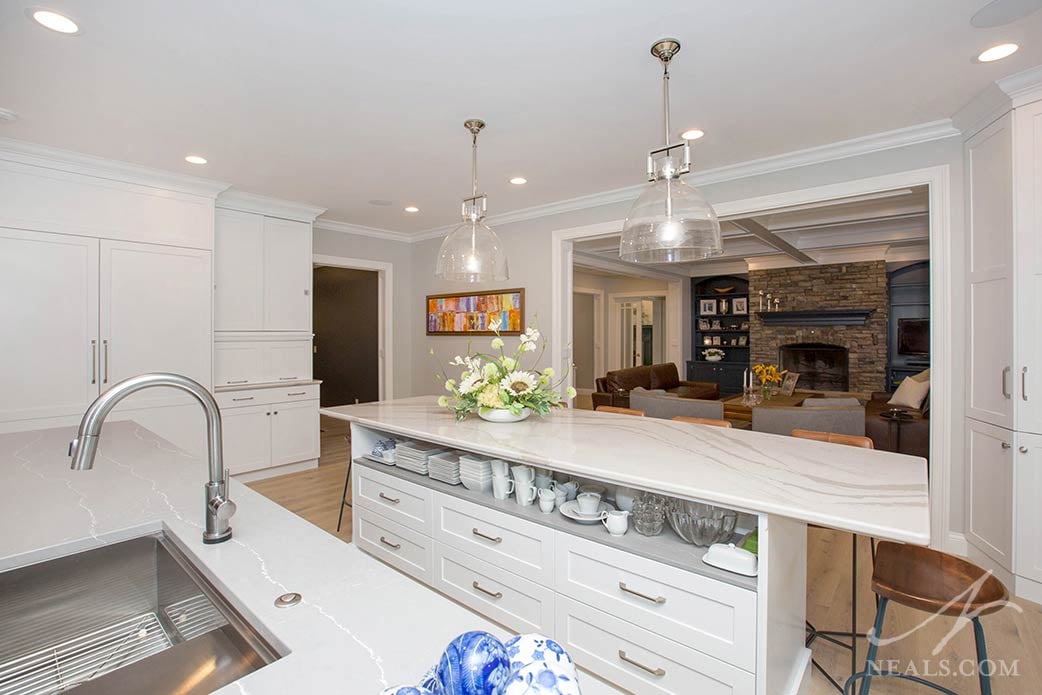 Well-considered storage is the foundation of this kitchen. Behind the recessed panel cabinet doors are a multitude of drawer interior fittings that allow the homeowners' items to each have a place. An open shelf on the seating island allows easy access to often-used items for the family and entertaining. A garage-style cabinet on the perimeter houses small appliances for convenience. Some of the drawers use a tiered interior system to maximize storage space.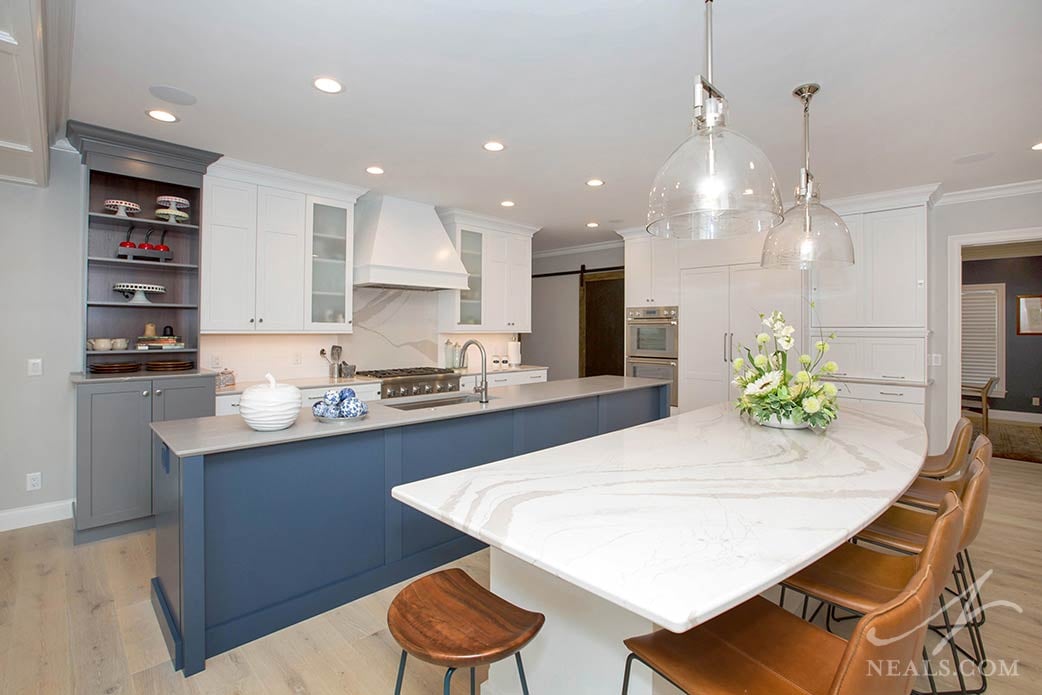 The traditional elements of this kitchen— layered crown molding, brushed satin nickle hardware, stylish glass pendant lighting, and even the shapely curve of the seating island— all ensure that the relaxed style of the space is restrained and matches the character of the Indian Hill home. A farmhouse-style chalkboard barn door near the kitchen's back hallway entrance adds one final note of playful charm that's perfect for this mixed-style space.
To see more of the project, including more before and afters, detail photos, and photos of other projects we completed in this home, click here for the slideshows.