In 2019 bath design, we can expect to see more of a focus on what modern manufacturing and technology options can achieve as well as a eye for updating classic elements in more contemporary ways. Our picks of the top 5 bath trends we're seeing emerge in the Greater Cincinnati area are below.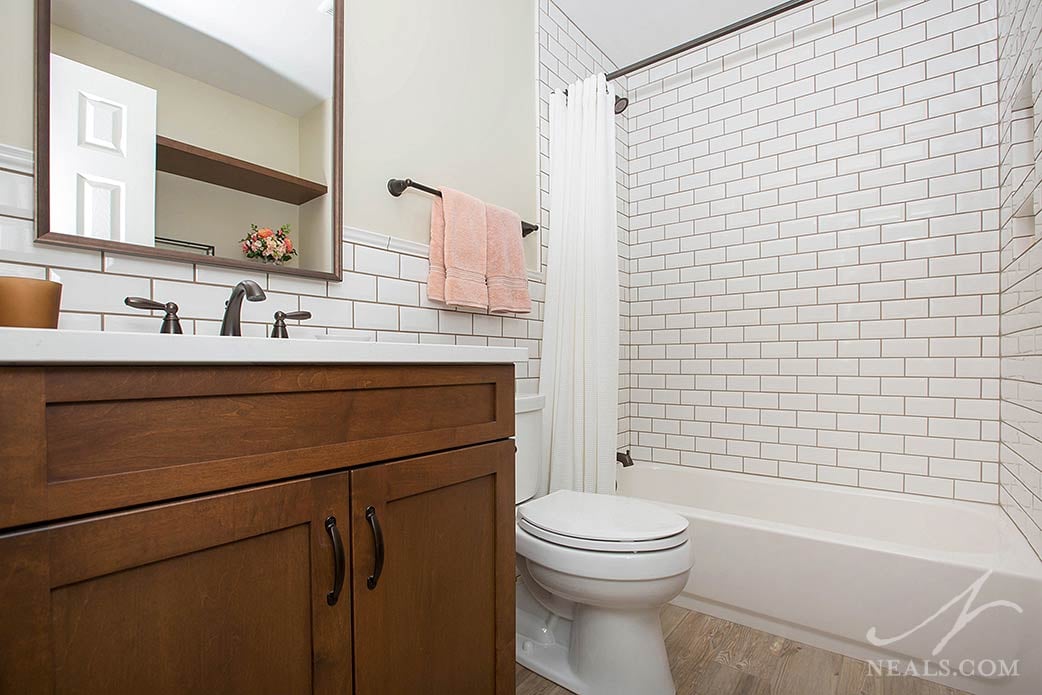 Subway tile featured heavily in this hall bathroom in Loveland.
1. Subway Tile
There are many different ways to tile a bathroom, so it's interesting to see classic subway tile trending in 2019. We're seeing homeowner's gravitating primarily to solid, light-colored tiles, such as white or ivory, that are then installed with contrasting grout in gray or brown tones to create a graphic effect. Subway tile gets its name from its pedigree as the wall treatment of choice in underground railway systems built in the early 20th Century, and so it carries with it a bit of that classic era, but with the choice of a colored grout that highlights the brick pattern, the trending installations look both casual and contemporary.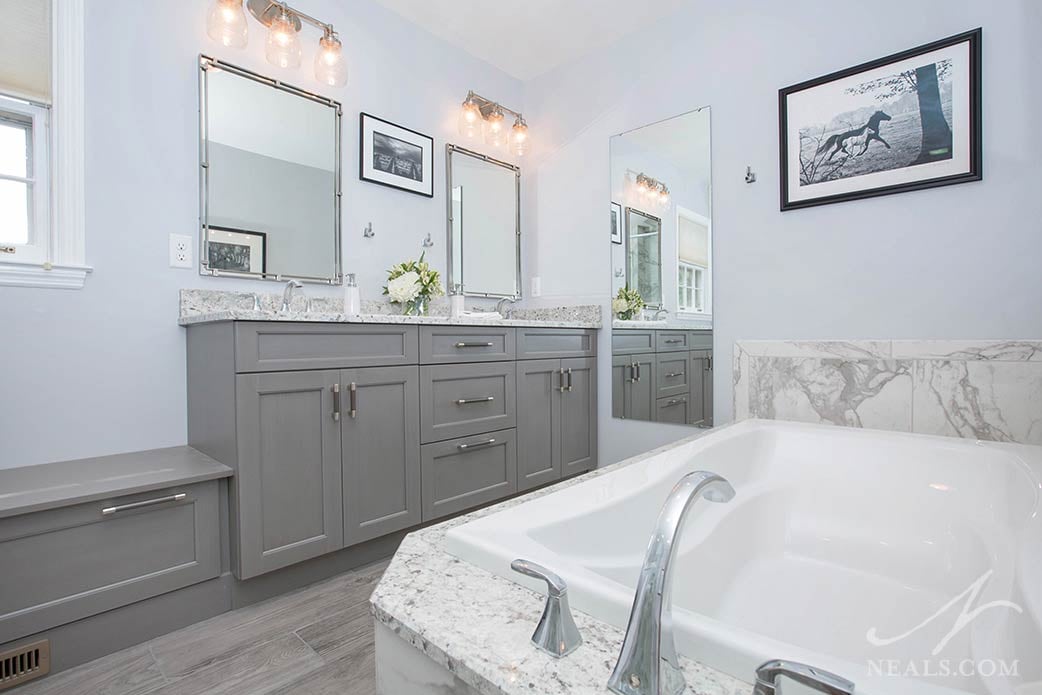 The tub in this Anderson Township bathroom is specially contoured for soaking comfort.
2. Engineered Tubs
The soaking tub is a luxury feature in many master bathrooms, and is one great way to add a touch of the spa at home. Tubs in recent years have become far more interesting in both style and features than what could be found even a mere 5 years ago. At KBIS, the industry trade show for kitchen and bath products held this past January, TOTO stood out with their new Zero Dimension flotation tub. This engineered tub creates the feeling of total weightlessness in addition to providing a variety of massaging jets. Now that technology allows tub manufacturers to tailor-make the soaking experience in this way, we can expect to see more of these types of features.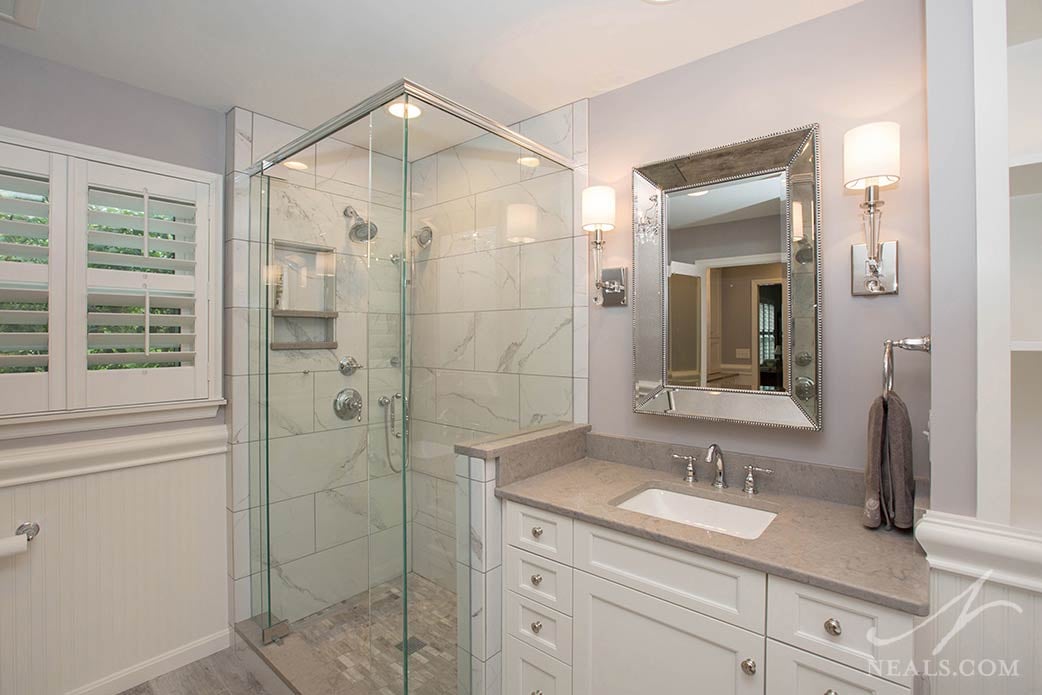 A marble-look porcelain tile was used in the shower for this country chic Indian Hill master bath.
3. Marble
Whether using the real deal or any of the vast variety of alternative options, the classic white and gray look of marble is back in vogue in bathroom design. While marble was once strongly tied to 19th and early 20th century style, the use of marble now is a wholly contemporary trend. Paired with modern slab door vanities and sleek nickle hardware, the white & gray stone is equally on trend as going all out with a fully traditional design with white cabinets and glamorous details and lighting.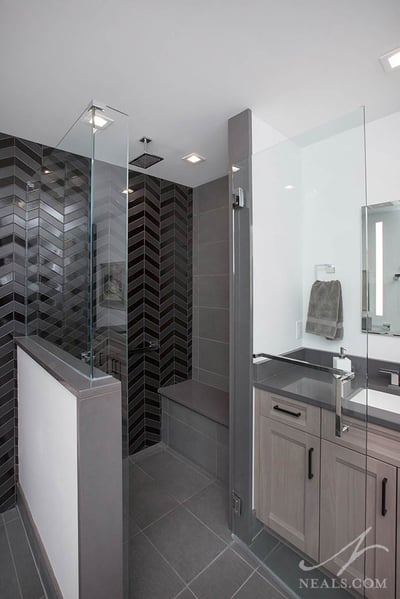 This contemporary shower in Evendale includes a contemporary rain shower head.
4. Rain Shower Heads
The rain shower head, a specially designed fixture that mimics the natural feel of standing in the rain, isn't new and has been a popular option for homeowner's seeking a luxury showering experience for many years. It's only been recently, however, that the inclusion of a rain shower head has become more standard. This is partly due to a rising trend for more spa-like showers in general, but the rain head fixture is standing out in 2019 with the wide variety of styles and functions now available. Take for instance the PowderRain shower heads featured at KBIS 2019, that use micro-droplets to create a gentle rain-like stream in a hand-held fixture.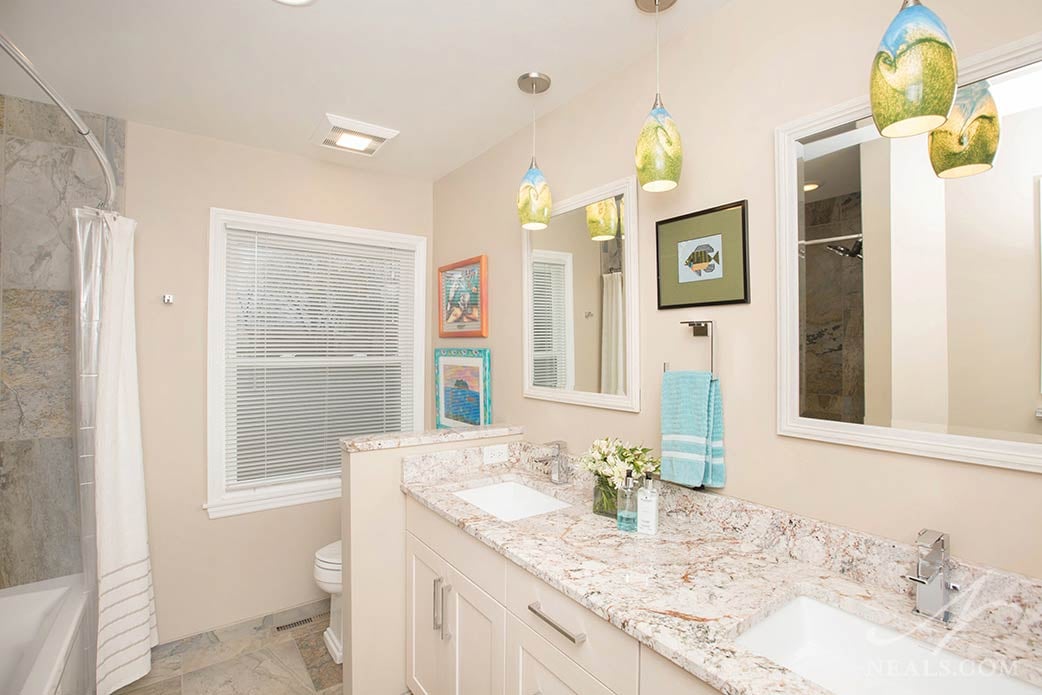 This Anderson hall bath uses artisan glass pendants for a unique lighting look.
5. Interesting Vanity Lighting
Now that the local hardware store carries nearly every version of the tried-and-true 3-light vanity fixture, design savvy homeowner's are now looking for options with a bit more unique character to separate their bathroom from the crowd. We're seeing a rise in the number of fixtures with shapes, finishes or glass elements that have that certain special quality that makes them interesting or eye catching without limiting their functional requirements. In many cases, we're seeing lighting with slightly a modern style used in traditional or transitional bathrooms to strike this distinctive and subtle note.