Five Ideas for Adding Tile Accents to Your Shower
With the sheer number and variety of shower tile options available, custom shower walls can become a canvas— full of possibilities. Though it's not a bad choice to stick with a single tile for a classic and minimalist look, there's also the chance to add character, color, and interest with the addition of accent tiles. This can often help a shower stand out and feel like a feature in the bathroom. Accent tiles are also a great design addition if there are tiles you really like that might blow your budget if you used more than a few dozen. Here are five ideas for accent tiles in the shower.
Highlight the shower niches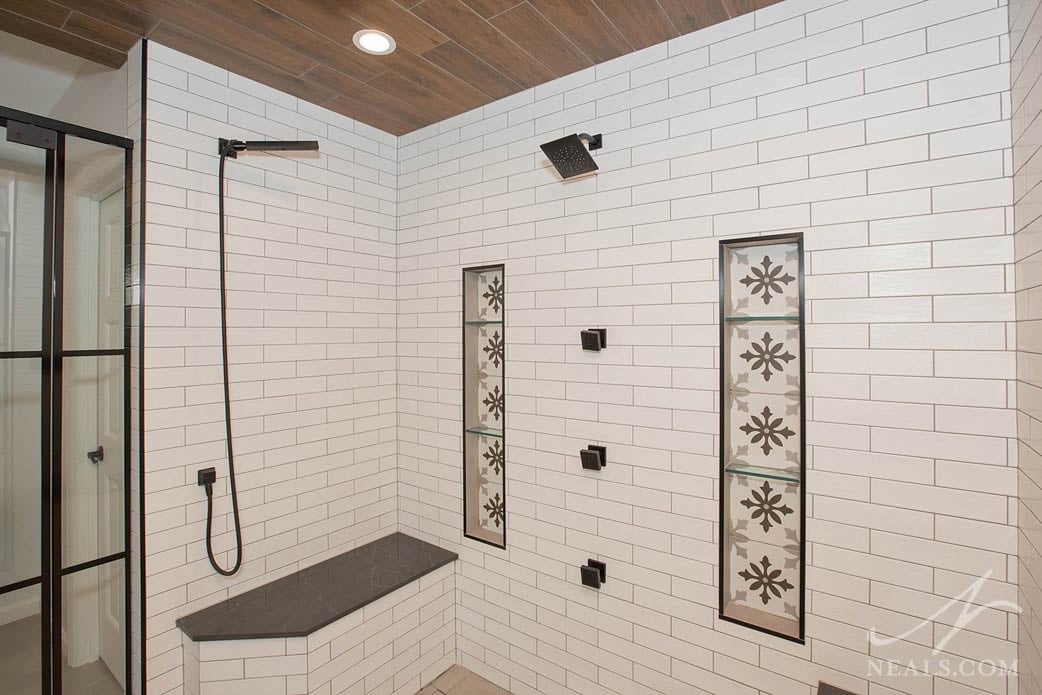 Bathroom Remodel in Symmes Township
Shower niches are recessed sections in the wall of your shower where your soap and shampoo can be placed. The niche could be considered a separate feature from the wall around it where different designs can be used. Placing a colored, printed, or another contrasting tile on the back wall of a niche does a few things. First, it provides a way to express your tastes and character without committing to the entire shower wall. Second, it helps the niche stand out visually and could also help you find the niche a bit easier when the shower is steamy or you have water in your eyes.
Use the Tile in Different Areas
Bathroom Remodel in Lebanon
Some tiles (or some showers) deserve a bit more than just an accent tile in the niche. In those cases, using the tile in other ways in the shower might be the way to go. One technique (of many) is to create a vertical band on which to mount the shower fixtures. This works well with a variety of tile shapes and types. The colors of the accent tiles compared to the main tiles will also be a part of the design, creating a bold or subtle look depending on the level of contrast.
Create an Accent Wall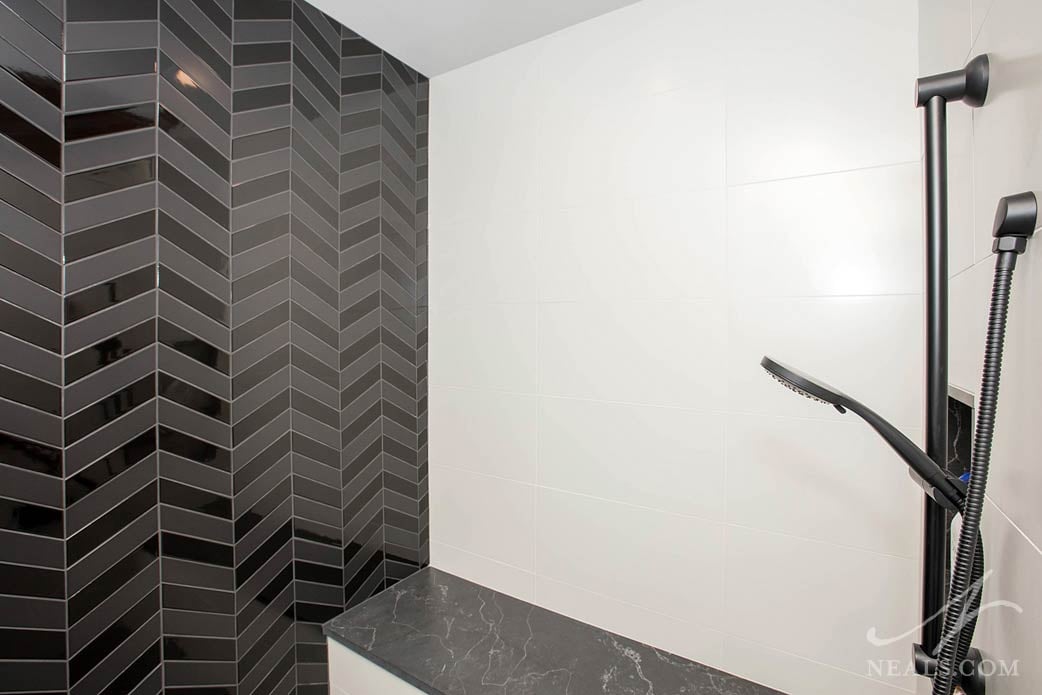 Bathroom Remodel in Indian Hill
Just as you might make one wall of a room stand out with a different paint color or wall covering, you can utilize an accent tile on one wall of your shower. There's no specific tile type that accomplishes this particularly better than others, but scale should be considered for this design since the area being covered is larger. Here again, the pairing of tiles- the main tile and the accent- will dictate the overall look. High contrast black and white or two different soft tones will create very different results. A 3D rendering created by your designer may help you visualize your options best.
Create an Accent Tile Stripe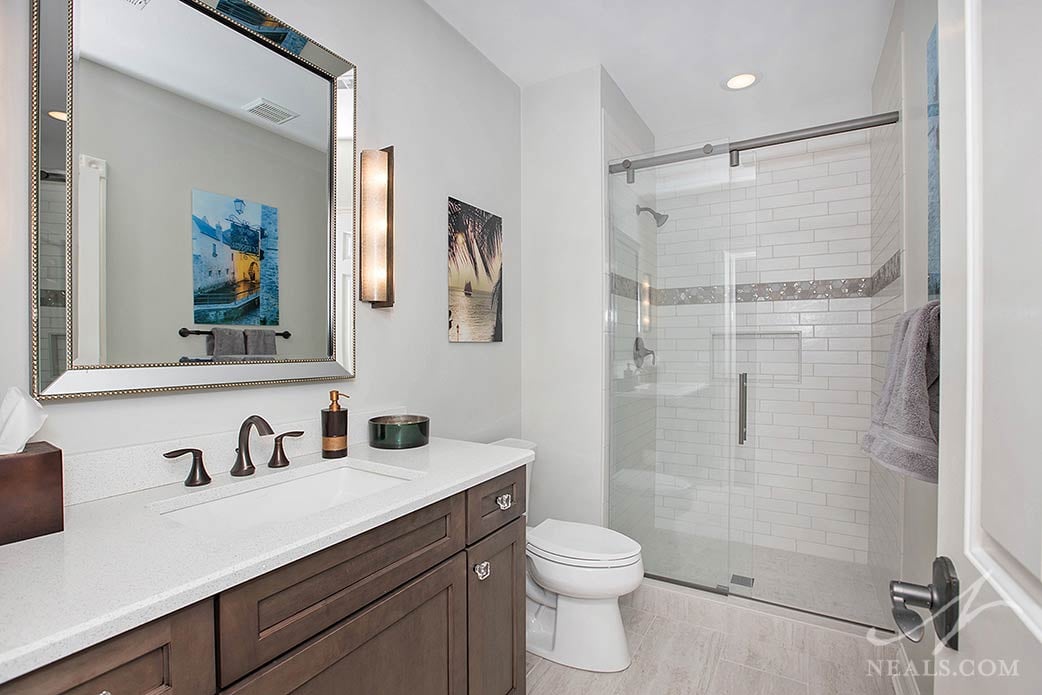 Lower Level Remodel in Western Hills
Using accent tiles to create a decorative band or stripe around the shower is a simple and timeless design option that has just about everything going for it. You can select an incredible tile (often a mosaic or glass tile) that coordinates with the bathroom's color scheme. The specific tile you select may bring additional texture and dimension into the space, such as using a modern geometric tile or going with a glass tile mix that includes metallic pieces. The tile band can be narrow or thick and can be duplicated two or three times. Lastly, the presence of a contrasting tile line allows the eye to more easily discern the shower as a 3-dimensional space with height and depth.
Outline with Tile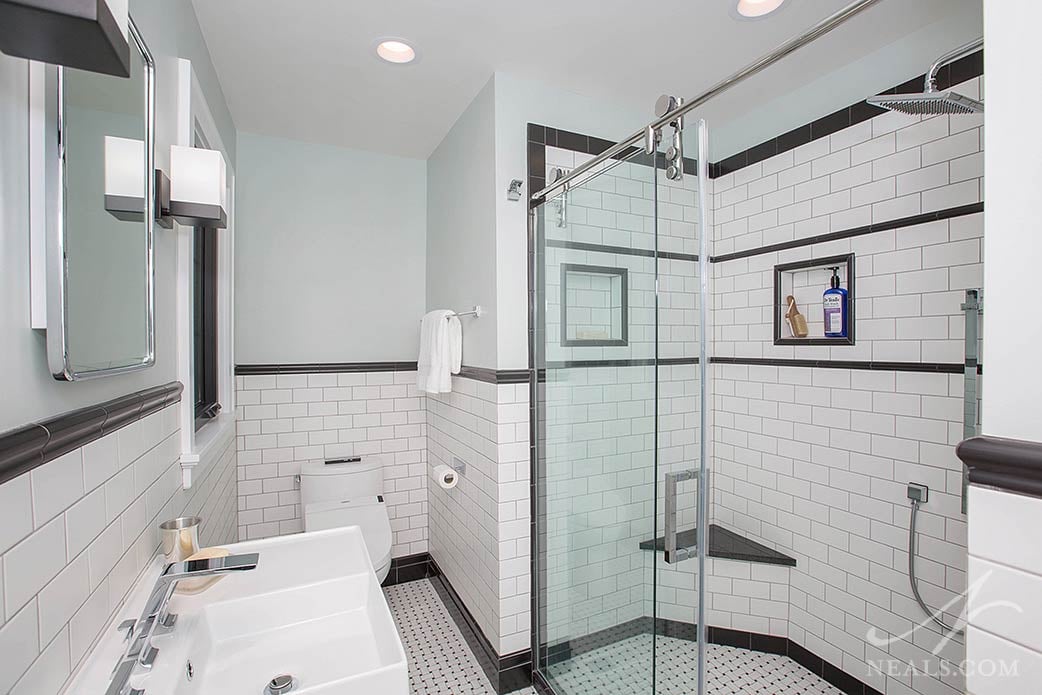 Bathroom Remodel in Avondale
This tile design works very well for those who like to play with shapes and lines! Using a different color of tile around features like the shower niche or floor creates a bold look. This is especially the case when the tile colors are highly contrasting, but they don't have to be for this accent tile application to be used. This option works with the overall style direction of your bathroom regardless of whether it's more modern or more traditional. The specific tile shape, sheen, color, and size can be selected to coordinate with the room's style, such as using a polished bullnose edge tile for a traditional bathroom or a flat matte one for a contemporary space.
Looking for more information and inspiration for your walk-in shower? Download our Guide to Walk-In Shower Design Ideas.