Having an understanding of what styles you like is an important factor in any remodeling project. The particular look and character of the materials and products you prefer come together to create a full design, and when all these pieces are in alignment with your preferences and with each other, the results will be successful. When designing a space like a bathroom, a style category or direction greatly helps narrow down your options and makes it easier to find all the fixtures and materials needed to create a cohesive bathroom.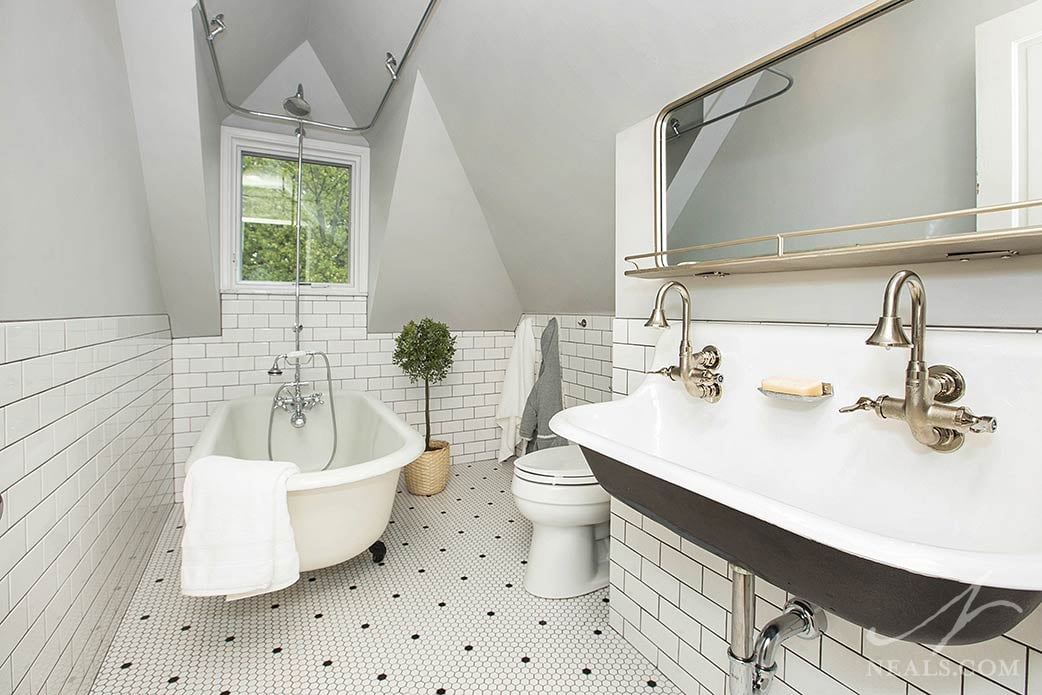 Traditional Influenced Bathroom in Newport
When it comes to bathrooms, style isn't as cut and dry as it might be in a kitchen or living room. That's because bathrooms have two unique considerations. First, the bathroom is made up nearly entirely of fixtures and features that are exclusive to the bathroom (tub, shower, commode, and vanity). Second, the bathroom is an intimate and private space that is driven in design by the needs of the individual(s) using it. For the most part, the bathroom, especially the master bathroom, is not a space we tend to show off, and so the style of the bathroom becomes mostly a statement to ourselves about our own tastes.
That said, a space without a cohesive design will look and feel chaotic, which isn't a goal for most bathrooms. A mood, feeling, or style influence is sometimes all it takes to pull a bathroom design together. Home design style, in general, can be divided into three big categories- Traditional, Transitional, and Contemporary- and these can be useful guidelines for thinking about bathroom style possibilities too. What's important to know, though, is that design doesn't have to "follow the rules" for any design, and many of the bathrooms we create tend to fall between styles rather than strictly following any single one.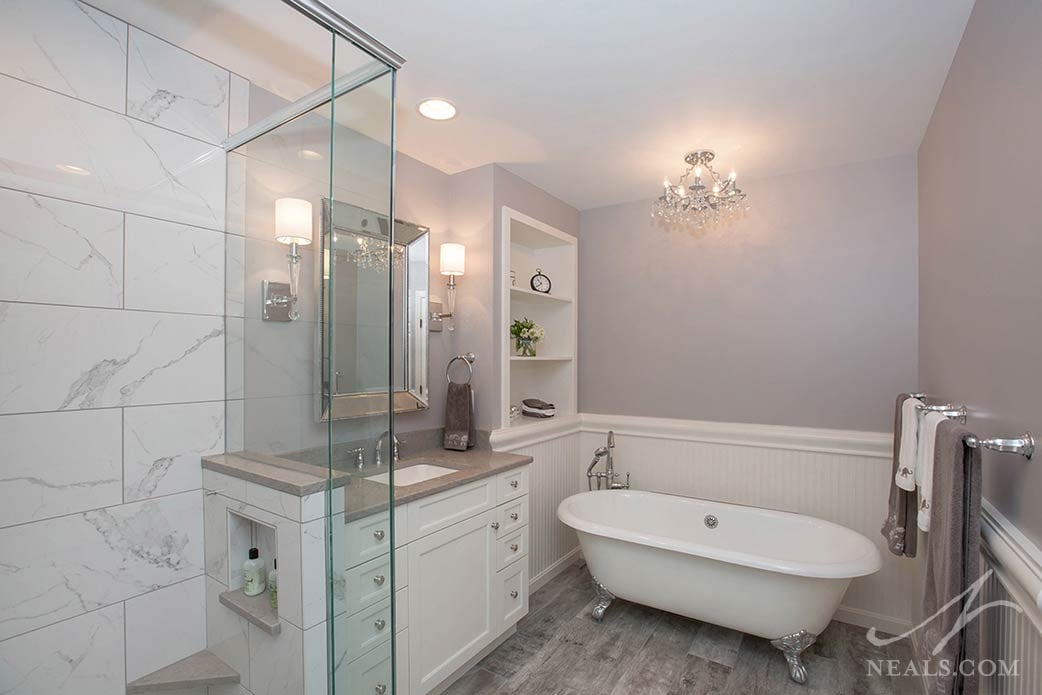 Traditional Influenced Bathroom in Indian Hill
Traditional Influenced Bathroom Style
While other rooms in the home with traditional styling often have a variety of textures, details, trim work, and rich, elegant colors, due to the nature of the bathroom, the extent these basic principles can be taken is limited. Therefore, traditional bathroom style tends to gravitate to vintage bathroom style concepts, materials, and fixtures. In other words, a traditional bathroom may feel directly inspired or influenced by a Victorian or early 20th-century bathroom. Clawfoot tubs, marble or light-toned tile, polished nickel faucets with ornate shapes, and elegant light fixtures are most likely found in the traditional bathroom.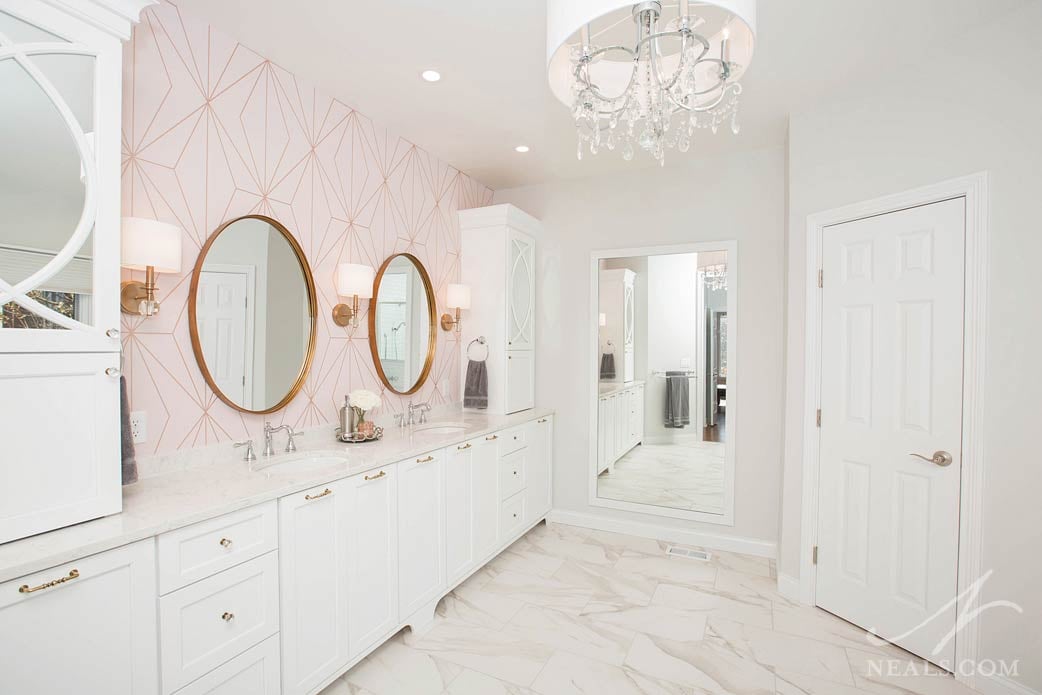 Traditional Influenced Bathroom in Bridgetown
These classic style notes can be enhanced with a wide variety of additional details to add more unique interest or to create more depth to the design. This includes adding wallpaper or mirrors with traditional appeal, and selecting specialty tile for accents of color or glamour.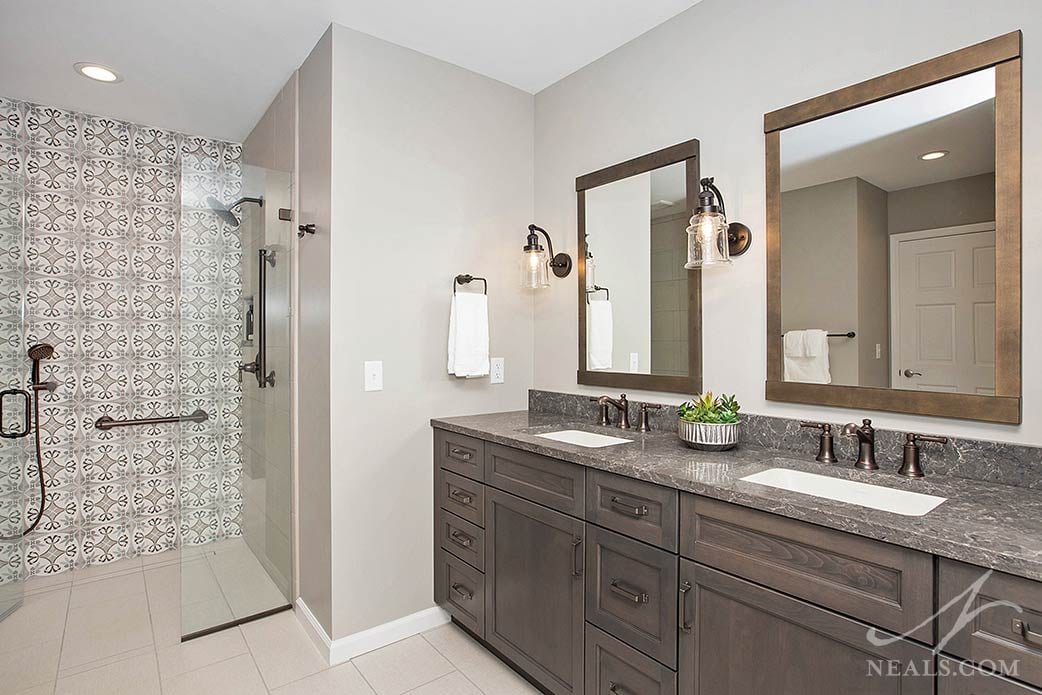 Transitional Influenced Bathroom in Indian Hill
Transitional Influenced Bathroom Style
While traditional bathrooms feel influenced by the past, transitional style bathrooms are those that feel more current and in line with today's trends and tastes. In the transitional bathroom, you'll find a wide range of colors in the tiles and fixtures, minimal details in the cabinetry, modern lighting, and simplified tub shapes. These bathrooms can oftentimes be harder to categorize, generally feeling like direct reflections of specific preferences by the user, mixing influences and materials. Transitional bathrooms usually have a specific, statement-making element, be it a tile used on the floor or in the shower, the shape, scale, or position of a tub or shower, or the design, color, and visual impact of the vanity. In fact, the design of a transitional bathroom may be built around a single element that the homeowner has selected that isn't in itself a specific style.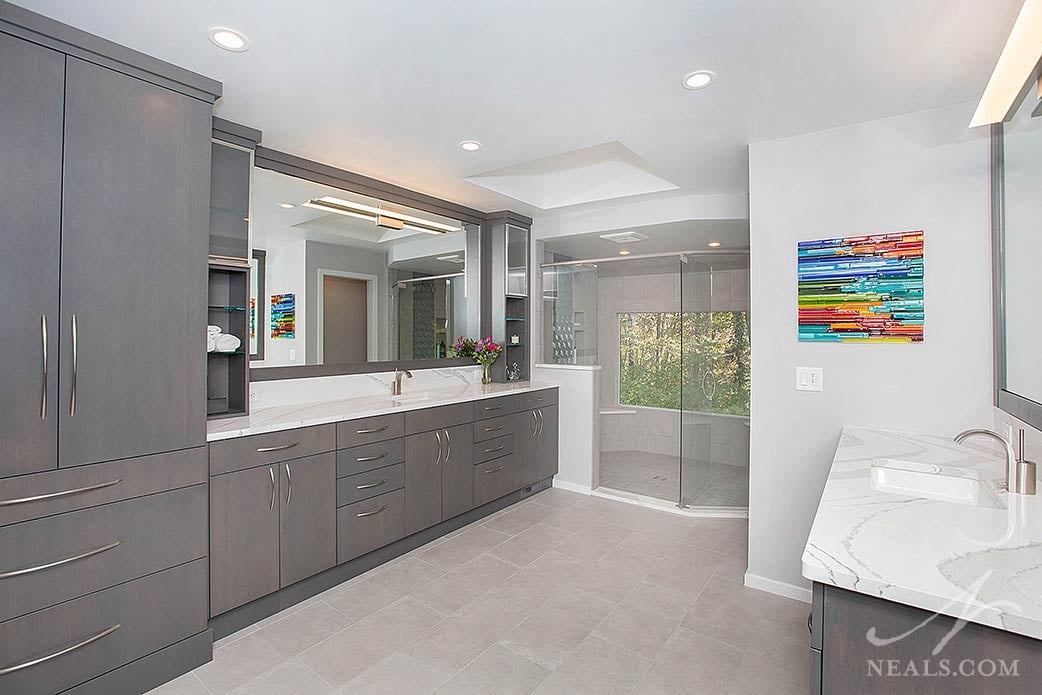 Contemporary Influenced Bathroom in Blue Ash
Contemporary Influenced Bathroom Style
Contemporary-style bathrooms will be minimal and streamlined and will usually have a limited color palette as compared to traditional or transitional bathrooms. In this type of space, the whole design and how it looks as one complete room typically drives the choices on the individual level (unlike transitional style in which the parts usually come together to form the whole). Contemporary style spaces are influenced primarily by the needs of practicality over the "extras" of design details. This is why a contemporary cabinet door is most often a slab or flat panel, and why hardware is typically simple and straightforward. In the bathroom, a contemporary style can also skew toward a modern spa-like style, where relaxation and limited distractions lead the way.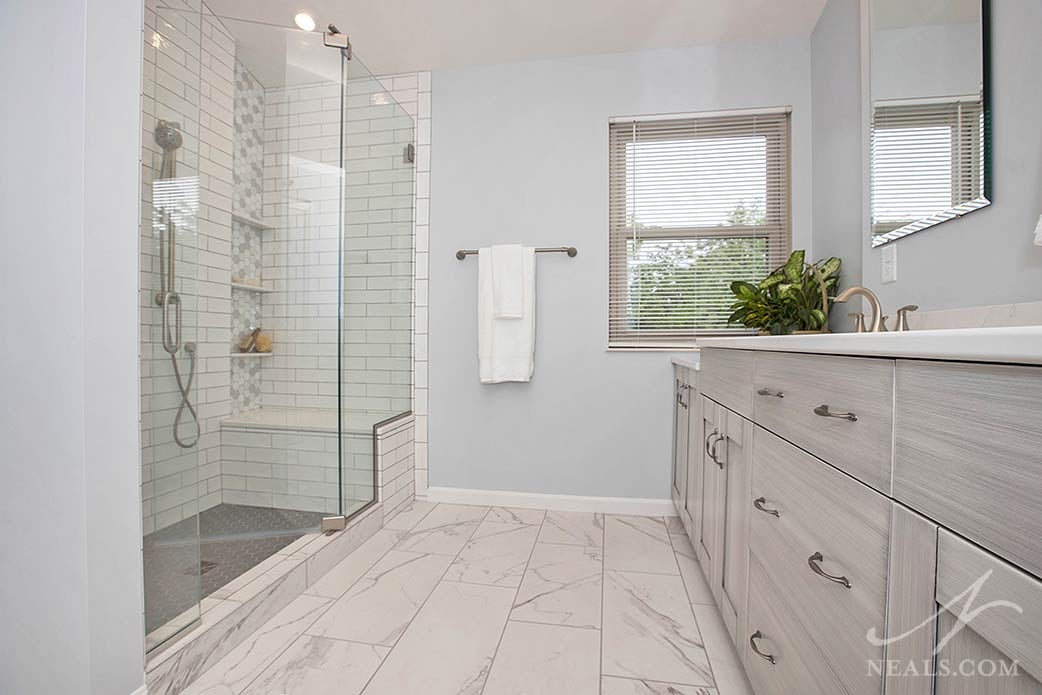 Contemporary Influenced Bathroom in Delhi
As with any time we discuss style, whether for the bathroom or any other area of your home, we want to stress that your style can be unique and hard to define or it can be perfectly in line with of the these three categories. The beauty of home design (and remodeling) is that we can create spaces that reflect our own tastes, needs, and preferences. Style terms and guidelines are simply meant to help point in a direction to begin with in order to reduce options down to what suits you best. Your designer uses these terms, not as the be-all-end-all of your space, but as a language you can share to start in order to get on the same page for your design.