This stunning kitchen remodel in Loveland began with fairly common goals- a desire for more space. Avid cooks and hosts, the homeowners were looking for a space plan that would open their first floor up, with a new transitional kitchen as the centerpiece. Neal's Designer Cyndi Kohler's plan included removing walls and creating a new, welcoming and practical island.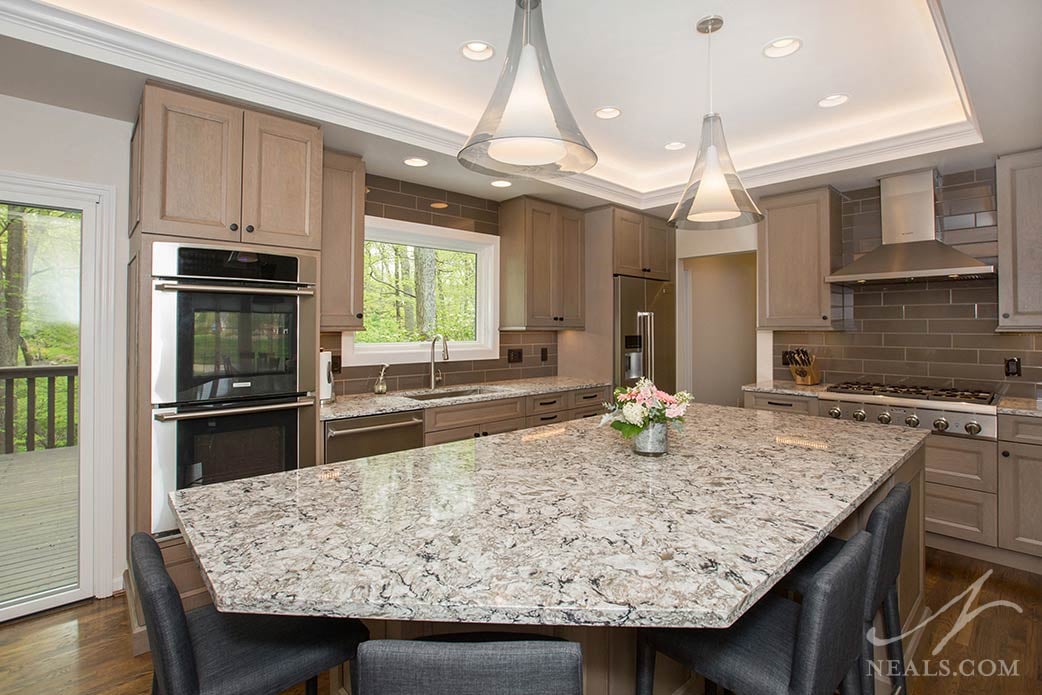 The original kitchen was fairly standard for kitchens in Cincinnati. Dark cabinets in a bland space with boring recessed lighting. With the addition of parallel soffits and an awkward wall with an opening to the family room, the space was cozy but cut off, which made it feel too separated from the home. Lacking adequate storage and an island, the kitchen also felt less than ideal in size and layout for the homeowner's.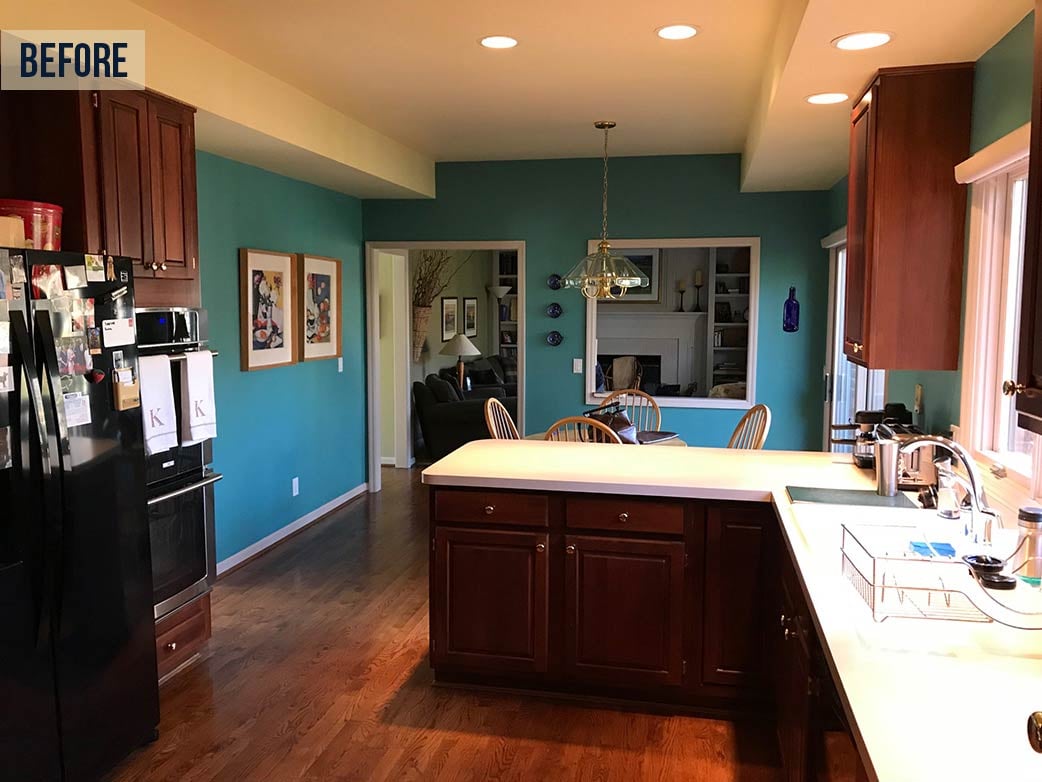 Rethinking the relationships between the kitchen and the adjacent spaces was key to opening the kitchen up. Removing the walls to create wide and inviting openings to the dining room and family room means all three spaces function together as one large space that's perfect for entertaining. Removing the wall and cabinets on one side allowed Kohler to fit a spacious island with seating into the plan.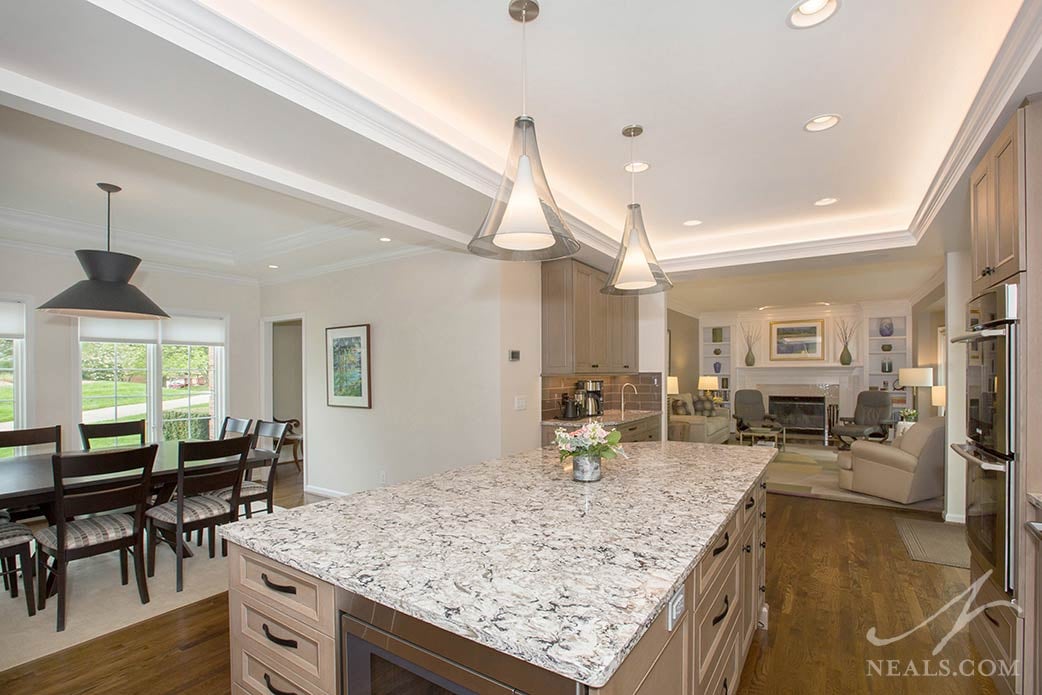 To address the homeowner's need for better storage, the new kitchen is designed with storage zones that are designed around specific needs. In the previous kitchen, the coffeemakers had an awkward home on the peninsula. In this new space, a breakfast bar provides a new dedicated home to these appliances, freeing up the other counter areas to cooking and washing tasks. The island also added several more square feet of storage and a home for a new microwave drawer.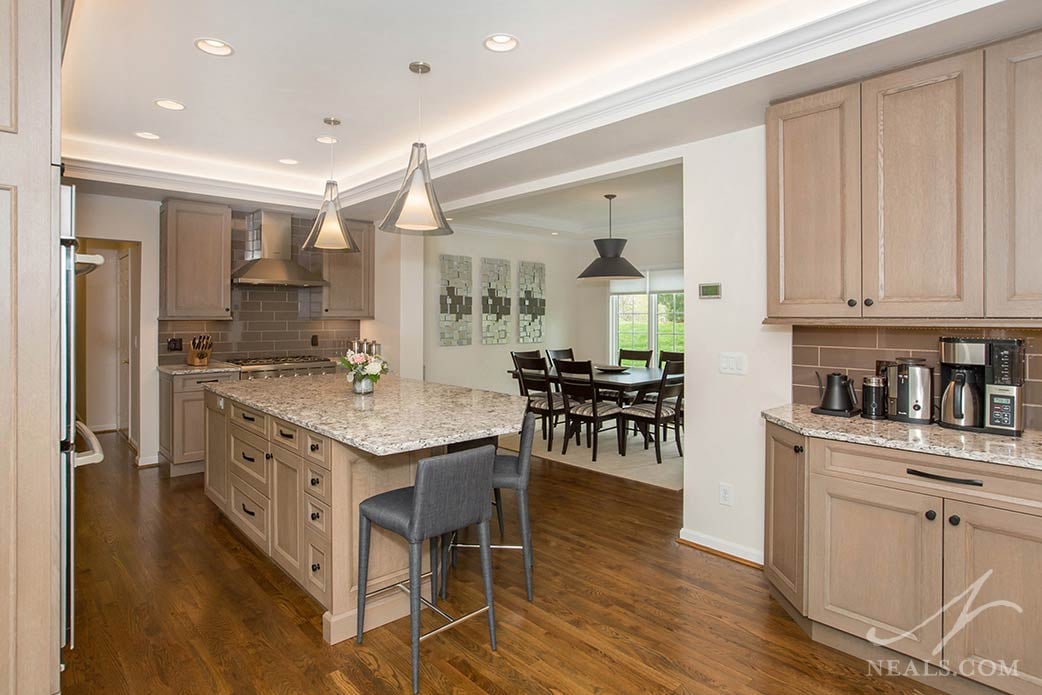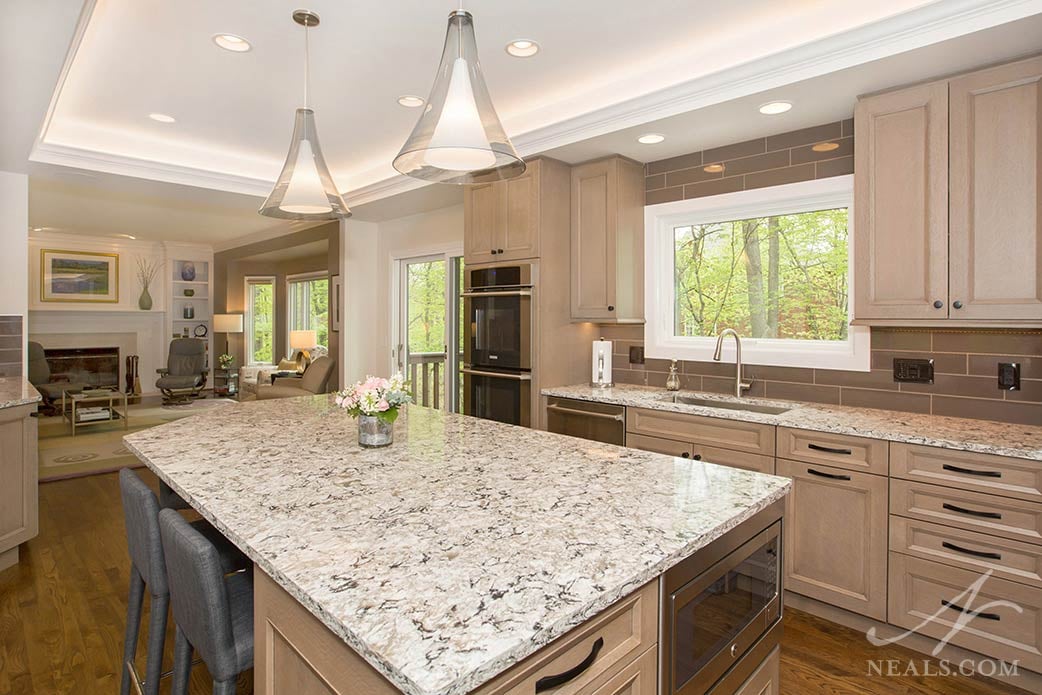 Rather than remove the soffits in the kitchen, the new ceiling took a cue from the family room and converted them into a tray ceiling. This provided a place to add lighting that washes upward, providing all-over lighting. Combined with that, task recessed lighting, under-cabinet lighting, and glass pendants over the island round out the kitchen's lighting scheme. These varied light options allow the homeowners to change out the amount of illumination throughout the day or for when guests are over.
The layered tones of brown make this transitional kitchen such a stand-out space. This starts with a cabinet door finish that layers warm gray stain over quarter sewn white oak in a matte finish. This is perfectly matched with Cambria's Bellingham quartz counters, which are a beautiful mix of brown, gray and cream tones. To add some pop and change up the textures, the backsplash uses a high-gloss ceramic tile in an earthy brown shade. Stainless steel appliances and black hardware balance all the brown while maintaining the neutral palette.