The second floor of this Terrace Park home had one bathroom, arranged like a typical master bathroom, but shared with the guest bedroom, via the hallway. This arrangement, while ample, was less than ideal for the couple. Instead, they were looking for a private bathroom, but also wanted the benefit of the hall bath for their guests. In this unique project, the master bath was renovated into two baths by rearranging and dividing the available space to create two functional bathrooms.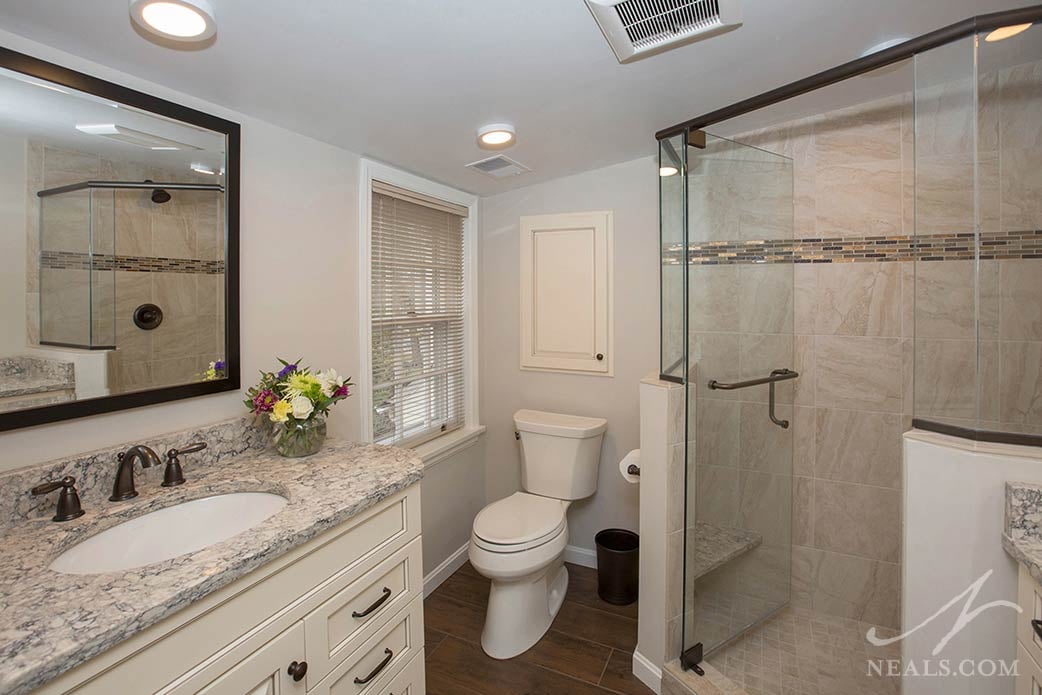 The new master bathroom in this Terrace Park remodel.
The original bathroom was a two-room arrangement. Entering from the hallway, the first room was the vanity and closet areas. Through a door next to the closet, the commode and shower occupied a second room. On the backside of that space, in the master bedroom, was a closet.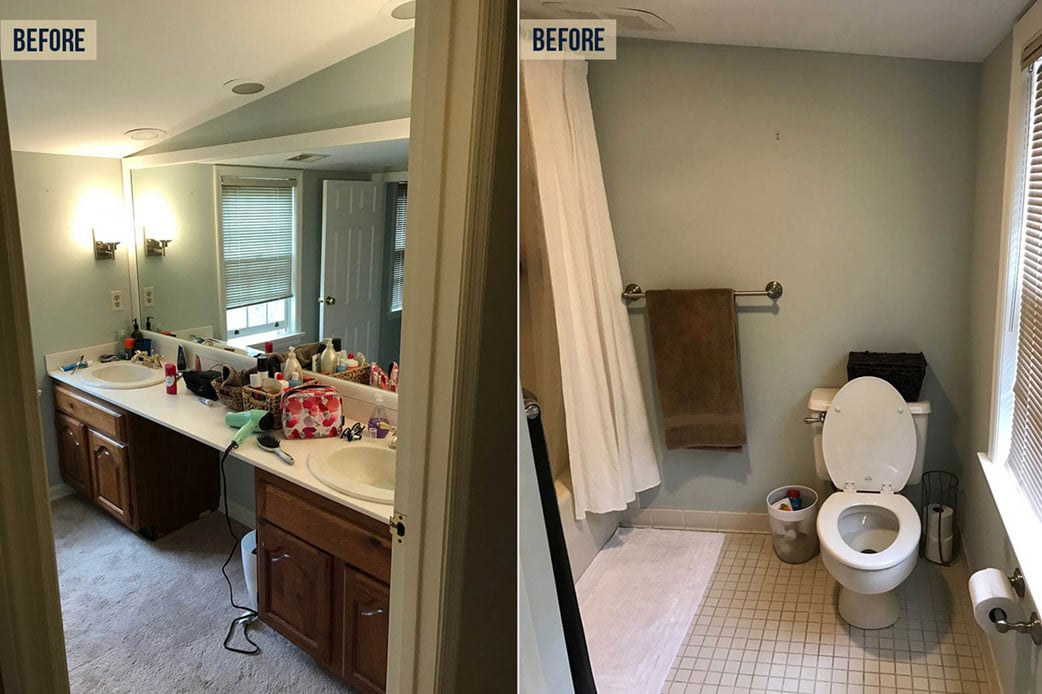 The vanity and commode/shower room in the original bathroom.
Together, these three spaces occupied about a long, narrow space, but divided into two, this was exactly the right amount of space to create two separate bathrooms without having to go outside of the space to steal additional square footage from the rooms on either end. For clarity on how this project was achieved, the before and after floor plans are below.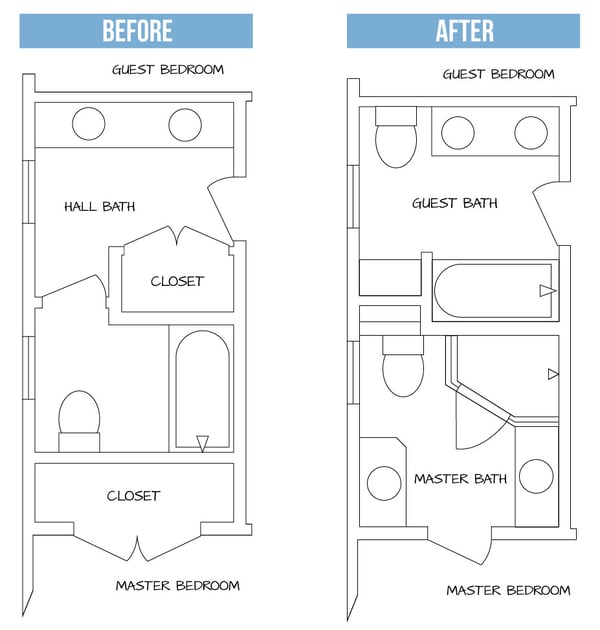 Guest Bathroom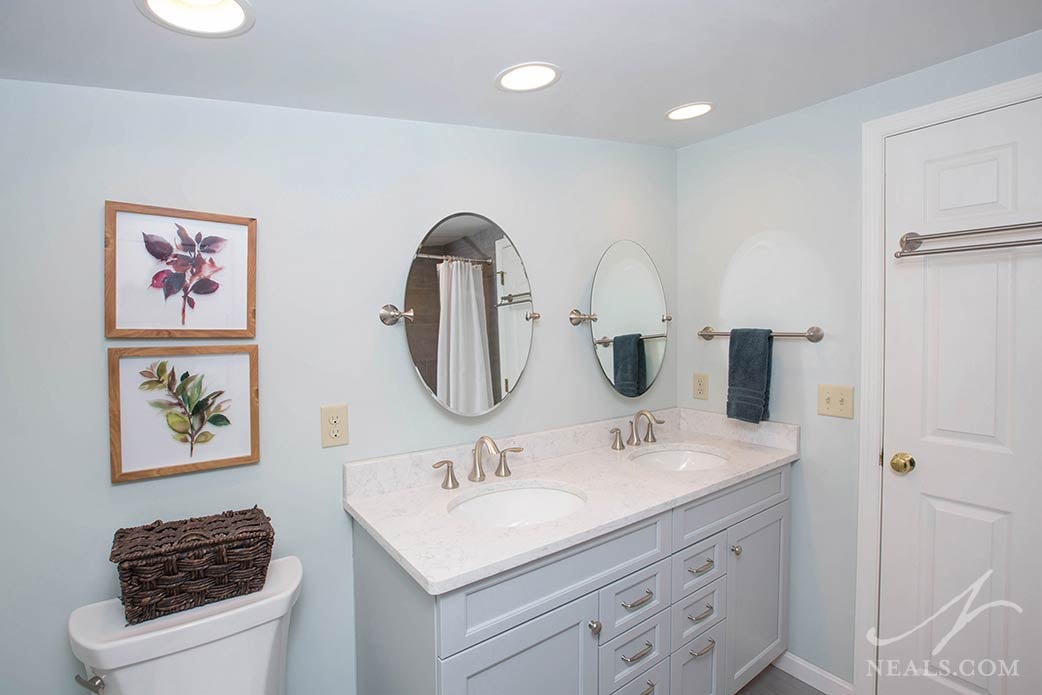 In the new guest bath, which is still accessed from the same door as before, the full-width vanity was replaced with a shorter cabinet that left room on the end for the commode. The original closet gave it's space up for a tub and shower. To regain the lost storage space, a tall cabinet was inserted at the end of the tub.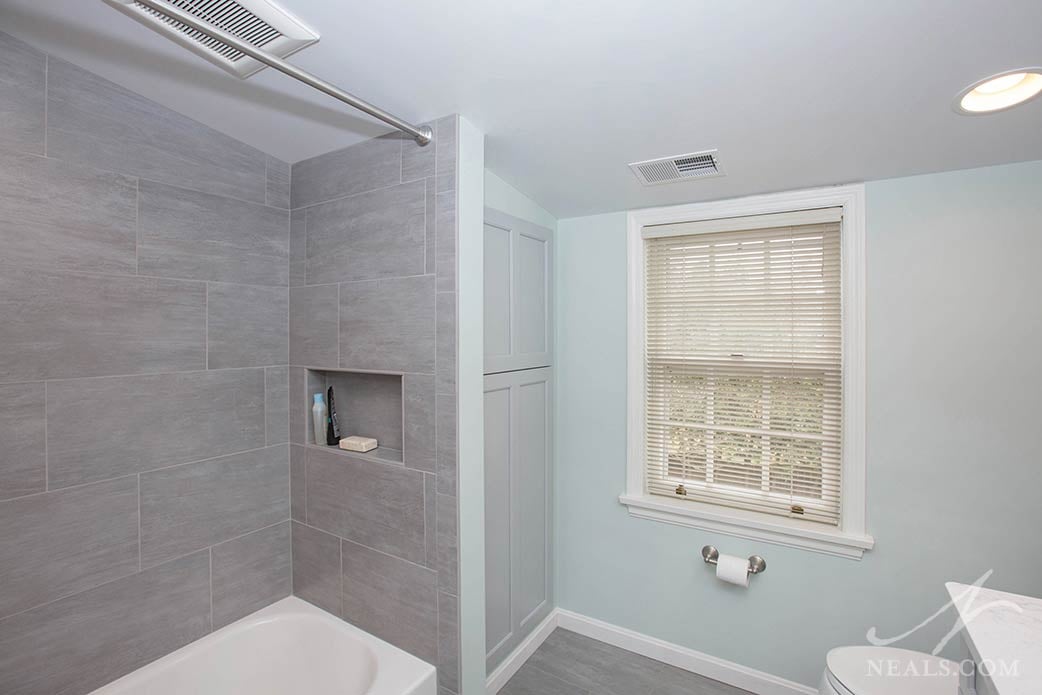 This room is designed with a streamlined, transitional style. Textured gray tiles create a modern backdrop in the shower surround and floor. The Brookhaven cabinetry picks up the gray again in the blue-tinted Dover Cliffs painted finish. A soft white quartz, LG Viatera in Minuet, sports long, thin gray veins that pull the grays and white of the tub together. Nickel hardware and an aqua color on the walls finish the space.

Master Bathroom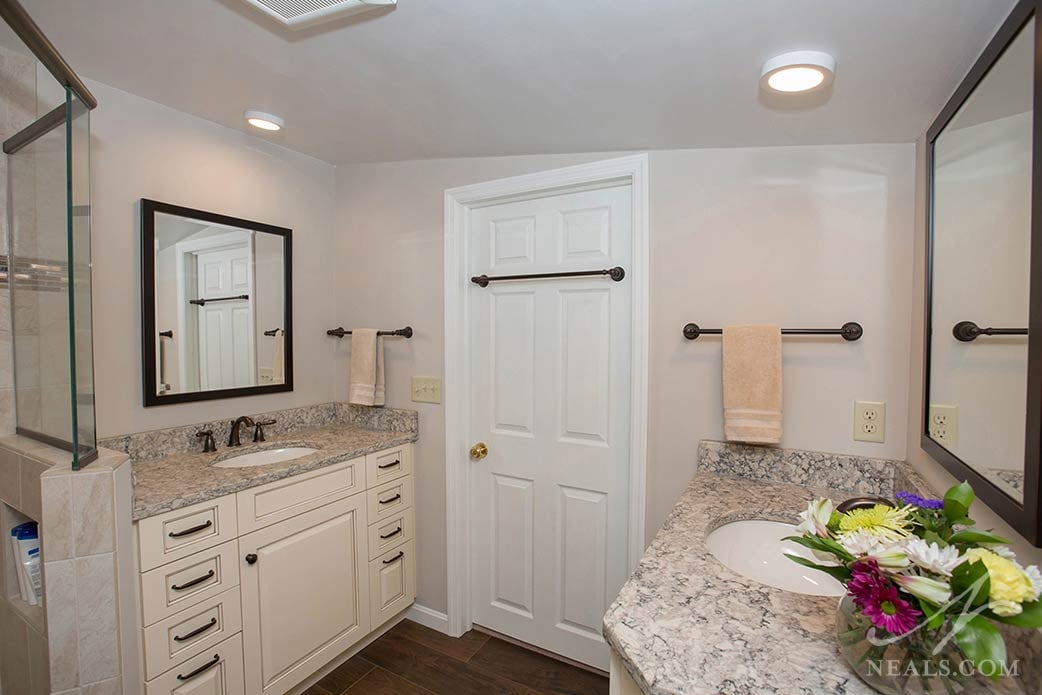 With the two bathrooms completely separated from each other, the master bathroom was able to take on its own style. In here, a warm traditional design scheme pulls the space together. A highlight of the design is the use of LG Viatera's Intermezzo quartz, which is a beige and black design with flecks of brown and a subtle glittering effect. This casual countertop material lends itself well to the coffee-toned wood-look tile flooring, and the cream-colored Brookhaven cabinetry.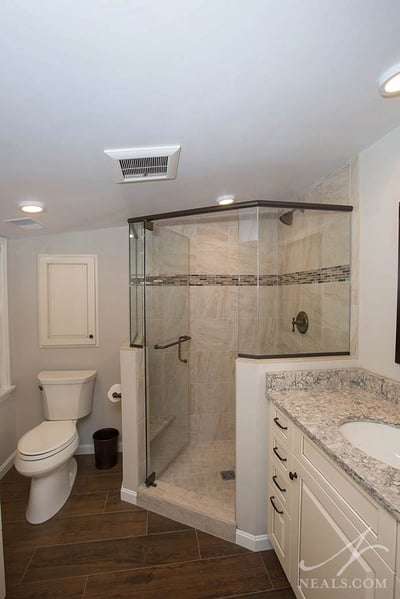 In order to have room for the separate vanities, instead of a tub, the master bathroom has a corner walk-in shower. This provides another area to expand the color scheme with tan tiles accented with a glass, stone, and metal mosaic blend. The metal in the tile matches the oil-rubbed bronze hardware used throughout.