Many people enjoy spending time at home with family and friends, and when the weather turns warm, everyone often ends up outside to enjoy the fresh air and scenery. If you love the outdoors, you may be thinking about how to transform your yard into a living space for entertaining, relaxing, recreation and to extend the time you spend outdoors at home. An outdoor living space remodel can have a huge impact on your home. Here are some questions to consider and action steps to take that will help get your project started.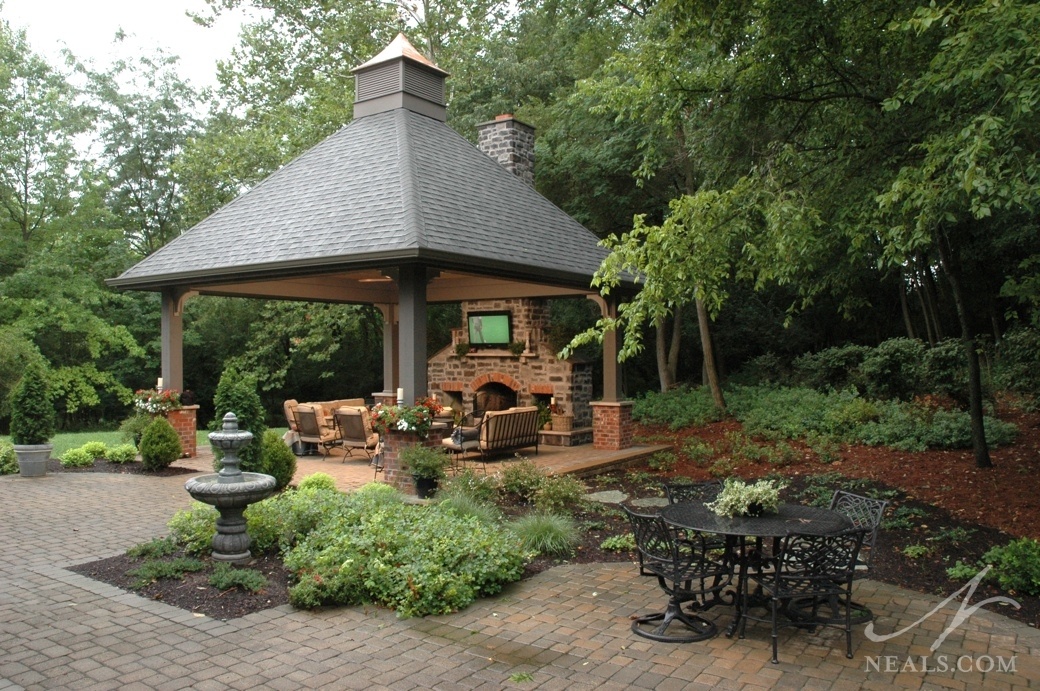 A covered seating room nestled into the back of this Amberley Village yard extends the home's entertaining space.
Creating an outdoor living space begins with answering some basic questions about the types of activities you enjoy, your property, the neighborhood and locale, and the architecture of your home.
Your Outdoor Activities
An outdoor living space can provide a place to relax, or it can be geared toward more active pursuits. Ideally, especially for entertaining, your space can accommodate a variety of activities and moods with relative ease. It's extremely helpful to know what activities you, your family, and your guests enjoy doing outdoors. A word of caution, here, however. Think deeply about the things you know you would do if you had the space, facilities or opportunity to. It can be extremely costly to fill your yard with new features you won't end up getting the most out of.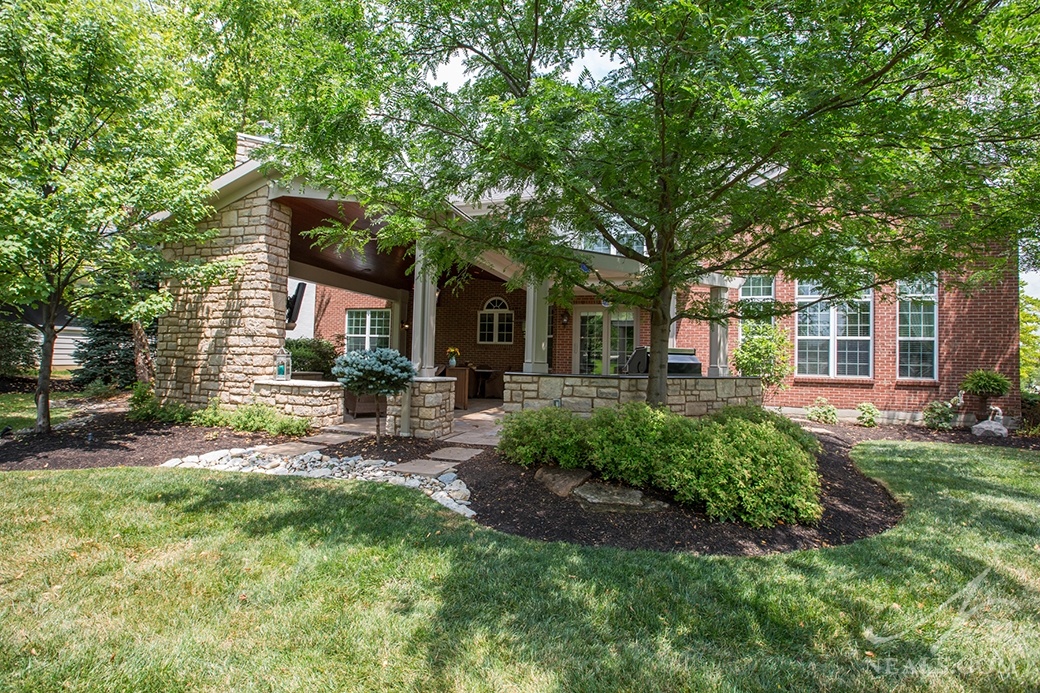 The view from the back yard of this covered patio in Mason was an important consideration for the structure's design.
Your Property
As you look around your yard, what do like and dislike? Look for the features that you feel add to your yard, and what detracts. Are there obstacles to the view? Evaluate the slope of the yard. Is it fairly flat or somewhat hilly? How much space do you have? Would you gain more space if you removed or relocated existing plantings or features? Think over the ways you commonly use the yard and compare those activities against how you would rather use the space. What's missing or in the way of your dream yard?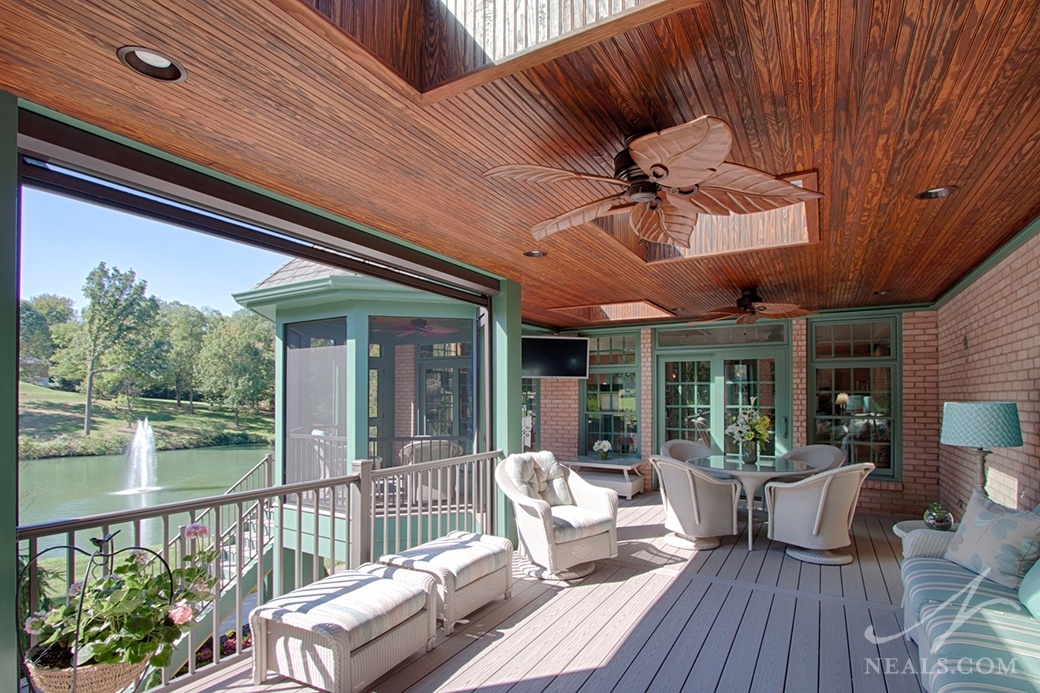 To get the most of the lake view and available square footage, this Colerain back porch has two floors.
The Neighborhood and Locale
It's important to consider your neighbors when planning an outdoor project, for a variety of reasons. Your relationship with your neighbors will play a part in your outdoor living remodel, particularly if you plan to make changes close to the property line. Are homes in your neighborhood spaced close to one another, or are your neighbors too far away to factor in? If you make certain changes to your yard, will that adversely affect theirs or their view?
Make sure you understand building guidelines if you live in a neighborhood that has a homeowner's association. There also may be town building codes or local zoning to consider if you're planning to add an outdoor structure or fireplace to your home. While you don't need to know all the technical details of these things (your project consultant can provide some guidance on what you need to find out), it's a good idea to do a little homework to cross ideas off your list early if necessary.
Your location can also dictate the general style of your exterior changes if you care to have your home fit into the surrounding area.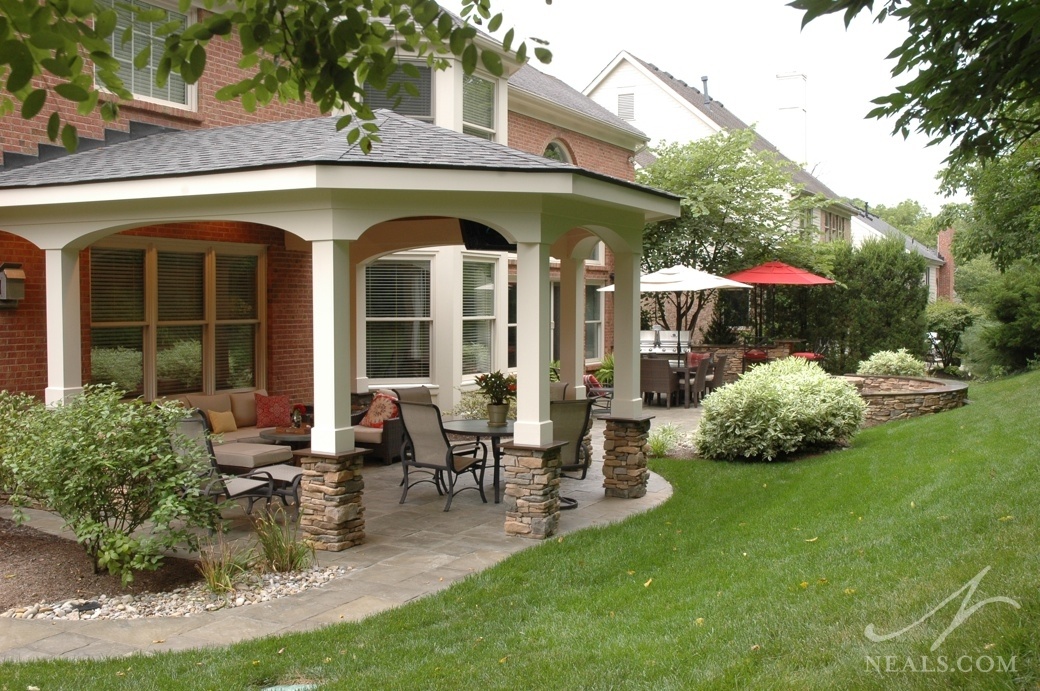 This narrow Madeira outdoor living space hugs the back of the house to avoid the slope at the back of the yard.
Your Home's Architecture
In most cases, your outdoor living space should look and feel like an extension of your home. While it doesn't have to completely blend in (there's always room for unique character in any design project), you also don't want your yard to be disjointed from your home. Any structures you add to the yard most especially, should be compatible with the architecture of the house.
Understand Your Options
We've created a free detailed guide to help you understand the ways you can enhance your outdoor living space, especially when it comes to structures. Often, the best way to figure out the types of changes you want to make to your yard is to get an idea of what there is to do, eliminating the ideas that you don't like or that simply won't work.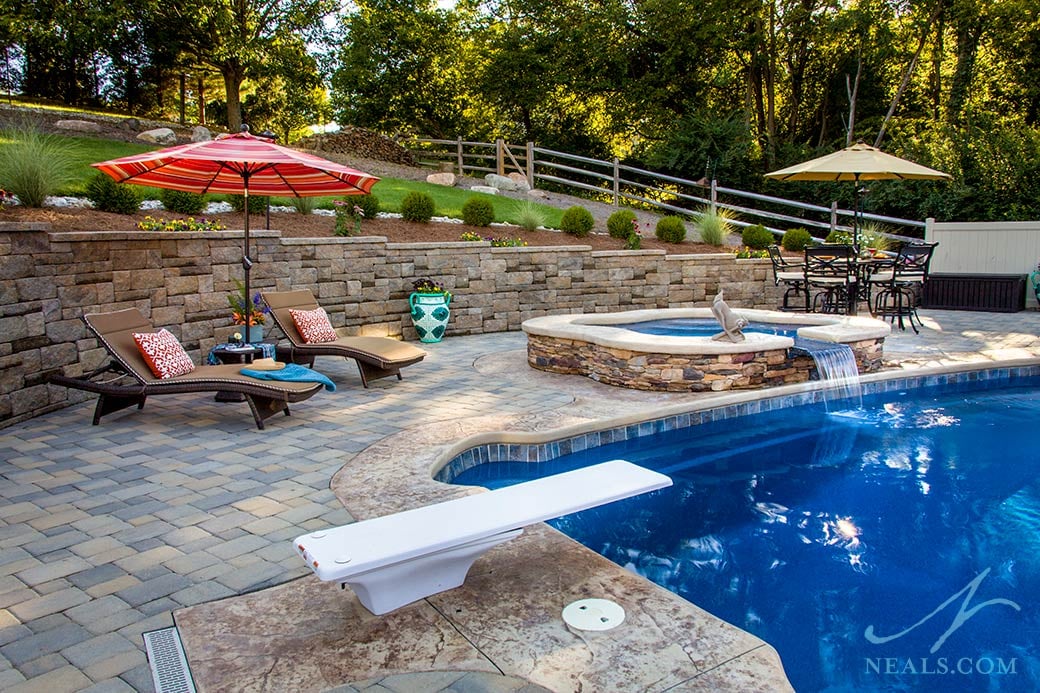 A large hill on this Bridgetown property is held back with a curved retaining wall to make space for the pool and hot tub.
Create a Wish List
Successful remodeling projects begin with a wish list. The list should identify both the things you NEED and WANT in your outdoor living space. It helps to collect photos of outdoor spaces with elements that you like. It can be helpful to search for images of ideas you like. You can look through magazines such as Cincinnati Housetrends, or browse the outdoor living sections of websites such as Houzz and Neal's. Having a wish list on hand is especially helpful when talking to a designer or contractor for your project and for setting a budget.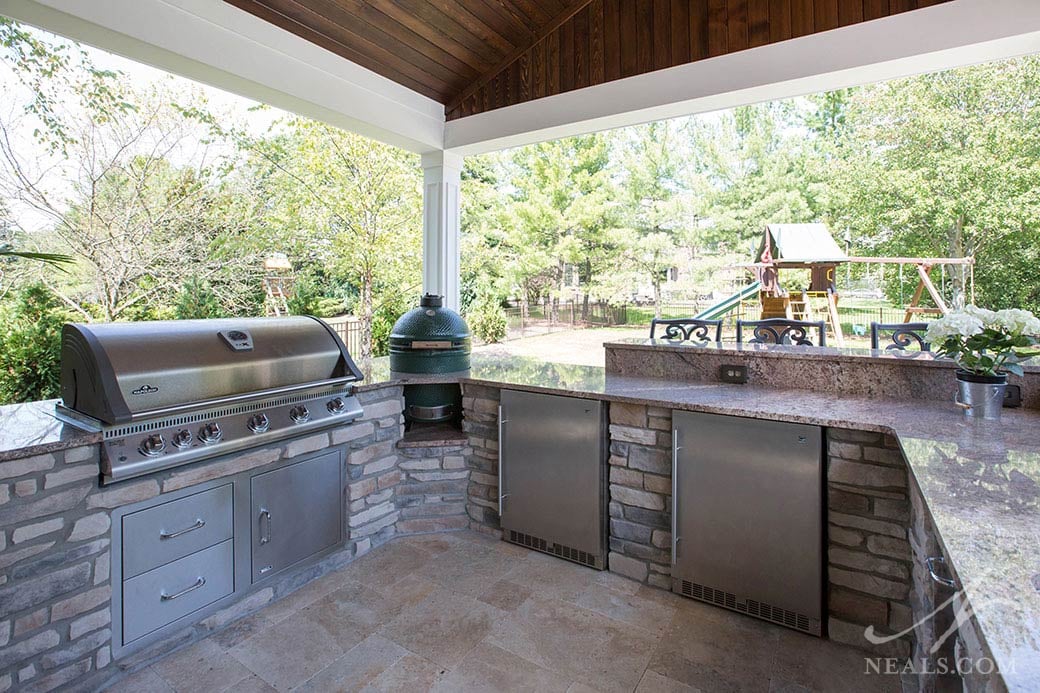 This covered patio in Montgomery was designed to offer ample space for a full outdoor kitchen.
Talk with a Design Professional
If your plans include anything more than just adding new plantings to your property, a professional designer can help you create an outdoor design plan. A professional designer will consider all the items on your wish list, and all the things you considered when you looked at your property, to create an aesthetic and functional scheme. They will consider how the outdoor living space connects to the house, traffic patterns of users, safety, maintenance, and the ways your changes will withstand the elements of nature.
There are many products on the market that make outdoor living spaces more functional and beautiful, such as stone surfacing, decking, outdoor kitchen appliances, outdoor lighting, furniture, and fireplaces. A design professional is knowledgeable about these products and how they may work in your setting.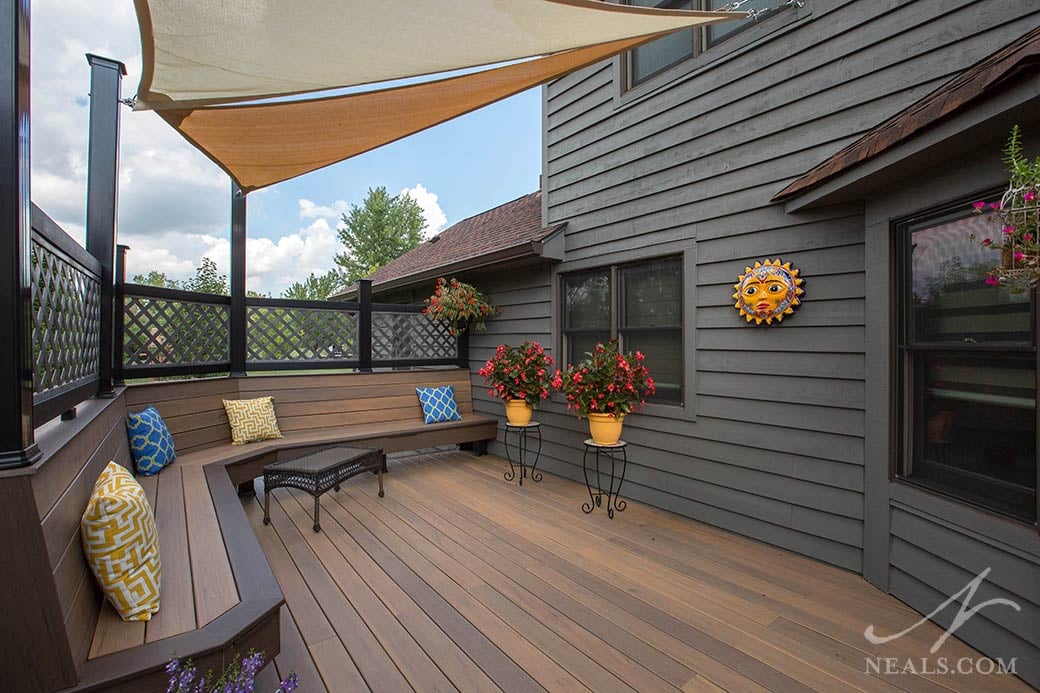 To gain a bit of privacy and shade, the deck of this West Chester home was outfitted with tall lattice fencing and cloth sail-like shades.
A landscape professional is another resource. Good landscaping involves creating garden areas that are suited to your locale and complement your home. If you have a small space, plants should be planned so that the garden does not become overgrown in a year or two. If deer are a problem, it's helpful to know which types of flowers and shrubs are deer resistant. Slopes present a challenge and can be enhanced with retaining walls and appropriate plants.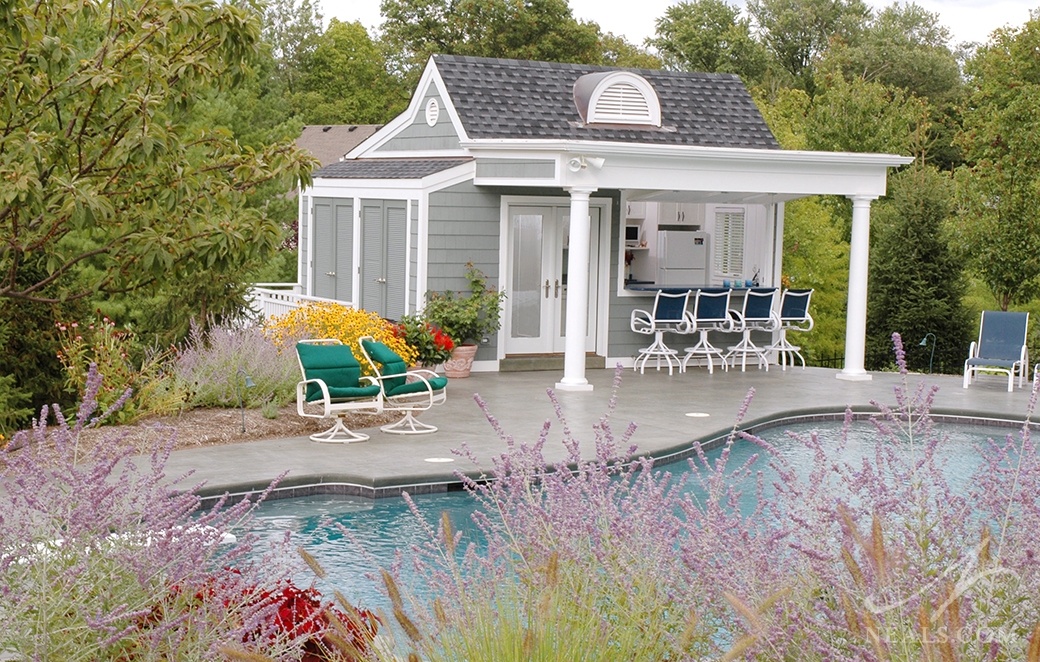 A small scale pool house in this Mt. Washington back yard adds charm and function when guests come to party.