Cabinetry is the glue that holds your kitchen together and the solution for the majority of your kitchen storage needs. In order to create a kitchen with ample functional storage, you'll need an understanding of some of the terminology and basic features of kitchen cabinets. Once you know the general way that kitchen storage comes together, you can then get more specific with how different cabinets can handle different items on your wish list.
Basic Cabinet Categories
There are three categories of cabinets in the kitchen. Base cabinets are the counter height cabinets that sit on the floor and are the only category of cabinets that work for islands. Wall cabinets are mounted to the wall usually with open space below, typically positioned above base cabinets. Tall cabinets sit on the floor but go as high as a wall cabinet as one complete unit.
Kitchen in Loveland
Base Cabinets
The base cabinets are where any drawer cabinets are most likely to be (though some tall cabinets can also have drawers at the bottom). These are typically where the items you need in order to prepare, cook, store, and possibly serve your food go. Towels and other linens, utensils and certain types of pantry food items may potentially go in base cabinets also. Islands are made up exclusively of base cabinets and can be storage workhorses in their own right.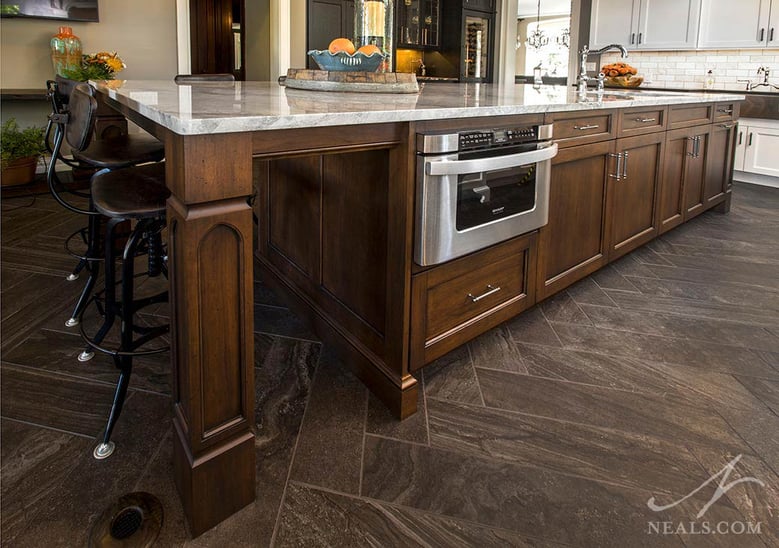 Kitchen in Hyde Park
Wall Cabinets
These cabinets, with their higher positions, are ideal for dishes and glasses, and dry food storage. Certain types of storage or lighter weight cooking items, such as baking sheets, may also be stored in wall cabinets for convenience. Wall cabinets are sometimes fitted with glass-fronted doors and interior cabinet lighting to highlight what's stored inside. This works best with dish or stemwear storage.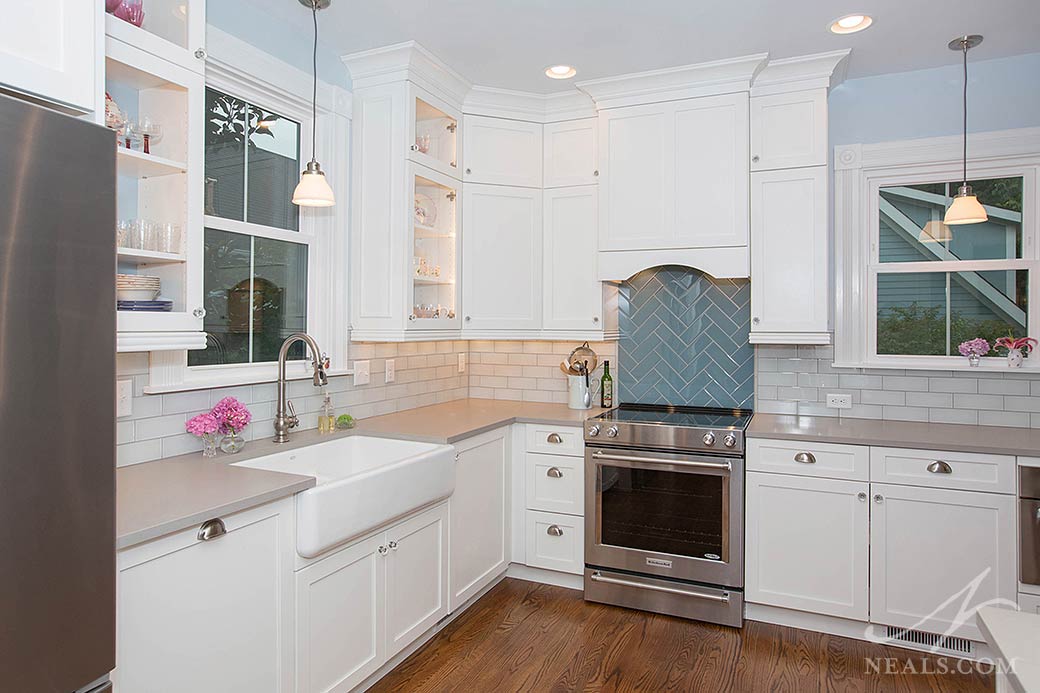 Kitchen in Milford
Tall Cabinets
The nature of tall cabinets makes them ideal for dry food pantry items, household items such as paper goods or cleaning supplies, or for specialty storage that doesn't seem to work in base or wall cabinets. Tall cabinets can often include roll-out drawers behind the cabinet's door, which makes accessing the contents easier, and in many cases, maximizes the cabinet's capacity.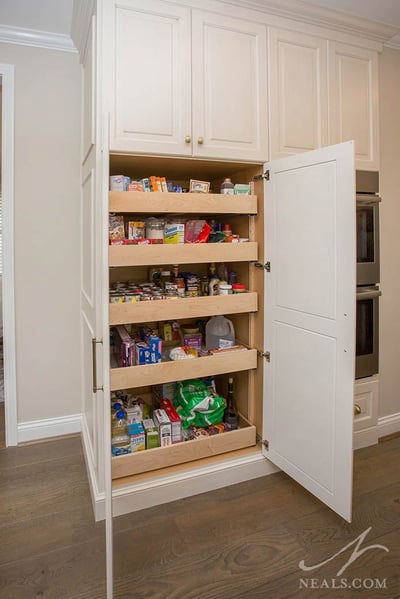 Kitchen in Williamsburg
A functional kitchen is likely to utilize all three categories of cabinets but doesn't have to if you can achieve your needs otherwise. Your style preferences may also impact the types of cabinets you would like in your kitchen. Wall cabinets, for example, can be replaced with banks of open shelving. Tall cabinets can be used in larger quantities if counterspace on the perimeter isn't necessary for your needs. The three kitchen storage cabinet options exist to help you balance you style wants and your functional needs.
Kitchen Storage Locations
To get the most efficiency in your kitchen, it's helpful to try to group your storage needs into zones based on the way you want to use your kitchen. The storage categories that most homeowners will have in their kitchen are items for preparing, cooking, storing, serving, and eating.

You will also have three categories of food: dry (non-perishables), cold, and frozen.
In some cases, you may have additional subcategories inside any of these primary storage types. If you entertain, you may have special party dishes or items in addition to your everyday stuff. You may have a massive mug collection that needs a dedicated space. Be sure to keep any of these extra categorical items in mind as you move forward.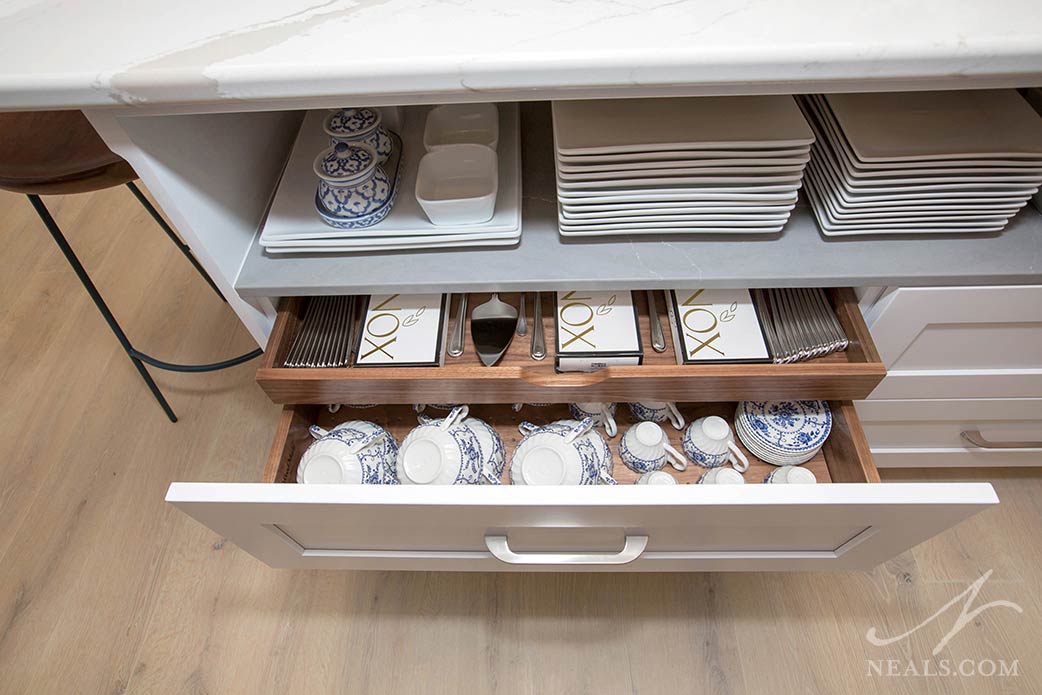 Kitchen in Indian Hill
There are two layers of planning here. Items that belong to the same task should be near each other, but they should also be close to where they will be most used. For instance, your pots and pans should be together near the range, while your washcloths and dish soap should be together near the sink. Be flexible with this planning, however. A perfect spot for every single thing isn't always possible.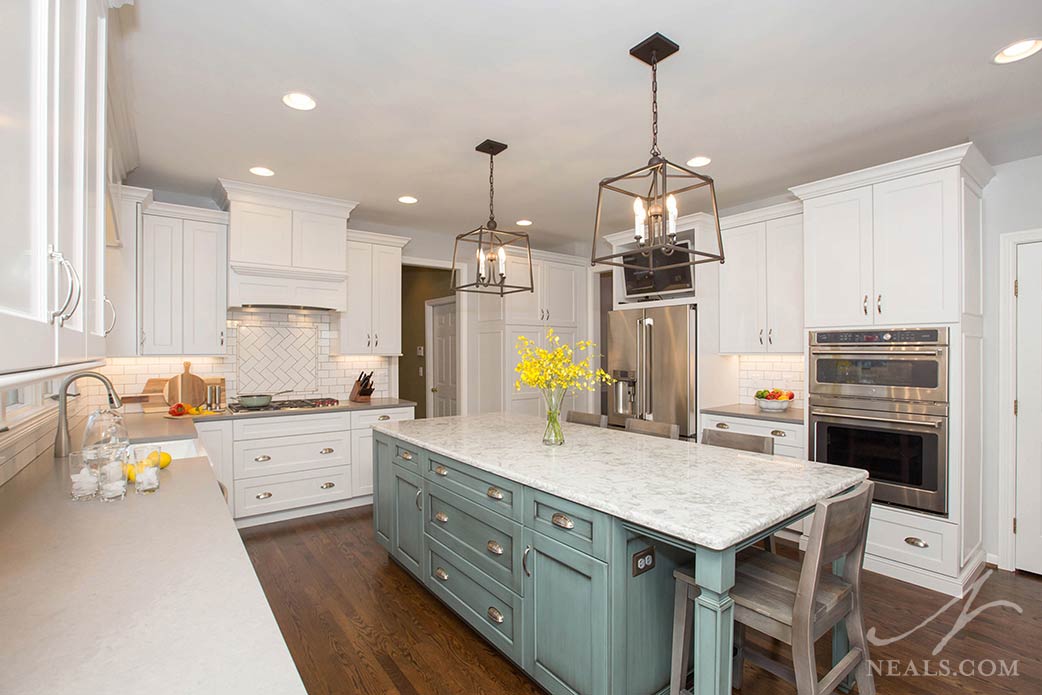 Kitchen in Evendale
You can use a floor plan as a guide for this and visualize the relationships you require between your working triangle and your storage needs. Your designer can figure out the nuances and specifics so your job is to try to narrow down what relative locations seem to work the best for you in a very general sense as you use your kitchen.
As you go through this exercise, think about what category of cabinets (base, wall or tall) might be your preference (and whether a cabinet or a drawer is better.) If you know you would prefer one type of cabinet over another for something specific, making note of that will help when it comes to finding a place for that item. Also, begin to think a little about where and how you may want to use open shelving or glass-fronted cabinet doors. Do you want to be able to see your dishes in their cabinet? Would you like a visible place for your cookbooks?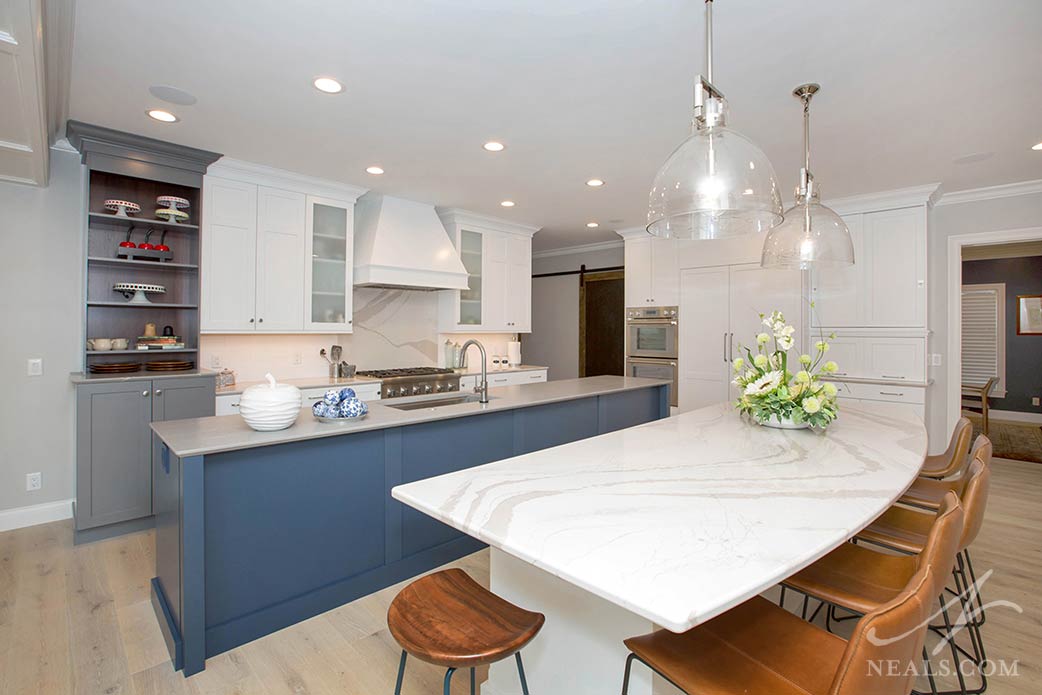 Kitchen in Indian Hill
Sideboards & Wet Bars
Before you get too stuck in your working triangle, look at your available space and assess if you would like to use a sideboard or wet bar to offload some of your storage.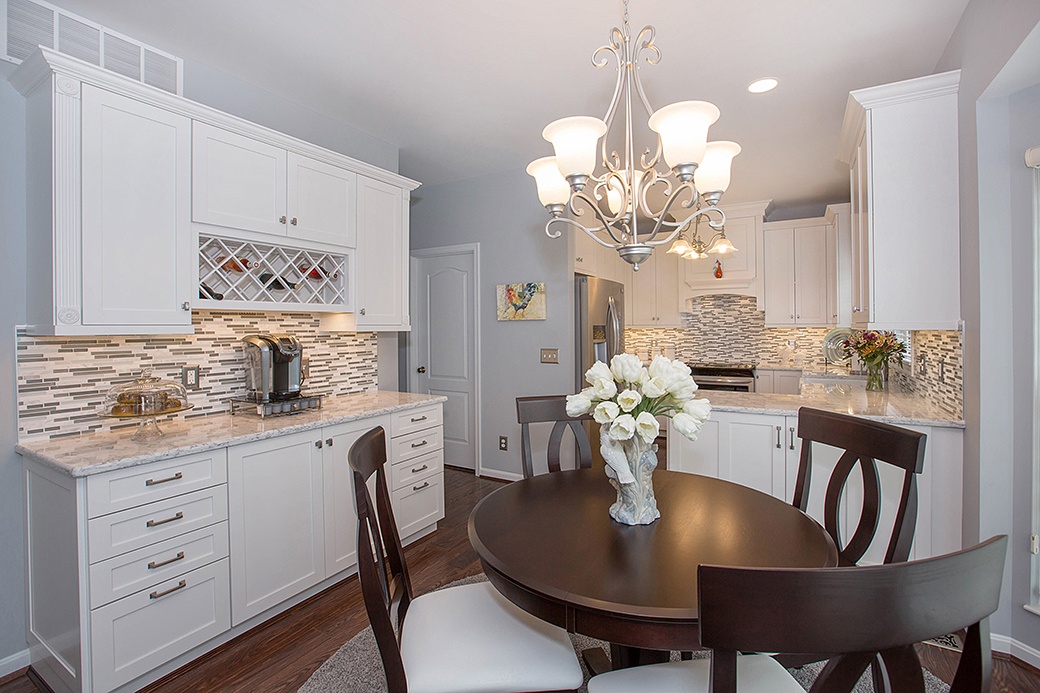 Kitchen in West Chester
A sideboard is a perimeter counter with storage below and usually also above, placed separately from your primary working area. It may also be known as a buffet. A sideboard that includes a prep sink and focuses on beverage service is a wet bar.
Either of these options can include extras like refrigeration units, coffee stations, or home communication accessories. They provide supplemental counter and storage space for the items that you need in your kitchen but that you don't need in the more active working areas. They may also provide the chance to include a different design style or cabinetry category than you have elsewhere in the kitchen.
Cabinet Interior Accessories
Even after you've got a handle on the general zones you want your kitchen storage groups to be, and whether a base, wall or tall cabinet is best, there are more items to consider inside. Interior cabinet accessories turn your cabinets into the functional superstars that you need them to be. These accessories include drawer pull-outs, wire baskets, garbage or recycling pull-outs, corner cabinet pull-outs, dividers in drawers, spice racks, and many more options. In some cases, custom solutions for a specific need can also be created.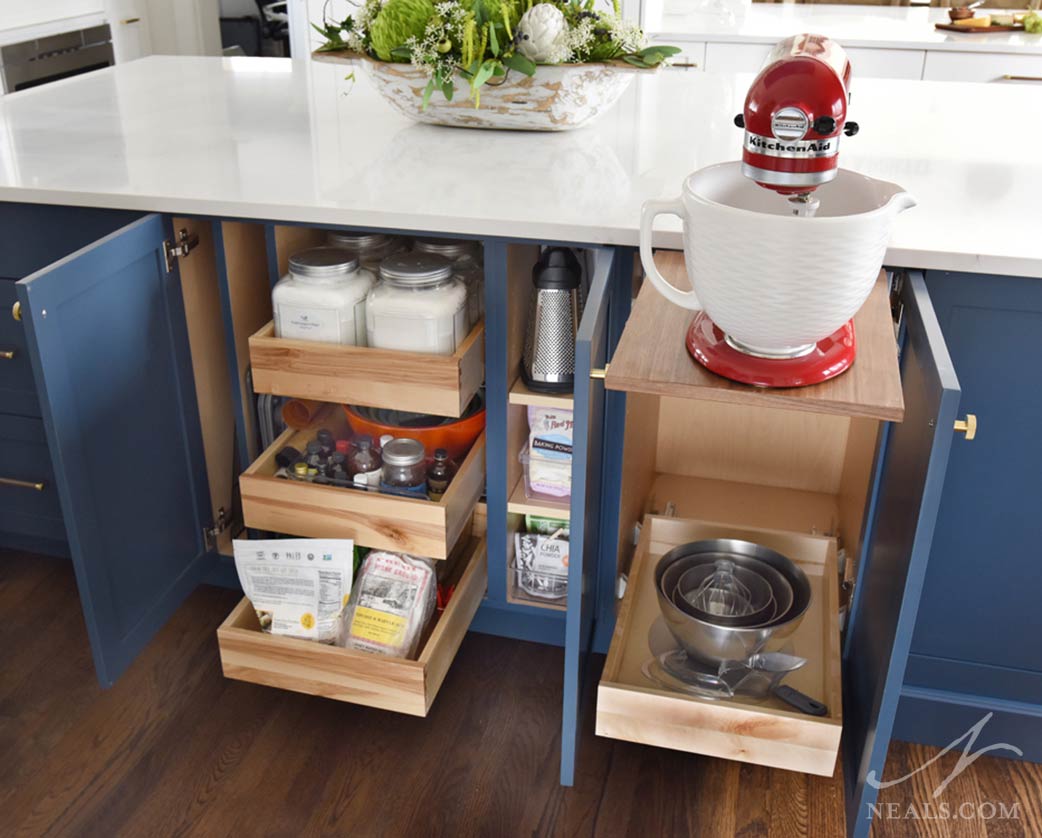 Kitchen in Anderson Township
When it comes to the interior fittings of your cabinets, it's best to work with your designer to help prevent the options from becoming too overwhelming. Each cabinet manufacturer has a different set of interior options, so if you know that you will want these types of customizing elements, be sure to let your designer know so that he/she can find the best cabinetry line for your project and budget.