For some homeowners, a kitchen full of nothing but closed cabinets feels a bit off. Enter open shelving. While not new in kitchen design, the use of open shelving (sometimes also called open storage) has gotten more trending exposure for its prevalence in many pin-worthy kitchens, and for newer concepts on where and how to install it. In the past several years, we've tackled our own share of open storage solutions, so here are some of our best tips for including open shelving in your kitchen.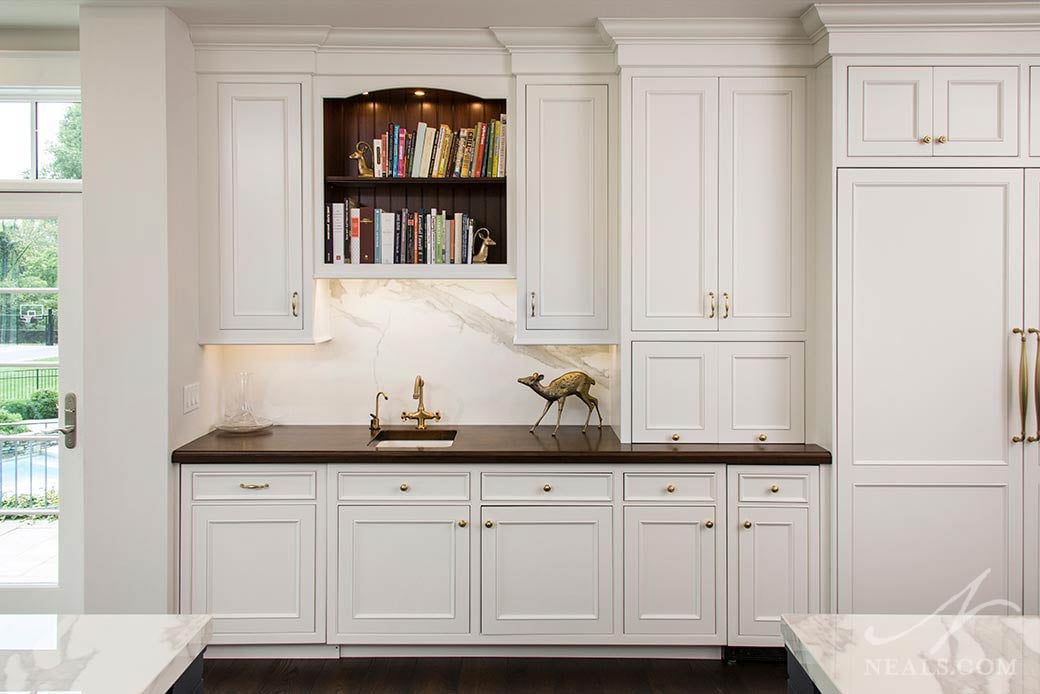 Open shelving in this Indian Hill kitchen holds a collection of cookbooks.
What is open shelving?
Storage or display shelving with no door is considered open shelving. The term derives from library usage, where books are kept on shelves for patrons to easily peruse and handle. In kitchen design, open shelving or open storage, generally refers to a cabinet or unit of shelving meant for practical storage or to replace a closed cabinet, rather than decorative wall shelves.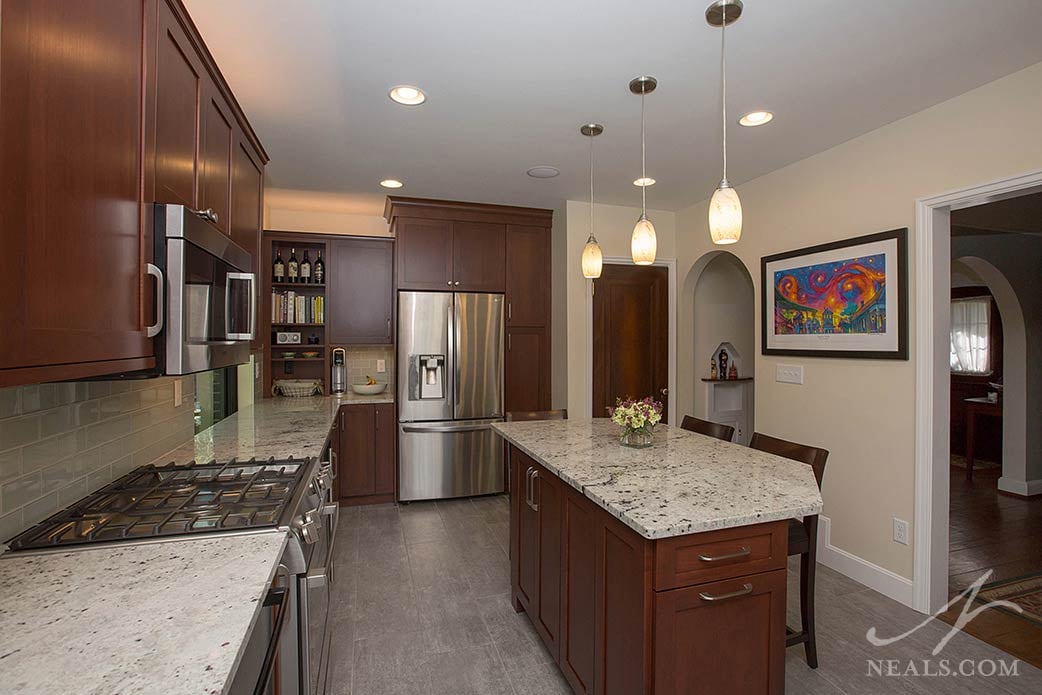 An open cabinet in the corner of this Clifton kitchen adds useful storage in a space that might otherwise be under-used.
For the most basic type of open shelving, a cupboard that does not include the doors can be used. This integrated method works best for kitchen cabinets that are finished the same on the interior as on the front, or with a finish that matches the kitchen's design. Many cabinet manufacturers include trim options for facing these open cabinets to make the lack of doors look intentional. Custom or semi-custom cabinets that are designed as open units from the start are the best option, since they won't include pre-drilled holes for door hinges, and the matching finish will be included in the cost.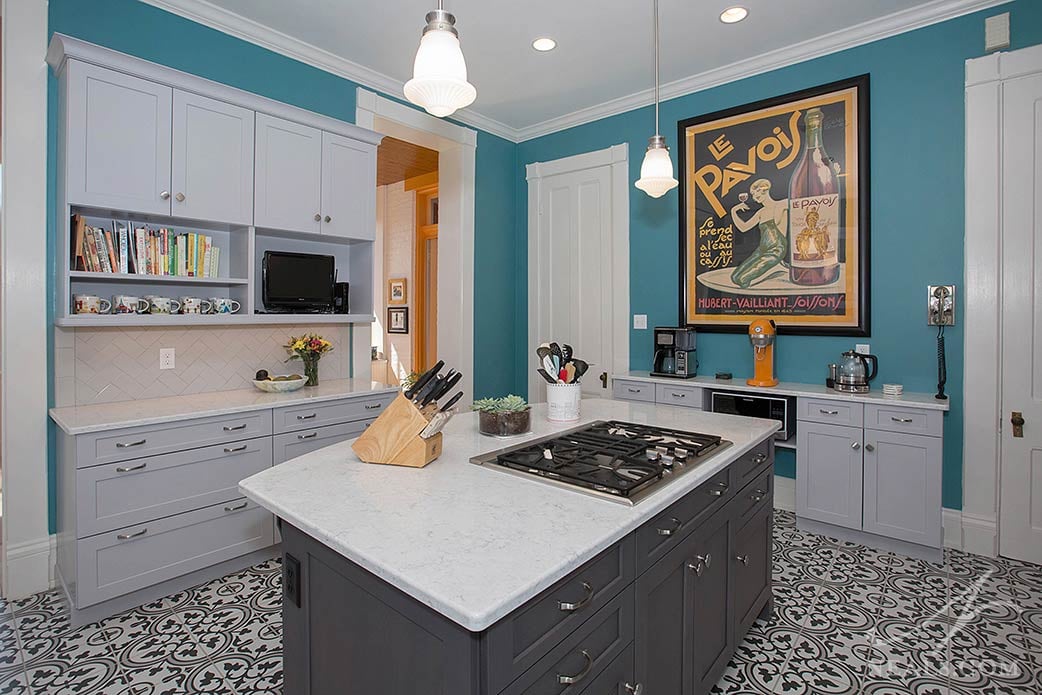 Integrated open shelving in this Walnut Hills kitchen provides a place for books, a TV and a collection of mugs.
When considering where to place any open shelving, a good place to start is by examining areas of your kitchen where you're most likely to want to have items readily at hand. Around the range or cooktop or near the sink are great locations for shelves to hold dishes, spices, utensils, or even a radio or smart home tech. Alternatively, positioning an open cabinet across from your working areas might be ideal for storage items you don't need to access as often, such as cookbooks or specialty dishware.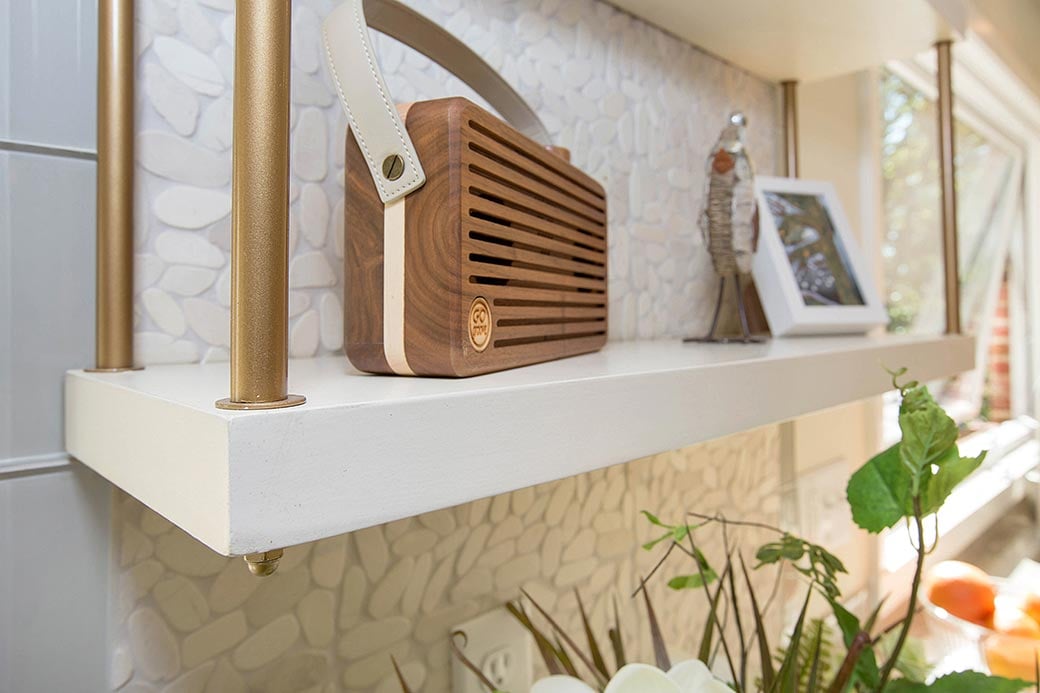 The open shelving unit in this Blue Ash kitchen is made to appear suspended from the ceiling with copper tubes.
Custom open shelving created as an independent unit provides an opportunity to add a new layer of color or finish to the kitchen. Rather than being part of the cabinetry suite as a built in, open storage can be created with separate shelf pieces and a method for mounting them. They can be installed in a series on a wall, suspended from the ceiling, or affixed to surrounding cabinets.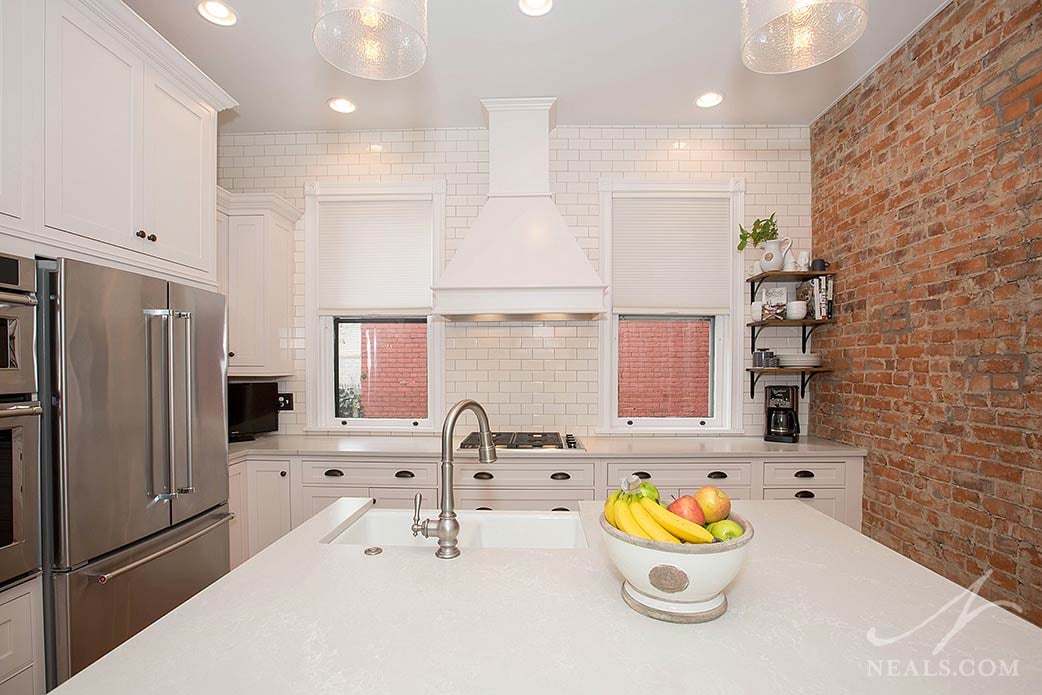 To make use of a corner in this Newport kitchen, a trio of industrial-style shelves offer storage for a variety of useful items.
One trending option we've seen in recent years is the mix of wood shelving and a metallic mounting system. Depending on whether the wood is polished or rustic, or if the metal components are shiny or subtle, the style effect can be quite finely tailored to the design goals of the kitchen. We're finding that brass or gold colored brackets or mounts will be more modern in feel while darker finishes like wrought iron will convey an older or more industrial look.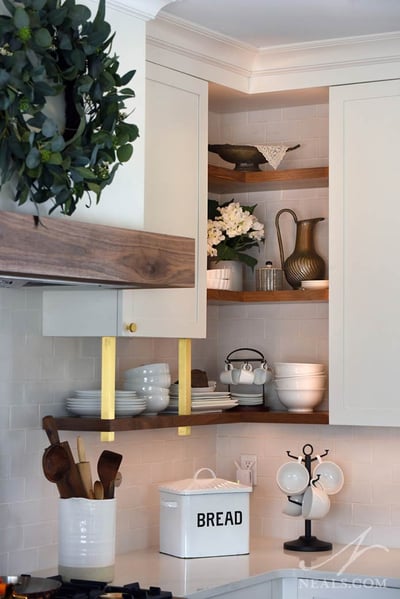 A walnut and brass custom open shelving system adds character and convenience to this Anderson Township kitchen.
In the end, including open shelving in your kitchen' design should be as much about purpose and function as it is about the look. Some considerations for choosing open storage are whether you are okay with some of your kitchen items being visible all the time, whether dust or pet dander are a big factor in your home, and how accessible the shelf positioning is for what you want to place on it. Also note that there is no set standard size for open shelving, so knowing what you want to use it for first will be necessary for proper installation.