There are a few design changes that you can do in your kitchen that will easily amp up the character and style, even if you make no other changes. These high-impact updates can be fairly straight-forward swap outs or part of a larger remodel, and will make your kitchen feel like a new space.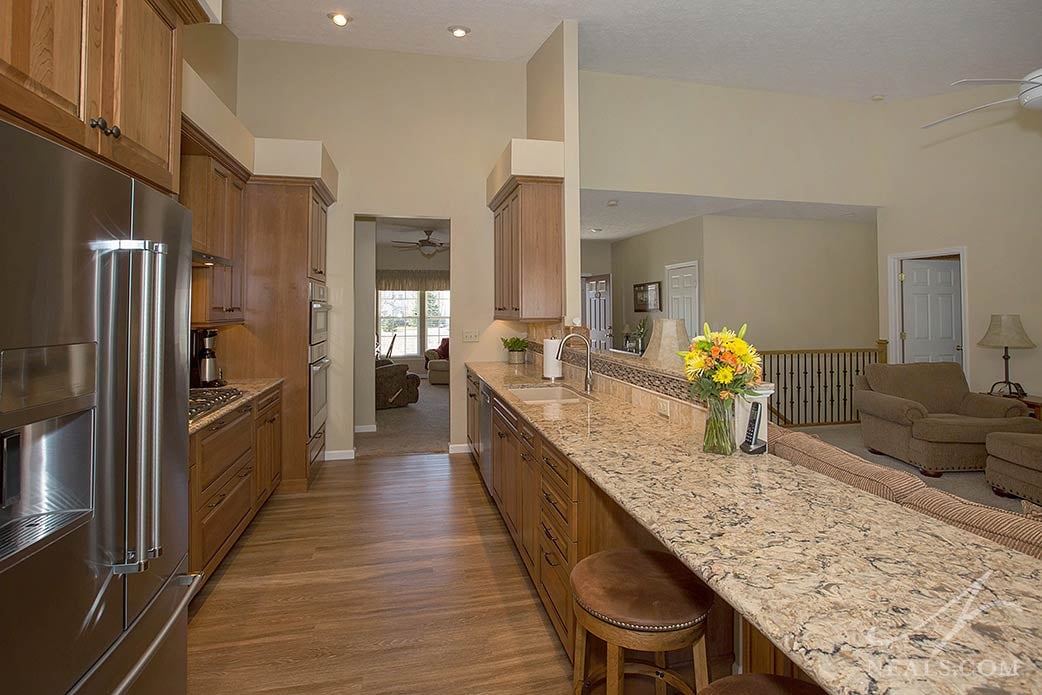 New Cambria Quartz counters in this Lebanon galley kitchen increase style and interest.
1. Change the Countertop
The counters in your kitchen carry a fair amount of the style weight, so a change in this area will have an immediate impact. There are several different ways you could go with this. If you've had light counters, you could stick with the same material and go dark instead. If you've had a solid surface counter, you could switch to a natural stone. One option that will have a greater impact would be to switch a solid or subtly-patterned counter for a one with a dramatic and organic look.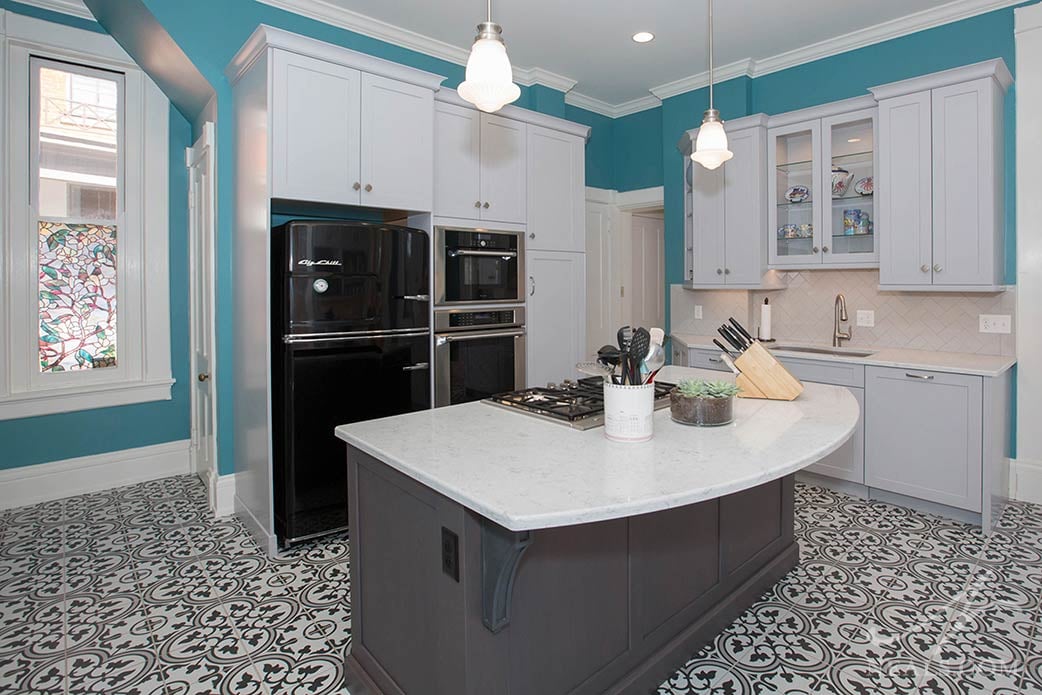 The bold black and white floral pattern of these floor tiles creates a fun and dramatic landscape in this Walnut Hills kitchen.
2. Install a Dramatic Tile
Dramatic tile is a design trend we've seen in the past few years. Whether you're looking to update your backsplash or your flooring, switching to a tile with a lot of character will have a big impact on the look of your kitchen. You can opt for a tile with a pattern, such as Moroccan- or Spanish-inspired painted tiles, or a tile with a unique shape. Handmade tiles or tiles with colorful or unexpected glazes can also create a focal point.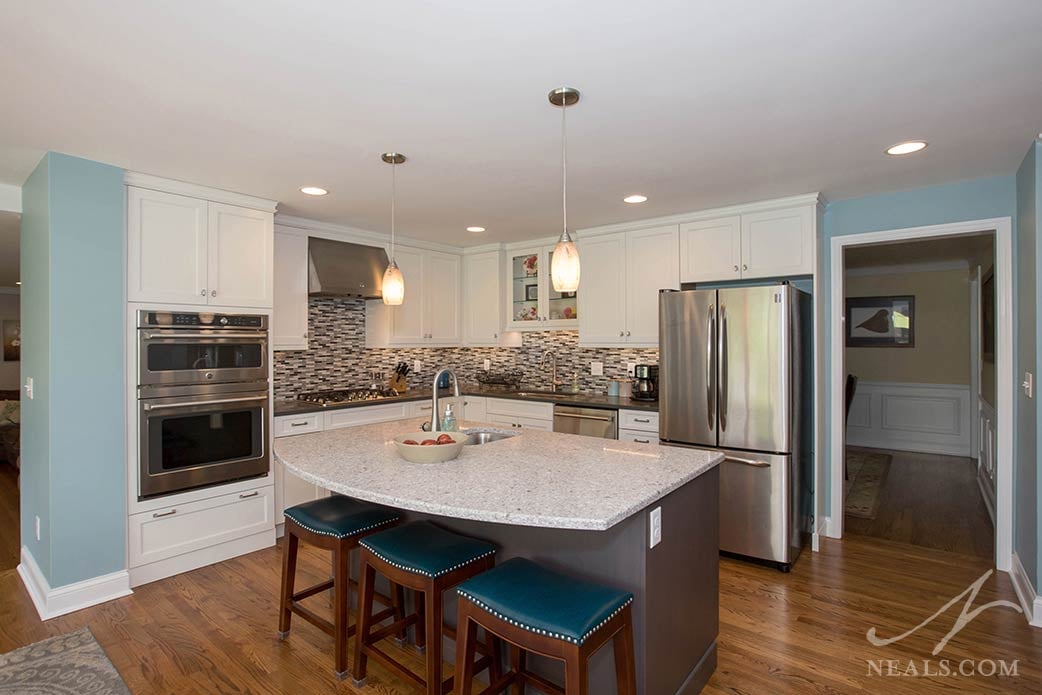 Layers of light, including pendant fixtures and under-cabinet lighting, creates a pleasant lighting scheme in this Montgomery kitchen.
3. Improve the Lighting
Many kitchens suffer from too little lighting or lighting that is too harsh. Being able to actually see your kitchen in beautiful light is a sure-fire way to make an impact. Kitchens with layers of lighting are more comfortable and functional. Look for ways to add general lighting over pathways (recessed ceiling lights on dimmers is a great method), then add some drama with decorative pendant lighting over an island, peninsula or table. Finally, make sure you have some specific task lighting over your main work areas.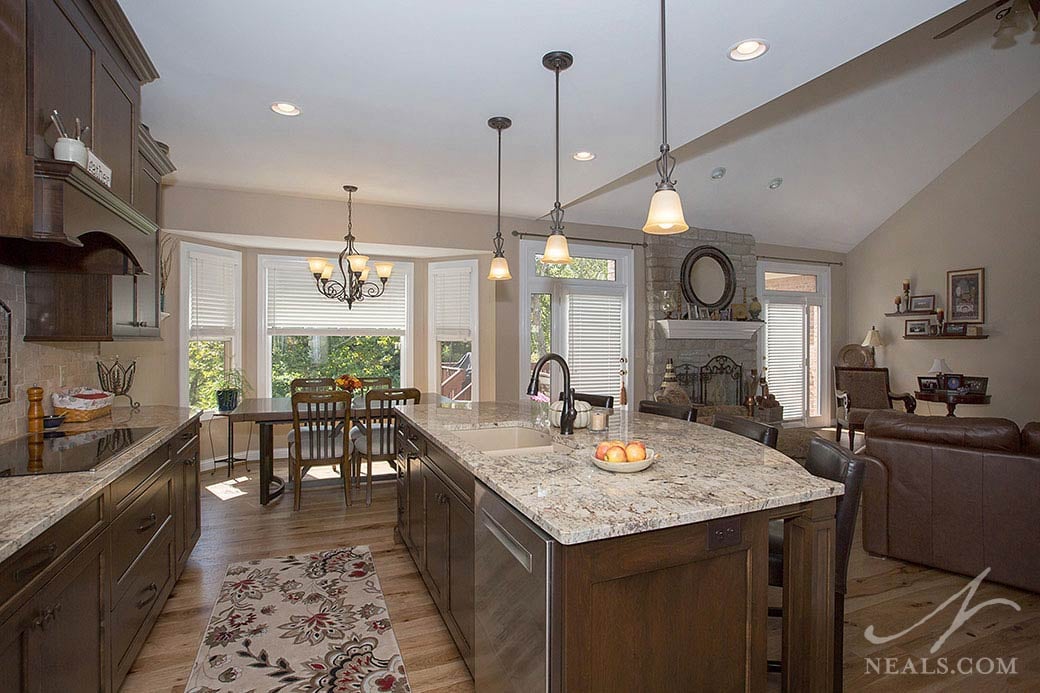 Replacing a half wall with an island in this Western Hills kitchen helped join the kitchen to the family room and improve traffic flow.
4. Add an Island
If there is space for it in your kitchen and you don't already have one, consider the addition of an island. Having an extra space to work is always handy, but it's also a way that you can increase the design of your kitchen by changing the flow and space use. There are a few ways you can add an island, but doing a full cabinetry installation will have the most practical impact if electricity or plumbing would make the island the most useful for you.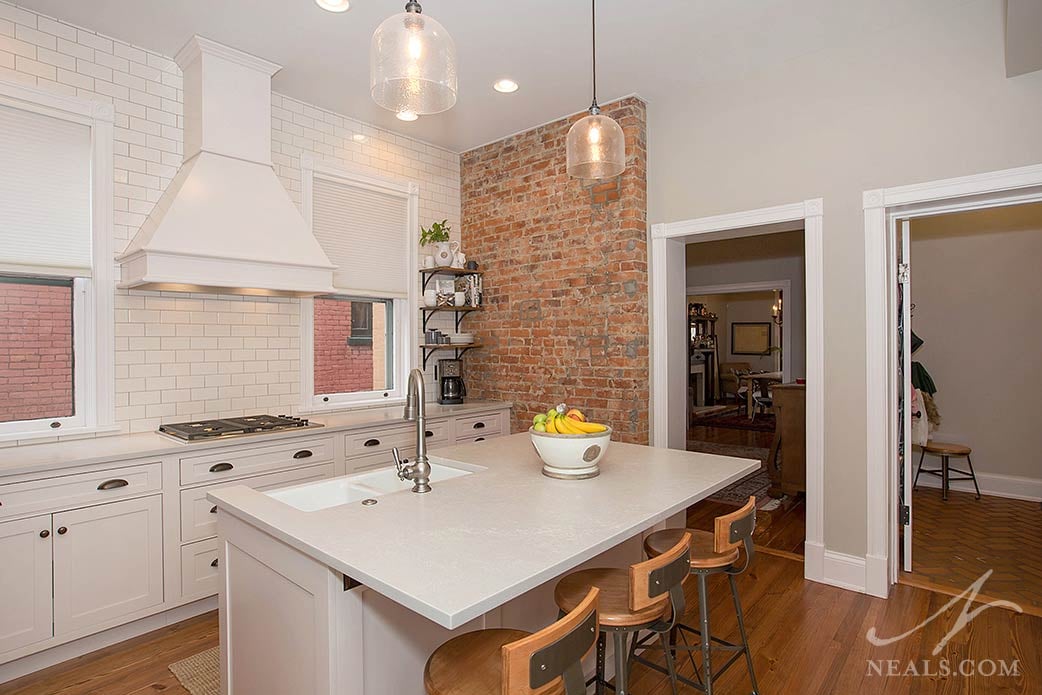 Exposing the brick backside of a fireplace gave this Newport kitchen a dash of impact and unique character.
5. Play Up Unique Features
If your kitchen has some type of architectural element or some interesting detail (perhaps hidden behind drywall), consider turning it into a focal point. Perhaps your kitchen has a brick wall, old wood stove, or even a niche where some built-in used to live. Talk to a design professional about ways you might be able to take these types of things to the next level to create a design statement that no other kitchen will have.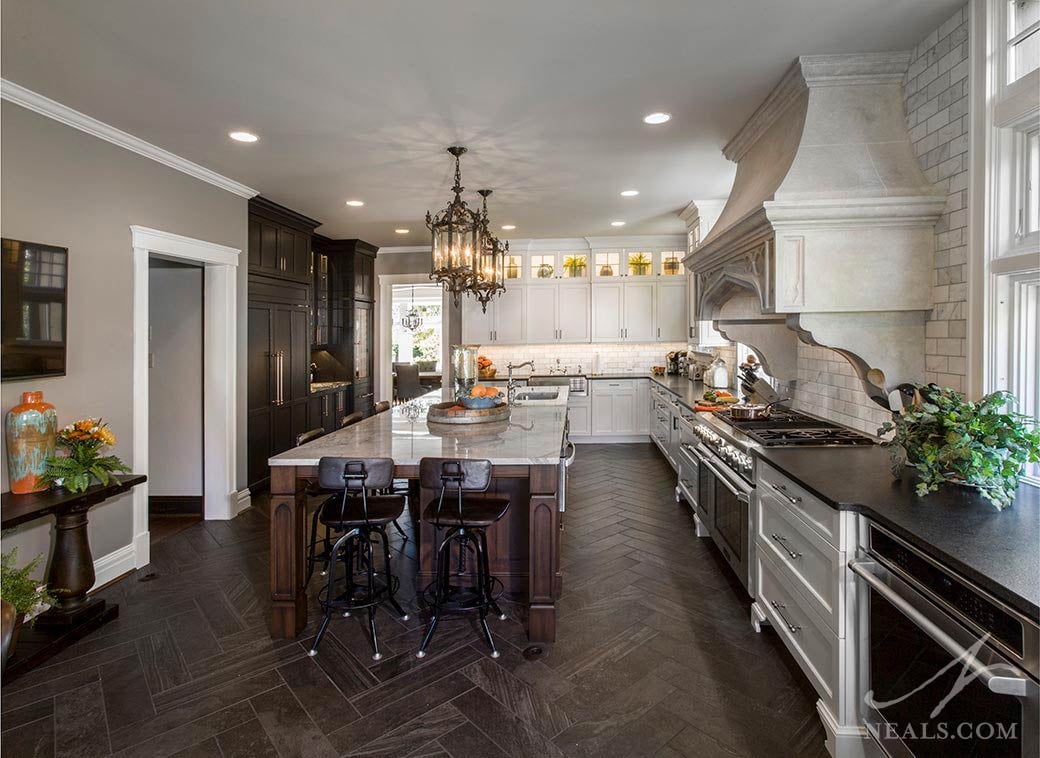 Each of the three zones in this Hyde Park kitchen contrast each other, but stay connected via a limited palette and matching hardware.
6. Include Contrasting Elements
Treating different areas of your kitchen in contrasting ways can create a big impact by making your space have more minor focal points. This can be achieved in on a small scale by add a different type of cabinetry in a particular zone . Or it can be done in larger ways by applying different schemes to different areas, or by adding rustic or casual elements in a kitchen that is primarily formal (or vice versa). The trick to making this type of dramatic change work is to keep one or two things consistent among the different spaces, such as cabinetry style, hardware, color palette, or countertop material.