Did you have a chance to attend the Cincinnati Home & Garden Show this year? Is your brain swimming with ideas to update your kitchen or bath? If you have a project planned for 2018, there are some exciting new trends emerging. We sent a handful of our designers to KBIS, to see and experience the most cutting edge kitchen and bath products, and technologies. Here are some of the trends they see emerging in 2018.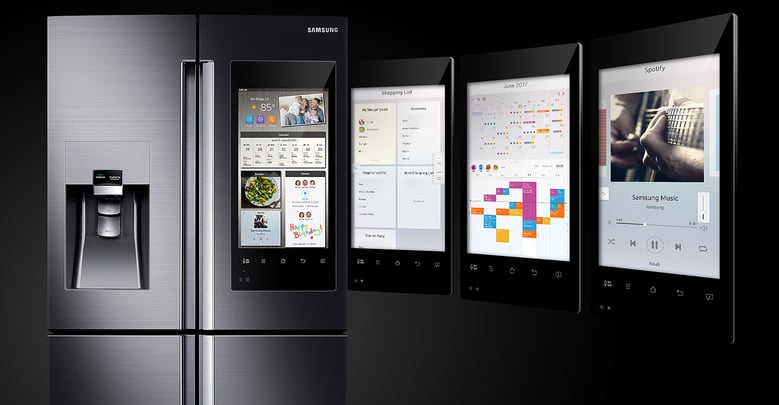 Samsung's Family Hub Refrigerator feels straight out of the future. Image source.
Smart Home Technology
Technology is invading every area of our lives, helping us be more efficient and stay connected. Smart Home technology will be coming on strong in 2018. Beyond just voice-controlled systems like Google's Alexa and Amazon's Echo, product manufacturers are unveiling more and more "smart" devices each year. This year we're seeing continued growth in the bathroom and kitchen realms, including refrigerators that can keep your grocery list for you, cabinets and drawers that open at the push of a button, and even app-controlled bathtubs and showers that can be started during your commute so you can slide into relaxation mode as soon as you get home.
Even if you aren't planning on implementing emerging technologies this year, it is important to keep them in mind during your kitchen or bath remodeling projects. You'll need to plan ahead before starting your remodel projects in order to allow for any future technology choices to be incorporated with ease. This could involve simply running additional wiring, internet, or electric capacity behind your new walls.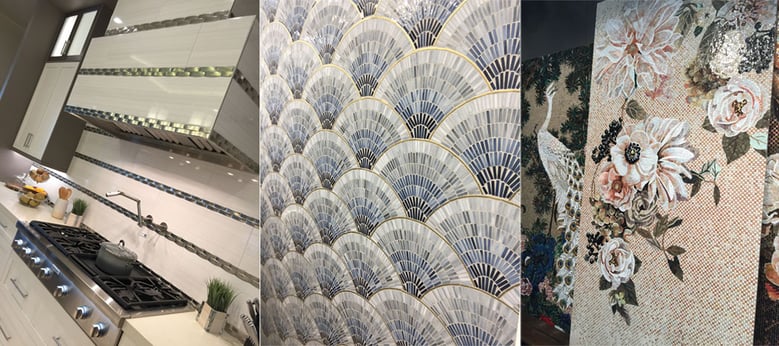 Tile Designs & Colors
There are many fun and exciting things happening with tile this year! Tiles aren't just coming in a range of hues, but exciting fresh shapes, warm textures and interesting patterns. Laser cutting technology has advanced how complex tile mosaics can be, and we've been impressed by the amount of designs available for a wide variety of style tastes. There are also many hand-made or artisan tiles on the market that add the type of slightly-imperfect character that helps homes feel cozy and lived-in.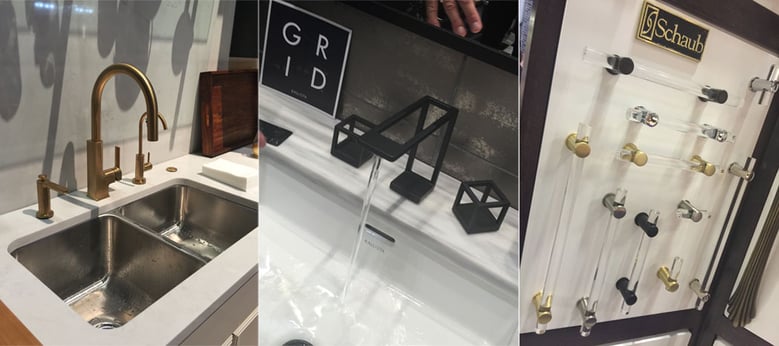 More Options for Hardware Finishes
Color isn't reserved just for tile this year. We see a range of metal finishes capturing everyone's attention in faucets, door hardware, and even appliances. Stainless steel, chrome and brushed aluminum are joined by copper, brass, and brushed gold. Rose gold and Matte black are also trending new options that create a modern look, even in traditional designs. Gold tones in particular are showing up in a wide variety of places throughout the home, including in lighting and bathroom fixtures.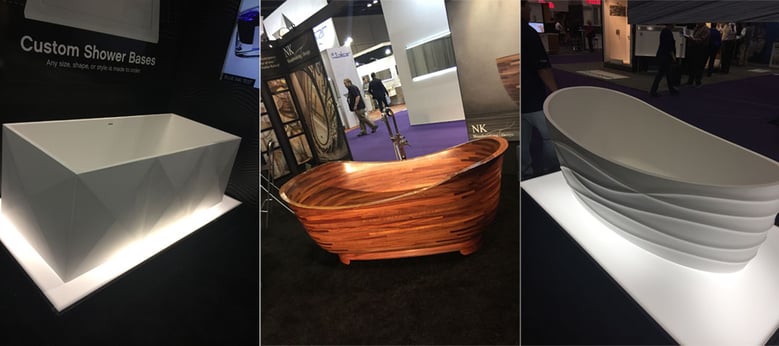 Stand-out Tub Designs
Free-standing tubs have often been used to create style statements in the bathroom, and it seems like manufacturers have finally caught one to the possibilities. At the show, amazing tub designs appeared around every corner. We're excited about the way these well-crafted tubs can inject personality into the bathroom, and make your space feel unique.