Original Blog Post 10/09/2012 Updated 7/18/2016
If you are planning to remodel a kitchen, you will need a floor plan design. The design should address the basic functions of a kitchen including food prep, cooking, storage, appliance use and clean up. Other areas to consider in your kitchen plan may include space for informal dining, a beverage center, a message center, or a walk-in pantry. As long as people have been using kitchens, fitting these various areas in has been the key challenge. While there are many variations, most kitchen floor plans fall into one of 4 time-tested designs.
1. L-Shaped Kitchens
The L-shaped layout gets its clever name because the main counter and work zones form an L shape. The other two walls in the kitchen may also have additional secondary work areas, storage, or may be open to hallways or other areas of the home. An L-shaped kitchen may also be able to accommodate an island, kitchen table or peninsula, depending on the dimensions of the room.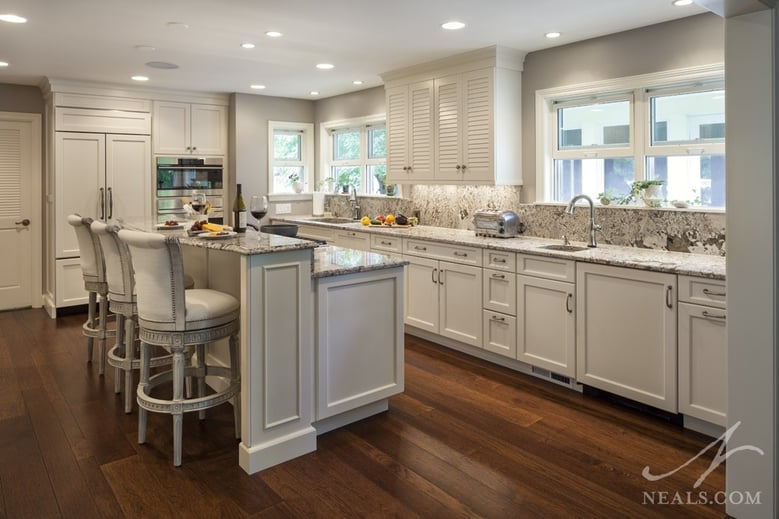 L-Shaped Kitchen in Sycamore Township, Ohio
2. U-Shaped Kitchens
In this layout, three walls of a u-shaped perimeter are used for cabinets and appliances. Many U-shaped kitchens feature an island in the center for additional food prep, dining and storage space.
L-Shaped and U-shaped kitchen layouts have space in the center of the room and you may want to consider adding an island. Islands won't work in all kitchens. In most cases, kitchen islands require at least 100 square feet of floor space for the island and work aisles and, for functional use, the island should be at least 2' by 4'.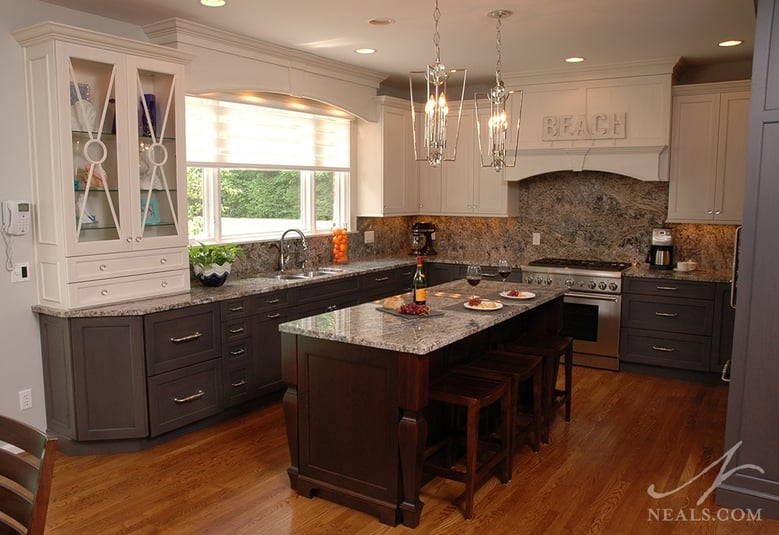 U-Shaped Kitchen in Loveland, Ohio
3. Galley Kitchens
In galley kitchens, cabinets and appliances are installed on two parallel walls separated by an aisle. The width of the aisle should be between 36 and 60 inches. Optimal floor width is 48 inches to allow for door swings, drawer extensions and functional workspace. Galley kitchens typically come about when the kitchen is situated between two rooms, such as a living room and dining room, but smaller apartments or condo kitchens (or kitchenettes) are often galley kitchens to maximize living space in the rest of the unit. To be effective, the work triangle (sink, stove, fridge) should be arranged either centrally across the aisle, or all along one side.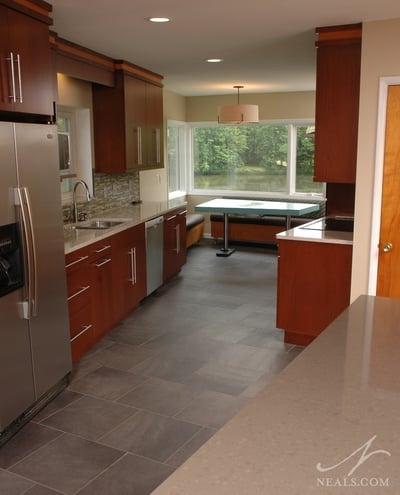 Galley Kitchen in Blanchester, Ohio
4. One-Wall Kitchens
Like a Galley kitchen, the one-wall option may work well for a small home or apartment. Appliance locations are key. They should be placed as close as possible to optimize counter and cabinet space on the wall, but not so close that their practical functions or use are inhibited. Checking the recommended clear space or door swing space for appliances will give you some guidelines.
In a Galley or One-Wall kitchen every inch counts. If there is room for an island, not only would that provide a place for storage and working surface, it could also help create a visual barrier between the kitchen and the adjacent spaces. This is particularly helpful for entertaining or for families with small children, when having other people inside the working zones might be dangerous or at the very least inhibiting.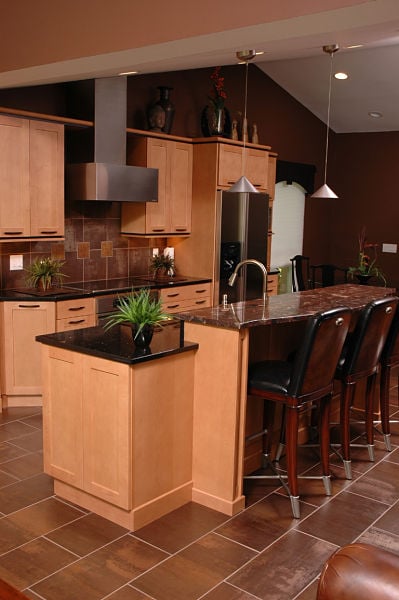 One-Wall Kitchen in Montgomery, Ohio
In designing a kitchen floor plan:
• Small details count.
Think about how you work in the kitchen. For example, how much counter space do you need to clear dirty dishes? Where should the garbage can be located? How much space do you need for cookware? Where should food be stored? Do you have an area for chopping or placing hot pots and pans? Should the disposal be located on the left or right of the sink?
• Each kitchen work area should have adequate counter space.
A sink area should have about 36 inches of space or more. There should be counter space near a refrigerator for gathering items, and space near a cooktop to place ingredients and allow pans to cool down.
• Plan for appropriate storage space near each work area.
Food storage should be near the refrigerator. Storage for pots and pans should be near the cooktop and storage for mixing bowls and spices should be near the sink/prep area.
• Consider aisles, counters for food prep and other functions and traffic flow patterns in your plan.
Work aisles should be 42 to 48 inches wide.
• Select your appliances and factor the dimensions into the design.
Gauge clearances for opening appliances. Double door refrigerators with freezer drawers will need adequate clearance space as will dishwashers and ovens.
• Note the location and sizes of doors and windows.
Some principles of the age-old "Kitchen Triangle" may also be helpful in creating a functional kitchen design. The "triangle" addresses placement of the sink/dishwasher, refrigerator and stove. Although the triangle was conceived to maximize the efficiency of a "one cook kitchen", placing the three primary appliances no further than four feet apart may still make sense in today's kitchen designs.
Finally, consider consulting with a certified kitchen designer. There are many factors to consider that might be overlooked by a do-it-yourselfer. Taking the time to address all of the details with a designer will help to optimize the function of your kitchen and your investment in your home.