When you invest in an outdoor living space, one large consideration is the bang you'll get for your buck throughout the year and the changing weather. Southwestern Ohio and the surrounding areas experience a wide range of seasonal weather patterns, and the thought of putting your budget into something you may only get to use 4 months out the year can turn many homeowners off. The good news is that there are ways around that by utilizing some clever designs and helpful products.
Plan for Water Drainage
Drive around greater Cincinnati after a thunderstorm and you'll likely spot our region's propensity for temporary flooding. Since storms occur throughout the year, excess water is an issue for many homeowners, and handling drainage and run off is an important (and often necessary) component of any outdoor living project. When your project will involve excavation or if your property has a significant slope, be sure to discuss underground drainage as part of your project. Also be sure that any additions to your home, such as a covered porch, includes adequate gutters and downspouts.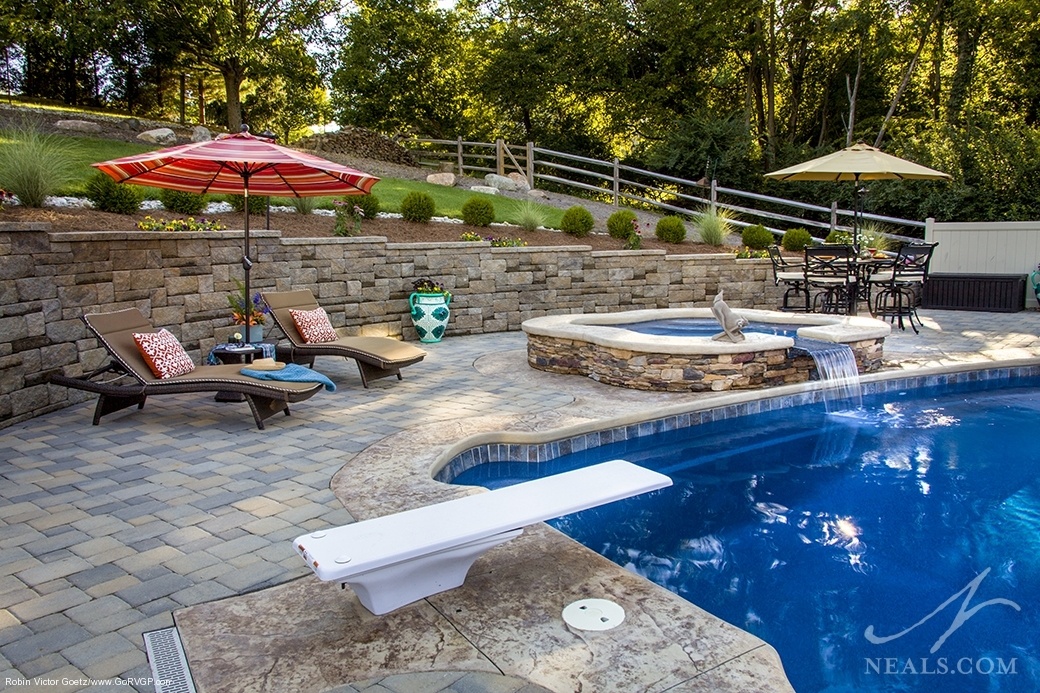 The large retaining wall in this Bridgetown project uses a internal drainage to prevent excess storm water from seeping through the stones. Landscaping by: Werbrich's Landscaping

Consider Snow and Ice
When snow is left to pile up, it compacts and becomes heavier. Add a coating of ice, and you quickly have a potentially dangerous situation. To combat this, covered structures in your outdoor project should have a "snow load" consideration and be sufficiently supported to account for the additional weight of whatever might fall from the sky in colder months. Roof slopes should be considered for how snow and ice may slide off of them when the temperatures start to go back up, and what that snow may fall onto.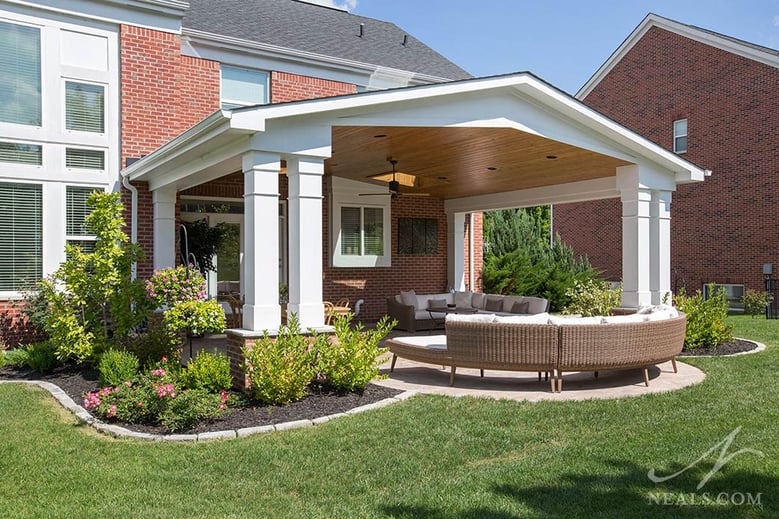 The sturdy supports and angled roof of this Mason outdoor living room will stand up to the winter snow load.
Be Ready for Cooler Temperatures
It doesn't always snow each year, but we can rely on the temperatures dipping pretty low through the winter. In order to use an outdoor room in colder temperatures, many homeowners include an outdoor fireplace or install a radiant heater (or often both). Radiant heaters are specially designed to direct warm air into spaces or objects, rather than heating the air more indirectly. Having an exterior heat source is great for holiday parties when guests may want to get away from the interior bustle, or to better enjoy that mid-winter hot chocolate break outside.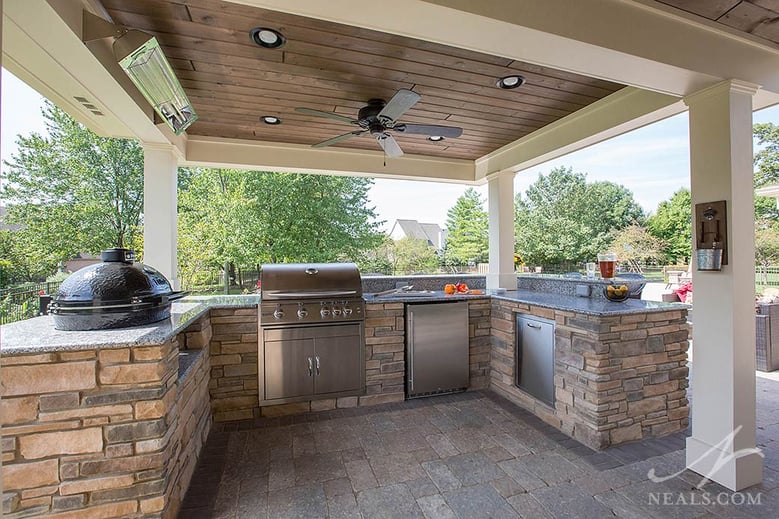 Radiant heater mounted under the roof of this Sycamore Township project will help keep the space usable year-round.
Plan for Hot Temperatures
It's an oft-told joke that the weather in Ohio changes faster than our moods, so it's no surprise that we experience high temperatures not just in the summer. Hot weather brings its own set of considerations for outdoor living. The most obvious solution is to include a covered structure in your plan that will provide shade. A roof will also give you an opportunity to install ceiling fans to keep the warm air moving, which will help keep humidity down and generate a consistent and reliable breeze. Also be sure that skylights used in your project are coated with UV shielding to keep harmful sun rays out of your exterior space without sacrificing the natural light.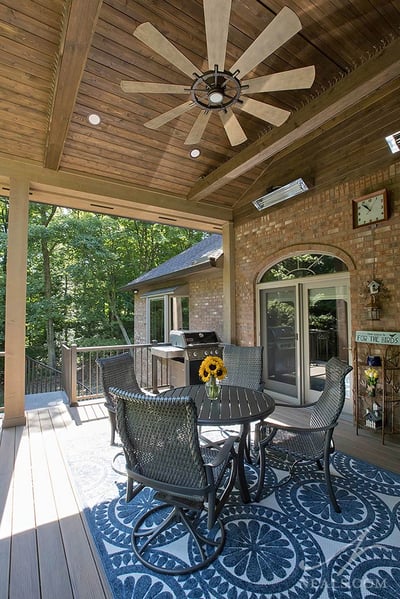 The shelter and fan in this Western Hills outdoor will help keep the space from feeling stuffy in the summer heat.
Keep Bugs Away
Along with providing additional shade, screens in your outdoor space offer a barrier between you and bugs. Retractable screens are a great investment that come in a variety of options (including some that use a specially designed mesh to keep cold air in the space.) Many local yards are made unusable during the warmer months due to bugs, so a screened space can add significant value to your family by allowing you to enjoy being outside without the annoyance of pests.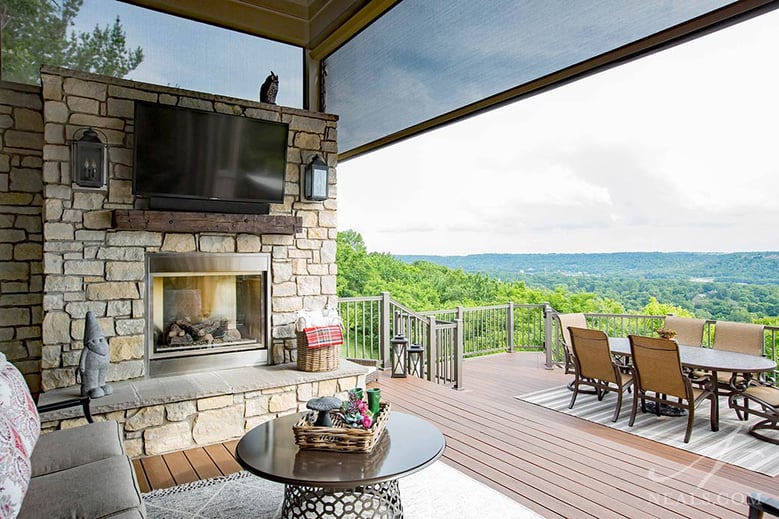 A retractable screen at the front of this Western Hills outdoor living room closes the space off from bugs and adds shade.
NOTE: This post was originally published on 8/22/17. It was last updated 10/27/2020 with new images and minor text edits.