Color in home design can go well beyond just the color of the walls. When it comes to color in rooms like kitchens and baths, looking at full design provides more options and variety in how color trends can be applied and how they can work in different spaces. Using trends in home design can help you and your designer pick a direction and select colors that feel current, but it's important to balance what's popular with what you actually like and want in your spaces. In 2022, the color trends we're seeing can be summed up in two words- Cozy Warmth. Keep reading for a look at our design team's picks for kitchen and bathroom color trends heading into the new year.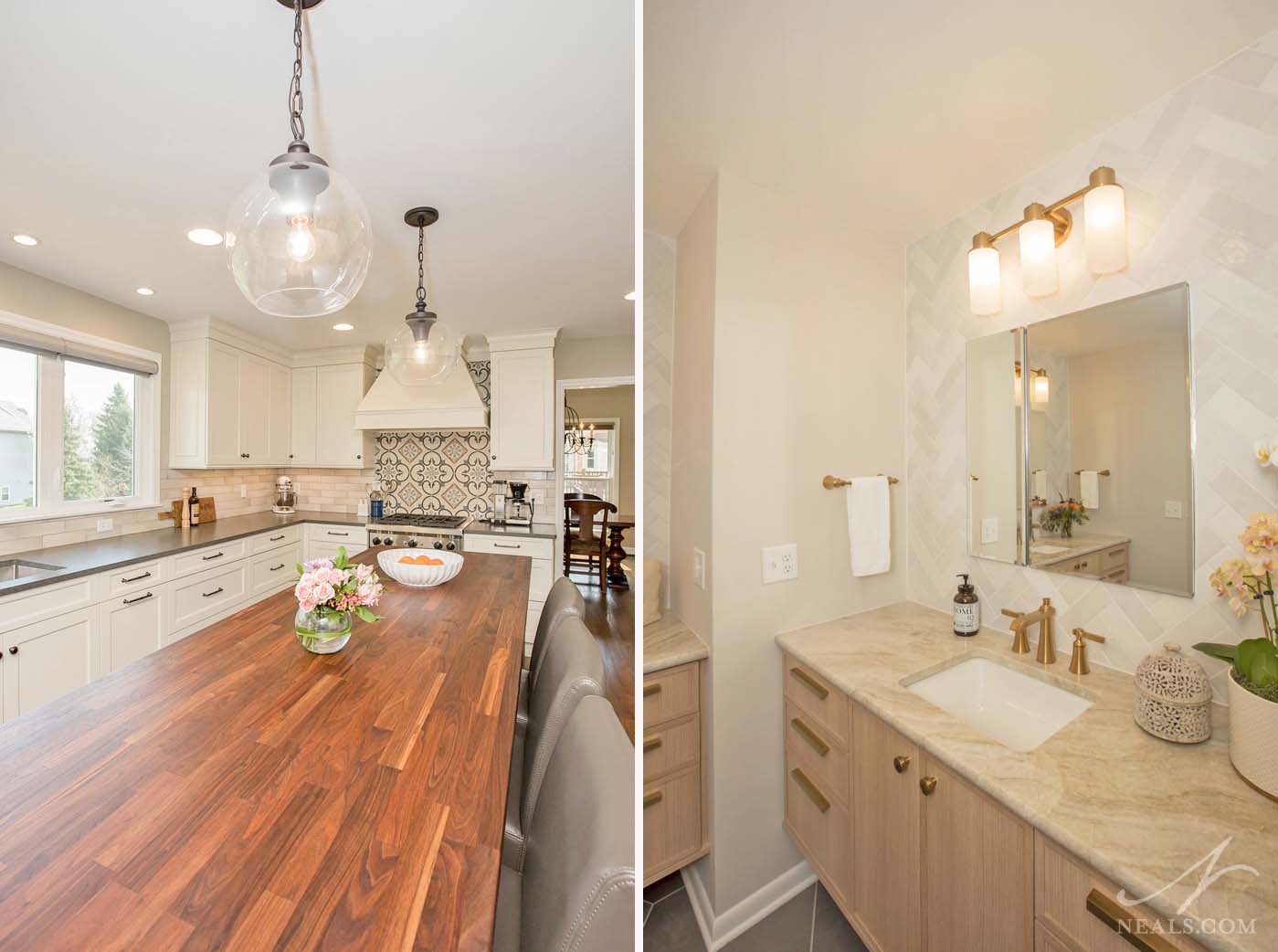 Kitchen Remodel in Loveland | Bath Remodel in Indian Hill
Creamy Whites and Natural Wood
Ivory, ecru, oatmeal, vanilla, or any shade of creamy and warm white have become the color pick for white cabinetry as we move into 2022. When combined with natural woods (of nearly any variety) the space is given warmth and ease- just the sort of space most folks are looking for now. Warmth is a common thread among trends this year as our collective tastes shift away from cold or harsher tones to comforting, nature-inspired hues.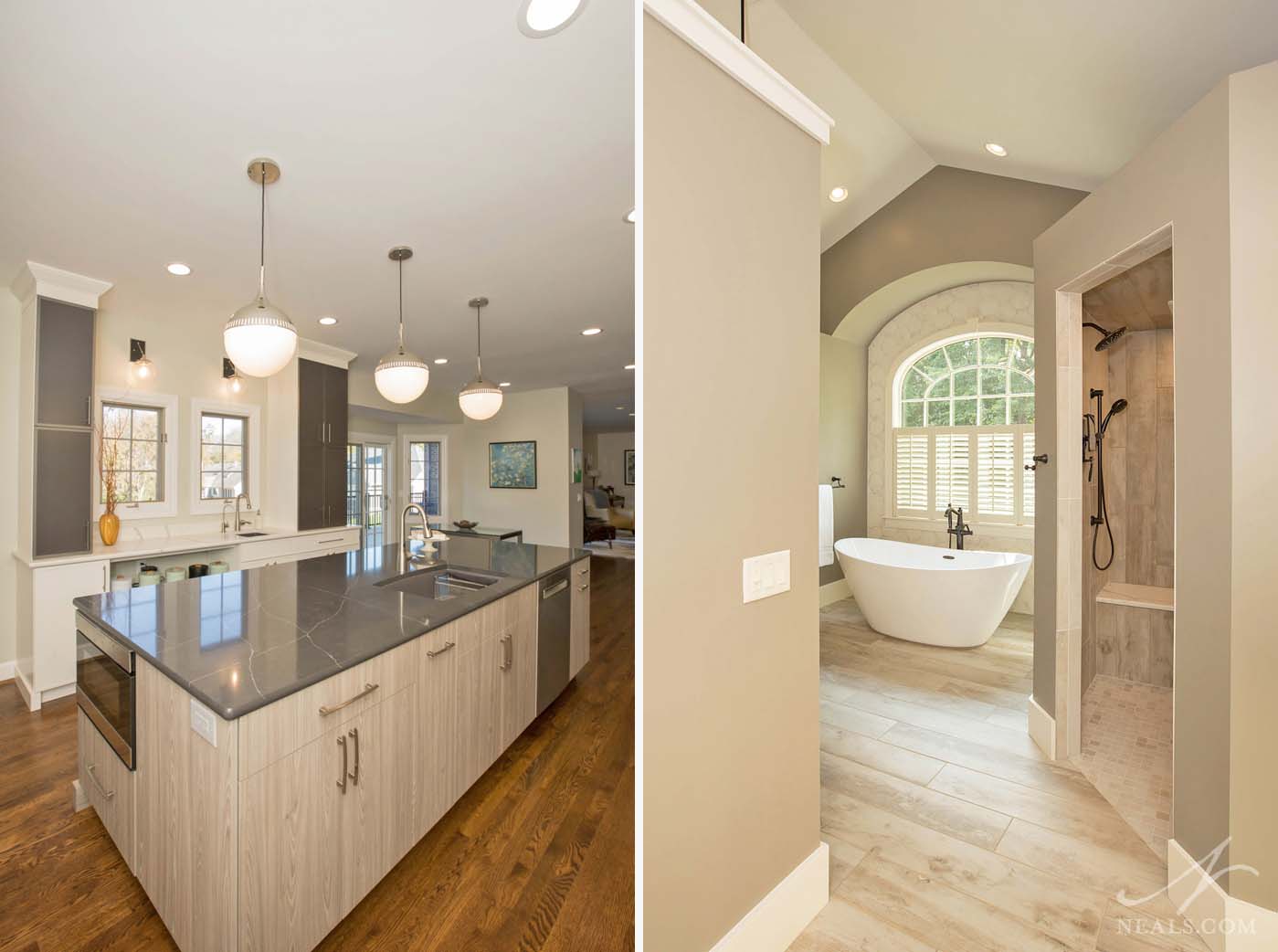 Kitchen Remodel in Blue Ash | Bathroom Remodel in Loveland
Greige and Mushroom Tones
In-between neutral colors like greige (gray-toned beige) and mushroom (brown-toned gray) are taking off, perhaps inspired by a desire to create spaces that work with a variety of decor tastes or as a middle-ground color scheme that's more interesting and cozy. Here we see a tendency toward versatile colors that are not stark like some grays can be, but that still work equally with dark grays, rich browns, and bright whites.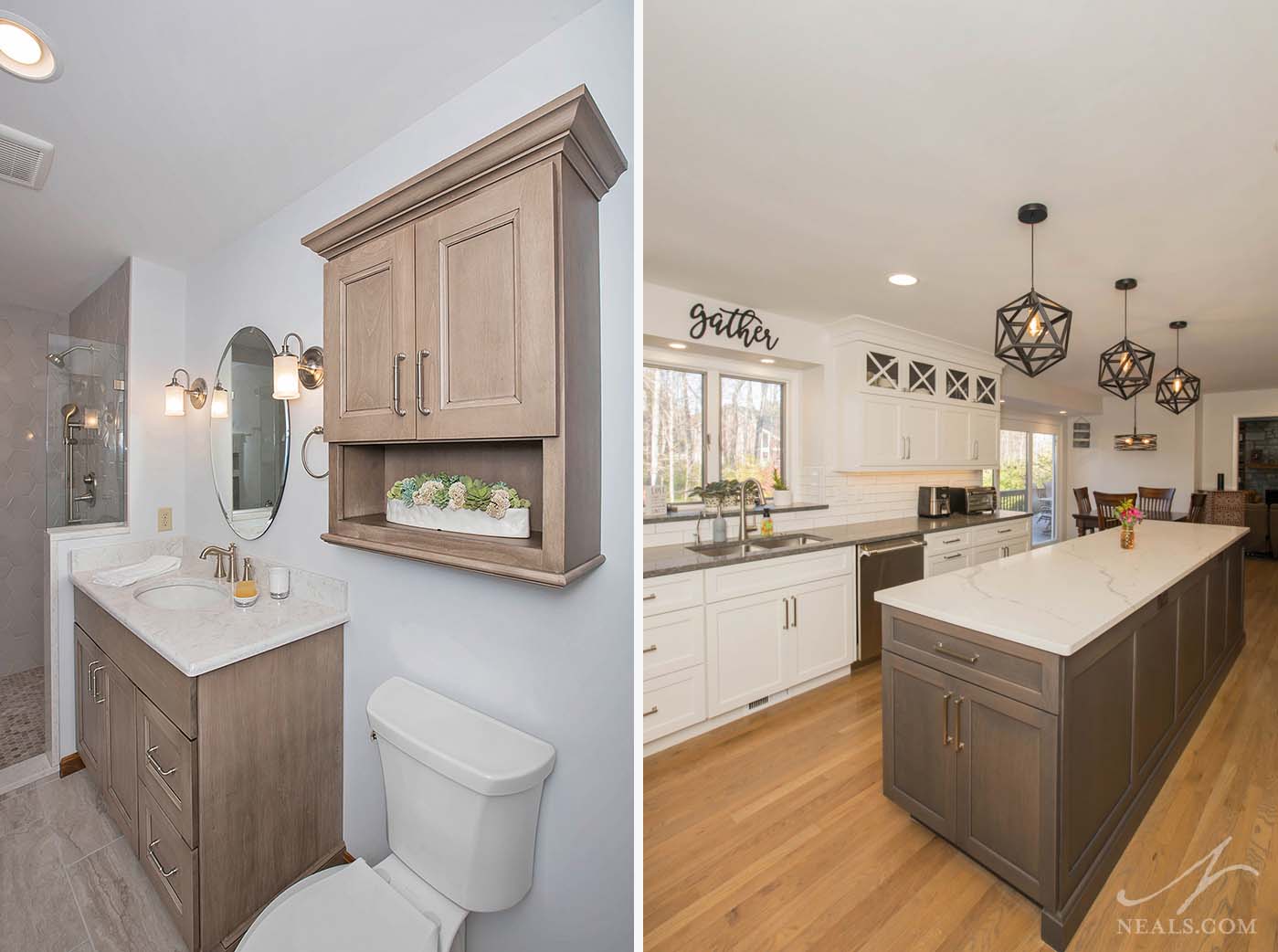 Bathroom Remodel in West Chester | Kitchen Remodel in Symmes Township
Warm Gray Wood Stains
Wood stains with a gray component are often used to temper the vibrancy of natural wood's color and to create a matte or softer appearance. In 2022, we're seeing a movement away from gray stains that create a blue or white cast to the wood, and more use of gray stains that don't reduce the warmth of the wood tone underneath. In this way, spaces with design schemes that need a softer, grayer wood element don't lose out on that trendy warmth we're seeing elsewhere.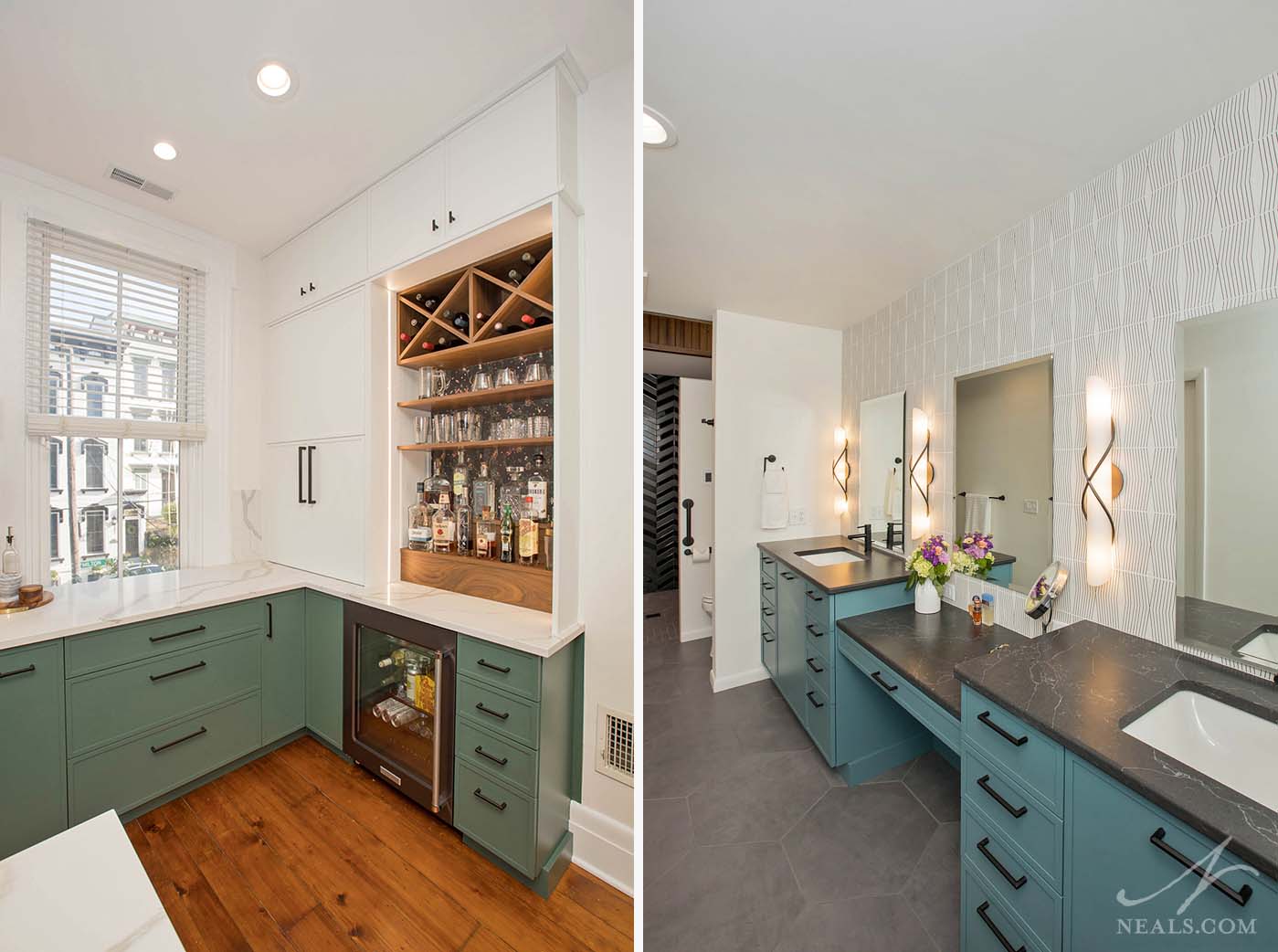 Kitchen Remodel in OTR-Prospect Hill | Bathroom Remodel in Indian Hill
Earthy Blues, Teals and Greens
Colors in kitchen and bathrooms aren't just about gray and brown neutrals this year. Blue and more recently green have been trending in these spaces for the past several years, and are still hanging on. In alignment with the other trends we're noticing, though, we're taking note that these stalwarts of trendy design have taken on more and more earthy and sophisticated tones with hues like sage, emerald, turquoise, and sky blue- all very tailored selections that compliment the other colors we've already highlighted.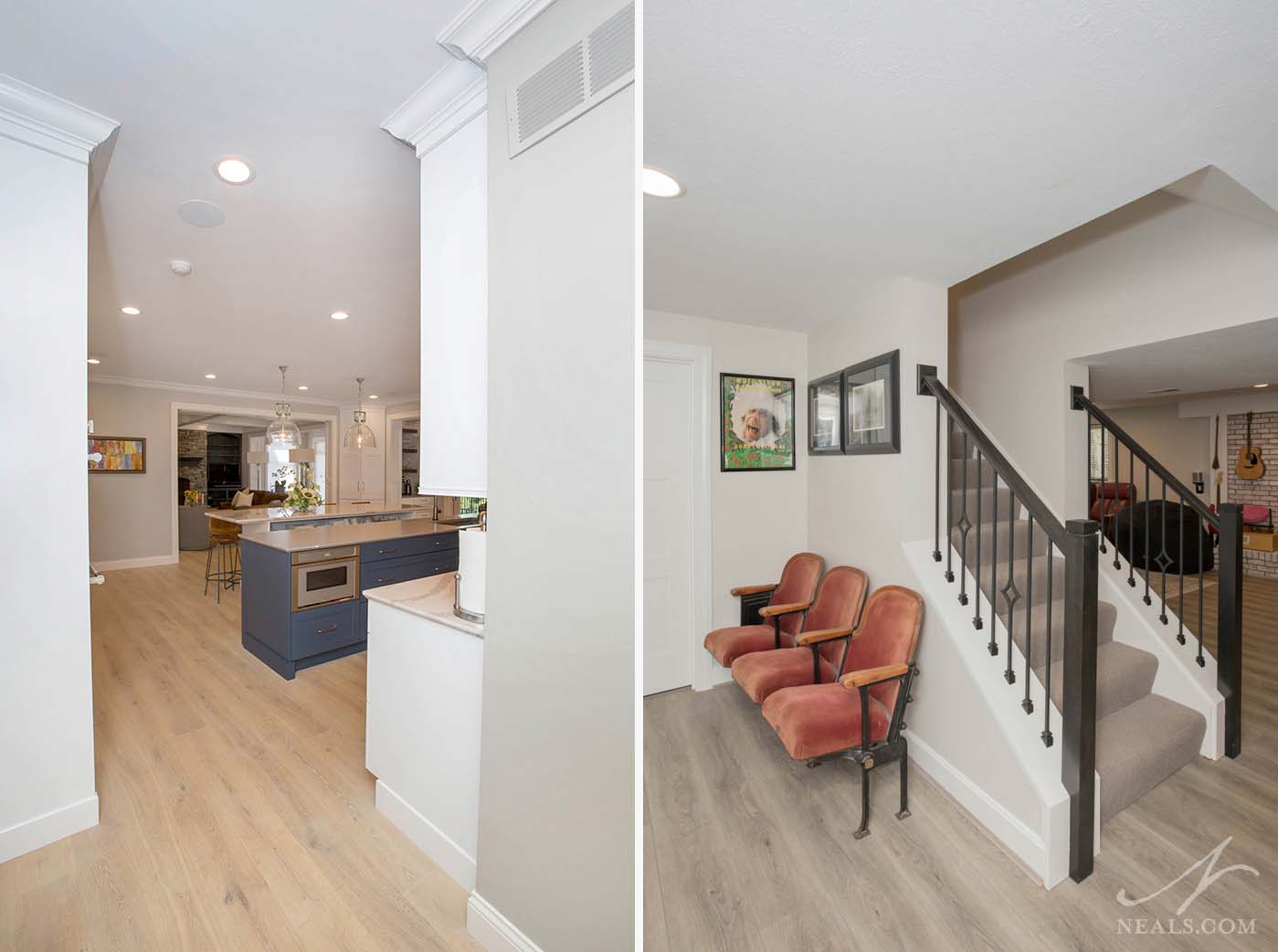 Kitchen Remodel in Indian Hill | Lower Level Project in Indian Hill
Light Wood Flooring
Wood flooring is typically always on-trend, but we're seeing homeowners have an increased inclination toward lighter or blonde wood options. This is owed, at least in part, to the new selection and variety of high-quality light wood options in both hardwood and engineered wood flooring that leave older versions of blond flooring in the dust. A lighter color wood underfoot is a great way to keep a space feeling open and airy and can work for traditional as well as contemporary designs (and everything in between) when used as part of the overall design scheme.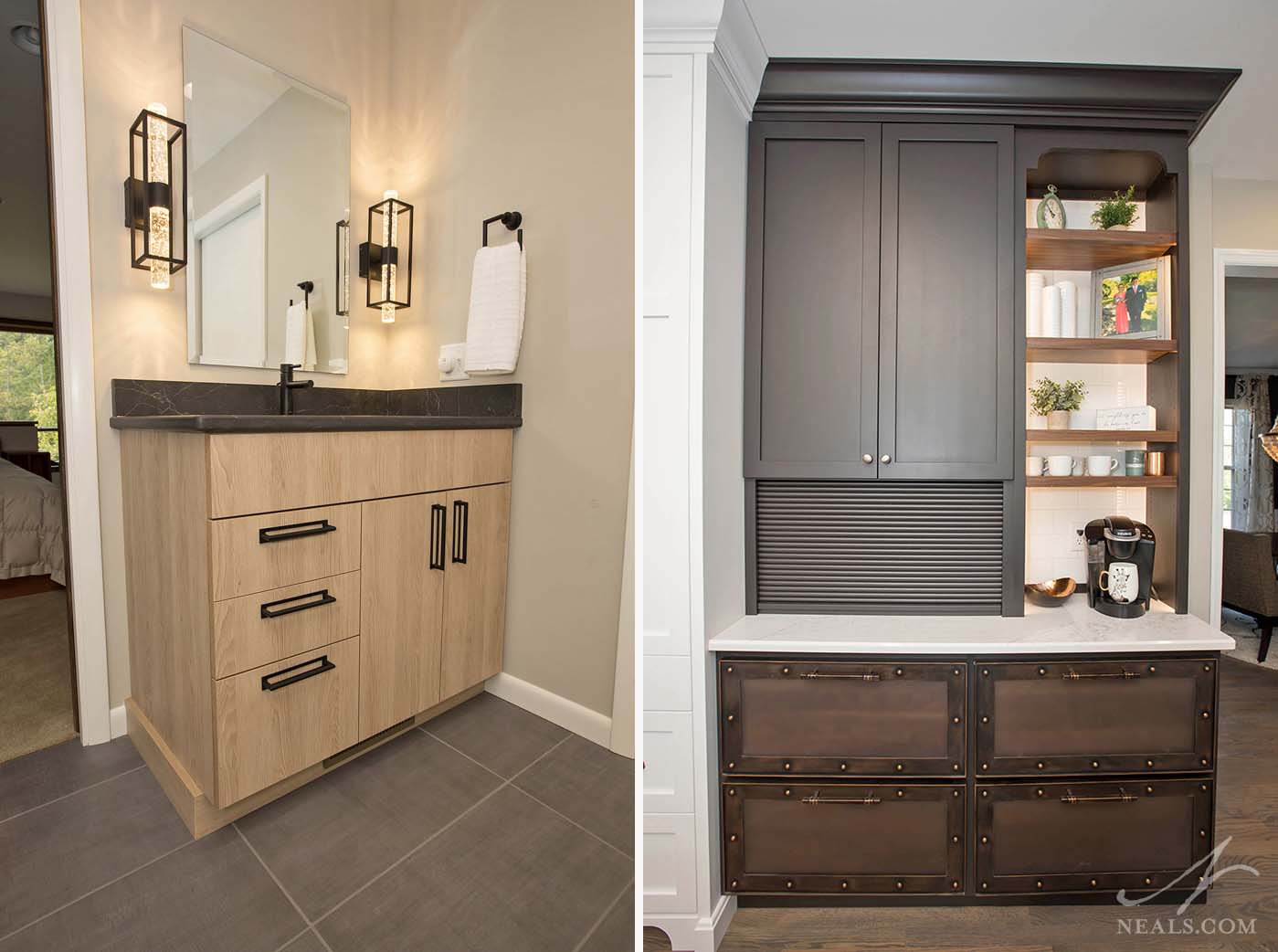 Bathroom Remodel in Indian Hill | Kitchen Remodel in Monfort Heights
Black and Wood Combos
We highlighted black and brown in the bathroom in a recent post, but it's worth mentioning again in this list of trends for 2022, since we're also seeing this combination rising in kitchens. Black and brown are like the power couple of the neutral world, bringing both boldness and warmth to the space. There's no end to the possibilities for how to combine these two colors, so check out the ideas here for a sampling.
If you're ready to make trends work for your Cincinnati area kitchen or bath project, we'd love to talk to you to get started!