For many families, mornings have a lot of moving parts. Various family members, at various stages of life, all trying to get ready to head out the door on time and with everything they need- it can be a pretty tall order. A mudroom or family-centered entry is, ideally, the answer to this chaos. Not all mudrooms are up to the task, though, so it's important to consider what mudroom features and storage options work best to smooth out your morning hustle and get everyone out the door a bit less stressed.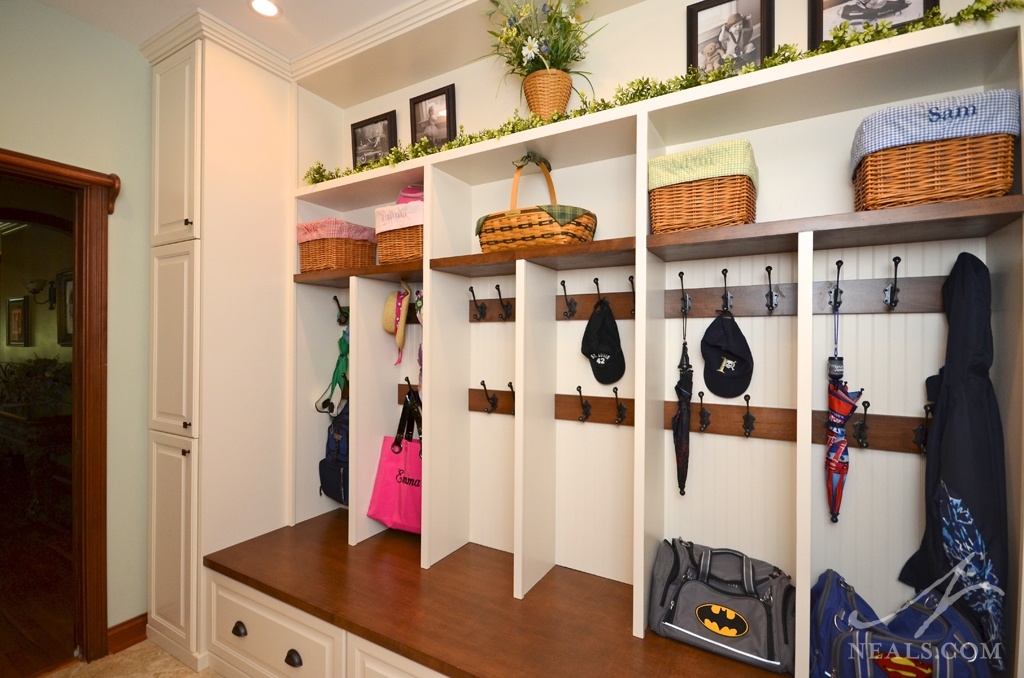 Everyone in this family of six has a place for their things in this Anderson Township mudroom.
Everyone needs some space. Including the dog.
One of the best ways to organize a mudroom is to ensure that everyone in your family, including infants and pets, has some space allocated specifically for their things. This can take the form of a cubby or locker-like cabinet with hooks and a shelf or two, which is a common solution in many area homes. It might also be as simple as ensuring that everyone has as many hangers as they need in the entry closet, or everyone has a bin on a shelf. For families with multiple younger children, this type of space organization can reduce the confusion regarding whose coat is whose or where so-and-so can find his or her backpack.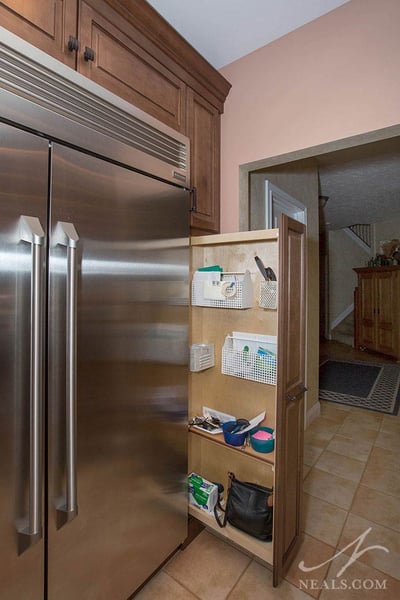 This special kitchen cabinet near the back entry in this Morrow kitchen remodel acts as a depot for the family's important papers and the items they need to take with them.
Family organization is about more than your coats.
If you have school-aged kids in you home, then you know that some of the craziness of the morning routine revolves around their backpacks, homework, lunches, permission slips, etc. When planning your mudroom, look at how you may incorporate organizational systems, such as home office storage features, message boards, or baskets, to keep track of the important items that your family needs as they rush out the door. Having a space near the entry dedicated to the management of your family can decrease morning stress dramatically.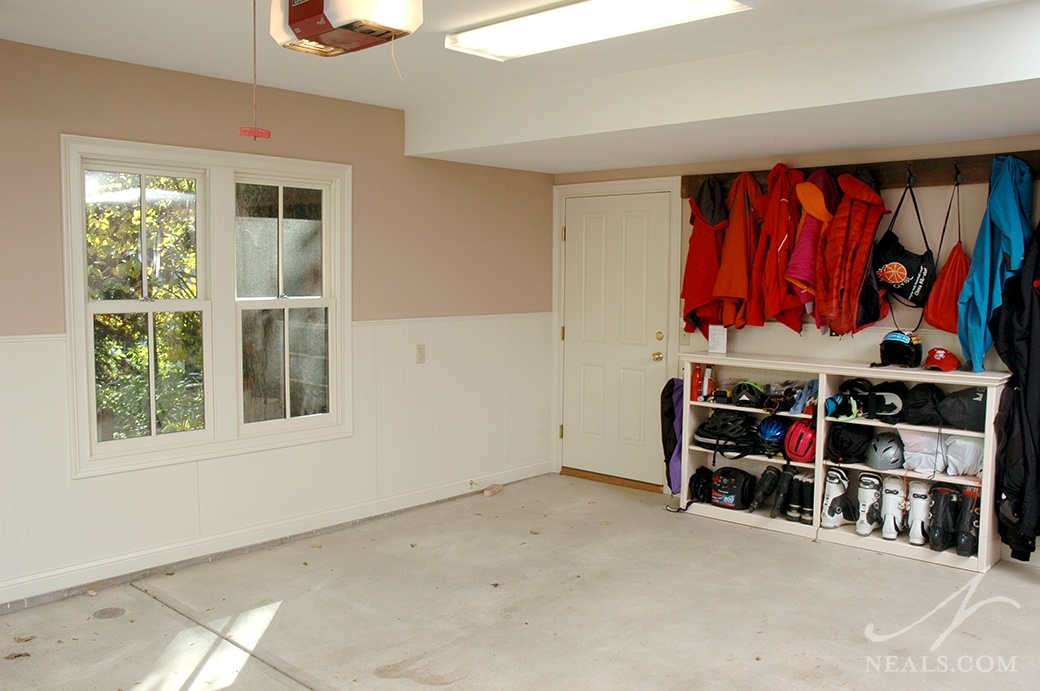 A storage area in the garage of this Mt. Lookout project includes space for sports gear and winter coats.
Remember that seasons will change.
If you're considering improving your mudroom design, it's highly important that you consider what the space will need to hold throughout the year and in the different seasons. In the winter, you will need to most items out and available and they will usually be bulkier. In the summer, you may not have much out at all, and instead swap in sports or leisure items. Think through your family's needs as they change in the year, through what's needed for the school year, around the holidays, and in the middle of summer when you may more likely be trying to get out the door for vacation. A major part of a functional mudroom design is accounting for this fluctuation and ensuring that everything has a home, whether it's in use or being stored away.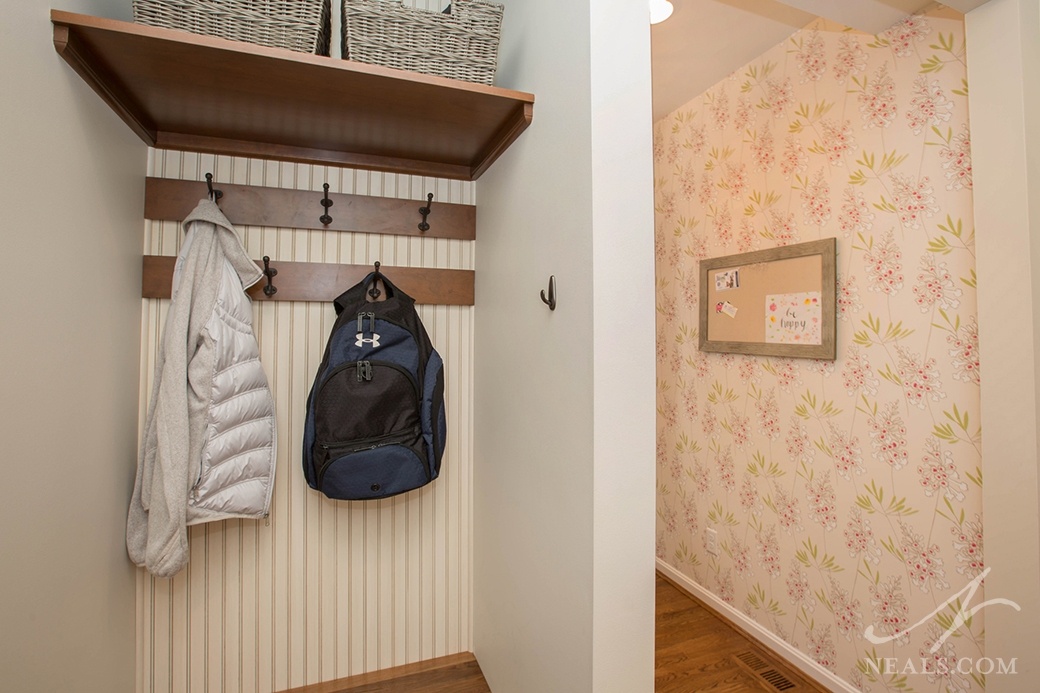 A stylish and open closet in the hallway of this Loveland project offers plenty of hooks for the family and guests.
Consider the needs of your guests.
If your mudroom will also function as a guest entry, be sure to evaluate what their needs may be, even on a minimal level. At the very least, an extra hook or hanger for their coat, a shelf or space for their hat, and if they will be staying a while, perhaps a place for their shoes are all things to account for to make your guest feel welcome and comfortable. If you have the space, a dedicated cabinet or cubby is ideal.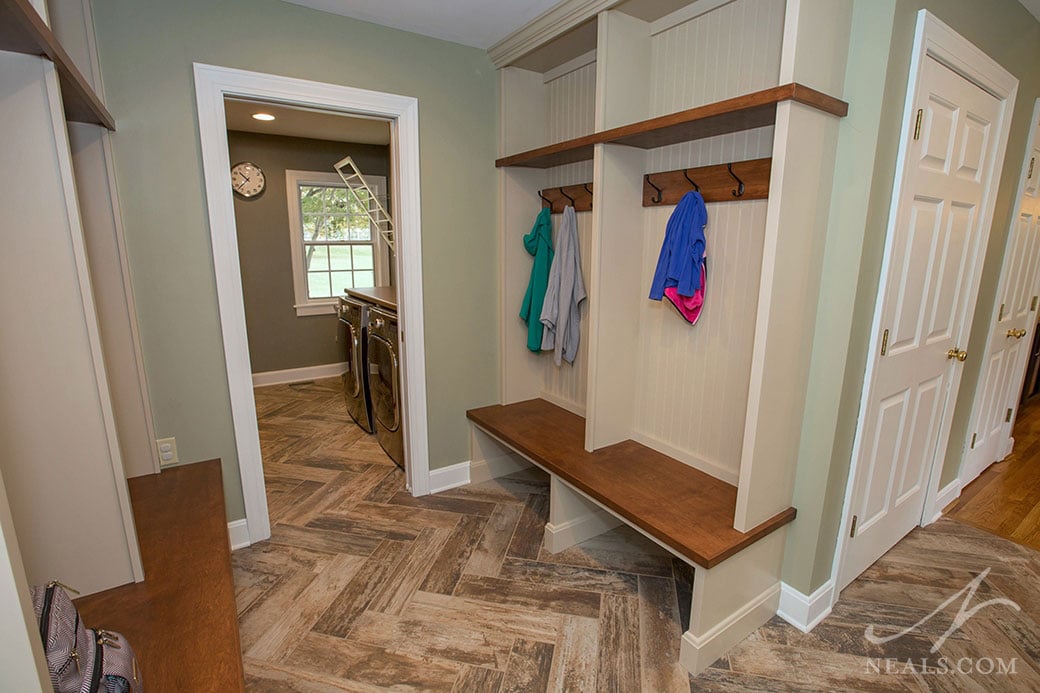 A laundry room at the back of the mudroom in this Western Hills whole house remodel makes outside messes easier to contain.
Easy access to the laundry is a bonus.
If your home is arranged in a manner that allows your mudroom to be connected to your laundry room, this can be a major benefit to smoothing your family's ins and outs. If someone often comes into the home with messy or wet clothing, proximity to the laundry room can help prevent that mess from spreading into your living areas. This is also an ideal arrangement if someone in you family prefers to bring their laundered business clothing to the office to change, since those items can be kept on hangers right near the entry, ready for them to grab on their way out.