Bath design professionals always consider how a room will be used by a home's occupants. They also take into consideration the special needs of children, large or petite adults, health or mobility issues and the needs of older adults. What may come as a surprise is that many standard bathroom products and common bathroom design elements are also considered to be universal design features that make a bathroom useable for people of different body types, ages and abilities.
Here are eleven universal design features to consider if you are planning a bathroom remodeling project.
1. Walk-in Shower
Walk-in showers are growing in demand among consumers. They have low or no thresholds. Walk-in showers without doors are easy to access and maintain. Many walk-in showers are custom built to fit into almost any space. Accessories can be added for comfort and safety.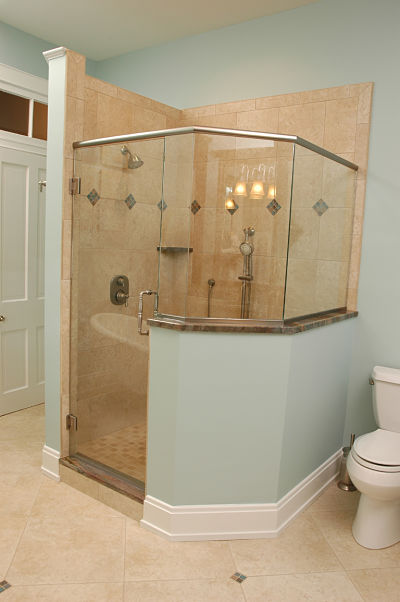 2. Handheld Showerhead
There are many advantages of a handheld showerhead. You can direct the spray for washing hair and rinsing off soap. It's a great feature to have in a bathroom if you have to assist young children with bathing. Showerheads come in wands and round sprays. Kohler has recently introduced a flip spray handheld showerhead that can be adjusted in four different modes.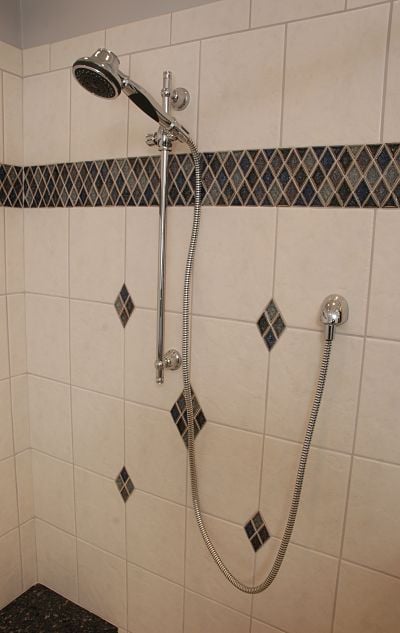 3. Shower Bench
If you've ever had a leg injury, bathing can present a problem. A shower bench can be accommodating and provide support for everyday grooming. It can also be a handy place for bath supplies. For older adults, a shower bench is an asset, especially for those with impaired mobility or arthritis.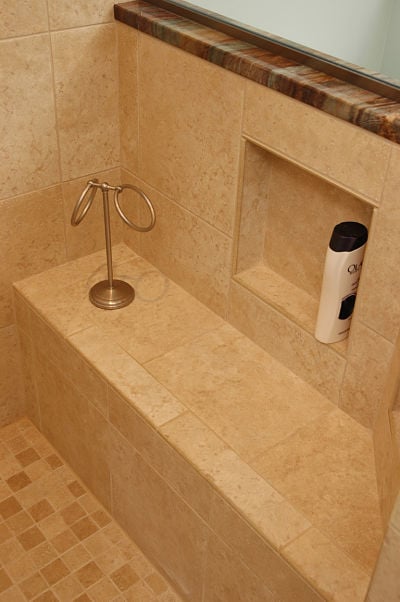 4. Slip-resistant Flooring and Tile
Every bathroom should include slip resistant flooring for safety in both the shower and throughout the room. Look for flooring that provides traction to avert slips and falls. When shopping for tile, choose products that are certified as slip-resistant.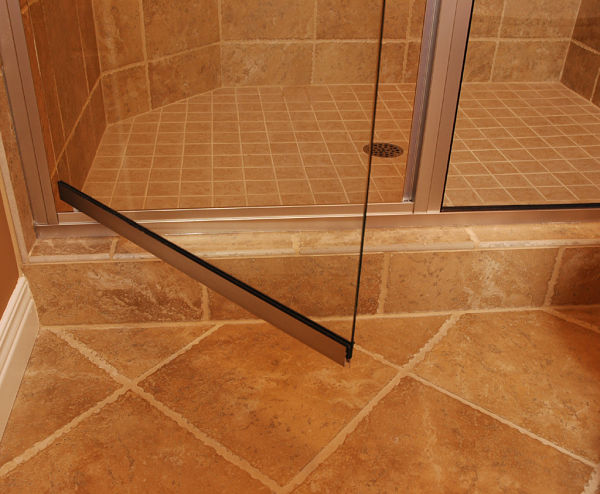 5. Wider Entryways
Entryways at least 36 inches in width are recommended for wheelchair access. Wider entryways make it easier for all of us to move about and create an illusion of space in a home. If you collect laundry in a bathroom, it's much easier to move a laundry basket in and out of the room through a wider doorway. Simple accommodations can add comfort and safety at home.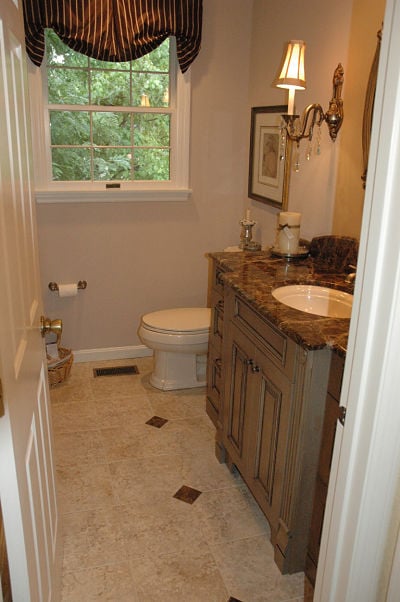 6. Optimized Floor Space
By design, bathrooms are small spaces. The average size bathroom is 5-by-8 feet or 40 square feet of area. Clear floor space makes it easier to move about especially if a person requires a walker, crutches or a wheel chair. There should be a minimum 5-foot turning radius of floor clearance in a bathroom to accommodate a wheelchair. More floor space can be achieved by installing the entry door to the bathroom so that it swings out of the room. Other space saving features include wall mount or pedestal sinks, vanities with toe kicks and shelving built into a wall.
7. Level Thresholds
Slips and falls at home are common causes of injuries. They often occur in areas of our homes where there may be a tripping hazard due to a threshold transition. In bathrooms threshold transitions may be in the entryway and in the entry to the shower. Level thresholds and showers with no threshold can help avert falls.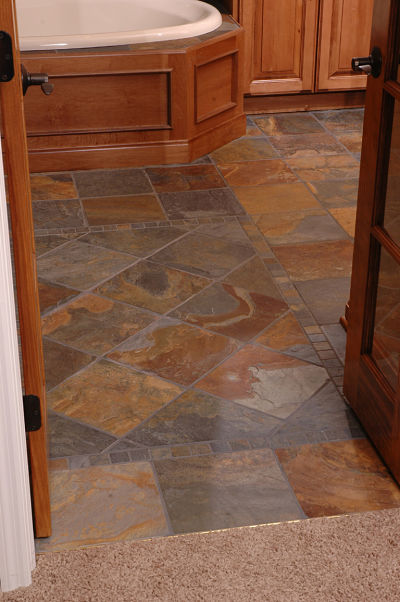 8. Vanities with Toe Kicks
A vanity with a toe kick makes a sink more accessible. A toe kick is a recess at the bottom of a cabinet base. In addition to exposing more of the floor in a bathroom, the design enables a person to work more closely at a counter surface and maintain his or her balance.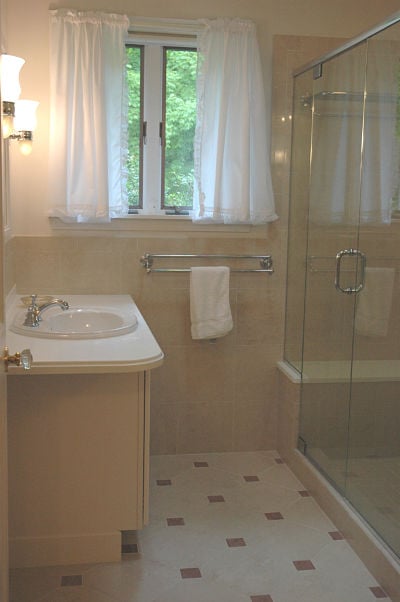 9. Pedestal Sinks
Many people like the sleek design of a pedestal sink. Pedestal sinks are space savers in small bathroom and help optimize floor space. They are also more accessible for a person who may require a walker for support or a wheelchair.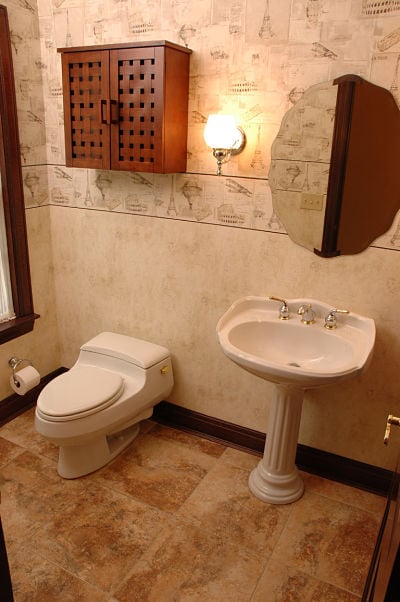 10. Grab Bars
Manufacturers of bathroom accessories and hardware have changed the look and style of grab bars so that they blend with the décor. Grab bars should be placed 33-to-36 inches from the floor to prevent falls in a shower, near a toilet or in the open floor area. Grab bars are also installed in tub areas for support.
11. Lever Handle Faucets and Doors
Lever handles make it easy to turn on a faucet or open a door with the push of a hand rather than a grasp and twist.