Universal Design features are subtle and stylish but have a purpose. The concept has been promoted to make homes more livable for a lifetime of use. According to the National Kitchen and Bath Association, 60 percent of designers surveyed for its 2014 Design Trends Survey say they are including Universal Design features in their bathroom projects.
Bathroom safety is important to every homeowner. If you are planning to remodel a bathroom take some time to consider the details that will make the room comfortable, functional and safe for all users. Some of these details are Universal Design features, which the National Association of Home Builders defines as:
"The design of products and environments to be usable by all people, to the greatest extent possible, without the need for adaptation or specialized design."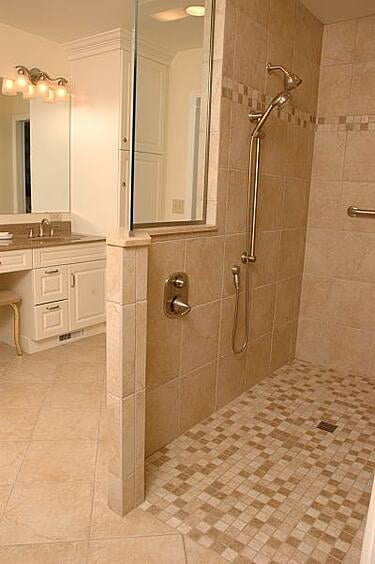 Here are twelve Universal Design features that are a hot trend in bathroom remodeling:
1. Curbless Showers
Along with level thresholds, curbless showers eliminate tripping hazards and will accommodate users with impaired mobility. Seventy percent of NKBA designers expect to be doing more bathrooms with curbless showers this year.
2. Walk-in Showers Without Doors
Walk-in showers without doors are accessible and much easier to maintain. They continue to grow in popularity.
3. Grab Bars
When grab bars were first used in baths they were often unsightly but were an important safety feature. Today, manufacturers offer a range of attractive designs that blend with cabinet hardware and towel fixtures.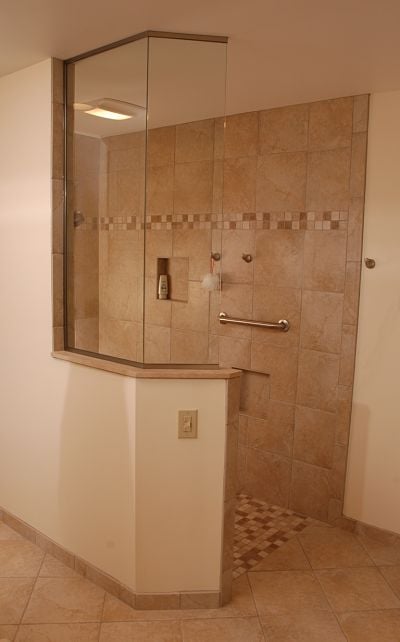 4. Wide Entryways and Open Space
Wide entryways add a feeling of spaciousness to a home. An entryway of at least 36 inches in width is recommended along with open floor space if someone in the home uses a wheelchair. There should be at least 5 feet of open floor space for a turning radius.
5. Level Thresholds
Level thresholds help to reduce home accidents due to tripping and falls. Level thresholds throughout a home facilitate transitions between rooms and improve the overall traffic pattern.
6. Handheld Showerheads
Handheld showerheads are great for bathing young children but also make a shower more efficient because less water is used and it can be directed to remove soap and shampoo. Whether a primary shower mounted on an adjustable rod, or a secondary showerhead mounted on a wall, handheld showers are well worth the investment. More homeowners are also installing thermostats in their showers to steadily control the temperature of water.
7. A Shower Bench
Seventy percent of NKBA designers noted that they will be adding more shower benches to bathrooms.
8. Slip-Resistant Flooring
In any bathroom slip-resistant flooring is essential. Using small mosaic tile on a shower stall provides more traction when the floor is wet. Look for tile that is certified as "slip-resistant", there are many ceramic tiles that meet this standard. Ceramic tile can be cold underfoot, so you may want to consider adding radiant floor heating.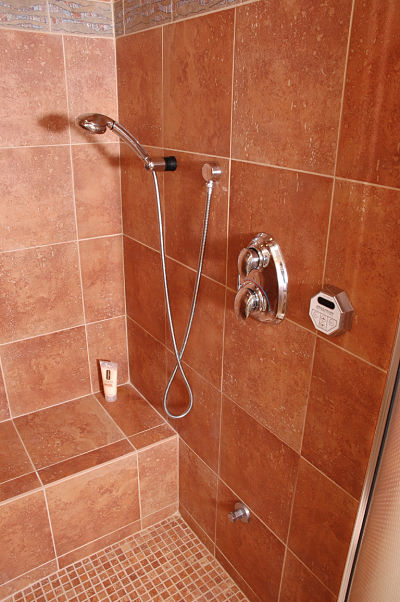 9. Wall Mount Sinks
Bathrooms are often small spaces. The average size of a bathroom is 5-by-8 feet. Wall mount sinks use less space than sinks mounted on a vanity and create more open floor space within the room. Wall mount sinks are more easily accessible if a person in the home uses a walker or wheel chair and the height can be adjusted according to the needs of the user.
10. Lever Handle Faucets
Lever handle faucets in sinks and showers are much easier to use than knobs, particularly when your hands are wet. Again, if a person has trouble with their grip or has joint pain in their hands, a lever can be easily pushed on and off to control the flow of water.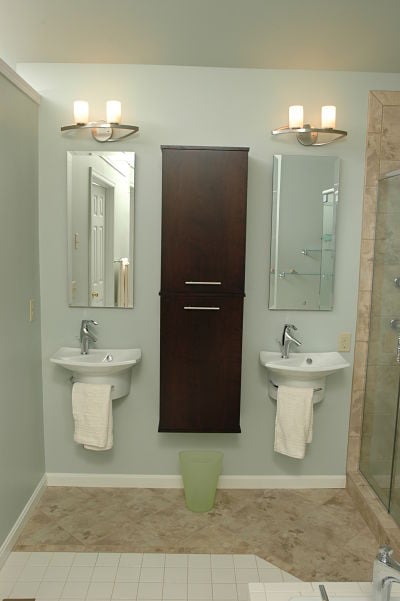 11. A Comfort Height Toilet
If there is a consensus about bath design trends, this product is it. Eighty-four percent of designers surveyed reported that they will use comfort height toilets in their projects and two-thirds noted that they expect the demand will increase.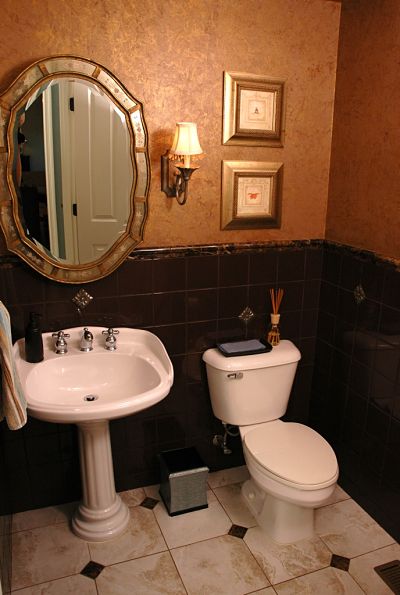 12. Sensor Activated Faucets
Sensor activated faucets have two advantages that appeal to homeowners, first they help to conserve water when you are washing hands or brushing your teeth and second, they are easy to use especially if a person experiences arthritis.