Turning your yard into an outdoor living space can bring both large and small changes. The large changes are what get the most attention and usually set the tone for the new exterior space. Pavilions, decks, patios and porches are all major additions to any home. Beyond these larger items, however, are a hundred details that make them work and make them yours. Based on the outdoor projects we have under our belt, here's four details we think you should consider.
1. Waterfalls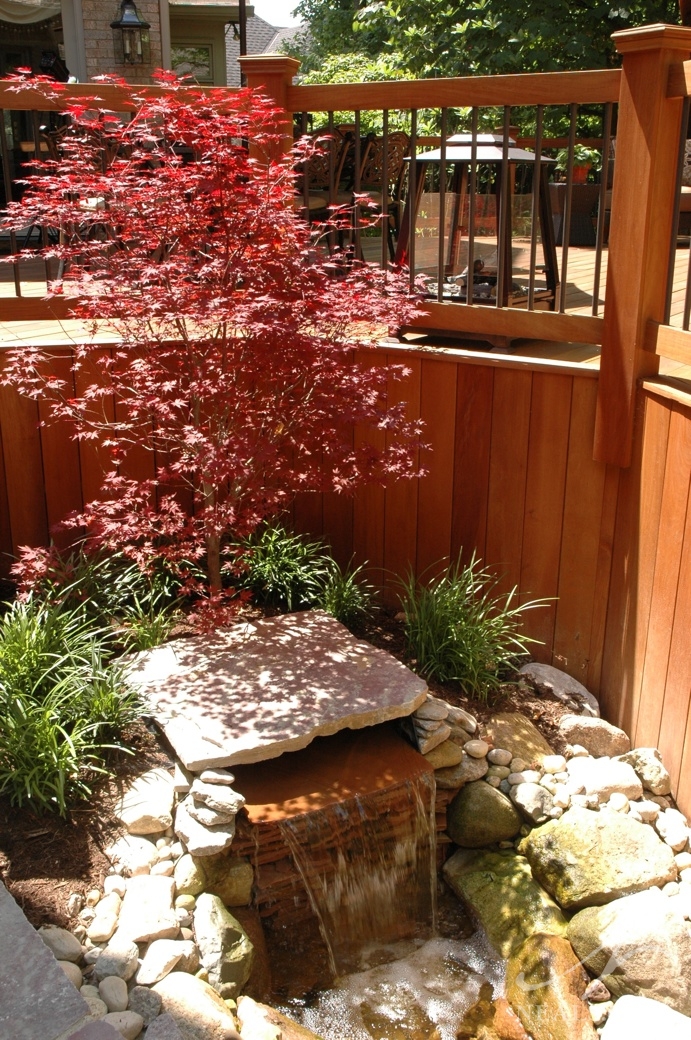 In this Neal's backyard remodel, a small waterfall was included in the area between two zones. The rustic design and the Japanesse maple planted nearby help it blend in naturally.
Adding any kind of water feature to your outdoor living area is an easy addition that comes with a wide range of options. A waterfall in particular also boasts the soothing sound of running water, and can dramatically increase the natural ambience of your yard.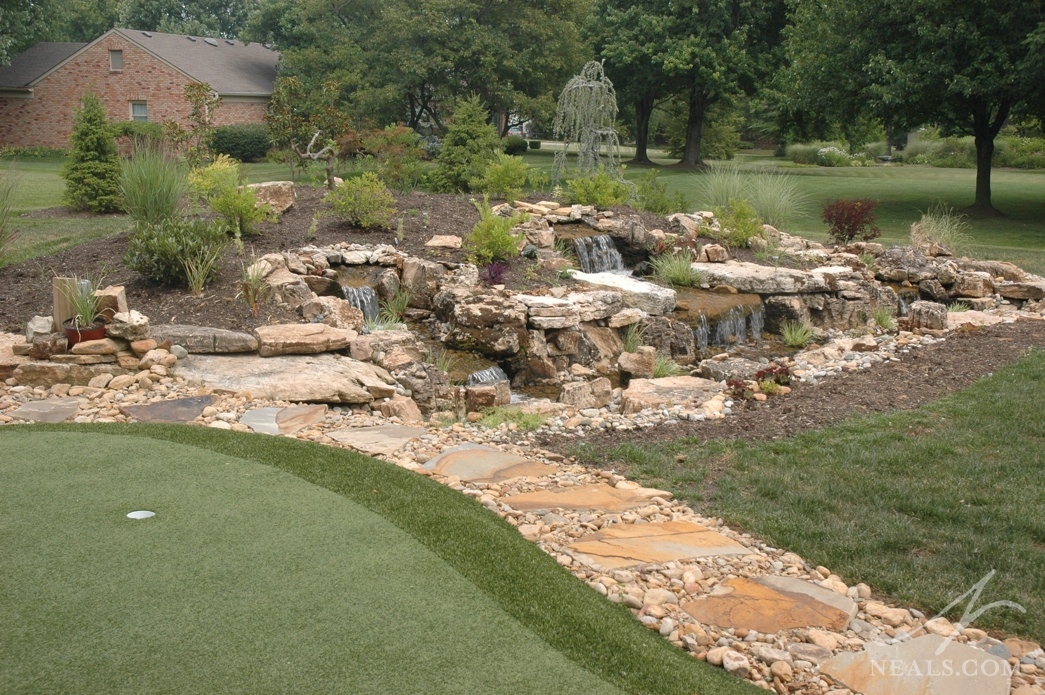 A long mound at the back of this yard is home to several small waterfalls that create a playfull creekbed-style feature. In addition to providing ambiance, the mound helps define the poperty's back boundary
Whether you choose to incorporate a waterfall as a single, contained unit or to include it as part of a larger naturalized landscape like the one above, you'll need to plan for the pumps and pumbing required to make the waterfall work. Most of the pump mechanical pieces can be easily concealed within the landscape surrounding the waterfall. Work with a landscaper to ensure that you have installed the proper pumps and filters to keep the water flowing.
2. Beverage Refrigerators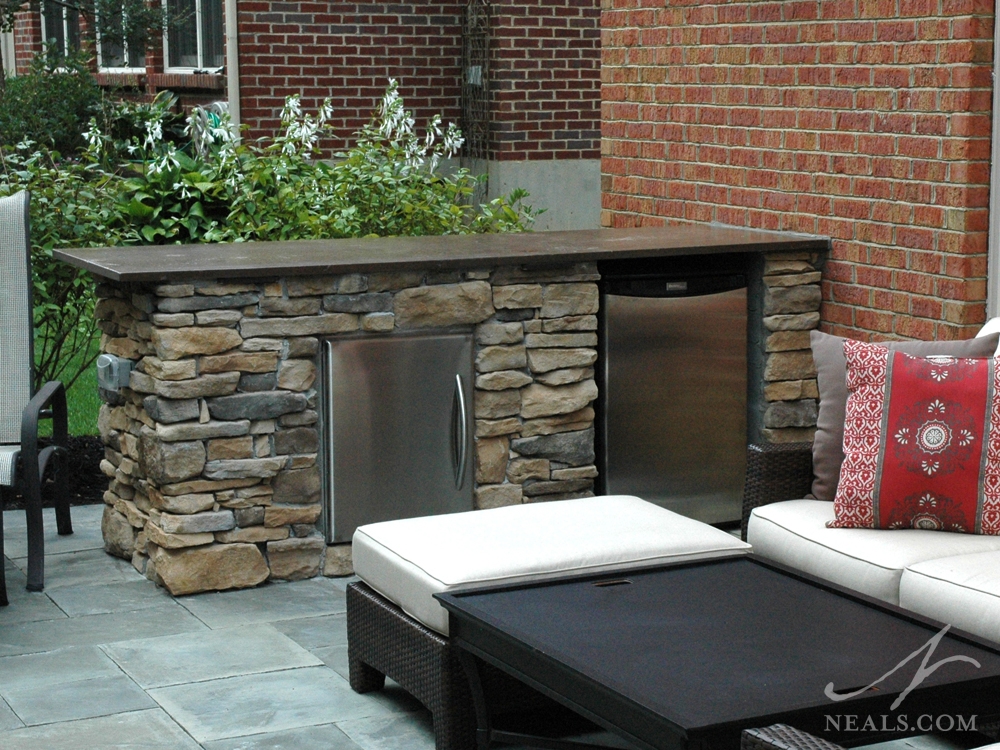 A short retaining wall near a sitting area in this backyard patio offers the perfect spot for a beverage refrigerator. A stainless steel cabinet offers additional weather-safe storage.
It seems silly to highlight this specific appliance, but one can never underestimate the importance of having a cool drink at hand. Beverage coolers are a detail that can help your new outdoor patio design feel more like a room, and make it more convienent to keep food and drinks cool when you are entertaining.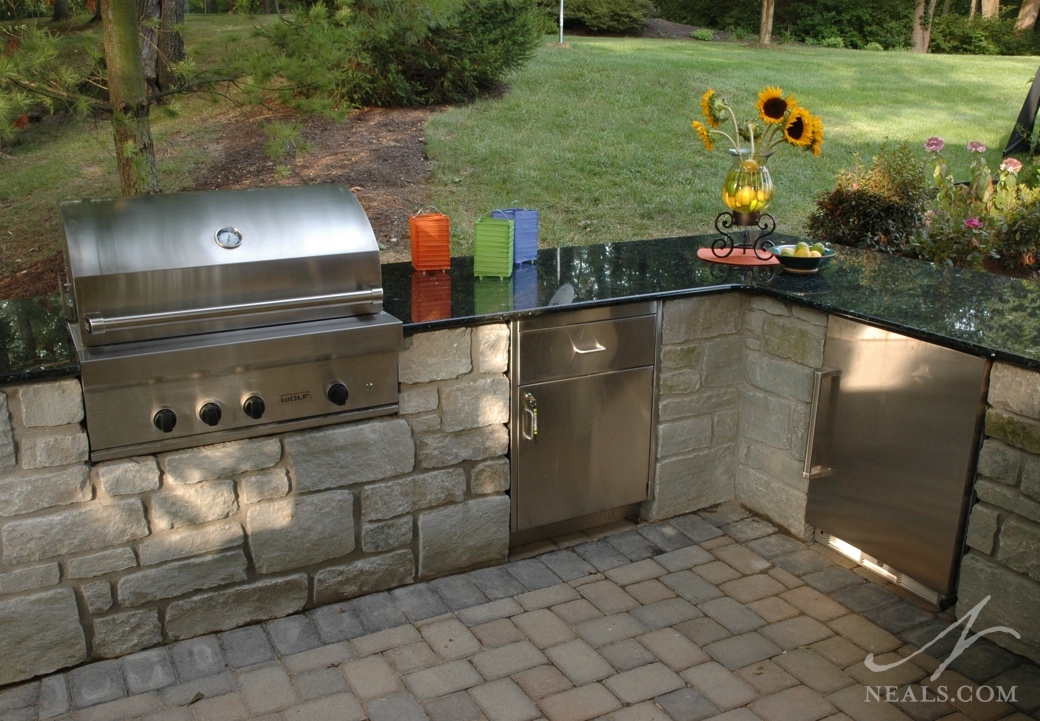 The beverage refrigerator in this Neal's project works in conjuction with a grill and storage to create a well-appointed outdoor kitchen.
Including a beverage refrigerator, or even a simple mini fridge, will eliminate the need to go inside for a cold one, as well as relieve you from needing to fill a cooler with ice for your next backyard BBQ. Just like any exterior appliance, be sure to work with a contractor that can install the electric work safely and within code.
3. Evening Lighting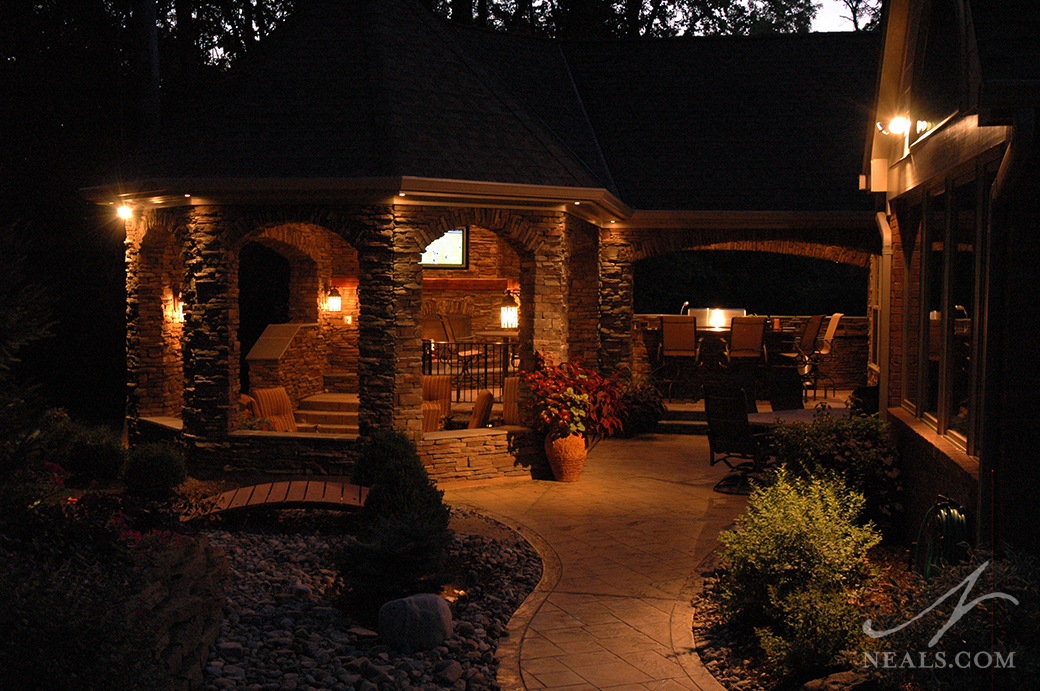 In the evening, lighting added to all areas of this backyard pavilion helps to highlight the walkway and illuminate the interior, but also illuminates the landscape.
The importance of proper illumination throughout your home can not be overstated, so it makes sense to include a lighting scheme in your outdoor living project. In addition to illuminating pathways and hazards in the traffic areas around your home, lighting can dramtically change the ambient quality of your outdoor project when the sun goes down.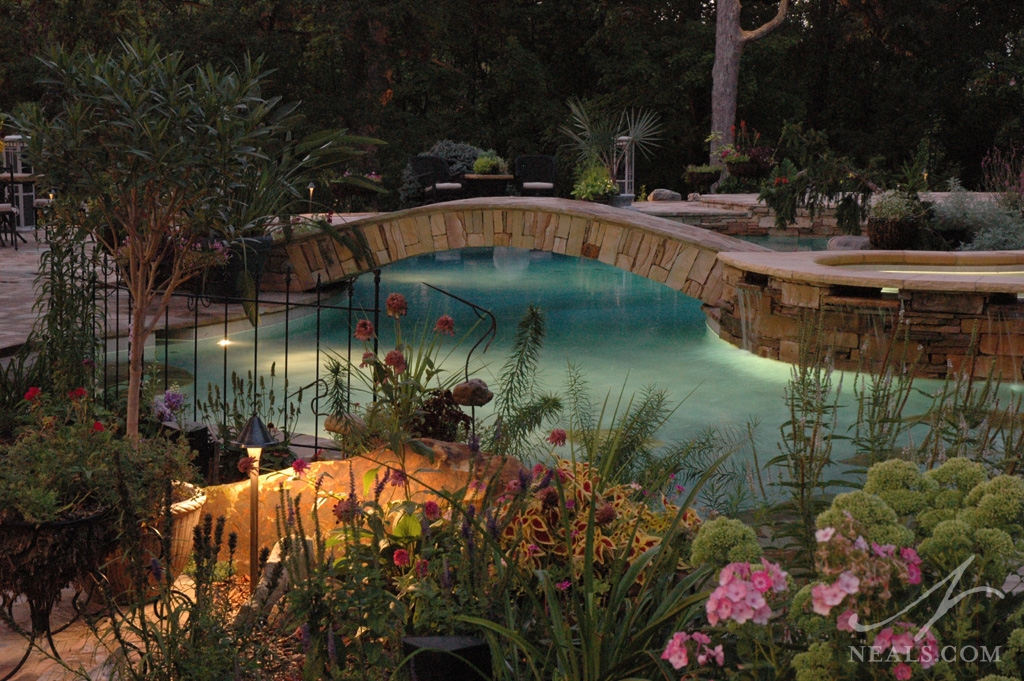 Lighting inside the pool and inserted into the surrounding landscape helps keep this outdoor space safe in the twilight hours.
4. Ceiling Fans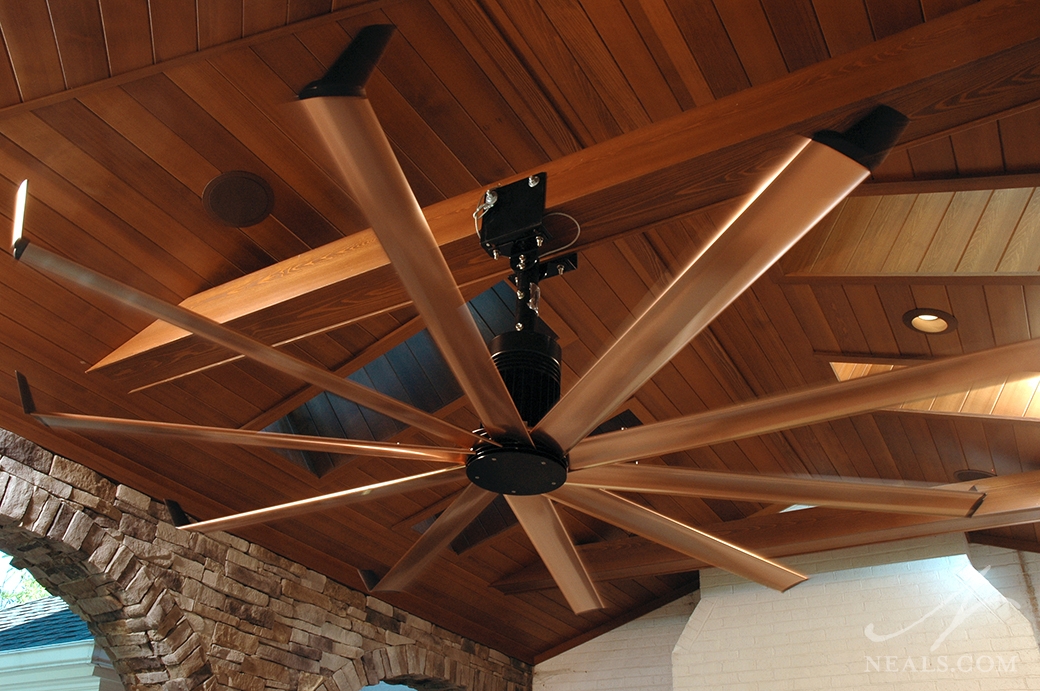 An extra large, industrial style fan in this backyard pavilion by Neal's is perfectly sized to prevent hot air from welling up inside the space.
When you're thinking about an outdoor space, a ceiling fan is probably the last thing on your mind, but there's good reason to put them on the list to consider. Installed in an exterior structure, a fan will help keep all the fresh air circulating and prevent warm summer air from pooling under the roof. Especially in the humid and hot Cincinnati summer, even a single fan over a sitting area can be a blessing.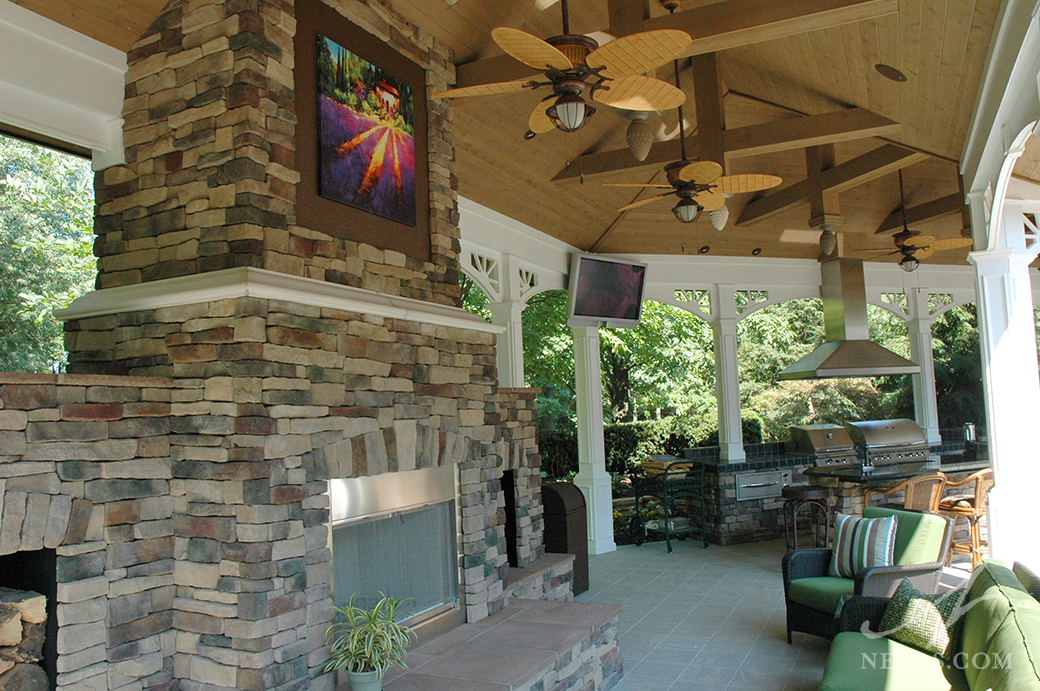 A series of tropical-themed fans along the spine of this pavilion are practical as well as stylish.

Installed under a roof, most interior fans will be safe to use outdoors. This means that you have a wide range of size and style options at your disposal, and it should be easy to locate a fan that suits the theme and design of your new outdoor living space.