In interior design, there are three large categories of design styles that you have probably come across if you've been looking into changing your home. These are Traditional, Contemporary, and Transitional. While Traditional and Contemporary design styles are somewhat easier to conceptualize, Transitional style is harder to describe. In very basic terms, Transitional design style fills the gap between rich, detailed Traditional style and minimal, angular Contemporary style. That's just a high-level definition, though, so let's take a closer look.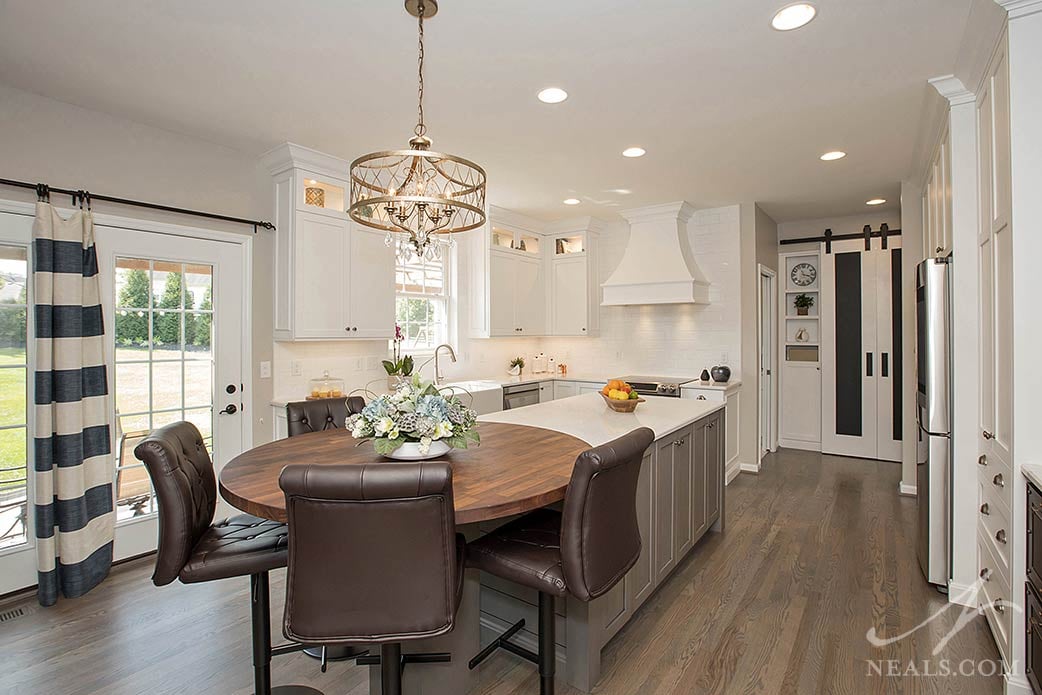 Kitchen Remodel in Monfort Heights
Transitional design has become a popular go-to design style for kitchens, bathrooms and interior spaces. For many homeowners looking to create home designs that will last and adjust to their own changing tastes over time, Transitional style provides a useful middle ground by blending together both traditional and contemporary elements. The particular mix for any given space is based primarily on the homeowner's style preferences, but can also be influenced by the style of adjacent rooms, the architecture of the home, and even the style of the neighborhood to align with potential home value needs in the future.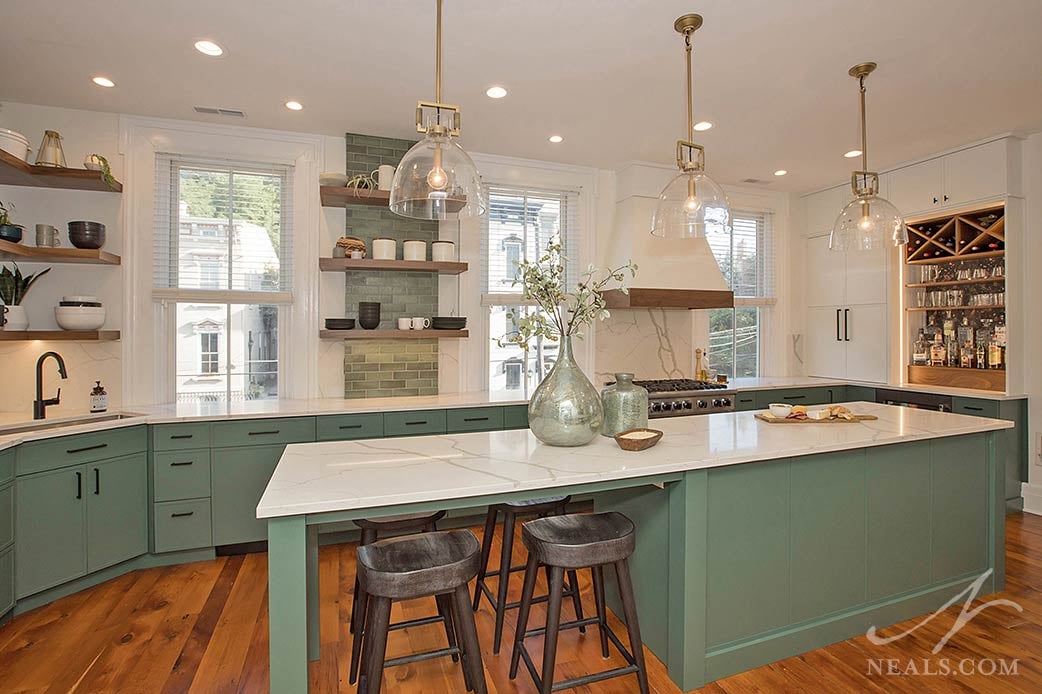 Kitchen Remodel in OTR-Prospect Hill
While there is no set formula for Transitional design, generally-speaking it can be thought of as a minimalist approach to Traditional design. For cabinetry, a recessed door style is one of the best features of a Transitional kitchen. This choice gives the cabinetry interest and depth but holds back from the intricacy more often found in Traditional spaces. Transitional design will also use softer, lighter colors heavily favoring lighter neutral tones like white and gray for the majority of the elements. Accent colors like blue, green, or dark gray can also be found in Transitional design.
In the Midwest, Transitional design also tends to welcome farmhouse style elements. These include the use of apron front sinks and goose-neck faucets, interesting hardware with a unique quality, and natural accents such as wood flooring, butcher block counters, and wooden open shelving.
Contemporary elements find their way into Transitional style via smaller or more specific design choices. Modern-style light fixtures, especially airy cage light pendants or lights with clear blown glass, bring a more contemporary quality to the space than heavier fixtures such as classic chandeliers. Transitional style may also use a basic or minimalist countertop edge profile (the way the countertop is shaped along the front edge) which adds a contemporary feel.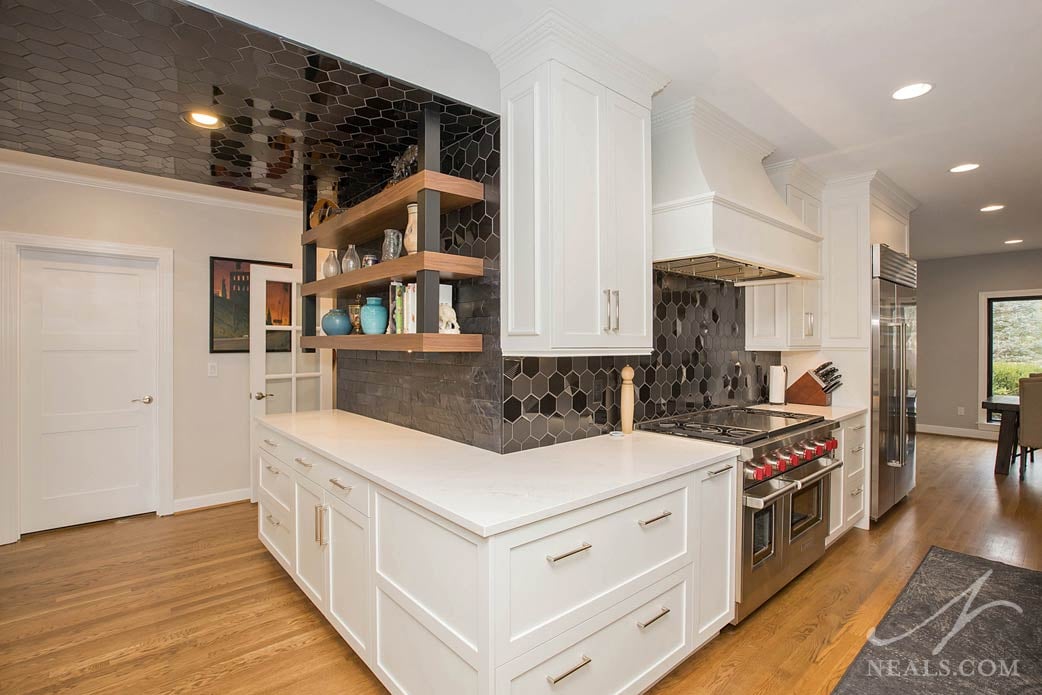 Kitchen Remodel in Indian Hill
Backsplash treatments are another area where Transitional style will often take a modern or contemporary turn. In Contemporary design, the backsplash or tile work is typically an unexpected element, bringing in contrast, color, shape, or texture (or all of the above) to add depth and interest. The same is often true in Transitional spaces, where patterned tile, colorful mosaics, stone slabs, or tiles with 3-dimensional texture are used. This isn't to say that this is always the case, however. Alternatively, a Transitional space may opt for a basic subway tile treatment, which is always a classic and neutral choice, perfect for this middle-ground design style.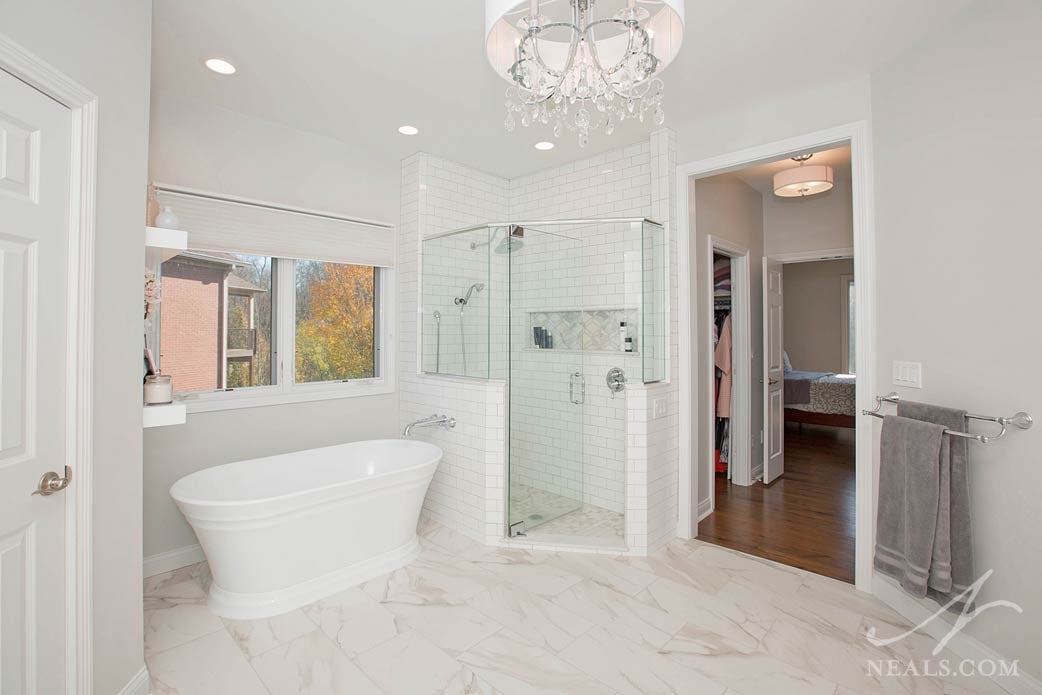 Bathroom Remodel in Bridgetown
In the bathroom, Transitional style often utilizes a free-standing soaking tub more often than a built-in tub with a deck (if a tub is to be included in the design.) While a traditional clawfoot tub is well suited to a Transitional bathroom space, it will be tempered by contemporary choices elsewhere, and may have a more minimal and modern shape than the traditional tub. The In general, a Transitional bathroom will have a spa-like feeling with a warm neutral color scheme, and interesting mirror and lighting choices, in addition to the cabinetry, counter and tile elements described above.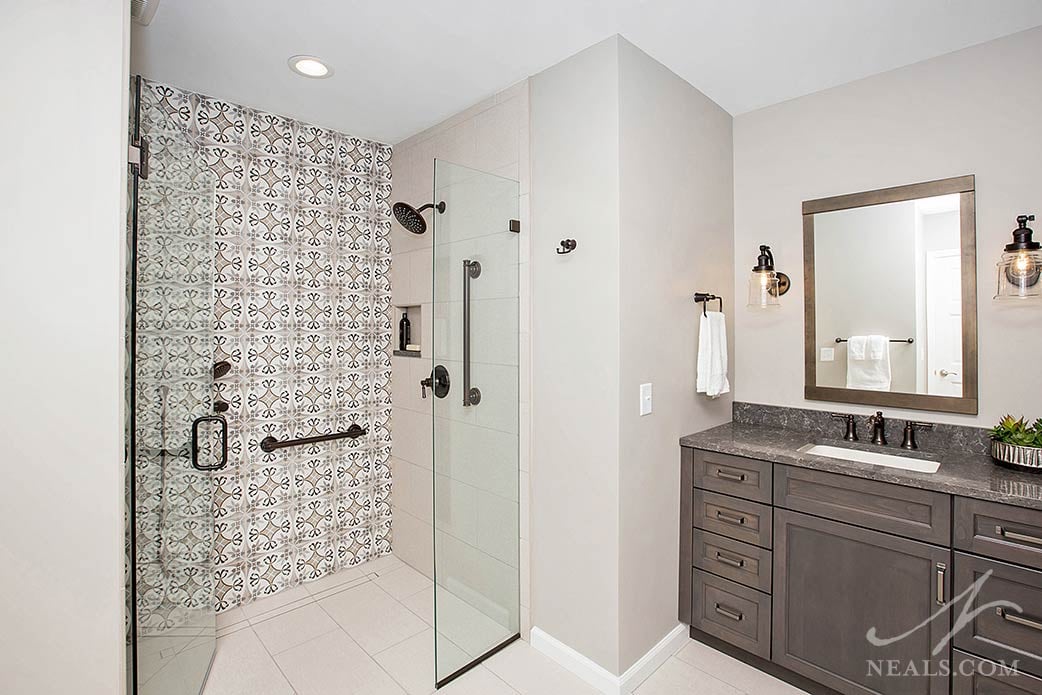 Bathroom Remodel in Indian Hill
One final note is to point out that design style is always a personal preference, and the use of terms like "Transitional" or "Contemporary" are meant to help explain your preferences to your designer. When you begin making selections and choosing what exactly will be used in your home, it's always best to pay attention to your own style rather than stick to a strict definition. In the end, you want your space to reflect your personality, needs, and taste more than a textbook description of any one style. If you would like some more information about home design style, check out our Home Style 101 post.