Shower design is rooted in the way that each surface is handled and how it conveys the style and tone of the bathroom. A well-design shower is one that combines the various components, usually tile or stone, in a way that helps the space feel welcoming and comfortable. Pairing different materials in different scales, colors, or in different configurations, will dramatically change the overall look of a shower. Here are several custom walk-in shower design ideas that show how these design concepts work in action.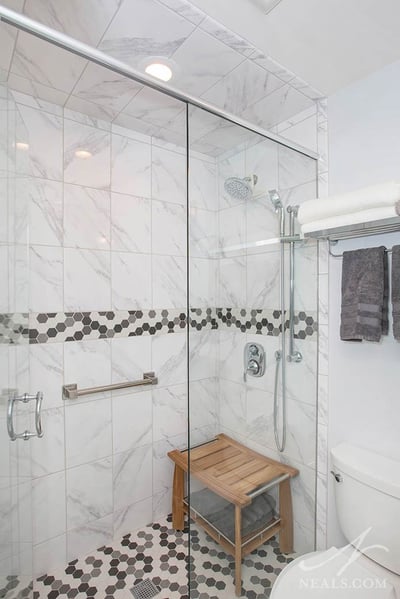 Bathroom Project in Finneytown
It's certainly the grayscale mix of hexagon tile that makes this shower stand out. Using the same tile for the floor and the accent band, and pairing it with the larger marble-look tiles, creates a space with interest and character that still feels minimal.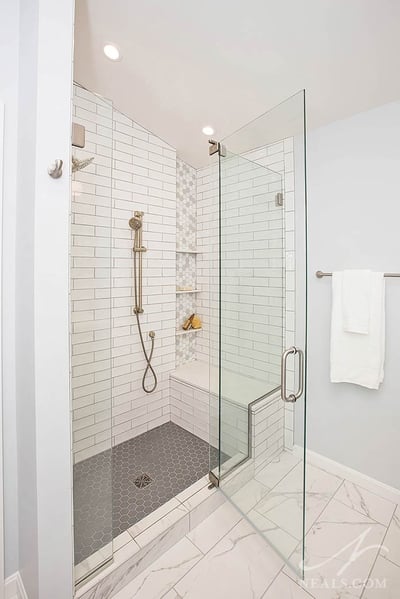 Bathroom Project in Delhi
The niche is the focal point in this shower. Playing off the gray hexagon tile on the floor tile, the back wall of the niche is the perfect spot for an extra bit of attention with smaller white and gray hexagon tiles. The extra-long subway tile on the wall is an ideal and classic-feeling complement that helps the hexagon shape stand out as a motif.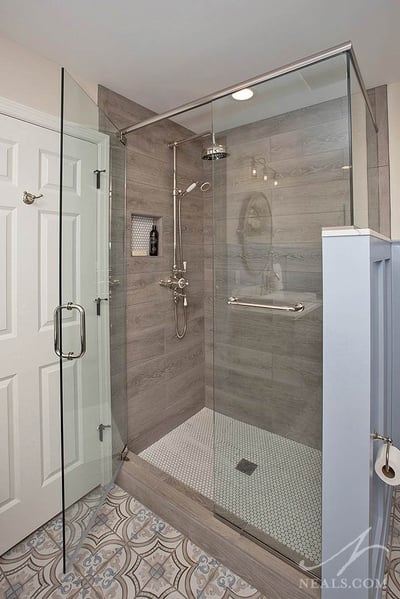 Bathroom Project in Montgomery
This walk-in shower features a wood-look tile in a gray-toned colorway that fills the shower in horizontal bands to create a cozy space. The effect of this installation is similar to the popular shiplap technique. To lighten things up, white penny tile was added to the floor and niche. These two tile choices combine to create an inviting shower with a casual, farmhouse charm.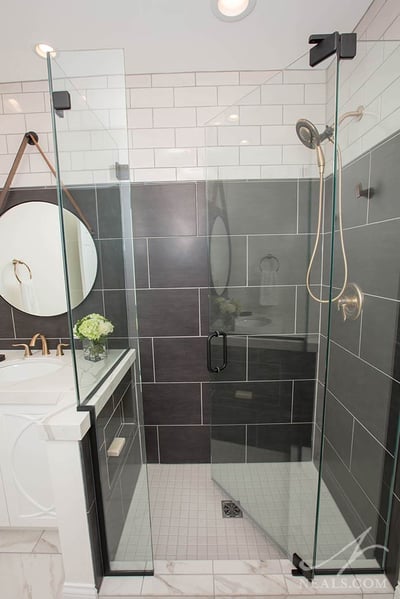 Bathroom Project in Terrace Park
Large textured black tiles form the primary feature of this walk-in shower. Note how the tile, including the white subway tiles above, continues outside of the shower along the wall. This means that visually, the smaller bathroom doesn't seem too chopped up by different tiles, and lets the glass enclosure stand out as a vital component of the space.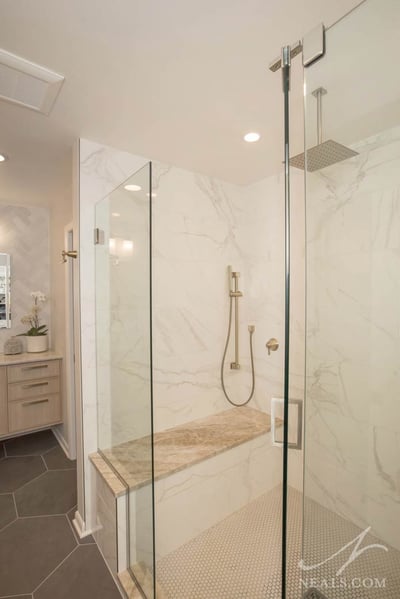 Bathroom Project in Indian Hill
Large, rectangular tiles of a marble-look porcelain tile form the backdrop of this shower. Scale is a design feature here as well. A slab of quartzite is used to cap the bench and add a secondary color, while at the smaller scale, tiny penny tile is used for the floor. In this shower, the mix of large natural-feeling tiles and stone creates a spa-like, contemporary space.
Could your shower and bathroom use a remodel? Sign-up today to speak with us!