You may or may not have a clear vision in your head when you hear the term "French Country" home style. While the term has a history and is something specific, we can also see that our modern ideas of what "country" style means have the ability to influence the style into something new. Let's try to break it down.
To understand what French Country style means in the traditional sense, we have to go into the past. The term "country" in this context refers to the "country house" (or manor, or estate.) Country houses were stylish and often large, part-time residences used by aristocrats. During the feudal age of Europe, these homes would have been the seats of the nobles' land holdings. In the 18th and 19th centuries, houses in country locations were more like vacation homes. In keeping with their owners' station and affluence, these houses were not considered simple or rustic.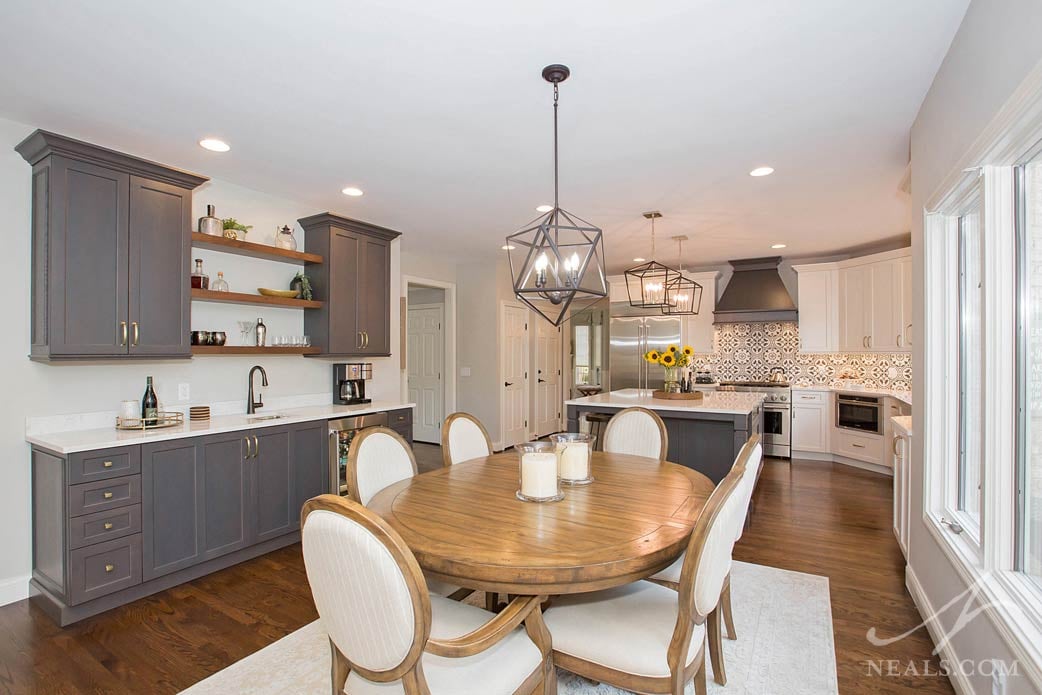 Kitchen Remodel in Symmes Township
In modern terms, particularly in the US, we may have a different connotation with the word "country". We may relate country style to something like "modern farmhouse" or a traditional home with hand-made qualities. In a place where country homes were far less common in the past, this understanding of "country style" isn't all that incorrect. So we begin to meld these differing definitions into one style that's a bit specific to us here in North America.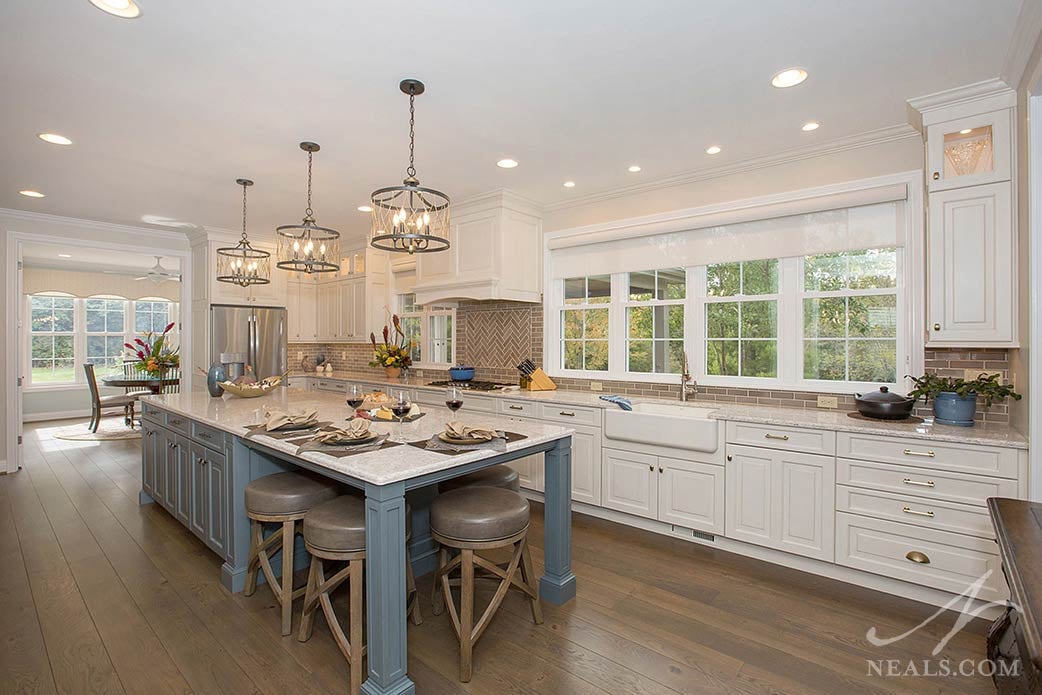 Kitchen Remodel in Williamsburg
Typical French country style has a few defining characteristics. It is a traditional style, and could also be considered "maximalist". The style will use trim and moldings, often with rounded edges and scrolling shapes. Colors will be earthy and muted. It will have painted cabinetry rather than stained wood outside a few accent pieces. The space will often feel feminine and work well with nature-inspired fabric and decor choices. Other words to describe the space might be "elegant" or "sophisticated".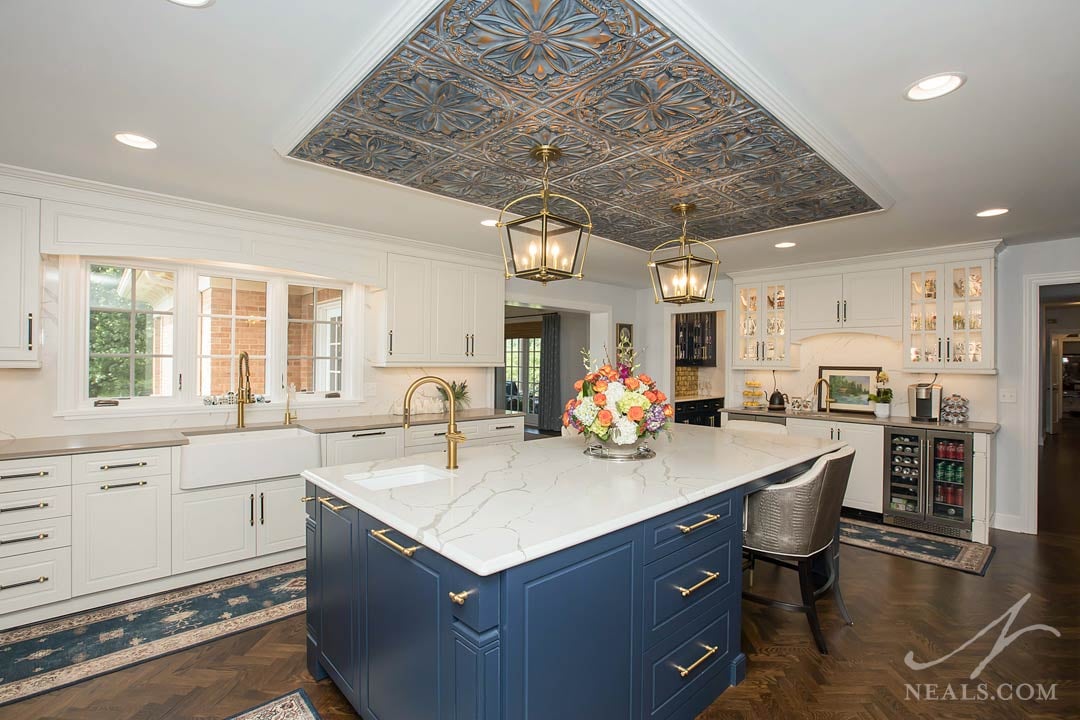 Kitchen Remodel in Liberty Township
This kitchen in Liberty Township (above) is a fantastic example of French-Country style. It has all the markers of the style, including the painted cabinetry, display of floral accessories, traditional trimwork, and a visually full look. It also includes the influence of chinoiserie design- the European version of Chinese motifs and designs. This deepens the kitchen's feelings of "old world" inspired style, but the space continues to feel modern, comfortable and welcoming, rather than stately or stuffy. There's nothing rustic or farmhouse about this kitchen, but it's practical and well-appointed for kitchen work.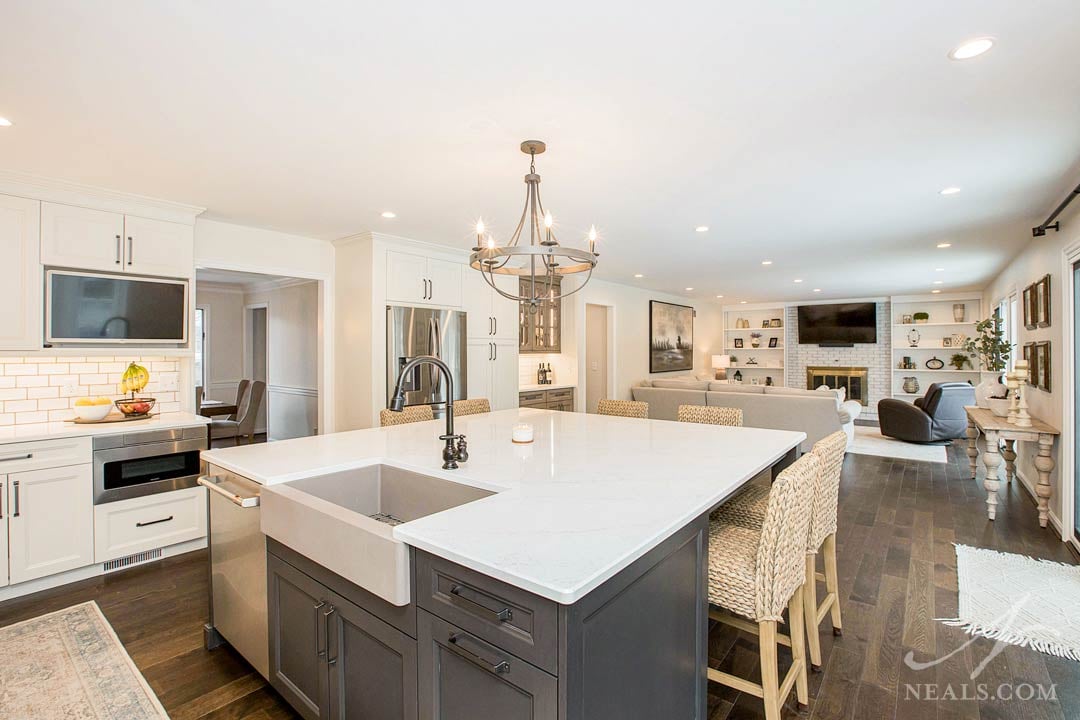 Kitchen Remodel in Sharonville
The kitchen above in Sharonville is a great showcase of French Country influenced style in a modern traditional design. Here, that other aspect of "country" style - something more simplified - creates the foundation of the kitchen's design. French country details then fill in, creating a more unique space that's less "by the book". Highly traditional details including turned legs on the island, the faucet, and a chandelier light fixture are all suitable to the French country style. A stained wood hutch just on the edge of the kitchen pulls in more French country influence as an accent piece. The kitchen's color palette is neutral and the cabinetry trim is understated while still feeling traditional. These elements pull in a more modern traditional farmhouse style. The result is a neutral and friendly space that feels casual and accommodating while still feeling correctly called French country inspired.

As a bottom line, we'll go back to what we always say. Your home is yours to make unique and while it's helpful to understand what style you like and what a style term might mean, the choices you make with your designer can be as true to or as far away from any clear style as you would like.
If you're ready to explore the style possibilities of your new Cincinnati area kitchen, we'd like to talk with you about your project!