Today's bathtubs are designed for both style and comfort. There are many options on the market and each year, new styles and features are introduced to help homeowners' find the perfect bathtub for their specific needs. Tubs come in a variety of shapes and a range of sizes, materials, finishes, and installations methods. When selecting a tub for your bathroom, first consider your style requirements, then which tub size and material will work best for you and your needs, and finally, consider any additional bathtub features or amenities.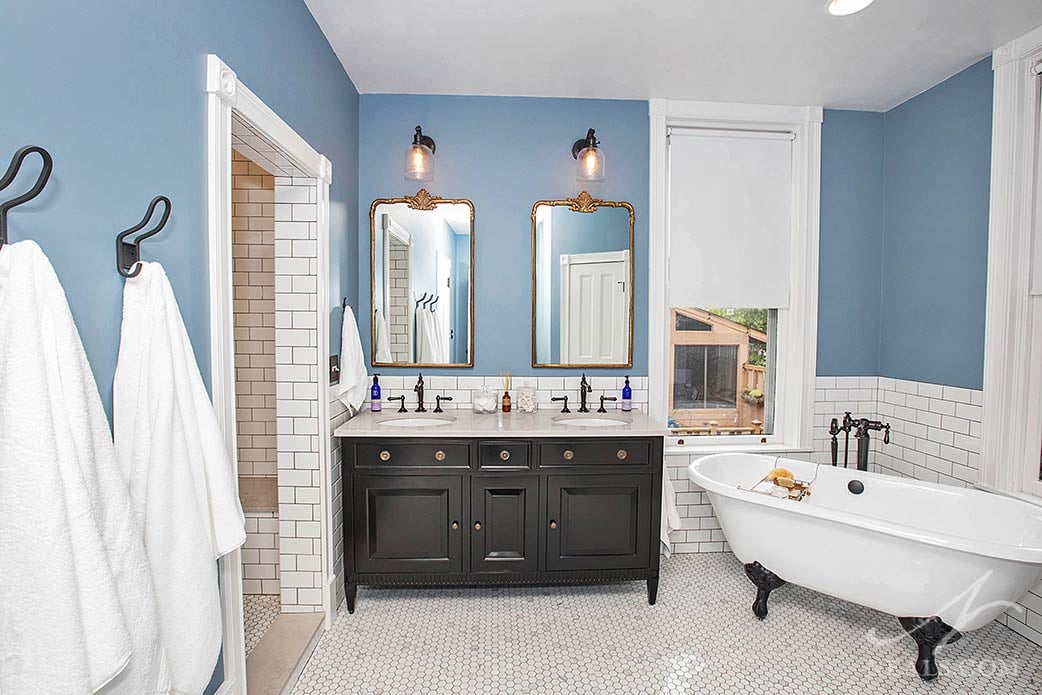 Master bathroom remodel in Newport, Kentucky
A tub must fit in your bathroom, but also be mindful that it must first get to your bathroom. Over-sized or heavy tubs will require additional installation considerations versus a standard, builder-grade, 30"x60" fiberglass tub insert. Additionally, some tubs require decking or framing, and all tubs must be installed near plumbing connections. Working with a professional bathroom remodeler will be a benefit to you when it comes to these less-glamorous but crucial considerations and for bathroom tub ideas.
Bathtub Style Trends in 2020
While there are many types of tubs on the market, and all have their purpose, we've taken note that in 2020, long gone are the days of the large corner jet tub (and we're more likely to remove and not replace these types of tubs than anything else). Trendy and modern stylish bathrooms are being outfitted with a range of free-standing bathtubs, deck-style drop in tubs, or sleek apron-front tubs.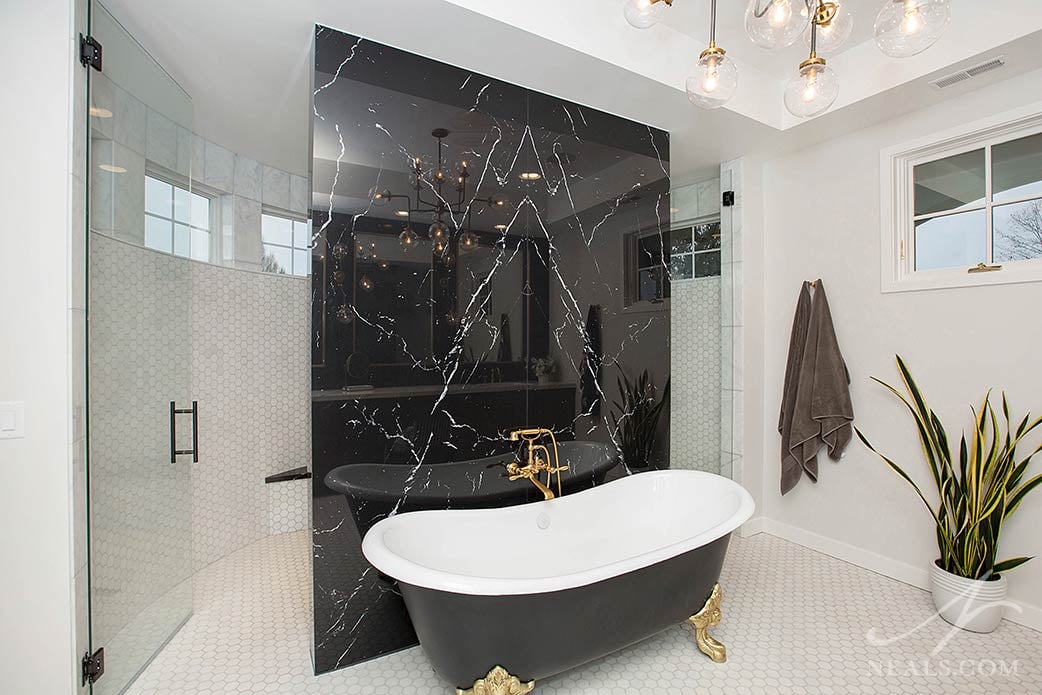 Modern-styled clawfoot tub in Indian Hill master suite remodel.
Free-standing Tubs
Free-standing tubs, also referred to as soaker tubs, can come in a very wide range of styles, shapes and materials. The clawfoot tub is a classic design with a long history, and we've taken note that in recent years it's use is back on the rise. The clawfoot tub is ideal for several design styles, and the particular style of the tub (the shape, finish, and color combination) can create and unexpectedly modern look for such a vintage tub design.
Other styles of free-standing tubs include minimalist bowl-style tubs, or romantic soaking tubs with carefully considered feminine shapes. We've also seen an increase in the selection of boxy tubs with squared off corners for a more masculine or transitional effect.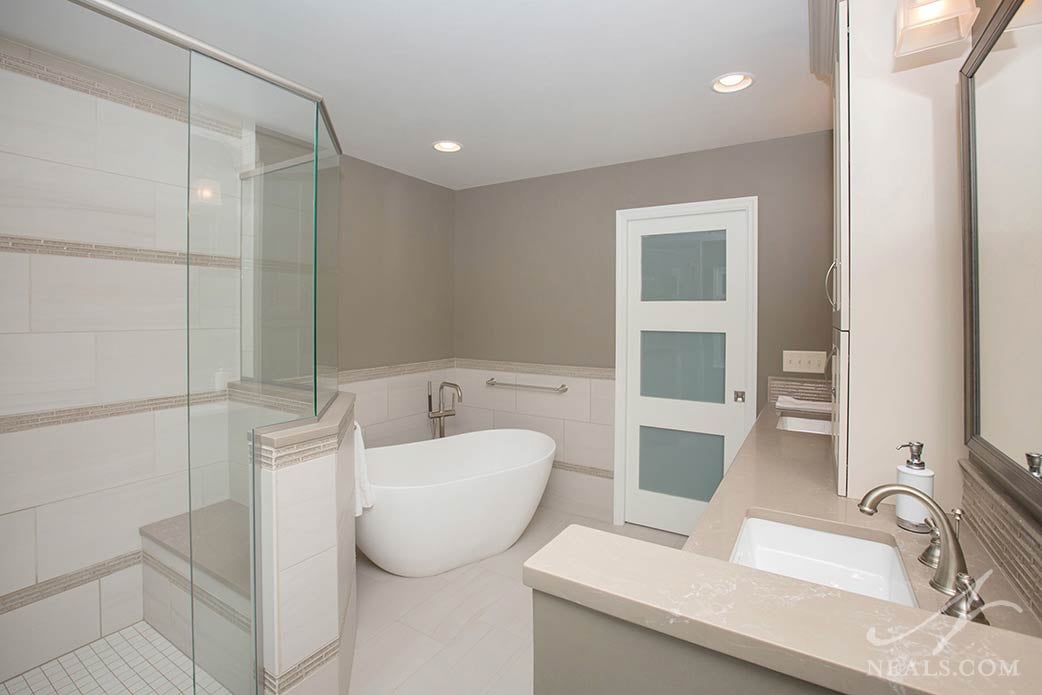 Modern and minimalist free-standing tub in Loveland bathroom remodel.
Newer, high quality free-standing tubs are available in many different materials, including cast iron, stone, acrylic, solid surface, and steel. Each of these materials come with their own set of pros & cons in terms of installation considerations, durability, maintenance and long-term wear. Acrylic and stone resin have allowed manufacturers more freedom to create the shapely tubs available on the market today. In 2020, acrylic and solid surface (or stone resin) tubs are coming out on top for a variety of reasons, but for those wanting a luxurious and classic feel to their tub, cast iron is the more traditional option.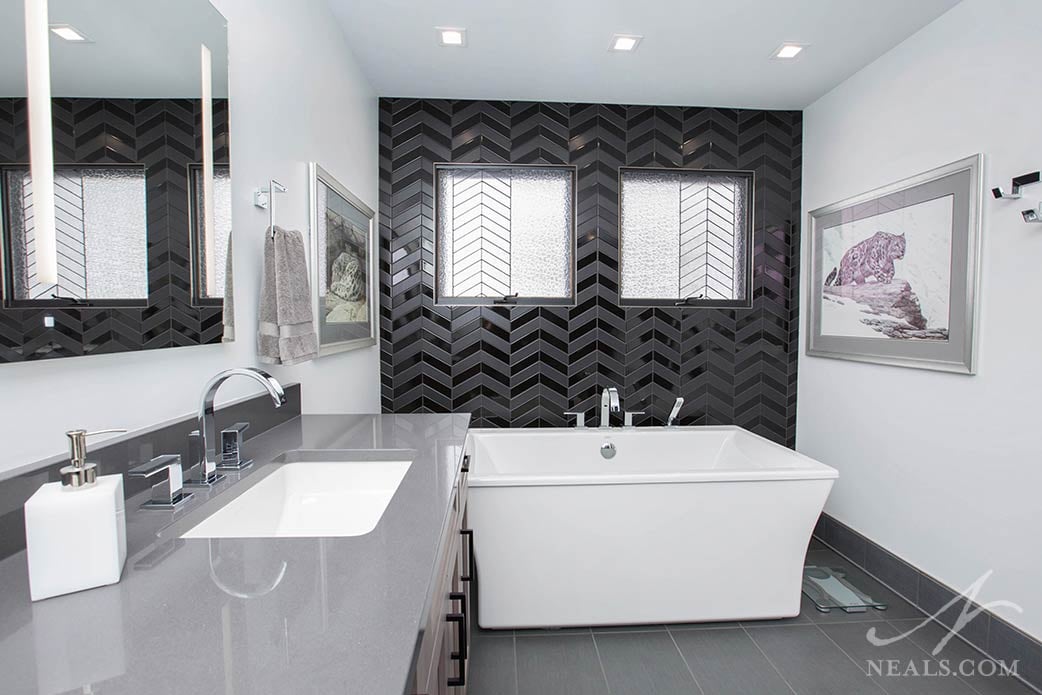 Angular free-standing tub in an Evendale bathroom remodel.
Deck or Apron Front Tubs
If the soaker tub doesn't fit or feel right for the bathroom, there is still a large range of insert-style tubs that are also stylish. There are two main varieties- alcove style tubs that fit into a space with three walls, or deck style tubs that don't need to be placed against a wall (though most often are, since a free-standing tub accomplishes that better.)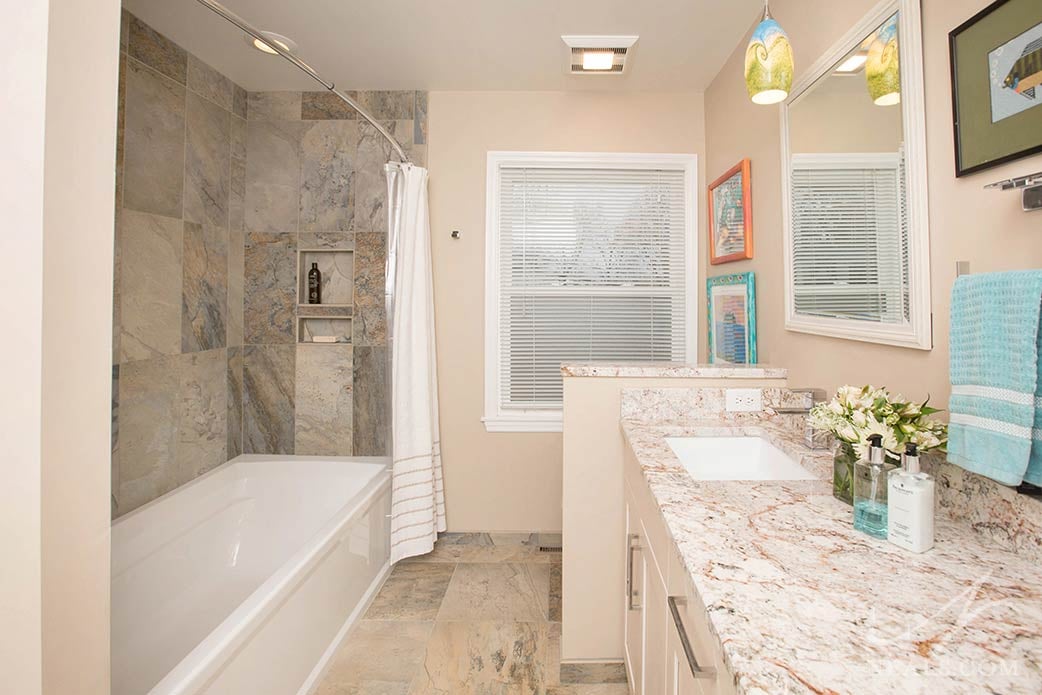 Apron-front tub in a Anderson Township hall bath remodel.
Modern apron front tubs have gotten a style upgrade, and in 2020 we can find several tubs with a sleek design that feels high-end and has a neutral style. These tubs are perfect for hall or kid's baths, particularly when combined with tile shower surrounds (see below for more on that).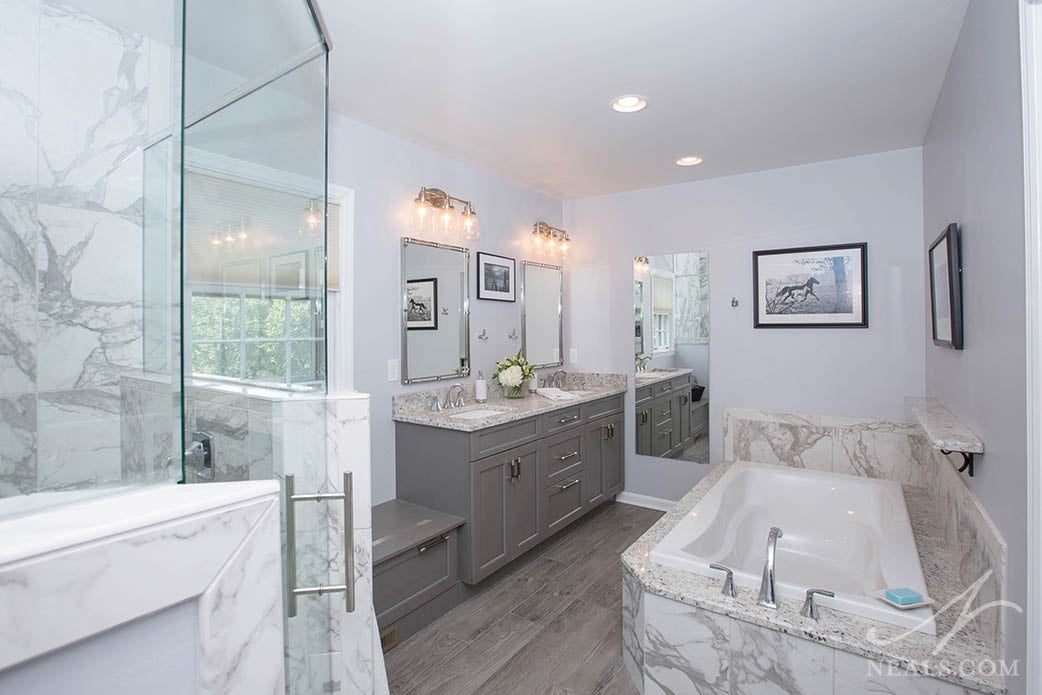 A deck style tub with a tile surround in an Anderson Township remodel.
Deck style tubs are still popular, but we are seeing a shift in their use in recent years. Since the deck requires finishing, typically in the form of tile, homeowners can see this as an opportunity to add more interest, design, or color to their bathroom, but should be cautious if they want the style to have appeal a few more years down the road. We're finding that surrounds that use timeless materials, such as marble (or a marble-look alternative) or wood-look tiles, will have a longer-term design look. Those with more flashy, rustic, or patterns surrounds tend to look out of style faster. A designer familiar with bathroom tile design can guide you.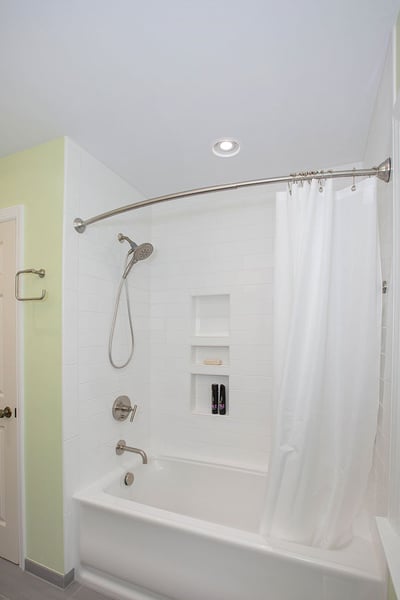 Custom tub and shower combination in a West Chester bathroom remodel.
Bathtub and Shower Combinations
Many bathrooms are small spaces. An average bathroom is about 5-by-7 feet, or 35 square feet of space. In a room this size, if you definitely want a bathtub, the most practical solution is a bathtub shower combination. In this setup, an alcove tub is installed with a shower surround above. While this is easily accomplished with a fiberglass insert from the hardware store, a custom tile shower will go further in terms of investment, style and design. A custom combination shower can be specifically tailored to homeowner's needs and account for niches, ledges, grab bars, and even shower doors if used.
Note: This post was originally published 8/6/2013. It was completely updated on 7/28/20 with more relevant and timely content.