With all the technology already integrated into our daily lives and routines, it's no wonder that smart home systems are rapidly becoming a wish list item for many homeowners. The ability to control the way our homes operate through intuitive and innovative apps or interfaces can have a positive impact on many areas of our lives and the ways in which we use our houses. Keep reading for some of the ways smart home automation can be added to your home.
Smart home automation encompasses a variety of tools and technologies for various parts of the home. In general, the connecting thread to these systems is their connection with either a command panel or a smart phone app, or in some cases both. Many also fall under the category of "learning" or "adaptive" technologies, which learn your preferences and can fine-tune themselves to better suit your needs and habits.
Before making any decisions about which integrations you would like in your home, Mike Gutbier of Sound Advice offers this caviat: "Many of the trends seem like a good idea in concept and even in the well-produced commercials, but when you try to use them in real life applications they are not easy nor practical. Some products that have been around long enough to have proven good in practical application and land in what we consider the 'awesome category' can be lifestyle changing."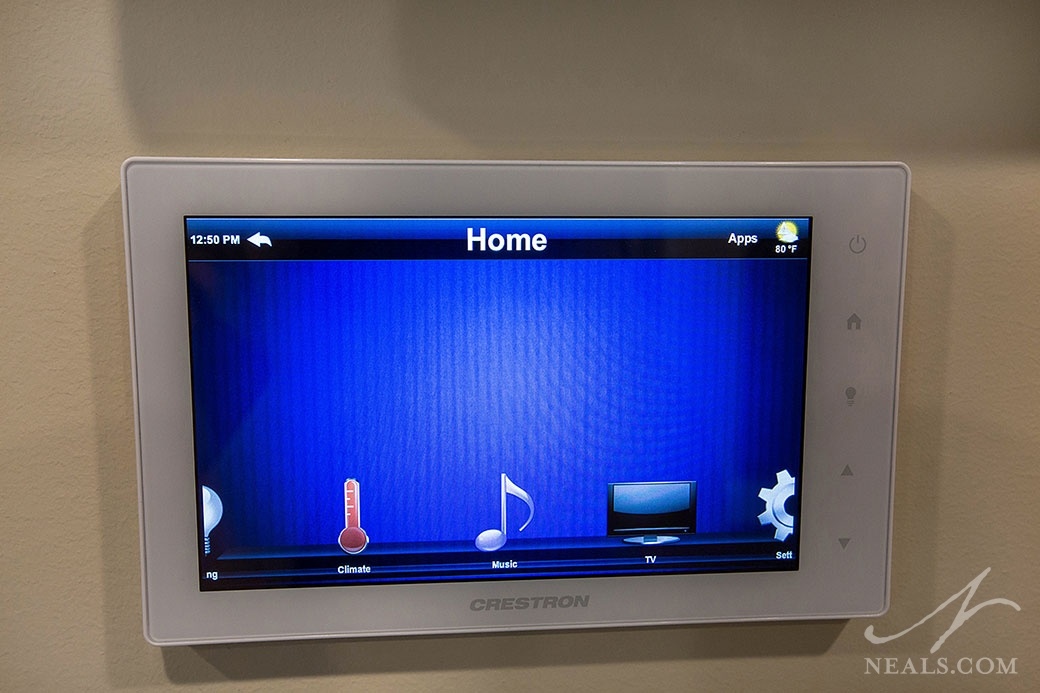 Central User Inferface panel installed in an Indian Hill project, allowing the homeower to control all the automated systems.
Central Interfaces
Most integrated systems for the home come with some variety of central interface, usually in the form of connected panels installed throughout the home. The software on these devices is designed to capture all the pieces of your smart home, and give you easy and intuative access to each with the swipe of a finger or the press of a button. Also on the rise is the use of devices that respond when you talk to them, and can perform tasks throughout your home for any device, appliance or system that is enabled with the appropriate functionality. Essentially, a Siri for your home, these units include Alexa from Amazon or Google Home.
Home Security
Home security systems have been at the leading edge of home automation for decades. In more recent years, the addition of smart integration has turned the simple burglar alarm into a complete system of cameras, sensors, remote locking tools, and more. Now, even door lock manufacturers are coming up with new ways to lock and unlock your door all through your phone. Smart security systems can often be tailored to your home and needs, using only the components that make sense.
Automated Lights & Window Blinds
On lighting and shades, Gublier states, "Another company that is using amazing technology to provide top level convenience and keeping operation simple is Lutron. These advances have made lighting and shade control one of the biggest surges in our business." The ability to instantly and remotely adjust the light levels in you home is not a new concept. Mechanical timer switches that shut the power off to a lamp once the time has run out have been in residential use for the past several decades. Modern technology, however, makes these types of simple automations easier and more customizable. Using your phone, you can turn lights on before you get home. From a control panel downstairs, you can raise the blinds in your kid's room upstairs. Some systems also give you the ability to set schemes for specific times or moods. Even light bulbs themselves are getting smarter.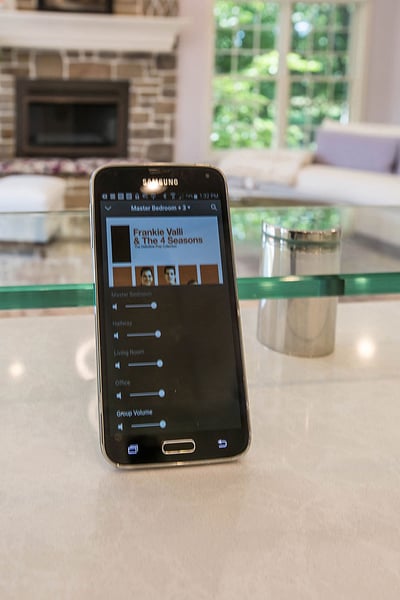 With a smart phone app, speakers throughout this Cleves home can play music at various locations for a variety or entertaining purposes.
Home Entertainment
It's not really a surprise that smart homes include integration with TVs and music systems. In fact, a smart TV with the ability to connect with a home network, is becoming a staple of the smart home. With the ability to access movies, TV shows, radio, or your entire MP3 collection, your home will always have entertainment ready. Combined with full home audio systems (which may also include an intercom to keep shouting upstairs that breakfast is ready at a minimum), it's easy to direct whatever entertainment you're in the mood for exactly to where you want it. "Sonos sound systems, for example," says Gublier, "have mastered ease of use as well as taking advantage of all of the latest streaming services. They incorporate the newest trend of music delivery, which means we provide quality sound with an abundance of choice to our clients."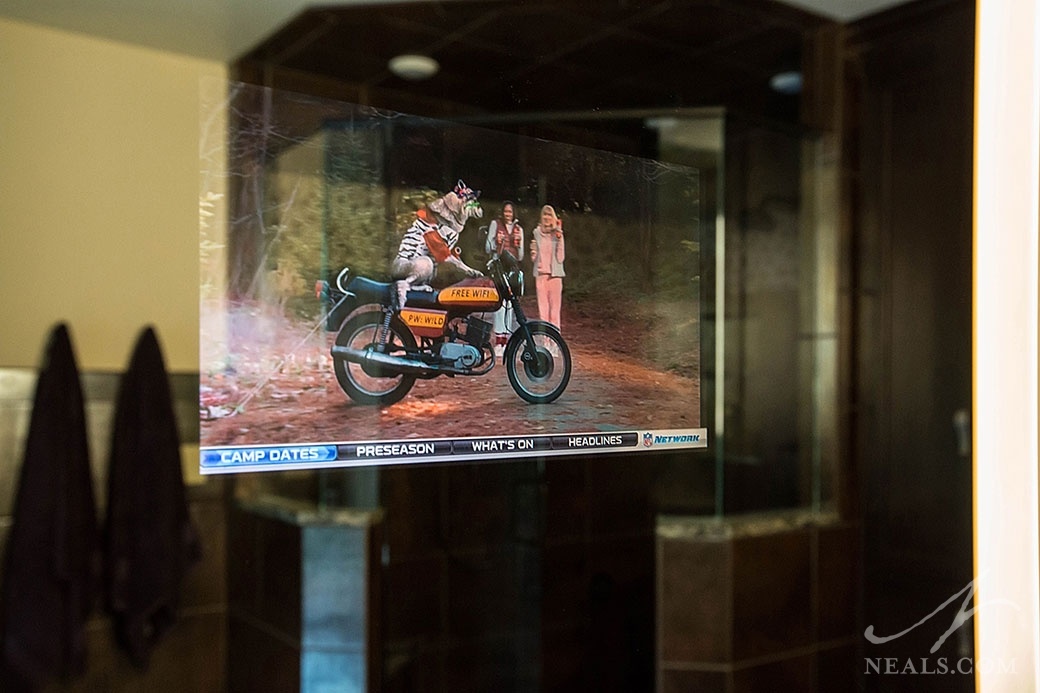 A TV mounted inside the mirror offers an inconspicuous and convenient location of a TV in this Indian Hill master bathroom.
Smart Appliances
Many of the big name appliance manufacturers already have a line of "connected" appliances available on the market. Everything from refrigerators to dishwashers, to dryers, to coffee makers are now available in some "smart" form or another. These appliances are usually controlled through an app, but many can also be controlled by a voice-activated home system such as Alexa. Also on the market are learning thermostats, smoke detectors and flood sensors. These types of products are designed to integrate seamlessly with your lifestyle, and therefore form an important foundation of smart functionality that makes the home of the future possible today.
In summation, Gublier says, "Electronics are awesome and of course can be very complicated. We do our best to ensure you see more awesome and less complicated. Our goal is to SIMPLIFY our customer's life by integrating the latest in smart home technologies into their lifestyle. We've seen some pretty cool results!"