No other rooms in our home may be as humble as the laundry room and mudroom. Typically used as a family or back entryway, it seems like this utilitarian space never catches a break. For families of any size, this room just needs to work as intended in order for the home to feel like it's running smoothly. We talked to Neal's Designer Laura Webster about what goes into creating the perfect mudroom & laundry space and how to balance all that function with comfortable style.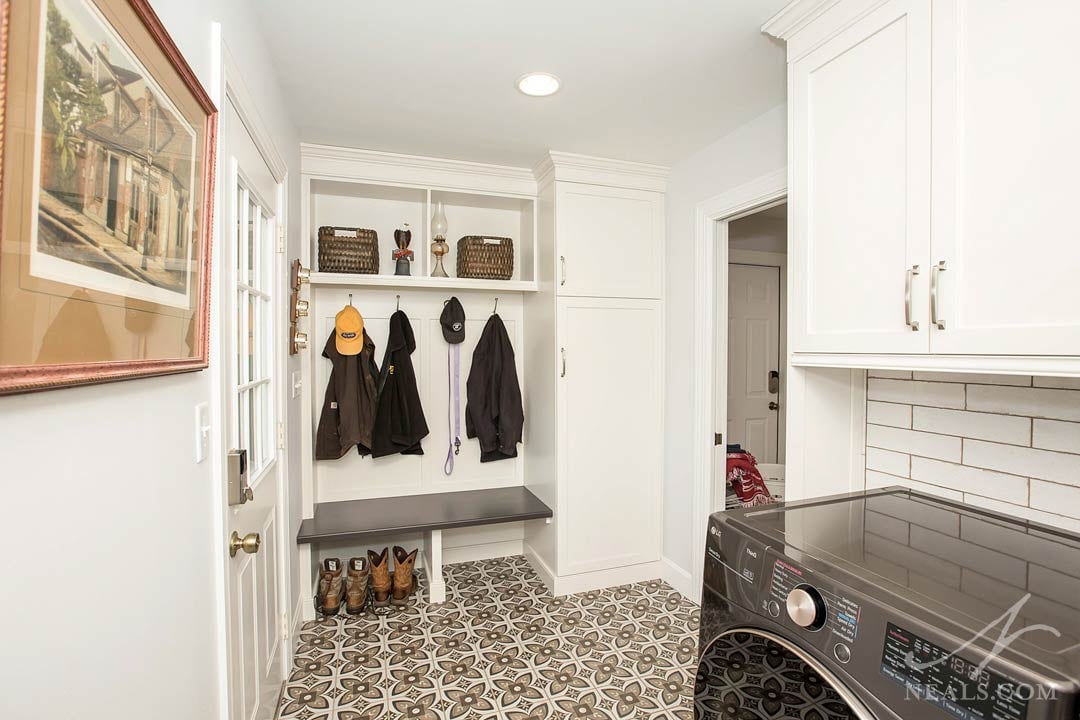 Project in Liberty Township
In order to create a space that doesn't add any stress on top of the sometimes tedious chores and routines than can happen in this area of the home, Laura focuses her design approach on low-maintenance, easy-to-use choices. By planning for how messy or chaotic your mudroom could get on any given day, it's easier to make smarter decisions to streamline organization and cleanup.
Mudroom Considerations
When it comes to mudroom storage, Laura favors open organization. "It's more difficult to remind yourself to open a door to put things away, especially with kids. They need a place to put their things and go." An organized cubby system with hooks and shelves or a line of hooks over a bench are classic mudroom solutions that work well for this task. As long as the items make it to this designated area, even imperfectly, the room will be functioning correctly.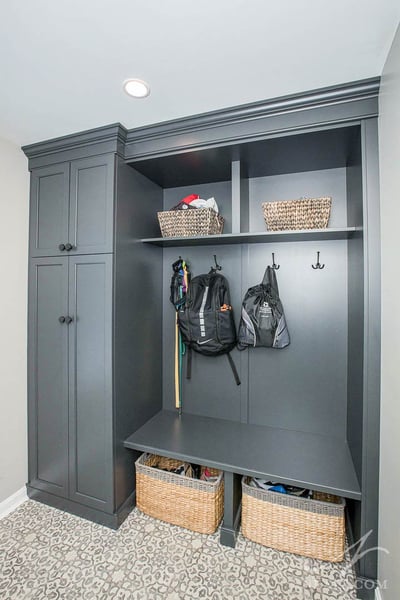 Project in Sharonville
There's a simple principle that applies here: we don't want to think too much about what we need to do in the mudroom. For example, if we'd like to include a bench for putting on shoes, the placement needs to match the flow of traffic. "If you tuck it in the back corner where you have to make a special trip, it won't be utilized properly and may be forgotten," Laura explains. Same with where to put your keys, mail, purse, or other items you might have when you come home. A specific "drop zone" in the space is a ideal inclusion, so you don't have to trek all the way into the kitchen or other room just to return to the mudroom to take your coat and shoes off.
Laura will also evaluate the relationship between the mudroom area and the rest of the house. If the mudroom can be independent from the laundry room, or if the laundry area is around a corner out of sight, she may suggest passing on adding a door. If the storage is handling your family's needs correctly, it doesn't need to be concealed behind closed doors. If you'd like the option though, consider using a pocket door or barn door that can be used as needed and not be in the way the rest of the time.
Laundry Room Considerations
If the mudroom is where things can be more open, the laundry room sits on the other end of the spectrum. In this area, Laura prefers to incorporate intentional cabinetry solutions to keep laundry day streamlined and provide a finished look to the space. "My favorite option is to include a countertop for folding," Laura says. Whether this is over a side-by-side washer dryer or next to stacked appliances, a counter set at a comfortable standing height can make post-wash sorting much easier.
"A sink is a 'must' for me," Laura states. Having a sink in the laundry room will allow you to handle delicates and stains without having to use a bathroom or kitchen sink. There may also be times with a sink is useful for a mudroom, especially if you have younger kids or pets that may get dirty outside or if there's an accidental spill in the room. Another feature that works well over the sink is a rod for hanging garments to dry.
Laura also likes to pack in a ton of hidden functions into the laundry room. A convenient cabinet or drawer that conceals the uglier items needed on wash day (i.e. detergent bottles) situated close to the appliances will keep the room looking organized and tidy. If the laundry room is also where cleaning supplies will need to go, a specially-designed cabinet unit is in order. "If the homeowner has a wireless vacuum, I'll be sure to include an outlet inside the cabinet to keep it charged and ready when they need it," Laura states. Other items she'll look to include are a trash can and a place for the baskets or hamper to be that works with how laundry is handled in your home.
Design Considerations
A room that's full of so much function can sometimes feel like it has to be somewhat barebones and utilitarian, but Laura has a few tips for adding intentional style to the space. "I like patterned floors or floors that have a lot of texture. They hide dirt and debris," Laura points out. A plain floor will tend to show a lot of the normal dirt and debris that finds its way into this room. She also opts for colors that feel light and fresh, including lighter tones for the cabinetry or fun pops of bright color in the mudroom to help younger kids feel like it's a space designed for them.
Lighting that feels bright and crisp (but not industrial and glaring) will also go a long way to making the room feel pleasant to be in. Look for fixtures in a style you like to help the laundry and mudroom feel more like a living space instead of a closet or garage. A backsplash tile or other wallcovering accent can also inject both style and personality into the space.
One more idea? "Open or floating shelves work for functionality and décor." Laura suggests putting your laundry supplies on display by tucking clothes pins, dryer balls, and other relevant items in decorative glass jars on visible shelving. Or use nice baskets in the mudroom for gloves & hats, shoes, or pet items.
See more Laundry Room & Mudroom inspiration in our project Portfolio.