The newest and best design trends coming in 2015 were recently debuted at the annual Kitchen and Bath Industry Show (KBIS). For over 50 years, KBIS has showcased the latest industry products, trends and technologies. We've picked some of our favorite products from this year's show for you to consider for your bathroom.
KBIS Picks for the Top Bath Products of 2015
The KBIS organizers select a series of the "best" products at the show as standards in the industry for the coming year. Winners were selected based on functionality, quality & durability, flexibility, aesthetics & style, and innovation.
Best of Baths (Gold Medal): Inspired by men's tailoring patterns, Walker Zanger presents their Sterling Row designs for the bathroom. The wood-finish ceramic comes in eight different designs including Houndstooth, Oxford and Tuxedo. With black, white and grey tones, create a sleek and masculine finish that can be utilized on floors or walls.
Best of Baths (Silver Medal): Sleek lines, industrial details, and streamlined details combine in this Michael Berman Graceline C-Spout Widespread Lavatory Faucet from ROHL. Thumb notches are featured on the dial or lever shaped handles and the faucet curves gracefully and adds a touch of elegance to your bathroom.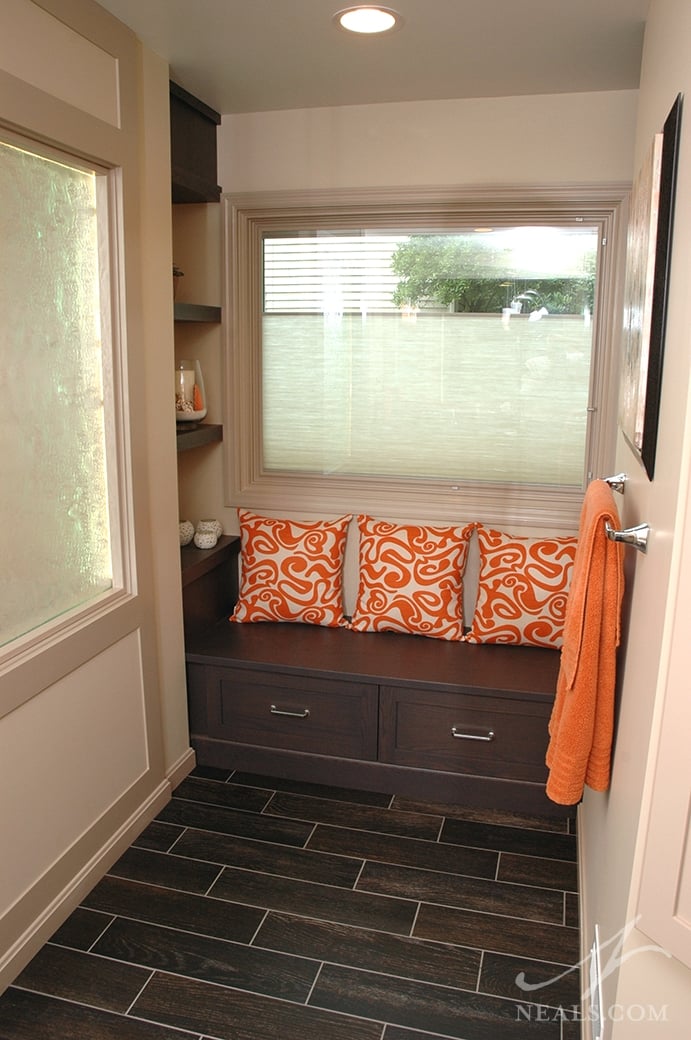 A recent Neal's master bath featuring a glazed porcelain tile floor looks like wood. American Naturals-Black Rock was used.
Neal's Favorites for 2015 Bath Products:
Fixtures
Shower Doors: In a break from the solid glass doors we've seen over the past few years, Storm Glass doors by Cardinal Industries add a dramatic look to your shower door. Featuring a design that allows for a more private feeling than traditional glass, Storm glass is easier to clean and maintain. Because of this, they were a perfect fit for the home in this award-winning featured project. Offering over a dozen stock designs to choose from, along with the option to design your own, Cardinal allows your shower door to be the highlight of your bathroom.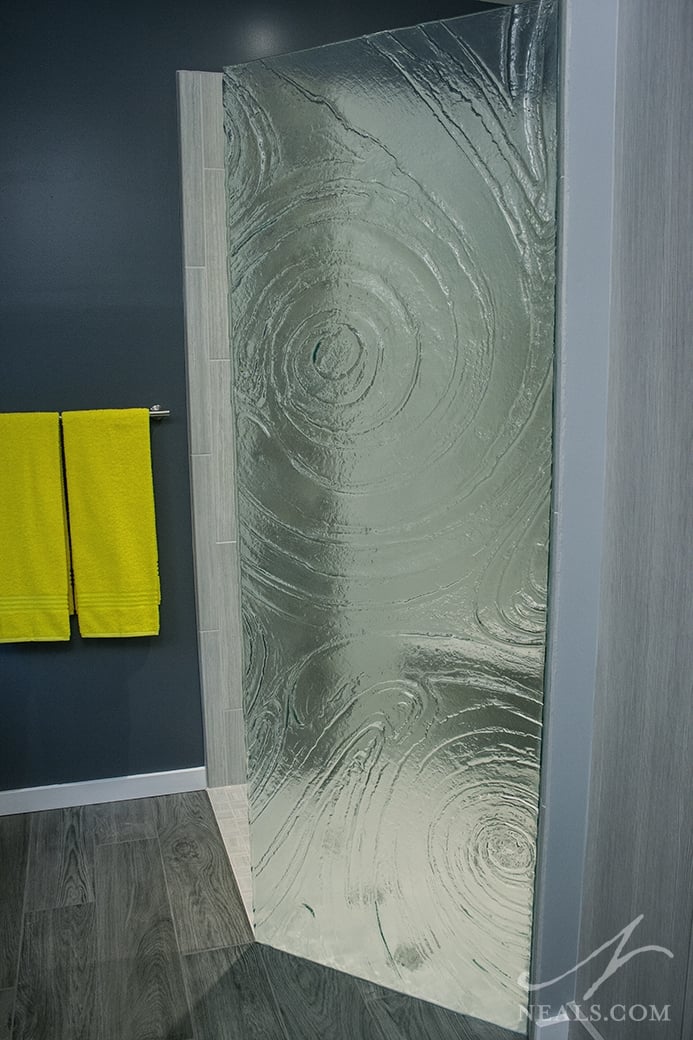 A vortex pattern using clear storm glass was used to create this custom walk-in shower partition.
Shower Wall: Kohler's Choreograph Shower wall is a cohesive system that allows you to create your own shower experience based on your wants and needs. Keeping your safety, comfort, and personal style in mind, customize your wall with features that best fit you and your family's needs. From shower lockers, barres, floating shelves, and hooks, to freestanding or flip down shower seats, Choreograph can create a perfect match for you.
Walk-in showers continue to be the trend in bathroom design and are customized to better fit the space in a room by providing more comfort for users. Safety, comfort and access are essential to the design of any bathroom and Universal Design addresses all these elements.
See the full list of bathroom fixture products featured at KBIS.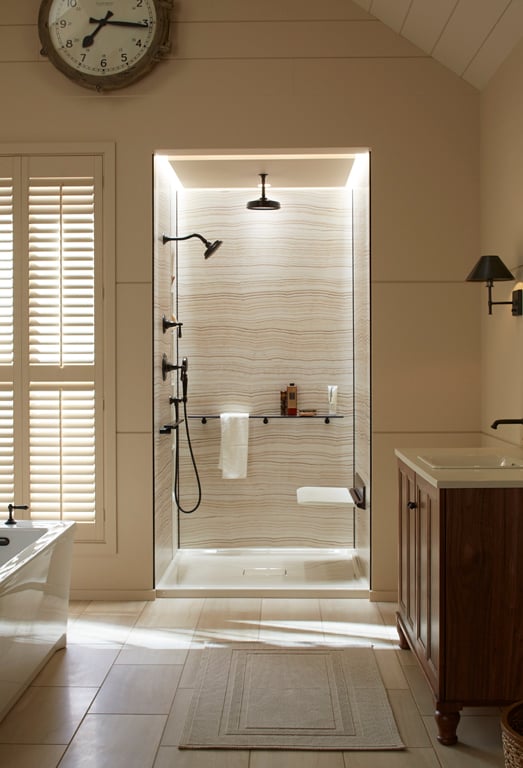 Stone-patterned Kohler Choreograph wall and shower. Floating shelves can be placed anywhere in the shower to accommodate your needs.
Faucets
Kohler's Artifacts collection expands from the kitchen into the bathroom. The collection gives you the ability to mix and match spouts and handles to create the perfect look. Artifacts recreates the most traditional looks while using modern materials that gives a timeless feel.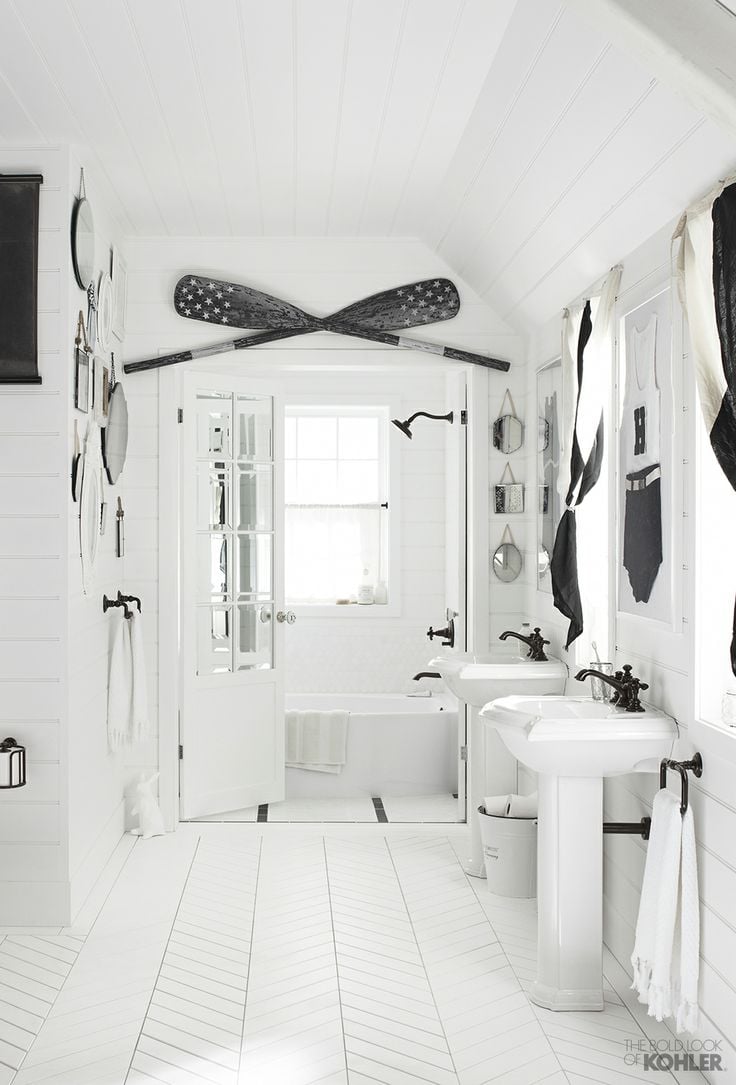 Kohler's Artifacts Bell-design sink faucet spout. Artifacts lets you personalize your faucets.
Cabinets
Custom cabinets from Wood-Mode are the perfect way to customize your bathroom. If you're going for a sleek, modern look or prefer an intricate, traditional cabinet, Wood-Mode will create the storage space you've been dreaming of. Not only can they create single or double vanities, but also additional storage to have a place for everything, and keep everything in its place.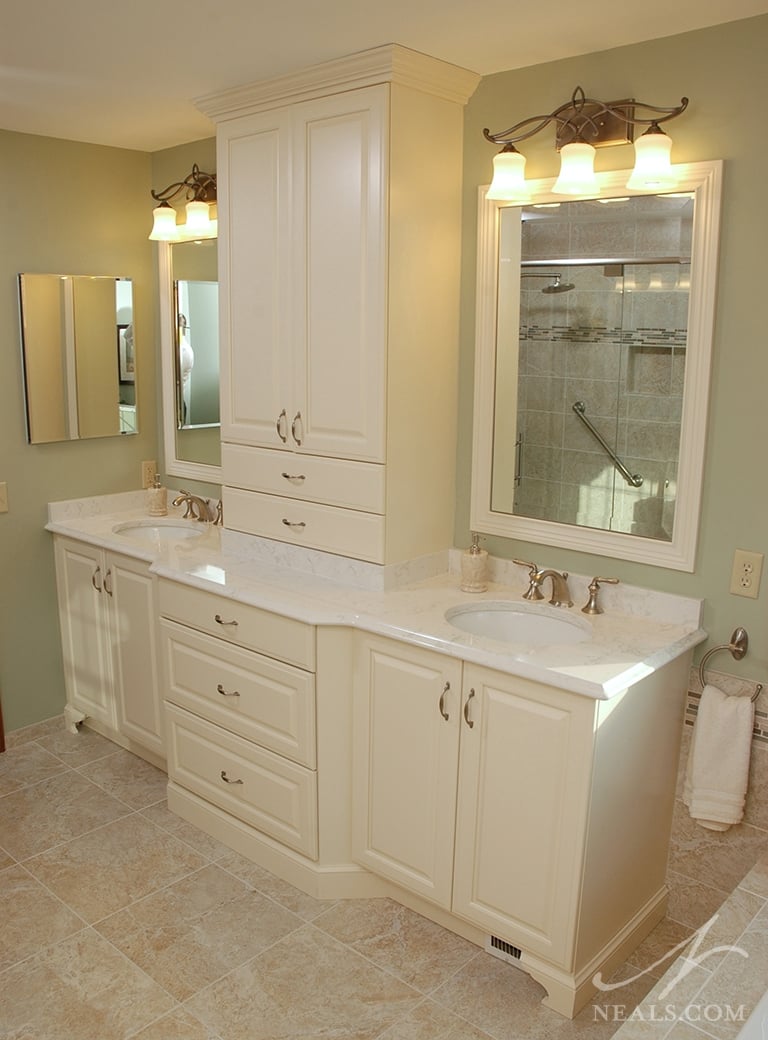 A storage cabinet tower on a double vanity. Brookhaven by Woodmode raised panel cabinetry in antique white.
Surfaces
Pera Tile: Like we saw in the 2015 Kitchen Products, waterjet tiling is increasing in popularity throughout the home. This line from Atelier Pera showcases mosaic lines that can be modified into any desired custom design. The unique shapes and customizable colors and grout are an expression of your personal style. Don't be afraid to bring your tile away from traditional straight lines.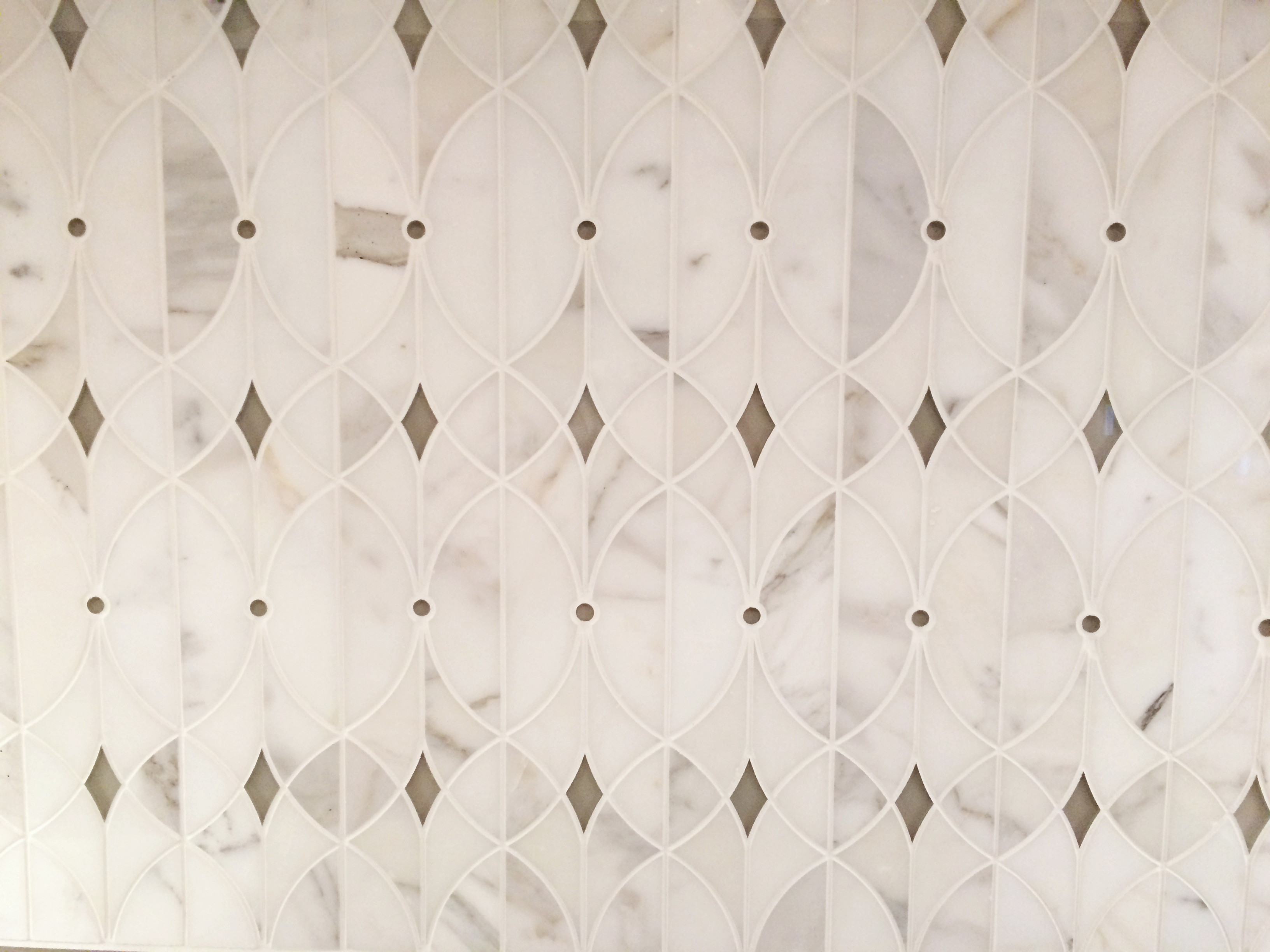 A waterjet tile pattern makes a statement.
See the full list of bathroom fixture products featured at KBIS.