There are a lot of details that go into a kitchen design, and each part plays its role in the overall finished look. However, the combination of your kitchen's cabinetry and countertops creates a foundation for the design and can help the details stand out or blend in depending on your goals. Getting a great pairing between the color of your cabinetry and the color and type of your countertops is already getting your new kitchen design well on its way. Here, we'll take a look at four stylish combinations to consider.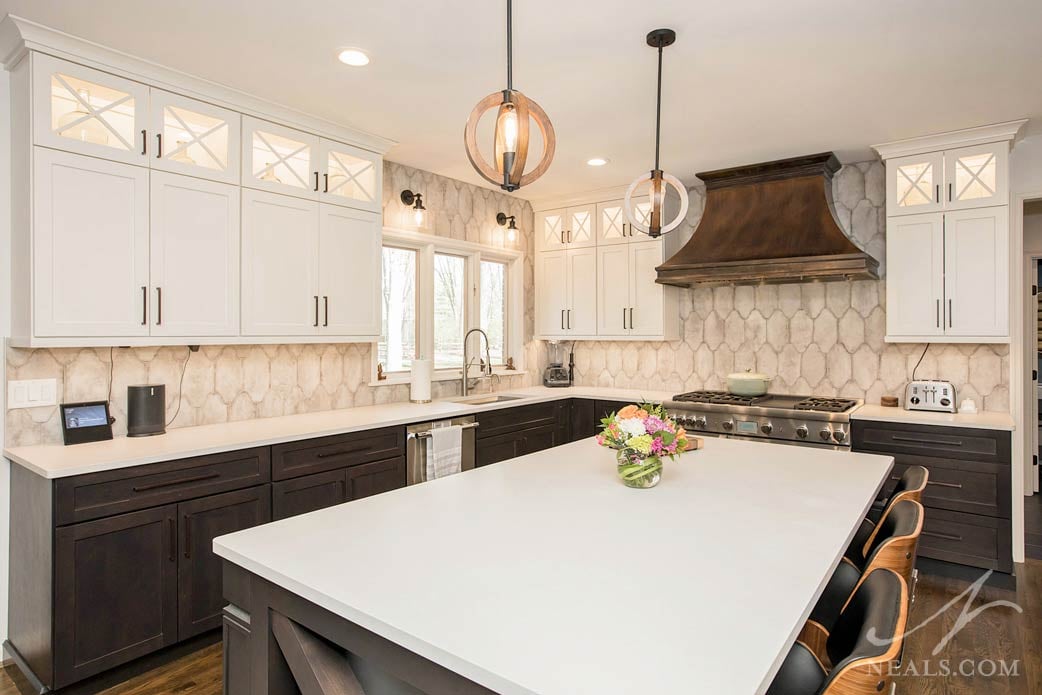 Kitchen Remodel in Symmes Township
Dark Cabinetry with White Counters
Black and white (or any dark color and white) may immediately bring to mind the contrast of contemporary kitchens, and while that's a common choice for the modern look, it's important to remember that cabinetry door style and additional style details in the kitchen will always help carry the overall style along with the color choices. Therefore, the combination of dark cabinets and white counters can be considered in terms of the punch or boldness that it offers the space, and how this combination can help visually show off the shapes in the kitchen. This combination is a good one to consider if having a mix of light and dark elements is a goal in your kitchen, or if you're not looking for a design that entirely blends together.
Colored Cabinetry with Wood Counters
The specific color you choose (gray, green, and blue are all popular choices) will play into the color of the room, but whichever colored cabinetry you like, pairing it with a wood counter creates an immediately classic look that recalls traditional, rustic, or farmhouse design styles. When pairing colors and wood tones, it is important to look at the way they interact with each other and whether they work well or somewhat clash in your eyes. A deeper color with a darker wood species, like walnut, can feel luxurious, rich, or stately. A brighter color with lighter wood, like ash or maple, can feel casual, spacious, and youthful.
Pale Colored Cabinetry with Marble Counters
Primarily white or creamy in color, marble or marble-look counters can expand your color scheme with the range of colors and shades that appear in the veins. Marble veins can be gray-toned, brown-toned, or even something more like a gold-tone or blue-tone depending on the particular variety. Since these additional colors appear in long lines through the countertop, they end up playing a large part in the overall color scheme of the kitchen. For this reason, marble counters work exceptionally well with pale-colored cabinetry that mimics or coordinates with the specific color tone of the veins. The result of this pairing is an airy, modern-feeling design with a lot of neutrality for a huge range of colors, wood tones, or contrasting accents and decor that can add texture and depth to the kitchen without having to compete with the room's bones.
White Cabinetry with Pale Speckled-Colored Counters
White alone can sometimes be too stark, so the other elements of a kitchen are essential to bringing character to a design that uses white cabinetry. If you lean toward loving the idea of a white kitchen but want to avoid it looking too uninspired for your tastes, consider pairing white cabinets with a pale granite or quartz countertop. The smaller speckles of color in these types of counters mix to create different illusions of movement or interest and easily create an additional color palette to play into throughout the rest of the kitchen design. Sticking with a pale-toned granite counter with a primarily white base will get you the white kitchen you're dreaming of with plenty of interest and depth.