The lighting and mirrors you select for your bathroom vanity are integral to the success of the design. These features are necessary components for functionality, but with so many options available, it can be easy to select mirrors and vanity lighting that falls short. Taking the time to review a few key considerations will ensure that when it come time to select these items, you're on the right track. Here are our suggestions for what to consider.
Scale & Quantity
Before you can get too far into the process of choosing what mirrors and lights would work great for you, it's a good idea to make some initial decisions regarding how big of a mirror you want or need, how many you need, and how much vanity lighting you may want. If your bathroom will have multiple separate vanities, then you'll likely need mirrors and lights for each. If you want to have a lot of fine-tuned control over the lighting in the bathroom and at the mirror, you may need more than one light fixture. As you go through the rest of this post, be keeping these top level questions in mind, especially since the size and quantity of mirrors and lights will ultimately be reflected in the cost of your project.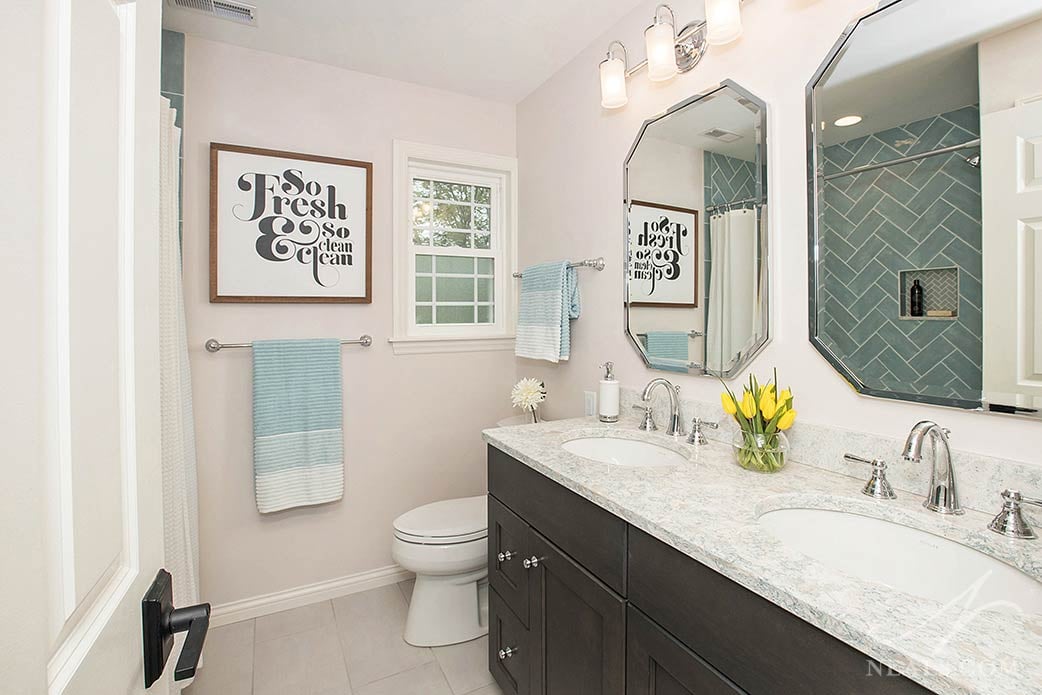 Hall Bathroom remodel in Montgomery
General Vanity Lighting Options
Some bathrooms, such as powder rooms or hall bathrooms, are small enough that overhead recessed lighting can offer enough light, and any additional fixtures would only be included as an aesthetic element. For most master bathrooms or larger guest bathrooms, the vanity should have a fixture or light source that's meant to light the vanity area directly. This is most often a sconce fixture with 3 to 4 bulbs that's installed above the mirror. Another common option is to use a single-bulb sconce on each side of the mirror. These can also be used in combination with a recessed light in the ceiling depending on your required light level needs. There are other sconce options that will work in this setting, so if you aren't finding any typical fixture that suits your goals, don't shy from looking further afield.

Master Bathroom remodel in Montgomery
Whichever choice you make for the overall lighting of your vanity, you also have choices for how it relates to the mirror. Lighting can be installed to be entirely separated from the mirror, overlapping it, or installed directly onto it. These are personal preference considerations that you'll want to make with your designer and installer.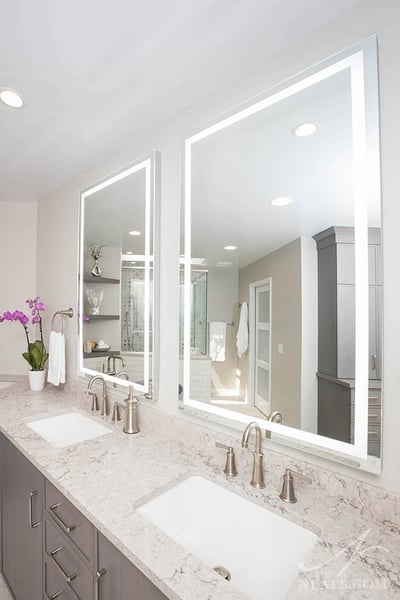 Bathroom remodel in Blue Ash
Integrated Vanity Lighting
Another option for lighting the vanity area is to use a mirror with integrated lighting. Though not necessarily a "contemporary" style option, it is a modern-looking solution that may work well for some styles of bathrooms but not for others. Integrated lighting usually takes the form of a band or frame just inside the edge of the mirror. It works exceptionally well for lighting the area and directing lighting onto your face, reducing shadows. Integrated mirror lighting can come in the form of a panel or a cabinet, and you'll need to check the specifications to know if the light can be hardwired or if it will require the use of a switch on the mirror frame.
Task Lights & Mirrors
For those who just want task lighting or a magnification mirror for certain tasks, consider the addition of an accessory mirror. You can find options at all price points, with or without integrated lighting. If this is the solution you'd like, be certain to bring this up with your designer in the planning stage so that the location and any installation considerations can be accounted for in the overall design of your bathroom. For instance, a washcloth bar or outlet may need to be in a different location to accommodate the added mirror.
Types of Mirrors
There is a large range of mirror types available on the market for bathrooms, but in general, regardless of style or size, there are three main categories.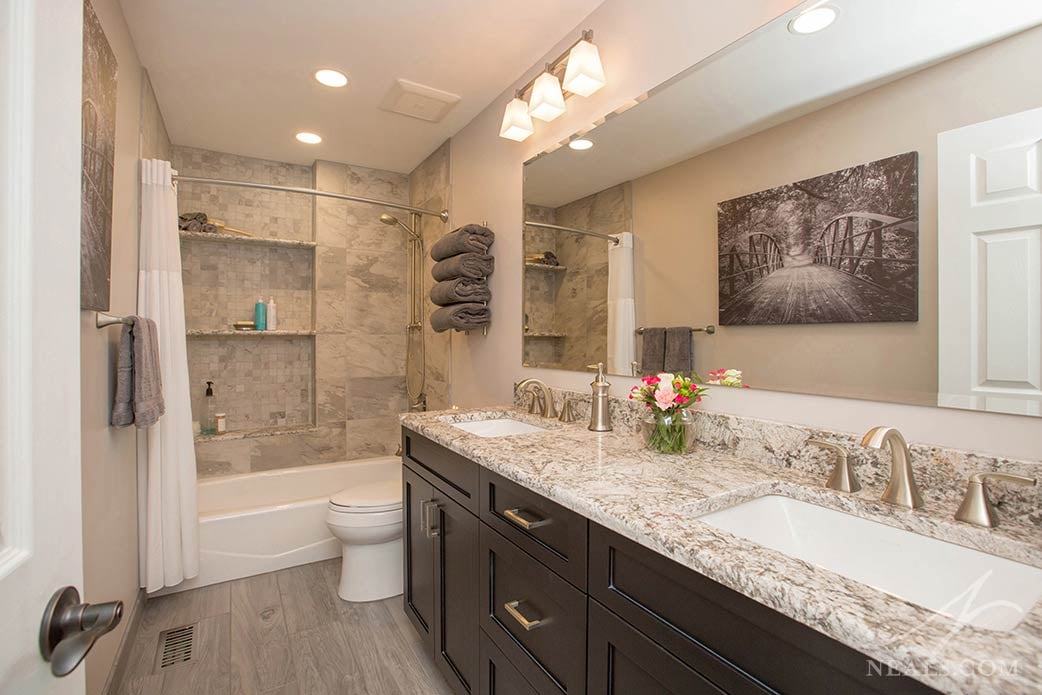 Bathroom remodel in Loveland
1. Built-in Mirror Panels
A mirror in its basic panel format can be installed on the wall using mounting adhesive. We see this option most when the desired mirror is large in size, such as spanning the width of a double vanity. Mirror panels may also come in pre-made sizes to allow for edging details such as bevels, which add a polished look. Another option, depending on your style and design tastes, is to add a custom frame around the panel, hiding the mirror's "raw" edge.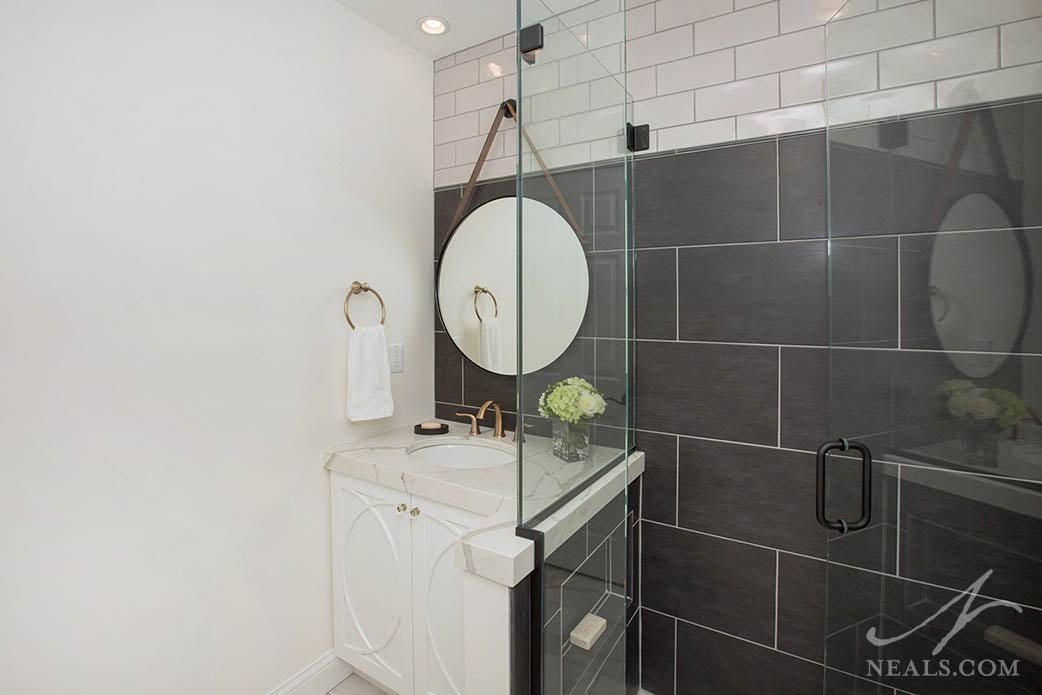 Bathroom remodel in Terrace Park
2. Decorative Mirrors
Wall mirrors of any variety that are designed to be hung or mounted can be used for a vanity mirror. This is a nice option when you're looking for a customized look or something with a bit more interest. With decorative mirrors, you often have more shape options, which can be nice for traditional or transitional style bathrooms in which a rectangular mirror may look to plain. Decorative mirrors also come with frames that can offer new textures, colors, or materials to the design of the bathroom. Note that while most common mirror frame materials should be suitable for the bathroom, non-coated materials that are highly susceptible to damage from moisture may not be a good long-term choice for a bathroom.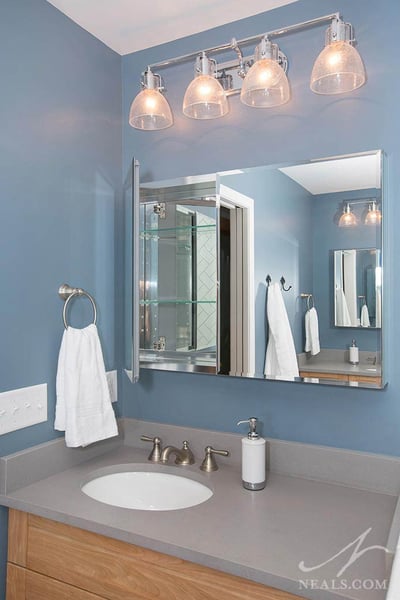 Bathroom remodel in Blue Ash
3. Mirrored Cabinets
The classic "medicine cabinet" is still an option in bathroom design and a great storage solution. Today's mirrored cabinets account for changing tastes and come in a range of styles and sizes. Some mirrored cabinets will have vertical lines separating the mirrored door panels that open to separate compartments. A mirrored cabinet is an ideal option when you'd rather have your toiletries and other items stored at eye level right there at the sink, rather than in a drawer or cabinet below the counter or elsewhere in the space. These types of mirrors typically require a niche in the wall for the cabinet portion to nest into so that the mirror isn't siting too far out, though there are also options that hang on the wall in the same way a decorative mirror does. The depth and how much space you need for the internal shelving will be a deciding factor with this option.
Vanity Style Considerations
Finally, your style goals and tastes will also be important to selecting your mirrors and lighting. Shape and frame finish of any mirror you choose and the style and color of your lighting are all added to the overall design of your bathroom, and will effect the final result. If you use oil rubbed bronze plumbing fixtures, but opt for a polished nickel sconce, that may create an uncoordinated feeling. Your designer will look at the finish and color of all the materials in the space to help guide your choices to build a cohesive style. If you already have a light fixture or mirror in mind for your bathroom remodel, be certain to share that with your designer early on so they can work with that in the rest of the material selections.