This kitchen remodel project in Clifton was an exercise in careful editing. Updating the space into a functional and stylish modern kitchen was balanced with a need for the new kitchen to feel correct in the older home. Additionally, looking at the available space and making strategic choices on how to redistribute the square footage was a major key to this remodel's success. This kitchen is a 2019 NARI Contractor of the Year Local Kitchen Award Winner.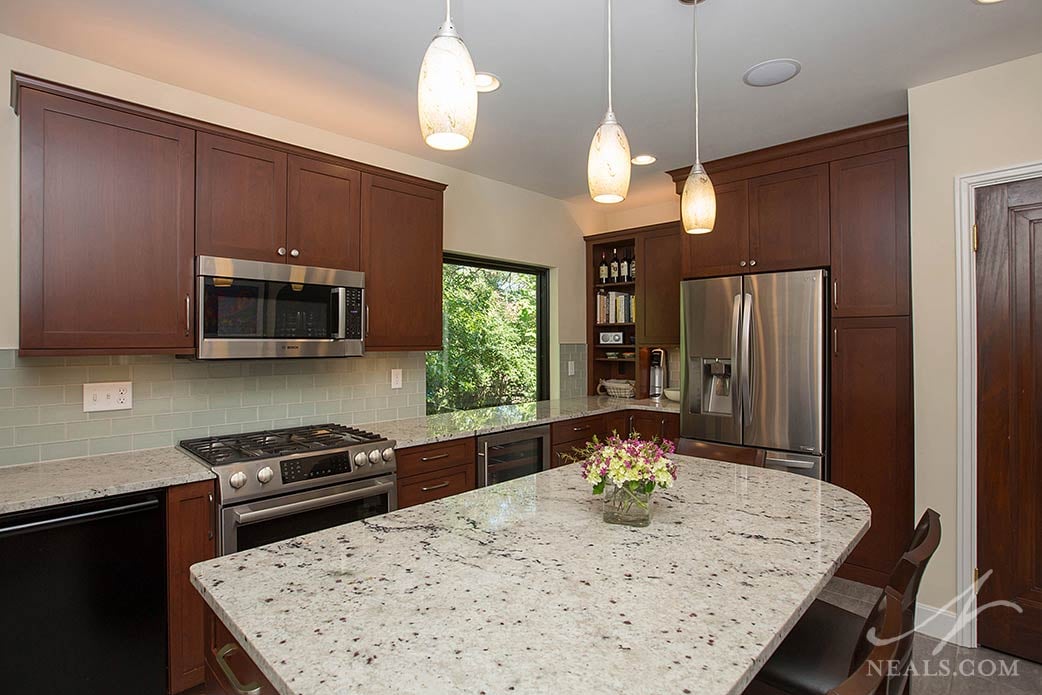 Sometime in the past, a powder room had been added to the middle of this kitchen, turning the breakfast room into a small, crowded space, and limiting the scale of the kitchen itself.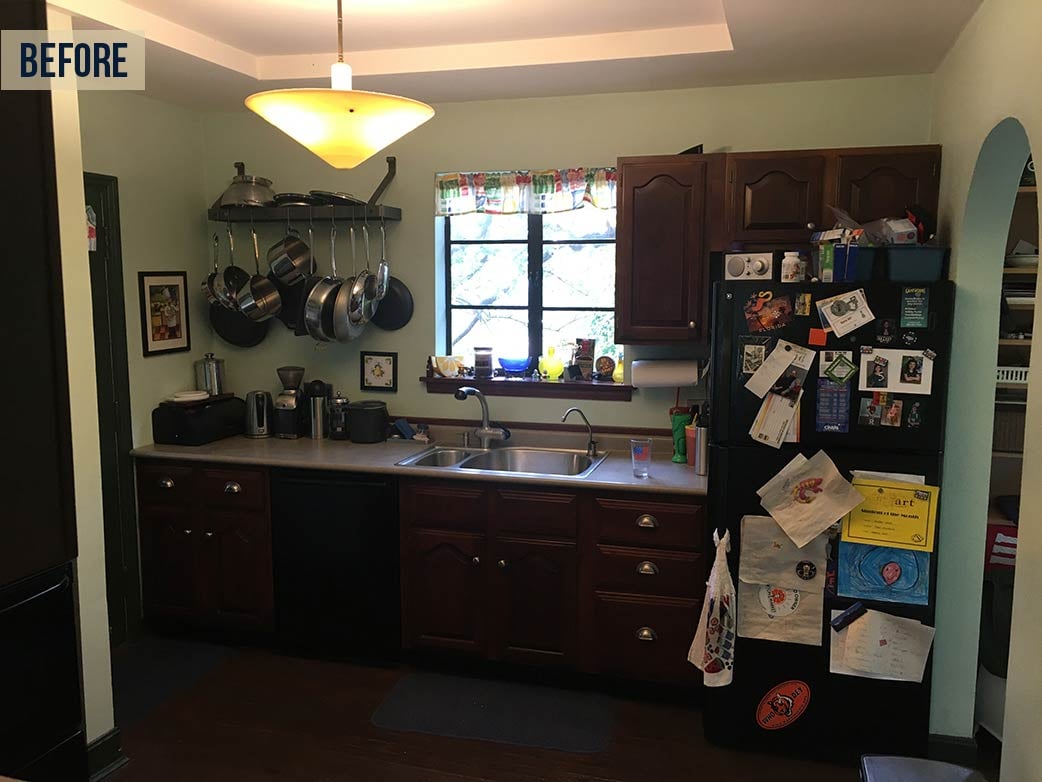 Relocating the powder room and removing the interior walls that divided the space, the kitchen was opened up to be able to include more linear counter space and enough room for an island. The kitchen was updated with cabinetry suitable to the style of the home, while other finishes inject the new space with a contemporary overtone.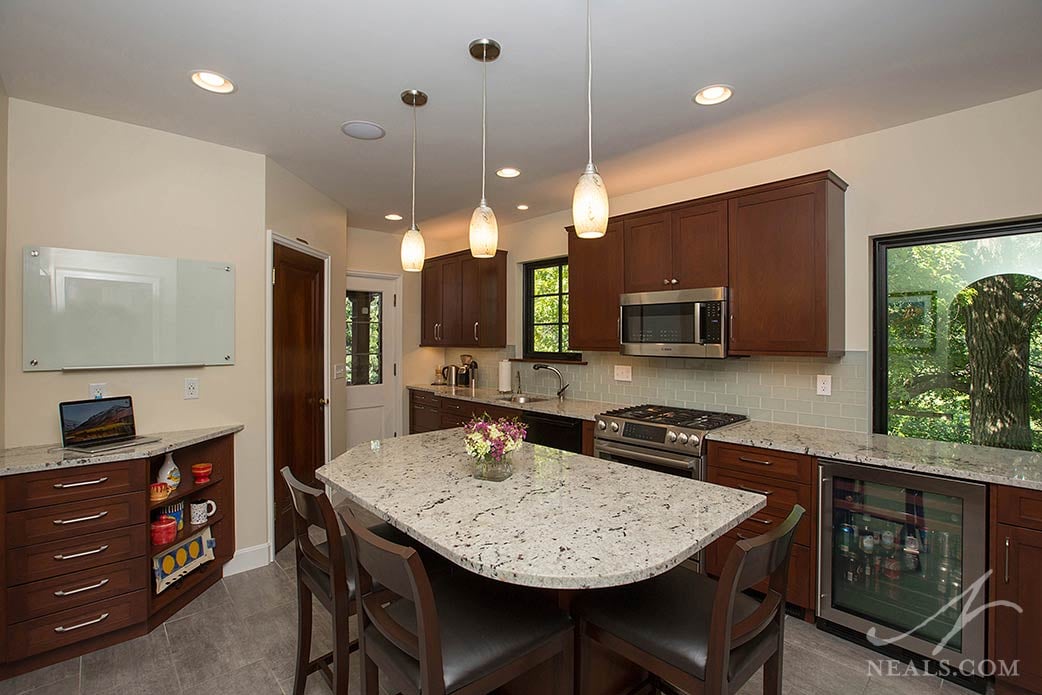 The powder room and interior walls were removed to combine the kitchen and breakfast room. Taking into account the two existing interior entrances, one from the front hallway, the other from the formal dining room, the cabinetry lines the kitchen's back walls in order to leave enough room for the new island. The powder room was moved to the corner where an existing chimney created an ideal pocket for the fixtures. The island seats three and is shaped to work with the traffic flow around the room. The angled wall of the bathroom helps with this as well.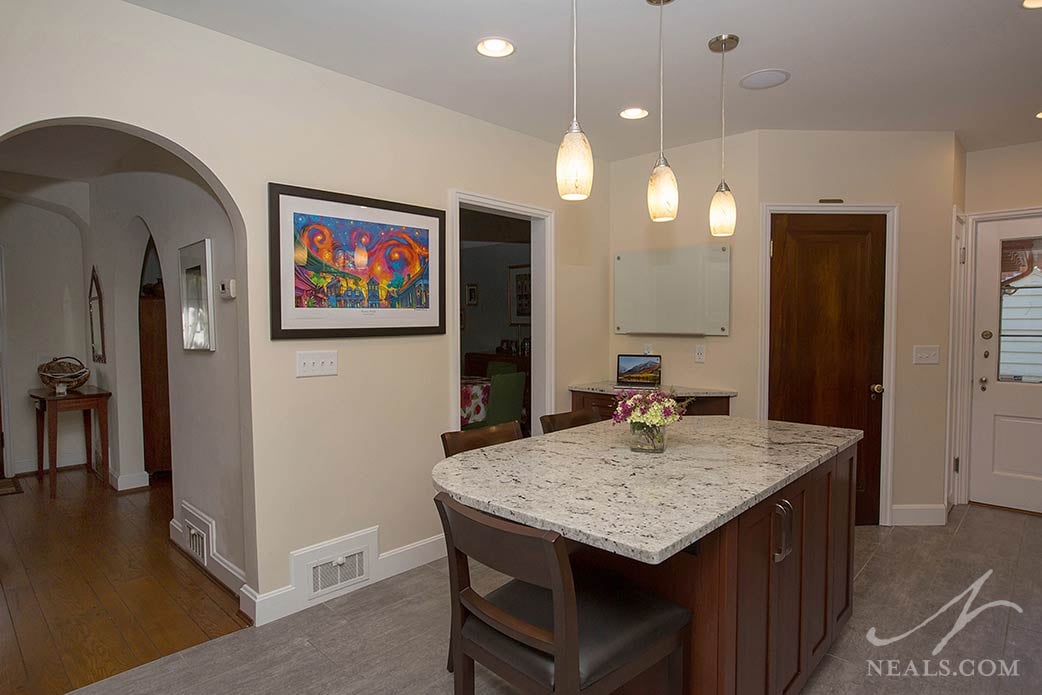 With dark wood already existing throughout the home, a cherry cabinet was selected for the kitchen that allowed the new space to meld with the home's established style. A transitional recessed door style, typical of other Arts & Crafts era homes in the area, is used along with some open shelving. A light, brown-flecked granite, Cotton White, is used for the counters to keep the cabinetry from weighing the back of the kitchen too heavily. The nickel hardware is contemporary and plays off the stainless steel appliances.

Green-tinted glass tile in a traditional subway tile pattern is another nod to bungalow design but with a modern twist. A luxury vinyl tile in a warm gray colorway was installed on the floor in staggered rows. This flooring is hard-wearing and easier to stand on for long periods of time.
The new kitchen uses can lights around the perimeter of the kitchen. There is also rope-style under cabinet lighting. The pendants over the island are cream and brown speckled hand-blown glass.