For this traditional master bathroom remodel in Madeira, attention to the details was a key element to creating a fresh look. Due to the shape of the space, each element of the bathroom feels like it's own zone. Uniting these areas with cohesive and interesting materials was crucial in the new design.
---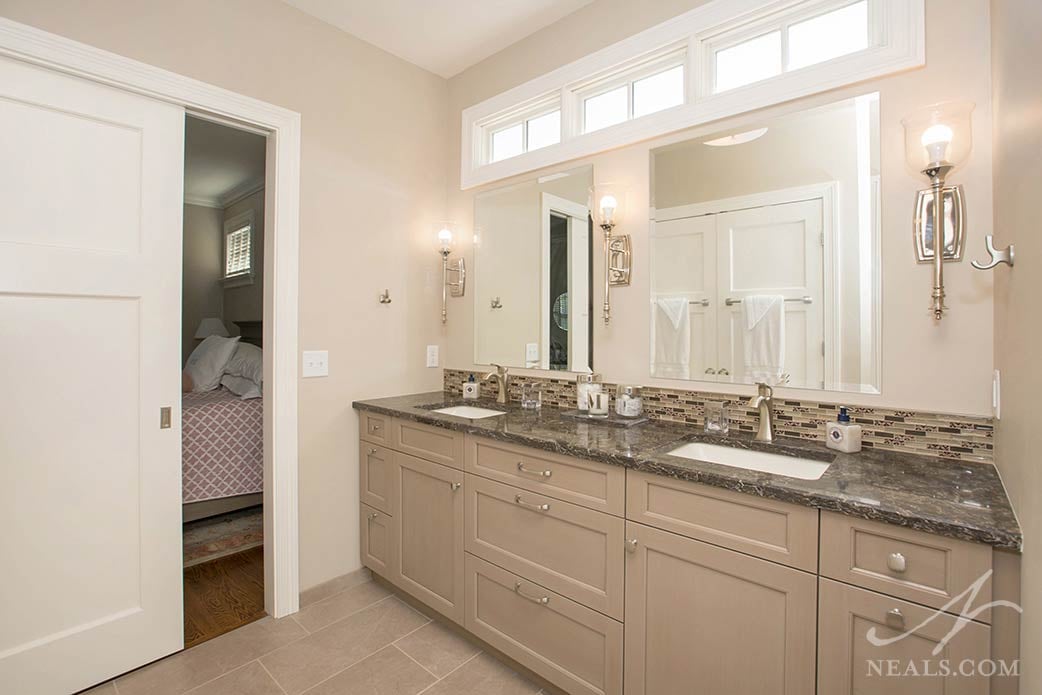 In many ways, the original bathroom had a nice style that wasn't overly dated, but several of the elements were due for a new look. The traditional vanity, with a black finish and tired-looking counter was paired with hardware and fixtures that were fairly uninspiring. The flooring utilized a decorative tile insert, but the surrounding white ceramic tile was looking dingy and plain. The same for the mostly white tiled shower. Additionally, though the bath used fun details like 3-dimensional accent tile, each of the bathroom's areas seemed to use details in different ways, so that around every corner, the bath felt like a different space.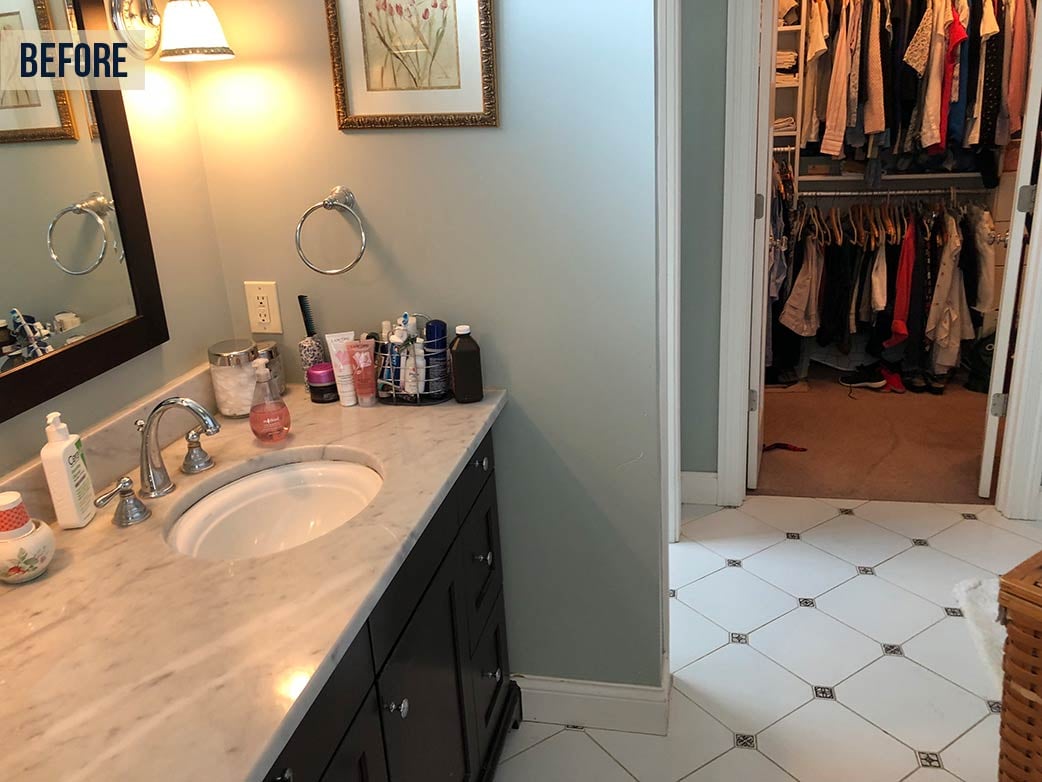 The new design is a calming palette of brown tones and nickel throughout the space. A new brown tile floor is arranged in a plank-like grid reminiscent of wood flooring, and will not show wear over time as easily as the old white tile. The tile is then used in the walk-in shower, which sits at the end of the space tucked into a niche. The flooring finish is also a close match for the finish of the vanity doors. This visual connection helps connect both the vanity and the shower together, even though they sit on opposite ends of the room.
The flooring doesn't carry the full load of connected design, however. An accent tile is used in a band as both the vanity backsplash and the shower accent. This tile is an important piece to the materials used in the new space. The mixture of the rectangular pieces capture the main color palette, and includes detailed pieces that add intricacy to the design, helping to inject traditional flair in a space with very little architectural ability to convey the style. The herringbone shower floor tile is another traditional detail.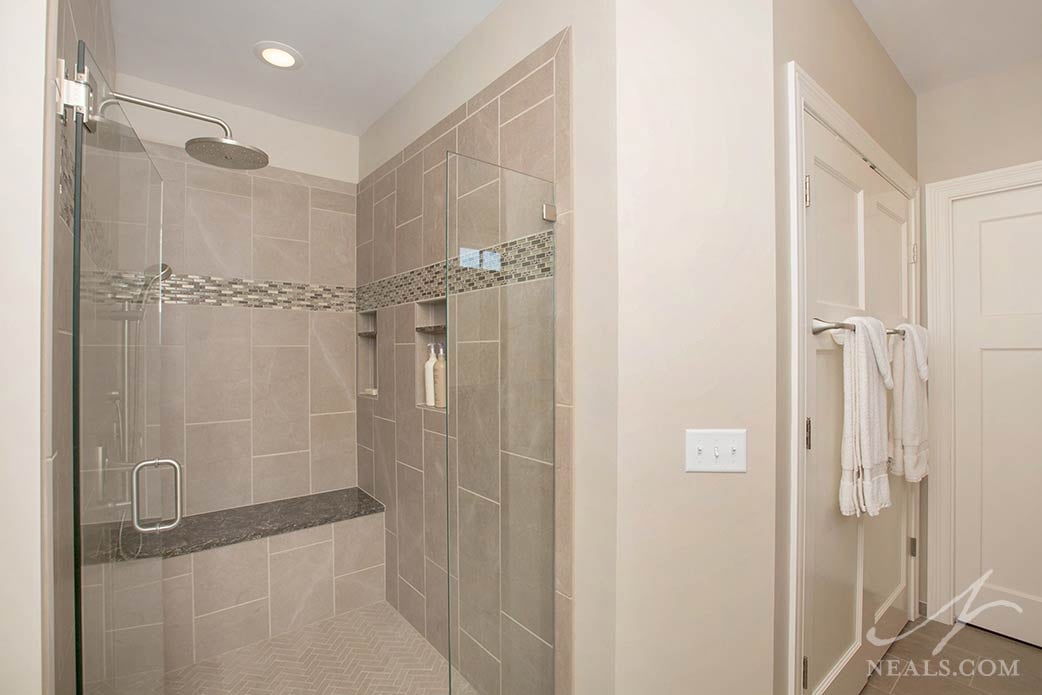 Details are what make this new bathroom really stand out. From unexpected details in the tile to door knobs and cabinet hardware that are just a few steps away from ordinary, this bathroom is full of small choices that create an overall impact. This master bath feels well-appointed without being over the top as a result.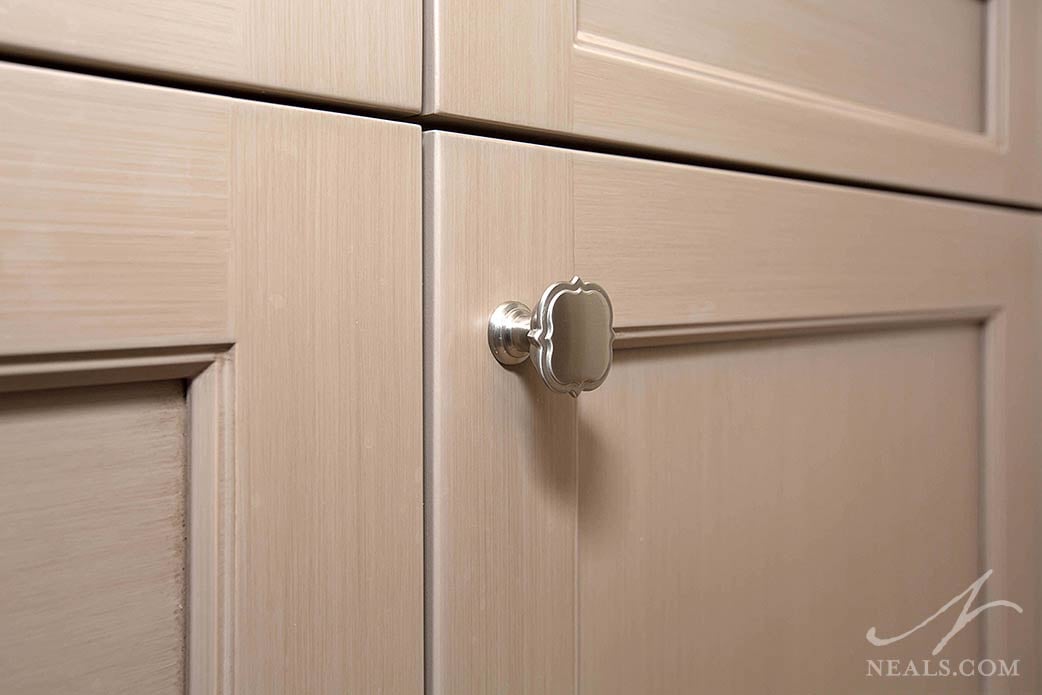 This room doesn't just look pretty, however. When it comes to a bathroom, function can't be overlooked. The double vanity provides ample storage. Behind one set of doors, a stacked washer and dryer provide a convenient laundry space for the couple. A clothes closet is housed at the end of the room. The shower features two shower heads- a rainfall head and a handheld option. Niches in the shower wall and a bench complete the functional touches.